Hospital Workers, Gang Members Unite to Save Safety-Net Hospital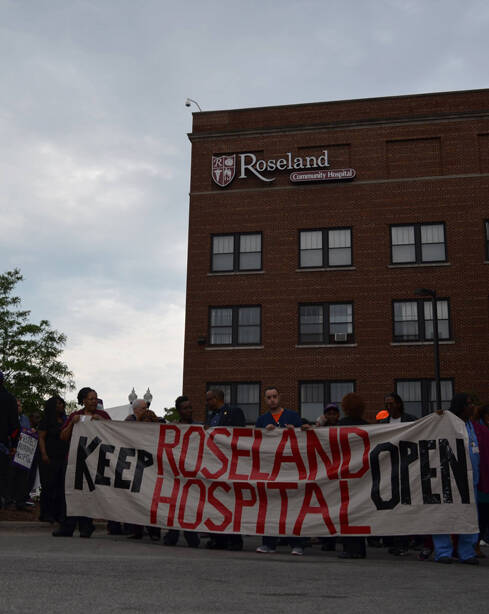 Hos­pi­tal work­ers and com­mu­ni­ty mem­bers won a reprieve yes­ter­day to the clo­sure of Chicago's Rose­land Com­mu­ni­ty Hos­pi­tal, which offi­cials announced this week was on the brink of shut­ting down due to finan­cial dif­fi­cul­ties. Fol­low­ing sev­er­al days of demon­stra­tions and vig­ils, sup­port­ers of the hos­pi­tal were greet­ed Wednes­day with the news that the hos­pi­tal would be offered $350,000 in tem­po­rary emer­gency funds from the governor's office to con­tin­ue operating.
On Tues­day, SEIU Health­care Illi­nois & Indi­ana, which rep­re­sents 200 of the 560 hos­pi­tal work­ers who would have lost their jobs, ral­lied to present the gov­er­nor with a let­ter and a plea to keep the 162-bed hos­pi­tal open. ​"What are you going to do more to a com­mu­ni­ty to beat it down than to take one of the final insti­tu­tions that the res­i­dent has to depend on? Where are patients sup­posed to go?" asked April Ver­rett, Exec­u­tive Vice Pres­i­dent of Ser­vice Employ­ees Inter­na­tion­al Union (SEIU) Health­care Illi­nois & Indi­ana, as a crowd of sup­port­ers gath­ered on the steps of Illi­nois Gov. Pat Quinn's down­town Chica­go office.
The fund­ing offered by the state will pro­vide a stop-gap, but the hos­pi­tal remains in dire finan­cial straits. Sharon Thur­man, a vice pres­i­dent at Rose­land, said that the hos­pi­tal had request­ed a total of $7 mil­lion to pay down debts to its ven­dors, and requires at least $1 mil­lion from the state to con­tin­ue oper­at­ing. Thur­man told DNAin­fo that the hos­pi­tal could still close two weeks from now with­out addi­tion­al assistance.
Pri­or to the governor's announce­ment, orga­niz­ers held a vig­il as the hos­pi­tal tem­porar­i­ly stopped accept­ing patients on Wednes­day. A march of sup­port­ers vis­it­ed sev­er­al areas around the com­mu­ni­ty, includ­ing the site of a recent shooting.
Rose­land, a safe­ty-net hos­pi­tal on Chicago's gun vio­lence-plagued south side, is the only hos­pi­tal with an acute care cen­ter and an emer­gency room with­in five miles. At Tues­day's press con­fer­ence, Tavis Grant, the Nation­al Field Direc­tor for the Rain­bow PUSH Coali­tion Bish­op, said that 28,000 com­mu­ni­ty mem­bers vis­it its emer­gency room annually.
​"Where is the moth­er sup­posed to take her asth­mat­ic child who's hav­ing an asth­ma attack when her child can't breathe? … Is she sup­posed to get to Stroger with no Red Line to take her? Is she sup­posed to go to the Uni­ver­si­ty of Chica­go that has already said they don't want the patients?" Ver­rett asked.
In addi­tion to sup­port from com­mu­ni­ty and reli­gious lead­ers, anti-clos­ing actions have drawn par­tic­i­pa­tion from mem­bers of the Black Dis­ci­ples gang. Rev­erend Philip Cusick, a Rose­land employ­ee, says that he was approached this week by a group of about 20 Black Dis­ci­ples mem­bers who want­ed to get involved in the fight to stave off the hos­pi­tal's clo­sure. Recent­ly, for­mer Black Dis­ci­ple mem­bers have spo­ken out about the orig­i­nal mes­sage of the gang to unite com­mu­ni­ties in areas of Chica­go often plagued by vio­lence. Black Dis­ci­ple co-founder Arthur Stringer called the poten­tial loss of the hos­pi­tal a ​"tragedy" and not­ed the impor­tance of Rose­land hos­pi­tal in main­tain­ing safe­ty in the area.
​"We have come to try to help save Rose­land hos­pi­tal, because it has saved lives. And I feel if we lose that, it's anoth­er part of geno­cide [against the black com­mu­ni­ty]. … It's bad enough that we're out here harm­ing each oth­er, and then for the hos­pi­tal to close, they can help peo­ple that are inno­cent," Black Dis­ci­ple co-founder Dirk Ack­lin said Tuesday.
On Mon­day, Rose­land CEO Dian Pow­ell claimed that the state owed Rose­land $6 mil­lion for con­struc­tion of a new ado­les­cent behav­ioral health unit. But she resigned Tues­day, and Thur­man said that this claim had been a mis­take (CBS News reports that Pow­ell may have been forced out amidst alle­ga­tions of mis­man­age­ment). The state also denies owing Rose­land money.
Com­mu­ni­ty mem­bers empha­size that whether the fault lies with the state or with hos­pi­tal man­age­ment, Rose­land's clo­sure would remove a cru­cial life­line for South Side res­i­dents. ​"The bot­tom line to this whole sit­u­a­tion is keep the hos­pi­tal open, then fig­ure out what you need to do to sus­tain it," said hos­pi­tal work­er and com­mu­ni­ty res­i­dent Yas­min Cham­pagne. ​"We need to keep it open for the com­mu­ni­ty, and it's not the community's fault that Rose­land is in its demise."