The Confederate Flag Is a Symbol of Racist Terror. It Should Be Eradicated.
If we don't eliminate the Confederate flag, we can only expect more racist, depraved acts like Dylann Roof's in our future.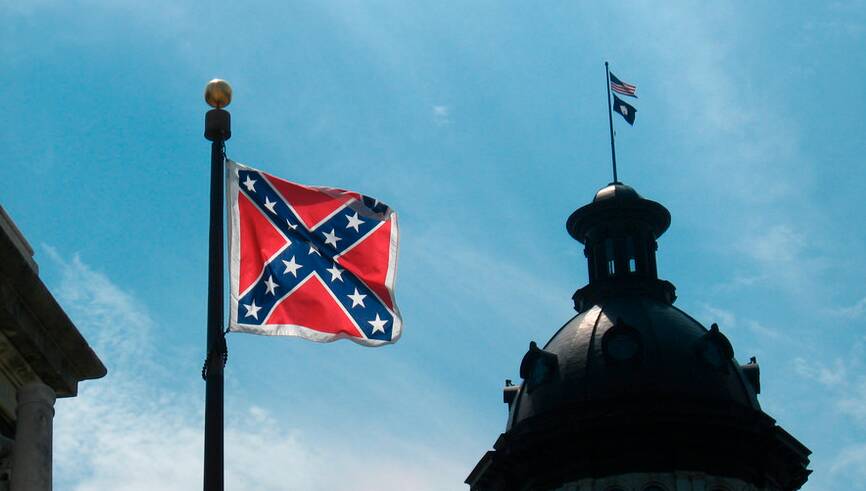 The day after the Charleston, South Carolina church shooting, carried out by an avowed white supremacist who murdered nine African-American participants in a bible study group, the Confederate flag flying on the grounds of the state capitol, unlike so many American flags elsewhere, did not fly at half-mast.
If anything, perhaps the state of South Carolina should erect an even taller flagpole next to the one upon which Dixie is currently flying and hoist the flag up it, as if to say, "Nice work, Dylann."
While many people across the political spectrum reacted with disgust to the refusal of the state's elected leaders to lower the flag, keeping the Confederate flag proudly flying proudly makes perfect sense. Flags are lowered as a symbol of collective grief. But Dylann Roof's racist massacre was a carrying out of the ideals that flag represents. If anything, perhaps the state of South Carolina should erect an even taller flagpole next to the one upon which Dixie's colors are currently flying and hoist the flag up it after mass killings like this, as if to say, ​"Nice work, Dylann."
This flag, its image — a red ground, blue saltier with white trim, emblazoned with pointed stars representing the former slaveholding states — symbolizes the racist origins of the Confederacy in much the same way the swastika symbolizes the Third Reich: It symbolizes a state-sanctioned way of life that does not exist any longer because of its repugnant depravity and the willingness of an army to destroy it. Those who defend the Confederate flag because it represents a heritage, that it serves to honor family who fought for the Confederacy in the Civil War, are like Germans defending national recognition of the swastika to honor family who died fighting the Allies in defense of Hitler's motherland. The way of life that the Confederate flag represents got the historical erasure it rightly deserved.
Despite the destruction of the Confederacy and the dismantling of slavery, decades after the success of the civil rights movement, racism and hate-infused suspicion towards difference continues to blight American life to this day. The ongoing spate of rightwing violence and bigotry — from Duck Dynasty patriarch Phil Robertson's anti-gay comments, to the standoff between the Bureau of Land Management and the Wise Use militia at Cliven Bundy's ranch in Bunkerville; from the Los Angeles Clippers' former owner Donald Sterling's overtly racist remarks, to Sarah Palin's disgusting comment regarding the use of torture ("waterboarding is how we baptize"); from the countless acts of police brutality against unarmed young black and brown men and women, to the recent Charleston shooting — implies that right-wing passions infused with racist hatred are, despite the long list of historical liberal achievements, as strong as ever.
This is the new face of that heritage of which the Confederate flag represents. The question of our time, then, is how is the American Left going to respond to this?
Let me offer a suggestion: The defining gesture against racism of a renewed Left, as well as the proper opening salvo against rightwing America, should be the immediate removal and destruction of the Confederate flag from the South Carolina state house and wherever else it can be found.
Because the Confederate flag represents the way in which brutal, reactionary traditions continue to twist their way into our present age; that how this country ​"deals with" difference and inequality on nearly all fronts is still insufficient, often to an atrocious and even heartless degree. And that this remorseless backwardness has much to do with unforgivably sovereign institutions and ideologies that, alongside promoting avarice and dog-eat-dog competition, promotes fear, hatred, and skepticism towards others while hunkering down and protecting their own.
So we, progressives and leftists, should take the task upon ourselves to remove it from wherever it hangs. Really, it's the least we can do. And it's the first thing America, without any reluctance, should do if it wants to show the world that it's ready to seriously address its racism problem. Because, as events like the Charleston massacre constantly remind us, America does have a racism problem, which is clearly linked to conservative right-wing passions that have acclimated nearly effortlessly to today's neoliberal state.
The Confederate flag bears the insignia of an egregiously racist, inherently brutal perception that provides an important link from our viciously racist and treasonous past into the present. It's a symbol that blatantly dishonors the very substance of our freedoms.
Its removal shouldn't even be up for debate: get rid of the damn flag. South Carolina Gov. Nikki Haley is rumored to be planning a press conference today to remove the flag from the state capitol. That's a good start. Then let's remove it from every single place its presence currently tarnishes. Hell, let's get out there and collect each and every one of those pennants and t‑shirts and baseball caps and coffee mugs and shot glasses and bumper stickers and every single item emblazoned with the image of that despicable flag and burn them, bury them, destroy them — whatever it takes.
Because the Confederate flag can't come down to half-mast after a massive, cold-blooded, racist murder of black people in historically black institutions. It can only continue flying, unapologetic, even proud after such a massacre, looking down approvingly on the Dylann Roofs of our country for their bigotry and brutality. If we don't eradicate the Confederate flag, we can only expect more of such racist, depraved acts in our future.
Support this work
Reader donations, many as small as just $5, are what fund the work of writers like this—and keep our content free and accessible to everyone. If you support this work, will chip in to help fund it?

It only takes a minute to donate. Click here to make a tax-deductible donation.
Frank Smecker
is an American philosopher and social theorist. He is the author of
Night of the World: Traversing the Ideology of Objectivity
.
Help support this work
As a reader-supported, nonprofit publication, all of the journalism In These Times produces is made possible by readers like you. If you support this work, will you chip in $5 or more to help fund it?