The Senate's $2 Trillion Bailout Falls Flat on Worker Protections
The coronavirus financial relief package is packed full of corporate giveaways and lacks basic safeguards for workers and their families.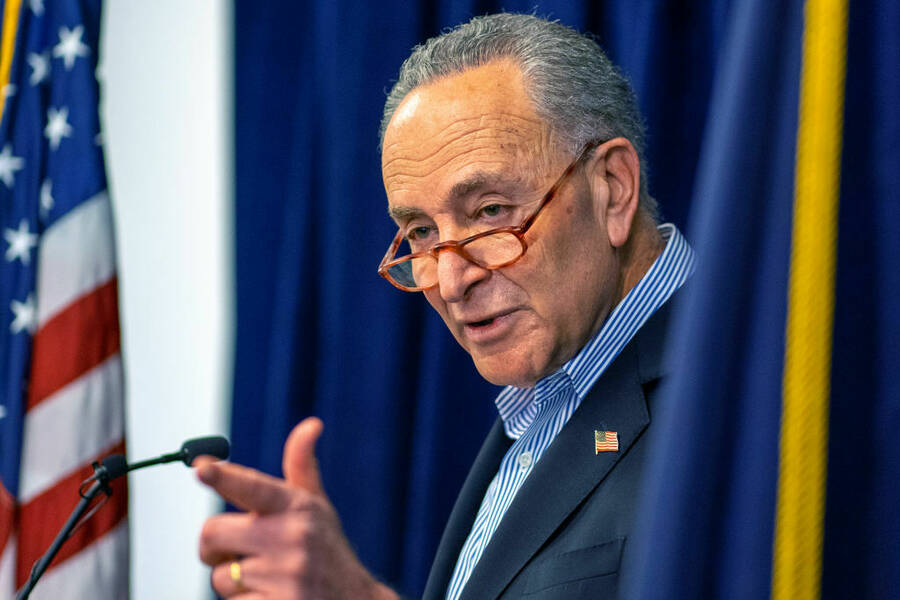 The Coro­n­avirus Aid, Relief and Eco­nom­ic Secu­ri­ty (CARES) Act is an impor­tant step in the U.S. response to the coro­n­avirus pan­dem­ic. It includes pro­vi­sions for expand­ed unem­ploy­ment insur­ance ($250 bil­lion), aid to small busi­ness­es ($350 bil­lion), cash pay­ments to house­holds ($300 bil­lion), aid to states ($150 bil­lion), emer­gency fund­ing for health care sup­plies and invest­ments ($100 bil­lion), and mon­ey for indus­try bailouts ($450 bil­lion). The total pack­age will pro­vide more than $2 tril­lion in funds.
The package will not be up to the job of fully protecting U.S. workers and their families from the economic consequences of the coronavirus shock, and it will not allow the economy to reboot quickly enough once the public health crisis ends.
There is much to like in this pack­age, and time­ly relief is crit­i­cal. But it also con­tains many flaws, large­ly left over from the first pro­pos­al for­ward­ed by Sen­ate Repub­li­cans. Because many of the weak­ness­es of this first pro­pos­al remain, the pack­age will not be up to the job of ful­ly pro­tect­ing U.S. work­ers and their fam­i­lies from the eco­nom­ic con­se­quences of the coro­n­avirus shock, and it will not allow the econ­o­my to reboot quick­ly enough once the pub­lic health cri­sis ends. Fur­ther help from pol­i­cy­mak­ers will clear­ly be needed.
When we esti­mat­ed that a relief and recov­ery pack­age need­ed to be at least $2.1 tril­lion just through the end of 2020, we not­ed that this was the num­ber for a pack­age that was well-tar­get­ed and would reli­ably deliv­er the vast major­i­ty of ben­e­fits to work­ers and their fam­i­lies. The CARES Act does not do that. Even though it includes more than $2 tril­lion in fund­ing, key design fail­ures mean the leg­is­la­tion will not be large enough to pro­vide the nec­es­sary eco­nom­ic relief and recov­ery. The econ­o­my will con­tin­ue to oper­ate sig­nif­i­cant­ly below poten­tial through the end of the year, even in opti­mistic sce­nar­ios where the shock caused by social dis­tanc­ing mea­sures is rel­a­tive­ly short.
We'll start with the (most­ly) good parts of the CARES Act.
It pro­vides sub­stan­tial and wel­come changes to the unem­ploy­ment insur­ance (UI) sys­tem and pay­roll sup­port pro­grams for small busi­ness­es. The bill estab­lish­es a new Pan­dem­ic Unem­ploy­ment Assis­tance (PUA) sys­tem that expands ben­e­fits eli­gi­bil­i­ty to many who have fall­en through the cracks of our exist­ing stingy UI sys­tem (think gig work­ers and the self-employed). The new PUA pro­gram also pro­vides an added $600 per week in ben­e­fits. This leaves the pro­gram financ­ing essen­tial­ly 100% replace­ment of wage income for the bot­tom half of the work­force. This is much bet­ter than the sta­tus quo, but this could have been more gen­er­ous for high­er-wage work­ers. Impor­tant­ly, the new PUA pro­gram also allows fur­loughed work­ers to receive ben­e­fits if their place of employ­ment has closed due to COVID-19. This is also wel­come — it can allow match­es between employ­ers and work­ers to be pre­served dur­ing the down­turn and restart­ed more quick­ly once the all-clear is sound­ed on pub­lic health measures.
Even though the bill does very lit­tle to close the enor­mous gaps in access to paid leave, the PUA pro­gram will serve as a back­stop for those work­ers who do not have access to paid sick days or paid fam­i­ly leave but are unem­ployed, under­em­ployed, or unable to work because of per­son­al ill­ness, quar­an­tine, or the need to care for a fam­i­ly member.
The aid to small busi­ness­es could be quite use­ful as well. The aid starts as loans, but if the mon­ey is used to pre­serve jobs and main­tain wages of employ­ees over the cri­sis then the loans can be for­giv­en — poten­tial­ly keep­ing tens of mil­lions of small busi­ness employ­ees on payroll.
The bill includes $100 bil­lion in invest­ments in health care pre­pared­ness and anoth­er $150 bil­lion in aid to state and local gov­ern­ments. Both are wel­come, but state and local gov­ern­ments will clear­ly need sub­stan­tial­ly more fed­er­al sup­port to avoid being a drag on recov­ery lat­er in the year.
The bill also includes one-time cash pay­ments to house­holds of $1,200 per adult and $500 per child. These pay­ments will be use­ful for fam­i­lies — espe­cial­ly those falling through the cracks of oth­er aid — but could cer­tain­ly be made more gen­er­ous. Fur­ther, while these pay­ments will be avail­able even to very low-income house­holds, indi­vid­u­als must have filed a fed­er­al tax return in order to receive it. Some 30 mil­lion peo­ple (peo­ple with very low incomes, seniors, peo­ple with dis­abil­i­ties, and vet­er­ans) don't file returns, which means that in order to get this aid, they will have to file tax returns dur­ing this pan­dem­ic.
Now, we'll move on to the glar­ing design flaws of the CARES Act.
The sin­gle biggest tranche of mon­ey in the pack­age is a large pot of mon­ey aimed at indus­try res­cues, but with no guardrails to ensure that pub­lic mon­ey is direct­ed toward sav­ing the jobs, wages, and ben­e­fits of typ­i­cal work­ers rather than the wealth of share­hold­ers, cred­i­tors, and cor­po­rate exec­u­tives. The bill calls for indus­try bailouts to pre­serve jobs ​"to the great­est extent prac­ti­ca­ble," which is utter­ly tooth­less lan­guage. Fur­ther, there are no explic­it pro­tec­tions for work­er safe­ty. Giv­en that this entire cri­sis is dri­ven by an epi­dem­ic and that many, includ­ing the Pres­i­dent, want a pre­ma­ture return to eco­nom­ic activ­i­ty in the face of this virus, it is imper­a­tive that U.S. work­ers be giv­en pro­tec­tion against being forced to work in unsafe con­di­tions. It is astound­ing that this basic pro­tec­tion can­not be made explic­it for indus­tries seek­ing pub­lic aid.
It is not par­tic­u­lar­ly hard to design rules-based account­abil­i­ty mea­sures that would ensure aid to indus­tries actu­al­ly pro­tect­ed work­ers' jobs, wages, ben­e­fits, and health. But instead of hard-and-fast rules, the CARES Act pro­vides for an inspec­tor gen­er­al and over­sight com­mit­tee that will be in charge of mak­ing sure this indus­try aid is spent in the pub­lic inter­est. This is sim­ply insuf­fi­cient. The deeply flawed finan­cial sec­tor bailouts of 2008, for exam­ple, includ­ed an inspec­tor gen­er­al and over­sight com­mit­tee, and yet far too much of the mon­ey went to sup­port finan­cial firms and far too lit­tle went to sup­port typ­i­cal families.
We could under­take a key test for whether cor­po­ra­tions gen­uine­ly need pub­lic aid or are sim­ply try­ing to exploit this cri­sis to grab pub­lic mon­ey by demand­ing these com­pa­nies give the fed­er­al gov­ern­ment equi­ty stakes in exchange for imme­di­ate aid. By grant­i­ng the gov­ern­ment equi­ty, these com­pa­nies would dilute exist­ing share­hold­ers' claims on future prof­its. If these exist­ing share­hold­ers are unwill­ing to allow this dilu­tion, this is a clear sign that they firm­ly expect the com­pa­ny to con­tin­ue oper­a­tions even with­out a bailout. This can be seen in Boeing's response to sug­ges­tions of grant­i­ng equi­ty stakes in exchange for aid — the com­pa­ny said clear­ly they would find oth­er ways to cope. But if there are oth­er ways to cope, then a bailout is by def­i­n­i­tion not needed.
Final­ly, this pro­pos­al repeats ter­ri­ble mis­takes of the past by not insti­tut­ing trig­gers to enable relief and recov­ery aid to keep flow­ing so long as eco­nom­ic con­di­tions war­rant. Time-based aid makes no sense, par­tic­u­lar­ly when fac­ing as uncer­tain an eco­nom­ic shock as the cur­rent one. Instead, so long as relief is need­ed and the econ­o­my remains depressed, aid should con­tin­ue to flow. Opti­mal­ly, the trig­gers that would enable this aid to keep flow­ing would be based on employ­ment and hours of work, instead of, or in addi­tion to, unem­ploy­ment rates. This con­sid­er­a­tion applies not just to the expand­ed UI ben­e­fits, but also to the direct cash pay­ments to house­holds and the aid to state and local gov­ern­ments. None of this aid should be shut off auto­mat­i­cal­ly on an arbi­trary date. Instead, it should wind down grad­u­al­ly as eco­nom­ic con­di­tions warrant.
The human toll of the eco­nom­ic shock that health mea­sures relat­ed to the coro­n­avirus inflict on the U.S. econ­o­my is entire­ly depen­dent on our pol­i­cy response. If we are smart and ambi­tious and dri­ven by a desire to min­i­mize human suf­fer­ing, we can shield the vast major­i­ty of house­holds from the vast major­i­ty of poten­tial dam­age. This bill is a use­ful step, but we must do bet­ter — or the eco­nom­ic dam­age will be staggering.
First pub­lished at the Eco­nom­ic Pol­i­cy Insti­tute.