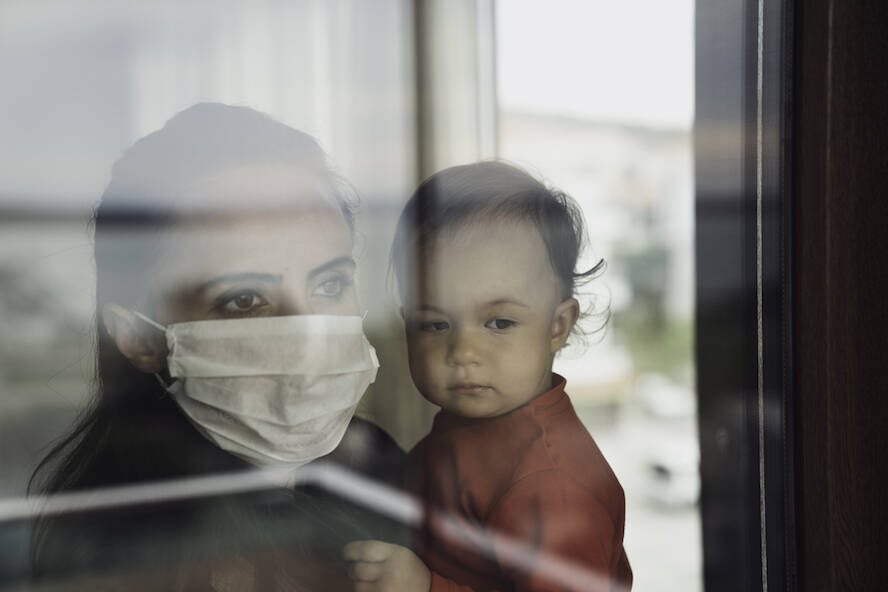 Covid-19 has exac­er­bat­ed cap­i­tal­is­m's impos­si­ble demands on mothers.
Hav­ing chil­dren is one of the great mys­ter­ies of life. Like hav­ing sex, or falling in love, or devel­op­ing faith in a high­er pow­er, it's an expe­ri­ence that falls short of any description.
Also like sex, love and reli­gion, hav­ing chil­dren sucks about half the time, and it par­tic­u­lar­ly sucks now, thanks to the coronavirus.
I'm in a best-case sit­u­a­tion — two employed work-from-home par­ents, tak­ing care of one rel­a­tive­ly well-behaved 2‑year-old — and still, par­ent­ing under lock­down is a gaunt­let, a months-long Kobayashi Maru test in which the only way to win is to real­ize the game is unwinnable. School is out, and may or may not reopen in the fall. Many sum­mer camps and day cares are shut down. Play­grounds are cor­doned off. The only safe place is the house, and while you're in that house, you're expect­ed to do your job. It is impos­si­ble to be both con­tin­u­al­ly avail­able to one's boss and con­tin­u­al­ly avail­able to one's child. The things that seem ​"cute" at first, like tiny tod­dler voic­es announc­ing their need to pot­ty dur­ing a call, quick­ly become irri­tants. Emails go unan­swered; basic tasks are for­got­ten; Screen Time, the parent's neme­sis, comes to dom­i­nate your child's wak­ing hours. I woke up a few week­ends ago to hear my neigh­bor, whose tod­dler is the same age as mine, stand­ing on his porch and scream­ing ​"I NEV­ER SHOULD HAVE HAD A KID."
I have lit­tle sym­pa­thy for my neigh­bor, most­ly because his wife was indoors, car­ing for the child he did have. Talk­ing about ​"par­ent­ing" under COVID is a bit of a dodge. What we're talk­ing about, most of the time, is moth­er­ing. The amount of moth­er­ing being asked of women under coro­n­avirus is trig­ger­ing a gen­er­a­tional reset in gen­der roles, one which reveals that much of our 20th-cen­tu­ry ​"progress" was an illusion.
Women are the ones hit hard­est by this pan­dem­ic in near­ly every respect – more like­ly to lose their jobs dur­ing the shut­down, more like­ly to be deemed ​"essen­tial" work­ers and put on the front­lines, more like­ly to be sin­gle par­ents, and more like­ly to be poor. In par­tic­u­lar, Lati­nas, who are over­rep­re­sent­ed in sec­tors like child­care and domes­tic work, are the most unem­ployed demo­graph­ic in the coun­try (19% were unem­ployed as of June, an all-time high). And 74% of Black moms are the pri­ma­ry wage-earn­ers for their house­holds, mean­ing that they are hurt first and worst by job loss­es and the unavail­abil­i­ty of child­care. Since stay at home orders began, the aver­age Black mom has done 12 more hours of child­care per week than the aver­age white mother.
With no safe­ty net in place, the virus can set off dev­as­tat­ing chain reac­tions. Con­sid­er the Ohio fam­i­ly where both par­ents – a nan­ny and a con­struc­tion work­er–lost their jobs for tak­ing time off work while one of them was hos­pi­tal­ized, or the sin­gle mom and tat­too shop own­er inter­viewed by CNN whose shop was shut down indef­i­nite­ly, leav­ing her to care for a small child on her life sav­ings of $2,000.
This would be hard enough with­out the dread hand of Gen­der Roles descend­ing, but Gen­der stops for no virus: When women are part­nered with men, they are expect­ed to keep doing the major­i­ty of the child­care. That divi­sion of labor appears immune to class dif­fer­ences: A joint study from the Uni­ver­si­ties of Oxford, Cam­bridge and Zurich found that women did more child­care than men at every income lev­el, though the type var­ied — in the low­est income brack­ets, women did near­ly twice as much rou­tine child­care as men, where­as in high­er-income house­holds, men and women split child­care more equal­ly, but women did over twice as much homeschooling.
The typ­i­cal excuse for this is that women ​"choose" to take low-pay­ing employ­ment; their incomes are expend­able, hence they can step back from work more eas­i­ly. Yet the divi­sion of labor per­sists even when it's com­i­cal­ly inap­pro­pri­ate, as in the case of Aimee, a for­mer tech com­pa­ny CEO recent­ly pro­filed by The Lily, who resigned from her job mid-pan­dem­ic sim­ply because her unem­ployed hus­band found child­care too tir­ing. Though Aimee claims she ​"chose" unem­ploy­ment, the Lily pro­file clear­ly details the coer­cion her hus­band employed: When she tried to keep work­ing, he relent­less­ly bad­gered her to ​"get off the com­put­er," and even­tu­al­ly instruct­ed their son to stop call­ing her ​"Mom." She's unsure if or when she will find a new job.
It stands out that Aimee's fam­i­ly has enough sav­ings to live on dur­ing a peri­od of long-term unem­ploy­ment. But 28% of Amer­i­cans have no sav­ings at all. And while #NotAll­Men are as hideous­ly oppres­sive as Aimee's hus­band, every­one, in cap­i­tal­ism, needs a wife. The demands of a full-time job are incom­pat­i­ble with par­ent­ing, and this is by design; it's assumed that every full-time work­er will have a shad­ow part­ner who does their domes­tic work for them. His­tor­i­cal­ly, white-col­lar fam­i­lies have out­sourced the labor of wif­ing to low­er-paid women — house­keep­ers, nan­nies, day care work­ers — which gives mid­dle- and upper-class women some mea­sure of auton­o­my and upward mobil­i­ty. Yet, with the coro­n­avirus strip­ping away access to out­side sup­port, that mobil­i­ty has been revealed to be an illu­sion. When out­side sup­port isn't avail­able, white-col­lar wives are coerced, guilt­ed or bul­lied out of the work­force and into doing wife-work once again. It's such an ingrained pat­tern that men don't even real­ize they're doing it: In one sur­vey by the New York Times, 45% of fathers said they were doing the major­i­ty of the home-school­ing in their house­holds. Only 3% of their wives agreed.
Mean­while, work­ing-class women, who were already less able to access out­side sup­port, are forced into sit­u­a­tions that are unten­able, drain­ing or dan­ger­ous. White-col­lar women are, to say the least, not help­ing: Con­sid­er the case of the nan­ny, inter­viewed by The Cut, who was com­mand­ed to pack up and move into her employer's coun­try house dur­ing lock­down. When she had to bring her grand­child, her pay was cut by over 50%, sup­pos­ed­ly to cov­er the cost of his meals.
The coro­n­avirus isn't cre­at­ing new prob­lems so much as reveal­ing the ones that were already there. With­out the fem­i­niza­tion of pover­ty, women would not be so vul­ner­a­ble to eco­nom­ic cat­a­stro­phe. If ​"pro­gres­sive" mid­dle- and upper-class mar­riages were found­ed on gen­uine egal­i­tar­i­an­ism, rather than out­sourc­ing the women's work to less priv­i­leged women, then Aimee might have been able to keep her job. The impos­si­ble sched­ules designed to edge par­ents out of the work­force, the lack of uni­ver­sal basic income for par­ents who need or want to stop work­ing, the absence of uni­ver­sal child­care that would pro­vide real sup­port to sin­gle moth­ers and even the domes­tic play­ing field for women with male part­ners — those were all present before the virus. We were liv­ing in a house of cards, and our present sit­u­a­tion is just what it looks like when that house falls down.
Uni­ver­sal basic income – which would allow par­ents more time for child care, and ben­e­fit non-par­ents as well – has start­ed to seem a lot more fea­si­ble in recent months, and a wave of op-eds has called for more and bet­ter child­care. Yet these prob­lems are too entrenched to be fix­able with quick solu­tions. No mat­ter what we tell our­selves about progress, our eco­nom­ic sys­tem still oper­ate on the assump­tion that some woman, some­where, will pick up the domes­tic slack. The solu­tion is not to get back to ​"nor­mal," espe­cial­ly not if ​"nor­mal" means endan­ger­ing and exploit­ing more work­ing-class women. It's to look at this impos­si­ble, mad­den­ing Kobayashi Maru of a sit­u­a­tion and decide that no one deserves it, and use that insight to cre­ate a bet­ter world.