Coronavirus Demands Social Distancing and Social Movements. Here's How To Do Both.
Even in times of social distancing, building a collective, social response to the pandemic is our only salvation.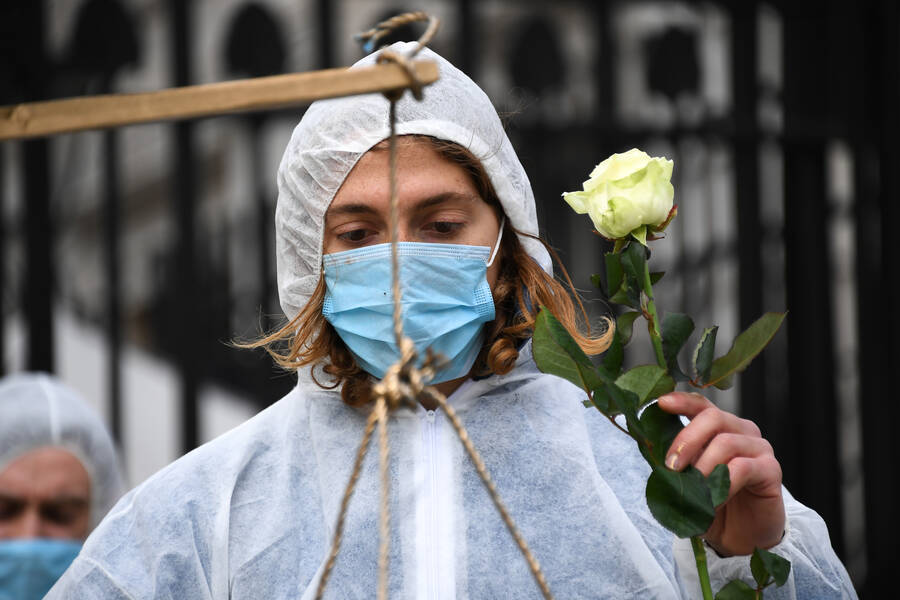 This piece was orig­i­nal­ly pub­lished at Wag­ing Non­vi­o­lence.
The good news is that there are clear historical examples in which social movements have been able to step into the vacuum of a crisis.
There are times in his­to­ry when sud­den events — nat­ur­al dis­as­ters, eco­nom­ic col­laps­es, pan­demics, wars, famines — change every­thing. They change pol­i­tics, they change eco­nom­ics and they change pub­lic opin­ion in dras­tic ways. Many social move­ment ana­lysts call these ​"trig­ger events." Dur­ing a trig­ger event, things that were pre­vi­ous­ly unimag­in­able quick­ly become real­i­ty, as the social and polit­i­cal map is remade. On the one hand, major trig­gers are rare; but on the oth­er, we have seen them reg­u­lar­ly in recent decades. Events such as 9⁄11, the Iraq War, Hur­ri­cane Kat­ri­na, and the finan­cial crash of 2008 have all had major reper­cus­sions on nation­al life, lead­ing to polit­i­cal changes that would have been dif­fi­cult to pre­dict beforehand.
COVID-19, the coro­n­avirus pan­dem­ic, is by far the biggest trig­ger event of our gen­er­a­tion. It is a com­bi­na­tion of nat­ur­al dis­as­ter and eco­nom­ic col­lapse hap­pen­ing at the same time. Top­ping it off, this pub­lic health cri­sis is com­ing right in the mid­dle of one of the most con­se­quen­tial polit­i­cal sea­sons of our lifetime.
Trig­ger events can cre­ate con­fu­sion and unease. But they also present tremen­dous oppor­tu­ni­ties for peo­ple who have a plan and know how to use the moment to push for­ward their agen­das. These agen­das can be reac­tionary, as when con­ser­v­a­tives and fas­cists pass harsh aus­ter­i­ty mea­sures and spread xeno­pho­bia — the type of activ­i­ty doc­u­ment­ed in Nao­mi Klein's ​"The Shock Doc­trine." Yet, this type of response need not pre­vail. With a counter-agen­da root­ed in a com­mit­ment to democ­ra­cy and a deep sense of col­lec­tive empa­thy, com­mu­ni­ties can flour­ish, even amid a crisis.
In fact, we can find many exam­ples in his­to­ry of how pro­gres­sive and sol­i­daris­tic impuls­es have come to the fore in response to trig­ger events. The New Deal's emer­gence as a response to the Great Depres­sion of the 1930s is one exam­ple, as is the more recent Occu­py Sandy's mobi­liza­tion in New York City to sup­port hur­ri­cane-rav­aged com­mu­ni­ties in 2012. Rebec­ca Solnit's 2009 book ​"A Par­adise Built in Hell" con­tains myr­i­ad more exam­ples of humane, col­lec­tive efforts that respond­ed to disaster.
Today, as we face the prospect that hun­dreds of thou­sands of peo­ple in the Unit­ed States — and mil­lions around the world — may die, the only way we can pre­vent some of the worst tragedy and destruc­tion is with such a response.
In
my writ­ing on social move­ments
, I have argued that trig­gers cre­ate lim­i­nal spaces that mass protest move­ments can use to mobi­lize the forces of grass­roots democ­ra­cy. In the wake of such an event, orga­niz­ers often find them­selves in a ​
"
moment of the whirl­wind," in which the stan­dard rules of how pol­i­tics works are turned on their head. Many of the great social move­ments of the past have been born out of these moments. But these moments require skill­ful nav­i­ga­tion, the abil­i­ty to use ​
"
prophet­ic pro­mo­tion" to spread a humane vision, and the faith that mass mobi­liza­tion can open new avenues to change that, at the out­set, seem dis­tant and improbable.
In order to craft a people's response to the pan­dem­ic, we should draw both on the pos­si­bil­i­ties of new tech­nol­o­gy that allow for decen­tral­ized action and some time-hon­ored lessons from past social movements.
Social move­ments are the vehi­cle for mass participation
Right now, lots of peo­ple are for­mu­lat­ing action plans and pol­i­cy demands, focus­ing on how the gov­ern­ment should respond or mea­sures that elect­ed offi­cials might pass by way of emer­gency response. These include plans by Bernie Sanders and Eliz­a­beth War­ren, Alexan­dria Ocasio-Cortez's call for an emer­gency uni­ver­sal basic income, and pro­pos­als by groups like the Work­ing Fam­i­lies Par­ty, Nation­al Nurs­es Unit­ed and col­lec­tions of grass­roots orga­niz­ers.
What's miss­ing is a plat­form and vision for mass par­tic­i­pa­tion — a means through which peo­ple can join in and col­lec­tive­ly take part in a move­ment to cre­ate the type of just response our soci­ety needs. A move­ment can sup­port, ampli­fy, and fill in the gaps left by gov­ern­ment and the health care infrastructure.
Obvi­ous­ly, social dis­tanc­ing and the iso­la­tion required to slow the spread of the pan­dem­ic presents unique chal­lenges. For one thing, peo­ple are lim­it­ed in their abil­i­ty to phys­i­cal­ly come togeth­er and con­gre­gate. Mean­while, many of the tra­di­tion­al tools and tac­tics of social move­ments can­not be deployed under cur­rent cir­cum­stances. This should not, how­ev­er, blind us to the things that can be done. From mutu­al sup­port in local areas to col­lec­tive respons­es of protest from home, we can build a pow­er­ful people's response that brings us togeth­er and uses our com­bined effort to pro­vide care in our com­mu­ni­ties and reshape the lim­its of what is polit­i­cal­ly possible.
A social move­ment response to major trig­ger events often emerges from unex­pect­ed places. Major struc­ture-based orga­ni­za­tions have infra­struc­ture and resources that seem like they would make them nat­ur­al can­di­dates for ral­ly­ing the wider pub­lic into a response. How­ev­er, they also face insti­tu­tion­al lim­i­ta­tions that pre­vent them from scal­ing their efforts to meet the enor­mi­ty of the chal­lenge. Groups like labor unions are com­mon­ly pre­oc­cu­pied with respond­ing to how the cri­sis is affect­ing their own mem­ber­ship, mak­ing them essen­tial hubs of action for peo­ple with­in their struc­tures but leav­ing them with lit­tle capac­i­ty to engage peo­ple out­side of their ranks or to absorb the ener­gy of oth­ers who might want to get involved.
Mean­while, politi­cians and lead­ing advo­ca­cy orga­ni­za­tions are often focused on the details of the inside game — care­ful­ly mon­i­tor­ing and attempt­ing to use insid­er lever­age to influ­ence the poli­cies that are being debat­ed at the local, state and fed­er­al lev­els. This is an impor­tant role, but it does not address the vac­u­um that exists in terms of mobi­liz­ing large num­bers of peo­ple to change what are per­ceived as need­ed and pos­si­ble solu­tions to the cri­sis. There­fore, it is often scrap­py, decen­tral­ized and some­times ad hoc groups that play vital roles in shap­ing a social move­ment response — which more insti­tu­tion­al­ized orga­ni­za­tions can get behind once underway.
The peo­ple have respond­ed before
The good news is that there are clear his­tor­i­cal exam­ples in which social move­ments have been able to step into the vac­u­um of a cri­sis, and we have seen sev­er­al of these in the past decade and a half. After Hur­ri­cane Sandy hit the East Coast in 2012, the mutu­al sup­port oper­a­tion Occu­py Sandy — which drew on net­works and infra­struc­ture built dur­ing Occu­py Wall Street — coor­di­nat­ed thou­sands of peo­ple into a fast and effi­cient response, pro­vid­ing food and med­ical atten­tion to those in need. It also opened a col­lec­tion and dis­tri­b­u­tion cen­ter for need­ed sup­plies, kept track of indi­vid­u­als who might oth­er­wise have been iso­lat­ed and aban­doned, and moved debris from homes and streets. Like­wise, Com­mon Ground — one of the most sig­nif­i­cant relief orga­ni­za­tions to quick­ly form and respond in the wake of Hur­ri­cane Kat­ri­na in New Orleans — served some of the city's most impov­er­ished neigh­bor­hoods, set up tem­po­rary med­ical clin­ics and repaired dam­aged homes. Mean­while, in recent years, the DREAM move­ment, which works in com­mu­ni­ties of undoc­u­ment­ed immi­grants, has pro­vid­ed ser­vices such as schol­ar­ships, job oppor­tu­ni­ties and legal sup­port for immi­grants denied ser­vices from state and fed­er­al governments.
Look­ing back at anoth­er pub­lic health emer­gency, we can remem­ber that, dur­ing the AIDS cri­sis of the 1980s, the LGBTQ com­mu­ni­ty came togeth­er to respond to the sick­ness and death of thou­sands of indi­vid­u­als — even as soci­ety ostra­cized peo­ple who were HIV-pos­i­tive, and the med­ical estab­lish­ment often turned a blind eye to their suf­fer­ing. Groups like Gay Men's Health Cri­sis in New York City orga­nized the com­mu­ni­ty to raise mon­ey for research, dis­trib­ute infor­ma­tion about pre­ven­tion and care, and pro­vide coun­sel­ing and social work­ers for thou­sands who need­ed it. At a time when the doc­tors and hos­pi­tals were either over­whelmed, indif­fer­ent, or antag­o­nis­tic, they stepped up to fill the gap and meet basic human needs.
Mean­while, the decen­tral­ized affin­i­ty groups of the more mil­i­tant ACT UP worked tire­less­ly to raise pub­lic aware­ness about the cri­sis, ral­ly­ing under the mot­to ​"Silence Equals Death." They quick­ly became on-the-ground experts in the com­mu­ni­ty impact of the dis­ease — pub­licly con­fronting lead­ers who spread mis­in­for­ma­tion or were hes­i­tant to ade­quate­ly fund pub­lic health efforts, call­ing out drug com­pa­nies more fix­at­ed on prof­its than humane treat­ment and brash­ly insist­ing that health pro­fes­sion­als be in dia­logue with patients them­selves. Ulti­mate­ly, ACT UP fun­da­men­tal­ly changed the country's response to AIDS.
"They helped rev­o­lu­tion­ize the Amer­i­can prac­tice of med­i­cine," The New Yorker's Michael Specter wrote in 2002. ​"The aver­age approval time for some crit­i­cal drugs fell from a decade to a year, and the char­ac­ter of place­bo-con­trolled tri­als was altered for good … Soon changes in the way AIDS drugs were approved were adopt­ed for oth­er dis­eases, rang­ing from breast can­cer to Alzheimer's." In 1990, the New York Times paid reluc­tant trib­ute to the group with a head­line read­ing, ​"Rude, Rash, Effec­tive, Act Up Shifts AIDS Policy."
In response to the cur­rent coro­n­avirus epi­dem­ic, the only thing that most peo­ple have been giv­en to do is to par­tic­i­pate in social dis­tanc­ing and join pre­emp­tive mea­sures to slow the spread of dis­ease. But if peo­ple real­ly believed they could par­tic­i­pate mean­ing­ful­ly in a mass cam­paign to care for oth­ers and pres­sure pub­lic offi­cials to adopt humane emer­gency poli­cies, we can be con­fi­dent that hun­dreds of thou­sands would quick­ly join in.
How to make it happen
If we know that we need a mass social move­ment response, how do we make it hap­pen — espe­cial­ly in times of social distancing?
Mil­lions of peo­ple are stuck in their homes, unable to go to work. But they can still pur­sue action on two tracks: one focused on mutu­al aid and the oth­er build­ing polit­i­cal pres­sure around a plat­form of people's demands.
At the lev­el of local com­mu­ni­ties, an army of vol­un­teers should be enlist­ed in mutu­al aid efforts to care for one anoth­er and meet basic human needs. The pos­si­bil­i­ties for this type of action are man­i­fold, but some imme­di­ate pri­or­i­ties include assist­ing the elder­ly with obtain­ing food and pre­scrip­tion med­ica­tions, cre­at­ing hubs (online or oth­er­wise) to facil­i­tate the shar­ing of infor­ma­tion in local areas about house­holds in need of help, and cre­at­ing com­mu­ni­ty solu­tions to the child­care needs that emerge as schools and day­care cen­ters close. As the pan­dem­ic spreads — and par­tic­u­lar­ly if hos­pi­tals and for­mal sys­tems are over­whelmed — the need for and poten­tial of this type of activ­i­ty will grow tremen­dous­ly. Grass­roots ini­tia­tives to col­lect infor­ma­tion about the spread of the dis­ease, help those who need to be quar­an­tined, dis­trib­ute infor­ma­tion and sup­plies to pro­mote pub­lic hygiene, and assist with the dis­sem­i­na­tion and prop­er use of test­ing sup­plies will become urgent.
Already, this type of activ­i­ty is bub­bling up. Com­mu­ni­ties around the coun­try are cre­at­ing Face­book Groups and Google Docs — many of them list­ed here — to coor­di­nate mutu­al aid. At the same time, count­less reli­gious con­gre­ga­tions, unions, com­mu­ni­ty orga­ni­za­tions and neigh­bor­hood asso­ci­a­tions are begin­ning to mobi­lize respons­es for peo­ple in their areas. These activ­i­ties have tremen­dous promise, but for them to take on the char­ac­ter of a move­ment they need what for­mer Unit­ed Farm­work­ers orga­niz­er and cur­rent move­ment train­er Mar­shall Ganz would call a uni­fied ​"sto­ry, strat­e­gy and structure."
Orga­niz­ers should be look­ing to cre­ate means for local groups to share infor­ma­tion and best prac­tices. And they should encour­age com­mon vision and mes­sag­ing. In each of the his­tor­i­cal exam­ples men­tioned here, it was cru­cial that par­tic­i­pants had a sense that they were part of some­thing larg­er than the sum of indi­vid­ual efforts. Inten­tion­al moves toward uni­ty and coor­di­na­tion help build that col­lec­tive understanding.
Beyond mutu­al aid, a com­mon sto­ry, strat­e­gy and struc­ture can allow a mass move­ment to legit­i­mate polit­i­cal demands that might oth­er­wise be deemed imprac­ti­cal or unde­sir­able, and to com­pel pub­lic offi­cials to adopt them. The func­tion of mass move­ments is not to hash out the instru­men­tal details of pro­pos­als cur­rent­ly being debat­ed in the U.S. Con­gress or at more local lev­els of gov­ern­ment. Rather, it is to build momen­tum for pop­u­lar, sym­bol­i­cal­ly-res­o­nant demands that would form the back­bone of a pro­gres­sive nation­al response — ideas like emer­gency uni­ver­sal basic income, free test­ing and treat­ment for all, and sus­pen­sion of rent and mort­gage pay­ments for those unable to pay dur­ing the crisis.
A move­ment can advance such demands with cam­paigns of dis­trib­uted actions. While the real­i­ties of ​"social dis­tanc­ing" lim­it some of the tac­tics that grass­roots groups might typ­i­cal­ly employ, orga­niz­er David Sol­nit, for one, has pro­posed a range of protest meth­ods that can be viable dur­ing the coro­n­avirus pan­dem­ic, includ­ing many that can be joined at home. Among those he lists are livestream ral­lies, the pro­lif­er­a­tion of win­dow and door signs, call-ins, online teach-ins, social media bar­rages, and cacero­la­zo — the mass bang­ing or pots and pans, com­mon­ly used by move­ments abroad.
Giv­en the activ­i­ty cur­rent­ly per­co­lat­ing, we can­not know what efforts will gain trac­tion or what over­ar­ch­ing frame­works for uni­ty might take hold. But we can assess the pos­si­bil­i­ties that have pre­sent­ed them­selves. One of the most potent is the prospect that the Bernie Sanders cam­paign could piv­ot to become a move­ment focused on pan­dem­ic response. The Sanders cam­paign has built one of the largest and most sophis­ti­cat­ed grass­roots orga­niz­ing cam­paigns in Amer­i­can his­to­ry. They have tens of thou­sands of vol­un­teers who know how to run phone banks and talk to their neigh­bors. They also have more than a mil­lion donors who are will­ing to con­tribute funds to help sup­port a people's move­ment advanc­ing jus­tice and democ­ra­cy. If Sanders decid­ed to trans­form his cam­paign from a polit­i­cal, pres­i­den­tial elec­toral cam­paign into a mass move­ment against the pan­dem­ic and its impacts, a dri­ve with mas­sive infra­struc­ture would emerge overnight.
Whether the Sanders cam­paign seizes this oppor­tu­ni­ty, or an alter­nate frame­work for col­lec­tive action aris­es, a mass move­ment response to the coro­n­avirus pan­dem­ic can­not come too soon. For our own sake, and that of our soci­ety as a whole, let us help the dri­ve toward sol­i­dar­i­ty emerge.