To Save Rural Iowa, We Must End Monsanto's Seed Monopoly
Iowa farm­ers face a cri­sis. Crop prices have fall­en by more than 50 per­cent since 2013, with no end in sight. At the same time, farm­ers hold more debt and pos­sess few­er cap­i­tal reserves to fall back on. In fact, farm­ers' debt lev­els are almost as high as they were pri­or to the farm cri­sis of the mid-1980s.
Mean­while, a wave of merg­ers among the world's agri­cul­tur­al giants is upend­ing the mar­kets for seeds, fer­til­iz­ers, and pes­ti­cides. If approved, the pro­posed merg­er would result in just two com­pa­nies — Mon­san­to-Bay­er and Dow-DuPont—con­trol­ling about three-quar­ters of the U.S. corn seed mar­ket. The pow­er that these cor­po­ra­tions would hold in the seed mar­ket is unprecedented.
Farm­ers are already being squeezed. The price of corn seed has more than dou­bled in the past ten years — from $51 per acre in 2006 to $102 in 2015—as a result of sim­i­lar con­sol­i­da­tion, includ­ing Monsanto's pur­chas­es of DeKalb and Cargill's inter­na­tion­al seed busi­ness. If the Mon­san­to-Bay­er merg­er is per­mit­ted, this prob­lem will only inten­si­fy, fur­ther lim­it­ing farm­ers' choic­es and mak­ing the prod­ucts they need even more expensive.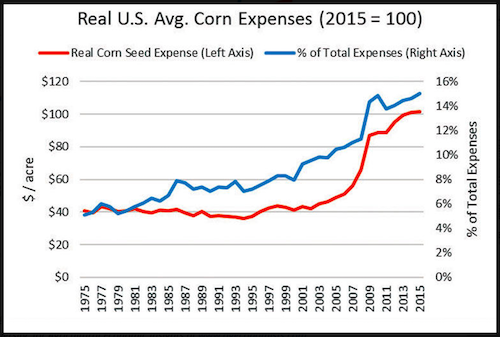 Corn seed expense has more than dou­bled since 2007. (Source: USDA ERS)
The merg­er does not just strength­en Monsanto's con­trol over the corn seed indus­try. It also helps them grow their dom­i­nance in oth­er areas, like fer­til­iz­ers, pes­ti­cides and pre­ci­sion farm­ing tech­nol­o­gy. Monsanto's goal is to bun­dle all of these prod­ucts togeth­er, sort of like how a cable com­pa­ny bun­dles inter­net, phone, and tele­vi­sion. And just like with most cable com­pa­nies, the ser­vice will be over­priced and shod­dy because it will leave farm­ers with no oth­er option.
Yet this mega-merg­er is mov­ing for­ward with bare­ly a mur­mur of con­cern from our elect­ed offi­cials in Wash­ing­ton. Not a sin­gle sen­a­tor raised this mat­ter at con­fir­ma­tion hear­ings for Sec­re­tary of Agri­cul­ture Son­ny Per­due. Even worse, the nom­i­nee to lead the Depart­ment of Justice's Antitrust Divi­sion is a for­mer lob­by­ist who assert­ed in a recent inter­view that ​"a monop­oly is per­fect­ly legal." It is not sur­pris­ing that Mon­san­to and Bay­er alone spent $120 mil­lion in the last decade on lob­by­ing elect­ed offi­cials at the fed­er­al level.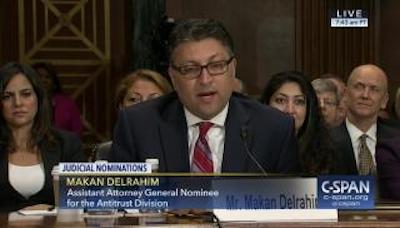 Makan Del­rahim, a for­mer lob­by­ist and Pres­i­dent Trump's pick for assis­tant attor­ney gen­er­al for antitrust at the Jus­tice Depart­ment, is await­ing Sen­ate con­fir­ma­tion. (Image: C‑SPAN)
And while stop­ping the Mon­san­to-Bay­er merg­er would be a good first step, we need to go even fur­ther to pre­vent these giants from bul­ly­ing Iowa farm­ers. Mon­san­to and oth­er agri­cul­tur­al giants like it are just too big. A cen­tu­ry ago, Pres­i­dent Ted­dy Roo­sevelt broke up the trusts and monop­o­lies of his time because he under­stood that the deck was stacked against con­sumers, farm­ers, and small businesses.
We need to take a cue from Ted­dy Roo­sevelt and break up Mon­san­to and oth­er Big Ag cor­po­ra­tions like it. Time and time again, stud­ies have shown that monop­o­lies result in less inno­va­tion, few­er choic­es, and high­er prices for farm­ers and con­sumers. We can­not con­tin­ue to line the pock­ets of wealthy exec­u­tives in far-off big cities. By break­ing up these giants, we can restore com­pe­ti­tion and bring vital­i­ty back to Iowa's rur­al communities.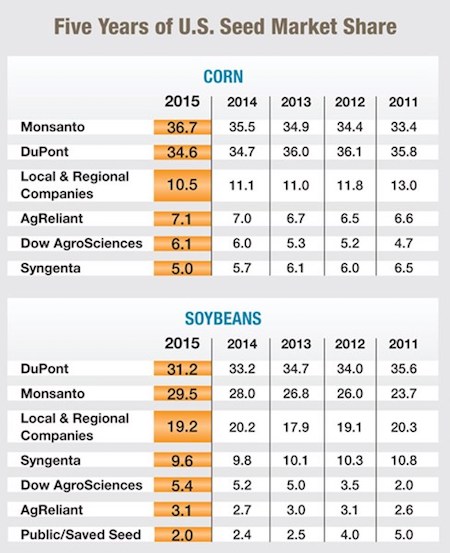 For corn, one share point equals 350,000 units (bags of seed). In soy­beans, one share point equals 830,000 units. These esti­mates are based on 31,400 and 140,000 plant pop­u­la­tions, respec­tive­ly. (Source: ver​dant​part​ners​.com)
(​"To Save Rur­al Iowa, We Must Oppose Mon­san­to-Bay­er Merger" was orig­i­nal­ly pub­lished as an op-ed in the Des Moines Coun­ty Reg­is­ter and is repost­ed on Rur­al Amer­i­ca In These Times with per­mis­sion from the author.)
Austin Frerick
lives in Win­ter­set, Iowa and is a for­mer econ­o­mist at the U.S. Depart­ment of the Trea­sury. Fol­low him on Twit­ter @austinfrerick.