Impossible Burgers Won't Save the Environment—They're Just a Greenwashing Trend
High-tech fake meat giants are more interested in making a quick buck than mitigating climate change.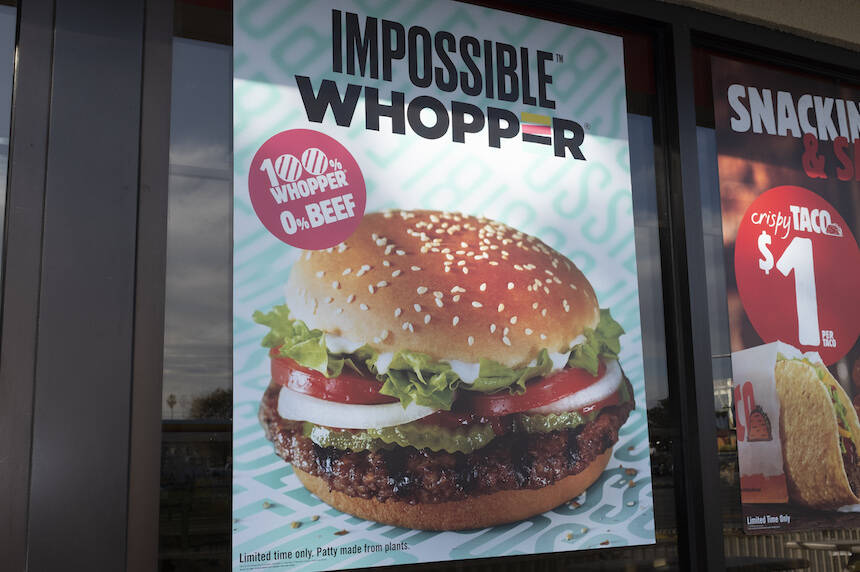 This piece is a response to ​"Fake Meat Is All the Rage — And It Can Help Us Fight Cli­mate Change," by Day­ton Martindale.
The Amer­i­can diet con­tin­ues to put meat in the cen­ter of its plate despite the well-estab­lished role of meat con­sump­tion in green­house gas emis­sions. Nei­ther food crit­ics nor celebri­ty chefs nor politi­cians have ever dared ques­tion that habit with much force — until tech burg­ers from Impos­si­ble Foods and Beyond Meat came onto the scene, at least, backed by hun­dreds of mil­lions of dol­lars in ven­ture capital.
In the past four years, the main­stream press began to regard the pos­si­bil­i­ty that, hey! maybe there is some­thing to this eat­ing-less-meat thing — so long as it looks and tastes, you know, just like meat, and some­one can make mon­ey off it. (Nev­er mind that veg­gie burg­ers made with grains, beans and veg­eta­bles have been around for decades, and tofu has exist­ed since at least 965 CE.)
Impos­si­ble Foods and Beyond Meat first mar­ket­ed their high­ly processed meat-tast­ing prod­ucts in more high-end set­tings, such as restau­rants Momo­fuku Nishi and Sax­on + Parole (where an Impos­si­ble burg­er costs $24). Then, see­ing how suc­cess­ful their prod­ucts were, they moved into fast food, where they believe they can have a big­ger impact on the aver­age American's diet. It's clear these cor­po­rate brands smell mon­ey in an indus­try that was once the are­na of small, mis­sion-dri­ven busi­ness­es like tofu-mak­er Hodo Foods and local tem­peh mak­ers such as Barry's in New York. (Shares of the pub­licly trad­ed Beyond Meat cost $113.92 as of Feb­ru­ary 4.)
Impos­si­ble Foods CEO Pat Brown pro­fess­es a lofty goal. ​"We see our mis­sion as the last chance to save the plan­et from envi­ron­men­tal cat­a­stro­phe," he told The New York­er. A wide­spread adop­tion of plant-based diets could, indeed, pro­vide bet­ter nutri­tion while using less land and water.
But here's the flaw: Tran­si­tion­ing away from beef will not be enough to deal with the broad­er eco­log­i­cal crises we face, from cli­mate change to bio­di­ver­si­ty loss to resource scarci­ty. The Impos­si­ble Burg­er is most­ly soy and the Beyond Burg­er is most­ly pea pro­tein. By pro­duc­ing these burg­ers on a mas­sive scale for cheap, these com­pa­nies are sup­port­ing a plant-based food sys­tem — but one that relies on mono­cul­ture rather than a diver­si­fied crop sys­tem. Diver­si­fy­ing crops is cru­cial to soil and wildlife health and helps keep small farm­ers in busi­ness. The Inter­gov­ern­men­tal Pan­el on Cli­mate Change reports that crop diver­si­fi­ca­tion sequesters more car­bon, cycles nutri­ents more effi­cient­ly, reduces nutri­ent runoff and allows soil to retain more water — all of which makes farms more resilient to extreme weath­er. By rely­ing pri­mar­i­ly on soy and pea, Impos­si­ble and Beyond are dou­bling down on a harm­ful system.
What's more, despite Brown's pro­fessed com­mit­ment to erad­i­cat­ing ​"the use of ani­mals in food pro­duc­tion," these high-tech fake meat giants do not inher­ent­ly pro­mote a broad­er shift away from ani­mal prod­ucts: Nei­ther the Impos­si­ble Whop­per at Burg­er King nor the Beyond sand­wich at Dunkin', for exam­ple, are even veg­an. The Whop­per comes with may­on­naise; the Dunkin' sand­wich has egg and cheese. While beef is the biggest cul­prit, all meat, dairy, eggs and seafood — the very things veg­ans don't con­sume on prin­ci­ple — pose risks to bio­di­ver­si­ty and the cli­mate. Accord­ing to one study, dairy alone pro­duces 3.6% of glob­al plan­et-warm­ing emis­sions.
Espe­cial­ly with Tyson Foods, Nestlé and Kroger all dip­ping their toes into these faux-meat waters, one can­not help but be skep­ti­cal. Retro­fitting veg­an­ism and veg­e­tar­i­an­ism onto typ­i­cal Big Ag prac­tices — with their focus on con­tin­u­ous world­wide growth and reliance on fast-food mod­els — is lit­tle more than a bil­lion-dol­lar Band-Aid. Sim­ply adding green-friend­ly meat sub­sti­tutes to our cur­rent meat-heavy food sys­tem will not, for exam­ple, mag­i­cal­ly undo the dam­age caused by fac­to­ry farming.
Yes, a wide­ly avail­able alter­na­tive to beef might be bet­ter than noth­ing, but a study by Kroger found that 93% of Beyond Meat buy­ers also had ani­mal pro­tein in their carts. With­out a major over­haul of the food sys­tem to pro­mote diverse land use and dis­cour­age a depen­dence on ani­mal prod­ucts, all these tiny con­sumer choic­es add up to lit­tle actu­al change. Big fake meat is just big busi­ness as usu­al, but in green-washed packaging.