Want Proof that Corporate Money Influences Politicians? This New Study Has It.
It really is no coincidence that the members of Congress who receive the most money from Wall Street are also the most hands-off on regulating it.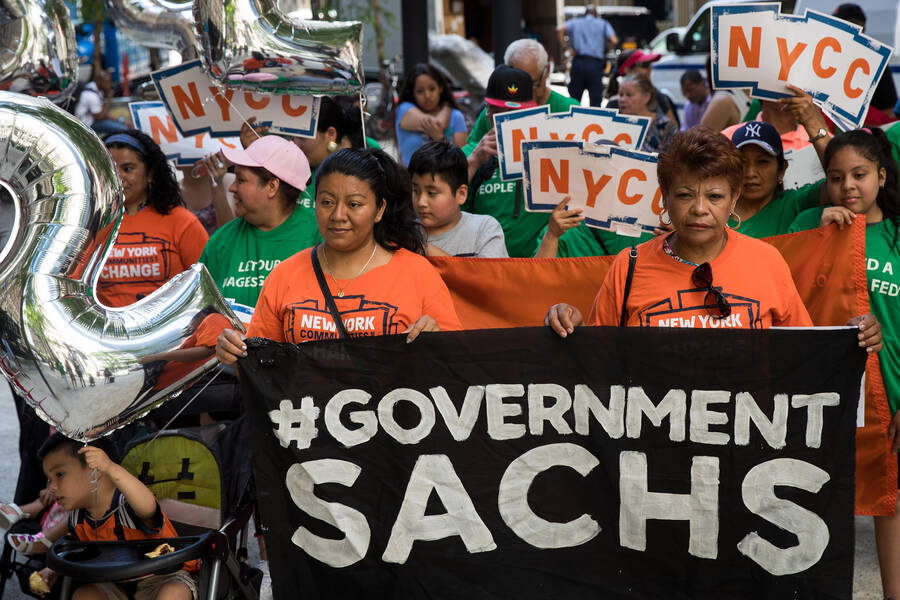 Ask just about any politi­cian whether finan­cial con­tri­bu­tions influ­ence their deci­sion mak­ing and you will hear that they're entire­ly incorruptible.
Politicians may boast about their personal integrity as a bulwark against corruption, but the influence of political spending is far-reaching, murky and often shapes real legislative outcomes.
Take Hillary Clin­ton. At a Feb­ru­ary 2016 town hall with CNN, the then-pres­i­den­tial-hope­ful said she accept­ed $675,000 in speak­ing fees from Gold­man Sachs because, ​"that's what they offered." She went on to explain why this cor­po­rate cash wouldn't have any impact on her deci­sion-mak­ing any­way. ​"Any­body who knows me, who thinks that they can influ­ence me, name any­thing they've influ­enced me on. Just name one thing," she said.
Many crit­ics point to Clinton's record on Wall Street reg­u­la­tion as a prime exam­ple. Dur­ing her two terms as a U.S. sen­a­tor, Gold­man Sachs, Cit­i­group and J.P. Mor­gan Chase were all among Clinton's top five cam­paign donors. In 2001, soon after enter­ing the Sen­ate, Clin­ton vot­ed for a bank­rupt­cy bill that was being pushed by big banks, earn­ing her the ire of con­sumer advo­cates at the time, includ­ing Eliz­a­beth Warren.
Over the course of Clinton's career in the Sen­ate, she leg­is­lat­ed with a light touch on the indus­try, co-spon­sor­ing only 25 out of 189 bills that finan­cial-indus­try lob­by­ists iden­ti­fied as sig­nif­i­cant bank­ing or finance leg­is­la­tion. As the Boston Globe has report­ed, this hands-off approach helped con­tribute to the finan­cial sector's abil­i­ty to large­ly avoid regulation.
Oth­er politi­cians sug­gest there's hard­ly a need to reg­u­late polit­i­cal spend­ing at all. After the Supreme Court's 2010 Cit­i­zens Unit­ed rul­ing, which opened the flood­gates for unlim­it­ed out­side polit­i­cal spend­ing from cor­po­ra­tions, then-GOP Sen­ate can­di­date Mar­co Rubio laud­ed the court's decision.
Claim­ing that the reg­u­la­tions over­turned by Cit­i­zens Unit­ed ​"infringe on fun­da­men­tal rights," Rubio explained that, rather than advo­cate for cam­paign-finance restric­tions, vot­ers should sim­ply ​"elect lead­ers who val­ue pol­i­cy and prin­ci­ples over pol­i­tics and spe­cial interests."
There may be no con­vinc­ing Clin­ton or Rubio, but a new report explains that mon­ey impacts politi­cians' deci­sions far more than they are will­ing to admit.
The authors of a recent Roo­sevelt Insti­tute paper iden­ti­fied a series of high-pro­file cas­es in which polit­i­cal con­tri­bu­tions influ­enced mem­bers of Con­gress on key floor votes involv­ing finan­cial reform.
To exam­ine the influ­ence of big mon­ey, the authors of the study focused on five votes in the U.S. House of Rep­re­sen­ta­tives relat­ing to the Dodd-Frank finan­cial-reform bill. They iso­lat­ed spe­cif­ic rep­re­sen­ta­tives who ini­tial­ly vot­ed in favor of the bill and sub­se­quent­ly vot­ed to dis­man­tle some of its key pro­vi­sions. What they found was a direct link between vot­ing behav­ior and cam­paign con­tri­bu­tions from the finan­cial sector.
Accord­ing to the paper, ​"for every $100,000 that Demo­c­ra­t­ic rep­re­sen­ta­tives received from finance, the odds they would break with their party's major­i­ty sup­port for the Dodd-Frank leg­is­la­tion increased by 13.9 per­cent. Demo­c­ra­t­ic rep­re­sen­ta­tives who vot­ed in favor of finance often received $200,000 – $300,000 from that sec­tor, which raised the odds of switch­ing by 25 – 40 percent."
The authors found sim­i­lar results with telecom­mu­ni­ca­tions leg­is­la­tion. In a 2006 vote on net­work neu­tral­i­ty, every $1,000 in con­tri­bu­tions from an anti-net-neu­tral­i­ty firm equat­ed to a 2.6 per­cent greater chance of vot­ing in those inter­ests' favor.
Thomas Fer­gu­son, Pro­fes­sor Emer­i­tus at the Uni­ver­si­ty of Mass­a­chu­setts Boston, a Roo­sevelt Insti­tute Senior Fel­low and a co-author of the paper, says clear­ly mon­ey doesn't just influ­ence pol­i­tics — it dri­ves it. But many aca­d­e­mics, like politi­cians, reject this view, argu­ing that con­tri­bu­tions are unre­lat­ed to vot­ing behavior.
This trend, Fer­gu­son says, aris­es from an aca­d­e­m­ic envi­ron­ment where ide­ol­o­gy and fund­ing are as insep­a­ra­ble as ​"siamese twins." Aus­ter­i­ty mea­sures have slashed uni­ver­si­ty fund­ing and put pres­sure on aca­d­e­mics to seek pri­vate grant mon­ey for research. As a result, says Fer­gu­son, ​"There aren't very many out­side grants to do seri­ous stud­ies of polit­i­cal money."
The out­side inter­ests dri­ving aca­d­e­m­ic fund­ing oper­ate in sub­tle ways, as does most polit­i­cal spending.
Fer­gu­son and his co-authors, Jie Chen and Paul Jor­gensen, point out that direct cam­paign con­tri­bu­tions only scratch the sur­face of mon­ey in pol­i­tics. ​"Polit­i­cal mon­ey resem­bles the elec­tro­mag­net­ic spec­trum," they write. ​"The por­tions that you see rep­re­sent but a frac­tion of the whole phenomenon."
Their ​"spec­trum of polit­i­cal mon­ey" high­lights eight ways out­side cash shapes polit­i­cal deci­sion-mak­ing. These include pay­ments to lawyers, politi­cians and foun­da­tions; mon­ey spent on lob­by­ing and think tanks; for­mal cam­paign spend­ing; the val­ue of stock tips to polit­i­cal fig­ures and pub­lic rela­tions spend­ing. Mon­ey flow­ing through these avenues is per­fect­ly legal but often dif­fi­cult to trace, cre­at­ing count­less oppor­tu­ni­ties for corruption.
For­tu­nate­ly, vot­ers seem far more attuned to this dire sit­u­a­tion than many politi­cians and aca­d­e­mics. Ferguson's paper cites a June 2015 CBS News poll that found 84 per­cent of Amer­i­cans believe mon­ey has too much influ­ence in polit­i­cal campaigns.
So what reforms can the pub­lic push to tame the undue influ­ence of mon­ey over U.S. pol­i­tics? Fer­gu­son stress­es that pub­licly fund­ed elec­tions would go a long way toward less­en­ing cor­rup­tion. Under such sys­tems, which exist in some form in 13 states and some cities, can­di­dates raise mon­ey through democ­ra­cy vouch­ers or matched con­tri­bu­tions from pub­lic funds, allow­ing their plat­forms to reach vot­ers with­out the mega­phone of cor­po­rate cash.
The oth­er major reform cham­pi­oned by Fer­gu­son is a con­sti­tu­tion­al amend­ment bar­ring all cor­po­rate and spe­cial-inter­est mon­ey from elec­tions. ​"Cor­po­ra­tions are crea­tures of the state; they're legal enti­ties. They're not nat­ur­al per­sons," he says. ​"So I would ban them from direct polit­i­cal con­tri­bu­tions, and I would also put ceil­ings on cash [from indi­vid­ual contributors]."
Even these reforms wouldn't solve the revolv­ing door issue in which for­mer gov­ern­ment offi­cials use their Capi­tol Hill clout to score access for their new pri­vate-sec­tor employ­ers. Fer­gu­son offers two solu­tions to this prob­lem. ​"I would ban any con­tact with super­vised enti­ties by reg­u­la­to­ry per­son­nel for many years, not just one or two," he says. ​"And I would pay gov­ern­ment employ­ees, espe­cial­ly at high lev­els, enough so that they do not need to go to the pri­vate sec­tor to get their chil­dren educated."
Politi­cians may boast about their per­son­al integri­ty as a bul­wark against cor­rup­tion, but the influ­ence of polit­i­cal spend­ing is far-reach­ing, murky and often shapes real leg­isla­tive outcomes.
Only by acknowl­edg­ing how mon­ey dri­ves pol­i­tics can we hope to pass demo­c­ra­t­ic reforms that force politi­cians to be account­able to their con­stituents, not their wealthy donors.