Corporations Know Income Inequality Will Sink Us All. Here's Why They Just Can't Help It.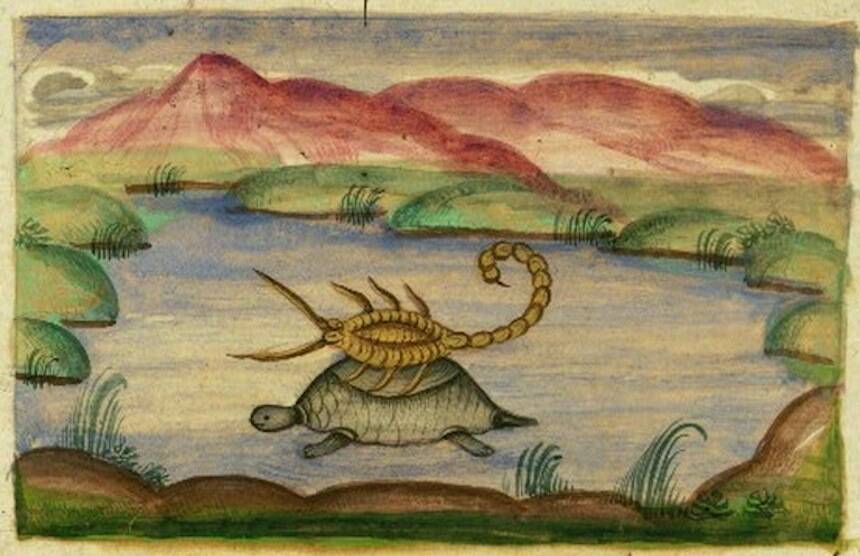 Scor­pi­on met Frog on a riv­er bank and asked him for a ride to the oth­er side. ​"How do I know you won't sting me?" asked Frog. ​"Because," replied Scor­pi­on, ​"if I do, I will drown." Sat­is­fied, Frog set out across the water with Scor­pi­on on his back. Halfway across, Scor­pi­on stung Frog. ​"Why did you do that?" gasped Frog as he start­ed to sink. ​"Now we'll both die." ​"I can't help it," replied Scor­pi­on. ​"It's my nature."
This cen­turies-old para­ble, which has been retold by Orson Welles and many oth­ers and some­times refers to a tur­tle rather than a frog, is usu­al­ly meant to show how a bad nature can­not be changed — even if self-inter­est and preser­va­tion demand it.
It's also an apt metaphor for the grow­ing scourge of income inequal­i­ty, one of the defin­ing issues of our age.
A stan­dard expla­na­tion for why income inequal­i­ty is increas­ing, to bor­row a quote from Nobel-win­ning econ­o­mist Joseph Stiglitz, is that ​"wealth begets pow­er and pow­er begets more wealth." That is, because the rich and cor­po­rate CEOs use their influ­ence to pro­mote their self-inter­est, inequal­i­ty is built into the very DNA of cap­i­tal­ism. And to return to our metaphor, the rich scor­pi­ons sting the rest of us — by exac­er­bat­ing income inequal­i­ty through pay poli­cies, stock buy­backs and oth­er actions — because it's sim­ply their nature.
But there's plen­ty of evi­dence income inequal­i­ty under­mines the econ­o­my and, as a result, harms com­pa­nies and the wealthy too. Even­tu­al­ly, we all sink together.
A grow­ing body of research in the emerg­ing area of ​"pos­i­tive orga­ni­za­tion­al schol­ar­ship" sug­gests a dif­fer­ent les­son from the scor­pi­on fable: every­one can ben­e­fit if they work togeth­er. That is, com­pa­nies can invest in their work­ers, help reduce income inequal­i­ty and make more mon­ey, all at the same time.
But they need a new per­spec­tive to see how.
Age of rage
The issue of income and wealth inequal­i­ty received a lot of atten­tion on the cam­paign trail, as can­di­dates argued whose poli­cies would be most effec­tive at lift­ing wages of the work­ing class. And no won­der. The per­cent­age of total income received by the top 1 per­cent of earn­ers in the U.S. has risen from under 8 per­cent in the 1970s to over 18 per­cent today. The per­cent­age of total wealth held by the rich­est 0.01 per­cent (the elite 1 per­cent of the 1 per­cent) has soared from under 3 per­cent to over 11 per­cent over this interval.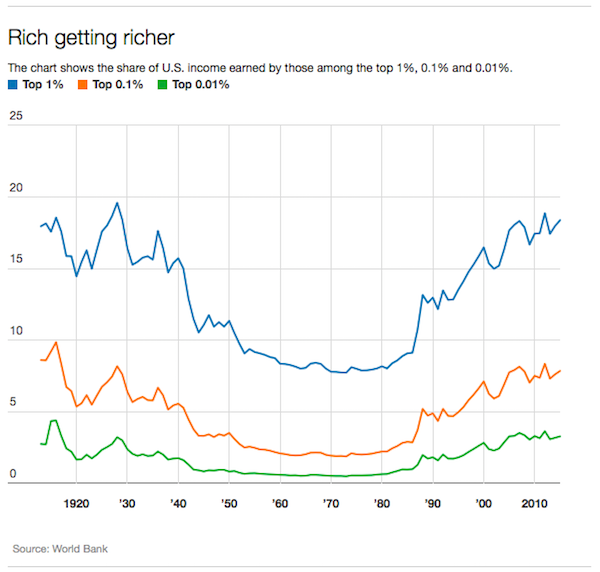 For an inter­ac­tive ver­sion of this graph­ic, click here. (Source: World Bank / The Conversation)
We haven't seen extremes like these since the start of the Great Depres­sion. So the response, con­sist­ing of speech­es by polit­i­cal can­di­dates, arti­cles by pun­dits, research by aca­d­e­mics and angry out­bursts by the pub­lic, is hard­ly a surprise.
How inequal­i­ty hurts growth
Let us con­sid­er two impor­tant ways income inequal­i­ty under­mines the econ­o­my: (1) by dimin­ish­ing work­er moti­va­tion and (2) by reduc­ing the veloc­i­ty of money.
The demo­ti­vat­ing impact of income inequal­i­ty occurs when work­ers see the gains of pro­duc­tiv­i­ty going almost entire­ly to exec­u­tives. Since 1973, pro­duc­tiv­i­ty has increased by over 73 per­cent, while (infla­tion-adjust­ed) hourly work­er pay has risen by only about 11 per­cent and CEO com­pen­sa­tion has soared by 1,000 percent.
Who can blame peo­ple for being reluc­tant to work hard­er when they know the pro­ceeds will go to some­one else? Exten­sive behav­ioral research has shown that peo­ple will forego per­son­al gain to pre­vent out­comes they per­ceive as unfair. In work set­tings, this leads to demo­ti­vat­ed work­ers work­ing below their poten­tial, even when it leads to small­er rais­es or bonus­es. The result is reduced pro­duc­tiv­i­ty, low­er qual­i­ty and less cre­ativ­i­ty, all of which under­mine cor­po­rate prof­it and eco­nom­ic growth.
Anoth­er way inequal­i­ty affects the econ­o­my is by reduc­ing the veloc­i­ty of mon­ey by shift­ing cash to peo­ple who spend it more slow­ly. Work­ing-class peo­ple who are stretch­ing to make ends meet spend their income quick­ly — usu­al­ly pret­ty much all of it— while wealthy peo­ple whose resources exceed their imme­di­ate needs tend to save sub­stan­tial por­tions of their income.
Con­se­quent­ly, when­ev­er a com­pa­ny takes a dol­lar out of the hands of a work­er and puts it into the hands of an exec­u­tive or investor, the num­ber of times that dol­lar will be spent in the econ­o­my is reduced. The result is less busi­ness for cap­i­tal­ists and less employ­ment for workers.
These two obser­va­tions imply that poli­cies that decrease income inequal­i­ty also bol­ster the econ­o­my. Since this ben­e­fits both rich and poor, such poli­cies offer oppor­tu­ni­ties for the rich, and the busi­ness­es they con­trol, to be part of the solu­tion rather than part of the prob­lem of income inequality.
Hen­ry Ford's famous $
5

‑a-day

The most straight­for­ward oppor­tu­ni­ties are work­force invest­ments to increase moti­va­tion and pro­duc­tiv­i­ty of workers.

This is what Hen­ry Ford did a cen­tu­ry ago with his famous US$5 a day wage—at a time when typ­i­cal man­u­fac­tur­ing wages were about $2.25 a day — which he called ​"one of the finest cost-cut­ting moves we ever made." In the present day, busi­ness­es rang­ing from tiny clean­ing com­pa­ny Man­aged by Q to giant retail­er Cost­co are using high wages as part of what Zeynep Ton of MIT calls a ​"good jobs strat­e­gy" to dri­ve pro­duc­tiv­i­ty, qual­i­ty and profits.

The day after the Ford Motor Com­pa­ny announced its employ­ees would make $5 a day, 10,000 peo­ple showed up to the plant in High­land Park, Mich. to apply for jobs. (Images: The Hen­ry Ford Col­lec­tion)
But iso­lat­ed actions by indi­vid­ual com­pa­nies are too small to have a sig­nif­i­cant impact on the veloc­i­ty of mon­ey across the econ­o­my. To real­ize the full eco­nom­ic ben­e­fit of some income inequal­i­ty-reduc­ing poli­cies, busi­ness­es need to imple­ment them collectively.
This hap­pened to a degree with Ford's high-wage pol­i­cy. Despite the leg­end that he raised wages to enable his work­ers to buy his cars, Ford's orig­i­nal goal was to improve reten­tion and pro­duc­tiv­i­ty. How­ev­er, when oth­er employ­ers fol­lowed suit, their col­lec­tive wage increas­es pro­duced a work­ing class that could buy more cars and more of every­thing else.
Stock buy­backs make income inequal­i­ty worse
A con­tem­po­rary exam­ple of a sit­u­a­tion that calls for col­lec­tive action is the increas­ing­ly com­mon prac­tice of stock buy­backs.
These are used by pub­lic com­pa­nies to boost their stock prices by reduc­ing the total num­ber of shares, which in turn increas­es earn­ings per share. How­ev­er, because this enhances stock-based exec­u­tive com­pen­sa­tion with­out ben­e­fit­ing work­ers, stock buy­backs ampli­fy income inequal­i­ty.
An alter­na­tive for boost­ing stock price with­out aggra­vat­ing income inequal­i­ty is invest­ing in work­er com­pen­sa­tion as part of a pro­duc­tiv­i­ty enhance­ment strat­e­gy. But, since pro­duc­tiv­i­ty invest­ments take time to pro­duce results, it is like­ly that the buy­back strat­e­gy will gen­er­ate a greater increase in stock price, and exec­u­tive com­pen­sa­tion, at least in the short term. So, from a pure self-inter­est per­spec­tive, man­age­ment has incen­tive to adopt the buy­back strat­e­gy rather than the work­force invest­ment strategy.
The fact that stock buy­backs exceed­ed $500 bil­lion in 2015 sug­gests that many busi­ness­es made pre­cise­ly this choice.
Stop sting­ing the frog
Unfor­tu­nate­ly, because buy­backs divert mon­ey away from invest­ments in pro­duc­tiv­i­ty with­out improv­ing firm per­for­mance, they ulti­mate­ly lead to less prof­it, few­er jobs, low­er wages and a small­er over­all econ­o­my. Fur­ther­more, if oth­er firms are using them to boost exec­u­tive com­pen­sa­tion, a com­pa­ny that wants to recruit and retain top man­age­r­i­al tal­ent will be seri­ous­ly tempt­ed to use buy­backs as well.
An option for break­ing this eco­nom­i­cal­ly destruc­tive cycle, which almost nev­er gets con­sid­ered, is for firms to lob­by to take the buy­back option off the table for every­one. If, for exam­ple, stock buy­backs were restrict­ed, as they were pri­or to 1982, man­age­ment would have greater incen­tive to make gen­uine invest­ments in their busi­ness­es, includ­ing in their workforces.
In addi­tion to pro­duc­ing pro­duc­tiv­i­ty gains with­in busi­ness­es, the increase in work­er com­pen­sa­tion would result in a veloc­i­ty-of-mon­ey induced stim­u­lus to the econ­o­my as a whole. The com­bined effect over time could even be large enough to make both exec­u­tives and work­ers bet­ter off than they would be under the buy­back strategy.
While col­lec­tive lob­by­ing for sen­si­ble reg­u­la­tions may sound like busi­ness heresy — in a world where cor­po­rate lob­by­ing usu­al­ly seeks nar­row favors or to stymie reg­u­la­tions in gen­er­al — it is a ratio­nal response to a sit­u­a­tion in which legal and prof­itable actions by indi­vid­ual com­pa­nies cre­ate neg­a­tive con­se­quences, or ​"exter­nal­i­ties," on the rest of the econ­o­my, and there­by wind up hurt­ing the com­pa­nies themselves.
Metaphor­i­cal­ly, such sce­nar­ios are anal­o­gous to a large num­ber of tiny scor­pi­ons (busi­ness­es) rid­ing across the riv­er on a giant frog (econ­o­my). When a sin­gle scor­pi­on stings the frog, it derives plea­sure from doing what comes nat­u­ral­ly and bare­ly harms the mam­moth frog. But when every scor­pi­on does the same, the frog dies and so do all the scorpions.
But humans aren't scor­pi­ons, so we can choose to stop the self-destruc­tive sting­ing and allow every­one to cross the river.
Dis­clo­sure state­ment: Wal­lace Hopp does not work for, con­sult, own shares in or receive fund­ing from any com­pa­ny or orga­ni­za­tion that would ben­e­fit from this arti­cle, and has dis­closed no rel­e­vant affil­i­a­tions beyond the aca­d­e­m­ic appoint­ment above. ​"How Cor­po­rate Amer­i­ca Can Curb Income Inequal­i­ty and Make More Mon­ey Too" was first pub­lished by The Con­ver­sa­tion under a Cre­ative Com­mons License.
Mr. Arkadin, a mys­te­ri­ous tycoon played by Orson Welles in the 1955 thriller of the same name, regales his house guests with the fable of ​"The Scor­pi­on and the Frog." The film was also released under the title ​"Con­fi­den­tial Report." (Video: YouTube / Warn­er Bros.)
Wal­lace J. Hopp is the Asso­ciate Dean for Learn­ing Design, and Pra­ha­l­ad Dis­tin­guished Uni­ver­si­ty Pro­fes­sor at the Ross School of Busi­ness and Pro­fes­sor of Indus­tri­al and Oper­a­tions Engi­neer­ing in the Col­lege of Engi­neer­ing at the Uni­ver­si­ty of Michi­gan. His research focus­es on the design, con­trol and man­age­ment of oper­a­tions sys­tems, with empha­sis on man­u­fac­tur­ing and sup­ply chain sys­tems, inno­va­tion process­es, and health care sys­tems. He is an active indus­try con­sul­tant whose clients have includ­ed many For­tune
500
firms.