The U.S. Response to Covid-19 Has Lavished Wealth on the Rich
While the pandemic ravages American workers, the federal government has orchestrated a monumental transfer of wealth from the bottom of the economic ladder to the top.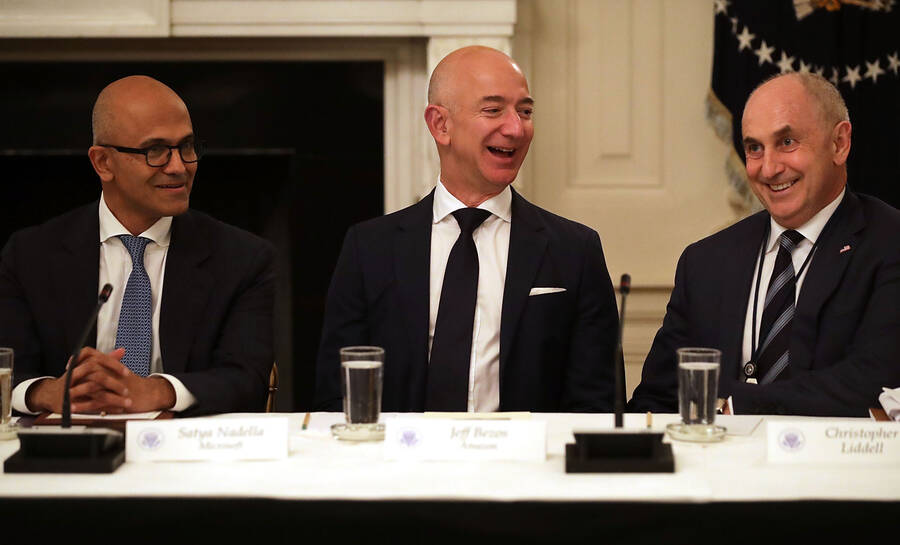 The nov­el coro­n­avirus has already claimed over 70,000 lives in the Unit­ed States since the pan­dem­ic began to spread through­out the coun­try ear­li­er this year — a fig­ure top­ping total U.S. casu­al­ties dur­ing the course of the Viet­nam War.
The asymmetrical response forecasts an American future further defined by oligarchy and deep-seated social stratification.
The Trump admin­is­tra­tion is pre­dict­ing the death toll will soon sky­rock­et, with 3,000 deaths a day becom­ing the norm by ear­ly June — even as the pres­i­dent and his fel­low Repub­li­cans urge a ​"reopen­ing" of the econ­o­my. Due to the struc­tur­al inequities baked into our eco­nom­ic and health­care sys­tems, the fatal­i­ties caused by the virus have dis­pro­por­tion­ate­ly been borne by African Americans.
Along­side this dev­as­tat­ing loss of life, over 30 mil­lion Amer­i­cans are new­ly out of work due to the shut­down and lack of a robust response from the fed­er­al gov­ern­ment. Near­ly a third of all renters can't afford to pay their month­ly rent. Half of all Amer­i­cans now say they or some­one in their home has lost hours or a job due to the pan­dem­ic. The unem­ploy­ment rate is wide­ly pre­dict­ed to sur­pass 30% in the com­ing months, which a Colum­bia Uni­ver­si­ty study esti­mates will plunge over 21 mil­lion more Amer­i­cans into poverty.
And it's not just indi­vid­u­als. Over 40% of all small busi­ness­es are on the verge of per­ma­nent clo­sure. And states and local gov­ern­ments are also fac­ing finan­cial ruin as their costs bal­loon while rev­enues dry up. As a solu­tion, Sen­ate Major­i­ty Leader Mitch McConnell (R‑Ky.) rec­om­mends that states fac­ing bud­get short­falls sim­ply declare bank­rupt­cy — a prospect that experts say risks caus­ing a pro­longed depres­sion in America.
Yet, as this pan­dem­ic wreaks hav­oc upon work­ing peo­ple the coun­try over, it has also had anoth­er stark impact: mak­ing the rich ever richer.
The pan­dem­ic payout
Accord­ing to a recent report from the Insti­tute for Pol­i­cy Stud­ies, America's bil­lion­aires saw their wealth shoot up by $282 bil­lion in just 23 days as the coun­try was shel­ter­ing in lock­down. Over­all, U.S. bil­lion­aire wealth grew by near­ly 10% at the same time over 20 mil­lion peo­ple filed for unem­ploy­ment, and by April 10 had passed $3.2 tril­lion — top­ping last year's level.
To take just one exam­ple, Jeff Bezos, Ama­zon CEO and already the rich­est per­son in the world, saw his for­tune inflate by $24 bil­lion in the first three months of the year, a surge the report's authors say is ​"unprece­dent­ed in the his­to­ry of mod­ern mar­kets." Mean­while, his work­ers have staged a series of walk­outs and oth­er labor actions to protest a lack of basic work­place pro­tec­tions as ware­house employ­ees have fall­en ill with the virus, and some have died.
As mass death over­took the coun­try in April and the econ­o­my went into free fall, the U.S. stock mar­ket saw its best month in over three decades, a boon that has over­whelm­ing­ly ben­e­fit­ed the rich­est peo­ple in the coun­try. Pri­vate health­care com­pa­nies have seen major gains, boost­ing the for­tunes of health­care bil­lion­aires, just as an esti­mat­ed 9 mil­lion Amer­i­cans were boot­ed off of their employ­er-spon­sored insur­ance plans — a fig­ure that could soon climb to 43 million.
A defi­cient response
But what of the wide­ly tout­ed stim­u­lus mea­sures passed by Con­gress? While some relief was includ­ed in the form of direct cash pay­ments of $1,200, expand­ed unem­ploy­ment insur­ance and loans to small busi­ness­es, each of these pro­grams was taint­ed with acute flaws.
The direct pay­ment plan excludes mil­lions, includ­ing undoc­u­ment­ed immi­grants, U.S. cit­i­zens mar­ried to nonci­t­i­zens, many col­lege stu­dents and oth­er depen­dents. And even among those who are eli­gi­ble, mil­lions have not yet received their checks and some may have to wait up to five months. At the same time, thanks to a change to the tax code tucked into the relief pack­age, 43,000 Amer­i­cans who make more than $1 mil­lion will be saved an aver­age of $1.7 mil­lion annu­al­ly, cost­ing U.S. tax­pay­ers $90 bil­lion in 2020 alone.
Expand­ed unem­ploy­ment insur­ance, while help­ing pro­vide sup­port for those new­ly out of work, also incen­tivized com­pa­nies to lay off their work­forces rather than retain­ing them while the gov­ern­ment con­tin­ues to pro­vide them pay­checks, as coun­tries like the UK and Den­mark are doing. The process of apply­ing for the pro­gram has been deemed a ​"night­mare" for mil­lions attempt­ing to nav­i­gate an over­whelmed sys­tem. What's more, work­ers at busi­ness­es new­ly deemed ​"essen­tial" such as meat­pack­ing, are now being forced back to work, often in unsafe con­di­tions — and those who refuse over con­cerns about their safe­ty will lose this unem­ploy­ment aid.
The Small Busi­ness Pay­check Pro­tec­tion Pro­gram, mean­while, turned out to be a bust for actu­al small busi­ness­es. Of the orig­i­nal $350 bil­lion allo­cat­ed for these busi­ness­es in the CARES Act, over $243 mil­lion end­ed up going to large cor­po­ra­tions. This includes the sub­si­diz­ing of mas­sive chains, lux­u­ry hotels and even Trump ​"megadonors" like Mon­ty Ben­nett, chair­man of Ash­ford Hos­pi­tal­i­ty Trust, who Forbes says ​"is believed to have received at least $59 mil­lion." As a result, only 5% of all small busi­ness­es were able to access those funds, and over 30 mil­lion are still strug­gling to receive relief.
Mean­while, the banks han­dling these loan appli­ca­tions made off with $10 bil­lion in fees — includ­ing many of the same banks that were bailed out by tax­pay­ers dur­ing the last reces­sion in 2008. For their wealth­i­est clients, the New York Times reports, these banks — includ­ing JPMor­gan Chase and Citibank — offered ​"concierge treat­ment" to put their appli­ca­tions at the front of the line.
The prof­i­teers
Such galling inequities writ­ten into the stim­u­lus are just the tip of the ice­berg. The true cal­lous­ness of the approach can be seen most clear­ly in the cor­po­rate wel­fare at the heart of the relief effort. While often posed as a $500 bil­lion fund for large com­pa­nies, in fact, the CARES Act allo­cat­ed over $4 tril­lion to cor­po­rate Amer­i­ca, since the fed­er­al reserve can lever­age the ini­tial fund­ing by a ratio of ten to one.
That fund is being over­seen by Trea­sury Sec­re­tary Steven Mnuchin, him­self no stranger to cor­po­rate abuse and prof­i­teer­ing. Soon after sign­ing the bill, Trump moved to undo inde­pen­dent over­sight in the pro­gram. And the cor­po­ra­tions receiv­ing this fund­ing will not be required to keep their work­ers employed, or even to lim­it exec­u­tive compensation.
This aid will flow to some of the largest and most pow­er­ful com­pa­nies in the coun­try, which are also the ones with the most liq­uid­i­ty and there­fore abil­i­ty to with­stand the eco­nom­ic impacts of the shut­down. And as we saw in the wake of the 2008 finan­cial cri­sis, bail­ing out large cor­po­ra­tions with tax­pay­er mon­ey only increas­es their stran­gle­hold over our economy.
Anoth­er path
Tak­en togeth­er, the U.S. fed­er­al government's response to the Covid-19 cri­sis has led to a mon­u­men­tal trans­fer of wealth from the bot­tom of the eco­nom­ic lad­der to the top. At a time when the poor­est and most vul­ner­a­ble Amer­i­cans are fac­ing the direst con­se­quences of the dead­ly pan­dem­ic, they're simul­ta­ne­ous­ly see­ing their tax dol­lars ear­marked to fur­ther prof­it the rich­est and most protected.
This asym­met­ri­cal response fore­casts an Amer­i­can future fur­ther defined by oli­garchy and deep-seat­ed social strat­i­fi­ca­tion. As the con­cen­tra­tion of wealth and pow­er accel­er­ates, the abil­i­ty of work­ing peo­ple to eke out a liv­ing will be more and more constrained.
Still, this moment of cri­sis also offers anoth­er path: the oppor­tu­ni­ty to fun­da­men­tal­ly restruc­ture our nation­al pri­or­i­ties to bol­ster those most in need — by final­ly mak­ing the wealthy pay.
Accord­ing to the Insti­tute for Pol­i­cy Stud­ies report, tax­es paid by bil­lion­aires fell by 79% between 1980 and 2018. Over this peri­od, cor­po­rate tax­es have sim­i­lar­ly been dras­ti­cal­ly cut, includ­ing by Pres­i­dent Trump in his 2017 Tax Cuts and Jobs Act. As a result of this shift, gov­ern­ment cof­fers have dried, social safe­ty net pro­grams have been slashed, the work­ing poor have been squeezed and the 1% have accu­mu­lat­ed more mon­ey than they could spend in mul­ti­ple lifetimes.
When it comes to the U.S. response to the Covid-19 cri­sis, bil­lion­aire tech investor Chamath Pal­i­hapi­tiya esti­mates that ​"only five to 10 cents of every dol­lar that's being spent or guar­an­teed by the fed­er­al gov­ern­ment is going to the aver­age American."
Instead of pur­su­ing such a mar­ket fun­da­men­tal­ist approach, Con­gress could, for exam­ple, insti­tute a wealth tax; sig­nif­i­cant­ly raise both the cor­po­rate and top mar­gin­al tax rates; guar­an­tee free health­care to all; cov­er 100% of unem­ployed work­ers' pay­checks and pro­vide $2,000 month­ly cash pay­ments to all Amer­i­cans dur­ing the pan­dem­ic; can­cel rent, mort­gage pay­ments, and all stu­dent and med­ical debt; and enact a fed­er­al jobs guar­an­tee to car­ry out test­ing and con­tract trac­ing so that we can all safe­ly emerge from this cri­sis. Politi­cians from Reps. Alexan­dria Oca­sio-Cortez (D‑N.Y.) and Ilhan Omar (D‑Minn.) to Sens. Bernie Sanders (I‑Vt.) and Richard Blu­men­thal (D‑Conn.) have already put for­ward these types of bold poli­cies to respond to the eco­nom­ic toll of the pandemic.
Such pro­pos­als may seem far-fetched. But then, think of the strat­e­gy cur­rent­ly being car­ried out by the fed­er­al gov­ern­ment: sac­ri­fic­ing Amer­i­can lives in the ser­vice of accu­mu­lat­ing cap­i­tal. It's the sta­tus quo that's rad­i­cal. If there was ever a time to upend it, it's now.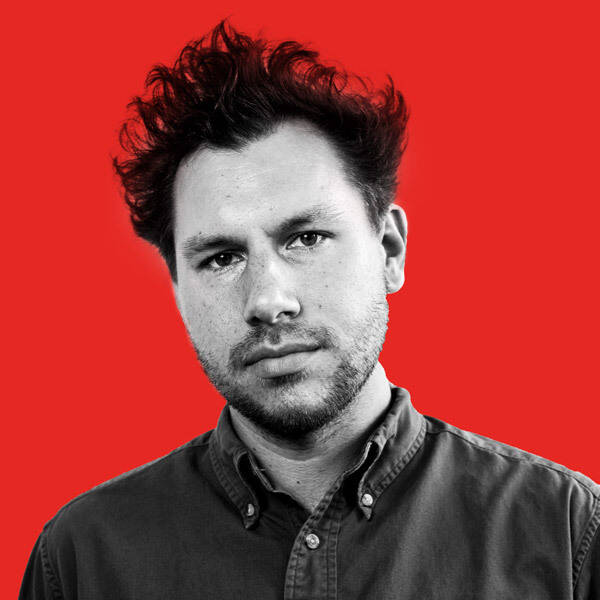 Miles Kampf-Lassin, a grad­u­ate of New York Uni­ver­si­ty's Gal­latin School in Delib­er­a­tive Democ­ra­cy and Glob­al­iza­tion, is a Web Edi­tor at In These Times. Fol­low him on Twit­ter @MilesKLassin