A Mask Shortage Could Leave Farmers and Farm Workers Exposed to Toxic Pesticides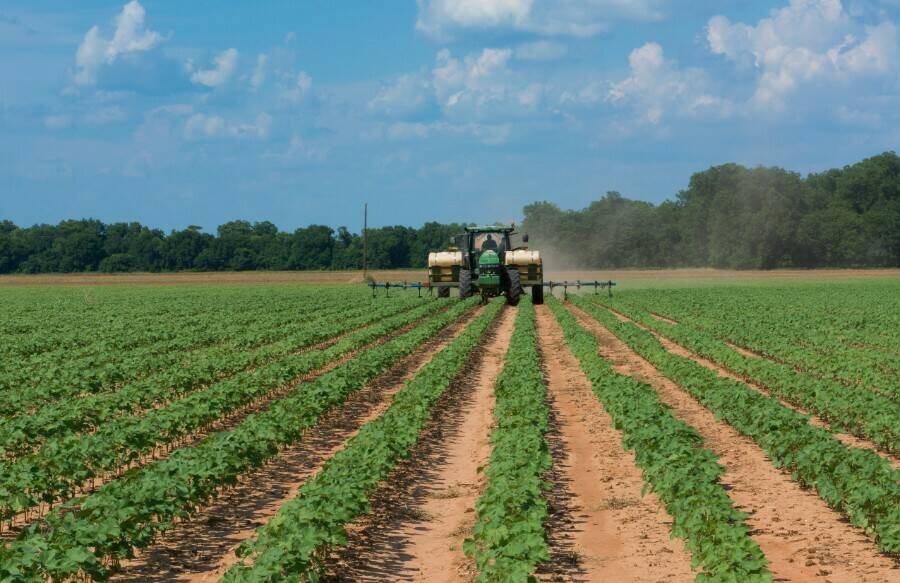 Edi­tor's Note: This arti­cle is repub­lished from The Con­ver­sa­tion under a Cre­ative Com­mons license. Read the orig­i­nal arti­cle.
As the COVID-19 pan­dem­ic spreads around the world, vital N95 masks and oth­er per­son­al pro­tec­tive equip­ment have been hard to come by, even for those who need them most.
The World Health Orga­ni­za­tion esti­mates that the cri­sis has dri­ven demand for this equip­ment, known as PPE, 100 times high­er than nor­mal. Even with dra­mat­ic increas­es in pro­duc­tion, man­u­fac­tur­ers have said they'll like­ly be unable to meet demand for the fore­see­able future.
And the WHO has warned that the severe short­age is putting the lives of health care work­ers at risk.
But it's not just health care work­ers and oth­er care providers who need PPE – espe­cial­ly those N95 masks, tech­ni­cal­ly known as res­pi­ra­tors. These devices are also vital to the safe­ty of work­ers in a host of oth­er indus­tries, from build­ing trades to agriculture.
As an ento­mol­o­gist who stud­ies and teach­es about pes­ti­cide risk reduc­tion, I am par­tic­u­lar­ly con­cerned about what the short­age may mean for farm­work­ers, whom the Depart­ment of Home­land Secu­ri­ty clas­si­fies as essen­tial work­ers – peo­ple who remain on the job even where oth­ers have been told to stay home.
Pes­ti­cides used in US agri­cul­ture can impact res­pi­ra­to­ry health
Hun­dreds of thou­sands of farm­work­ers in the Unit­ed States rou­tine­ly encounter pes­ti­cides on the job And some of the most wide­ly used pes­ti­cides in the U.S. pose seri­ous health risks, rang­ing from caus­ing occu­pa­tion­al asth­ma and res­pi­ra­to­ry irri­ta­tion to death.
Epi­demi­o­log­i­cal stud­ies, includ­ing a long-term study of over 80,000 licensed pes­ti­cides appli­ca­tors con­duct­ed by the Nation­al Insti­tutes of Health, have found links between pes­ti­cides and res­pi­ra­to­ry prob­lems, rang­ing from acute symp­toms such as dry throat, dif­fi­cul­ty breath­ing, chest pain, cough­ing and wheez­ing to chron­ic con­di­tions like decreased lung func­tion, occu­pa­tion­al asth­ma, chron­ic obstruc­tive pul­monary dis­ease and lung cancer.
Anoth­er study by the Nation­al Insti­tute for Occu­pa­tion­al Safe­ty and Health found that farm­work­ers had sig­nif­i­cant­ly ele­vat­ed mor­tal­i­ty for a num­ber of res­pi­ra­to­ry con­di­tions, includ­ing hyper­sen­si­tiv­i­ty pneu­moni­tis (also known as ​"farmer's lung"), asth­ma, bron­chi­tis and pneumonia.
Masks can be vital to min­i­miz­ing the risk. The cur­rent short­age of masks comes on top of oth­er risks relat­ed to the cur­rent health emer­gency. For exam­ple, farm work­ers often have pre­ex­ist­ing con­di­tions, such as those affect­ing res­pi­ra­to­ry health, that are risk fac­tors for coro­n­avirus. Many live and work in crowd­ed con­di­tions, and have dif­fi­cul­ty access­ing med­ical care.
Masks pro­tect farm work­ers too
Many farm­ers and farm work­ers, espe­cial­ly those who work with pes­ti­cides, car­ry N95 masks. These devices are made of non-woven polypropy­lene fiber and meet strict gov­ern­ment stan­dards for fil­ter­ing out par­ti­cles and droplets as small as 0.3 microns, or three one-thou­sandths of a mil­lime­ter. These are often part of a broad­er PPE kit that can include res­pi­ra­to­ry pro­tec­tion, gloves, head­gear and body, foot and eye protection.
Under U.S. law, employ­ers must pro­vide appro­pri­ate PPE to work­ers who han­dle pes­ti­cides. The kind of pro­tec­tive equip­ment need­ed is deter­mined by a pes­ti­cide product's lev­el of tox­i­c­i­ty for five types of acute expo­sure – oral, der­mal, inhala­tion, eye irri­ta­tion and skin irri­ta­tion – as well as whether it is a gas, sol­id or liq­uid, and whether the work is being done out­doors or in an enclosed space.
Any­one who han­dles or assists with the appli­ca­tion of pes­ti­cides is required to use fil­ter­ing masks as good as N95s or bet­ter when they work with prod­ucts which are lethal or tox­ic if inhaled, or if risk assess­ments iden­ti­fy oth­er issues that need to be addressed.
Reduc­ing risks by man­ag­ing pests differently
As the U.S. grow­ing sea­son gets under­way, ear­ly reports indi­cate that most farm­ers have the PPE they need for now. But each N95 mask should only be used for eight hours before being dis­card­ed, so with a short­age of masks that is unlike­ly to abate soon, farm­work­ers are like­ly to be caught short. So far, local agri­cul­tur­al agen­cies have only pro­vid­ed lim­it­ed guid­ance on how to address the shortage.
So what should farm­ers and farm work­ers do? Spe­cif­ic actions will depend on the crop and the pes­ti­cide prod­uct, but here are some gen­er­al recommendations.
First, when labels require the use of masks, farm­ers and farm work­ers should not work with­out them. This is unsafe and often ille­gal. Some haz­ardous pes­ti­cides are only allowed in the mar­ket because it is assumed that the use of PPE will con­sid­er­ably lim­it expo­sure.
Nor should pes­ti­cide han­dlers use impro­vised masks. Ban­dan­nas and oth­er kinds of ordi­nary cloth worn over the nose and mouth do not fil­ter out harm­ful pes­ti­cide par­ti­cles and droplets, and can even act as reser­voirs for pes­ti­cide residues.
Instead, I believe farm­ers should con­sid­er reduc­ing risks through adjust­ing their pest man­age­ment prac­tices. This is already a rec­om­mend­ed best prac­tice: The Inter­na­tion­al Labour Organization's Code of Prac­tice on Safe­ty and Health in Agri­cul­ture states that the first line of defense against health effects caused by pes­ti­cides should be elim­i­nat­ing or reduc­ing expo­sure to the haz­ard, and that PPE should only be used as a last resort.
The U.S. Occu­pa­tion­al Safe­ty and Health Admin­is­tra­tion also advis­es that res­pi­ra­to­ry haz­ards should be addressed through a ​
"
hier­ar­chy of con­trols
."
These reduc­tions can be achieved in a num­ber of ways. They include inte­grat­ed pest man­age­ment, an approach that fine­ly tunes pes­ti­cide appli­ca­tion and empha­sizes least-risk options; engi­neer­ing con­trols that lim­it con­tact with pes­ti­cides; and replac­ing high­ly haz­ardous pes­ti­cides with less haz­ardous con­trol measures.
Poten­tial sub­sti­tutes that are gen­er­al­ly con­sid­ered to be low­er-risk pest man­age­ment options include micro­bials (pes­ti­cides with a microor­gan­ism as the active ingre­di­ent), pheromones and ben­e­fi­cial insects. Used togeth­er with good crop man­age­ment, these prod­ucts can help keep pest lev­els under con­trol and reduce the need for oth­er pesticides.
But even some of these options pose risks that require use of masks. For instance, repeat­ed expo­sure to the pro­teins in some pop­u­lar micro­bials can cause aller­gic sen­si­ti­za­tion and even lung inflammation.
An oppor­tu­ni­ty in a crisis
Mil­lions of work­ers in many fields depend on N95 masks and oth­er PPE for safe­ty and health, includ­ing farm­ers and farm work­ers who have the vital role of feed­ing the world. Ramp­ing up PPE pro­duc­tion may help alle­vi­ate the cur­rent short­age, but I believe researchers and gov­ern­ments should also try to iden­ti­fy and pro­mote suit­able alter­na­tives to pes­ti­cides that require such PPE in the first place.