Blaming Ourselves for Crowded Parks Misses the Point: There Aren't Enough Parks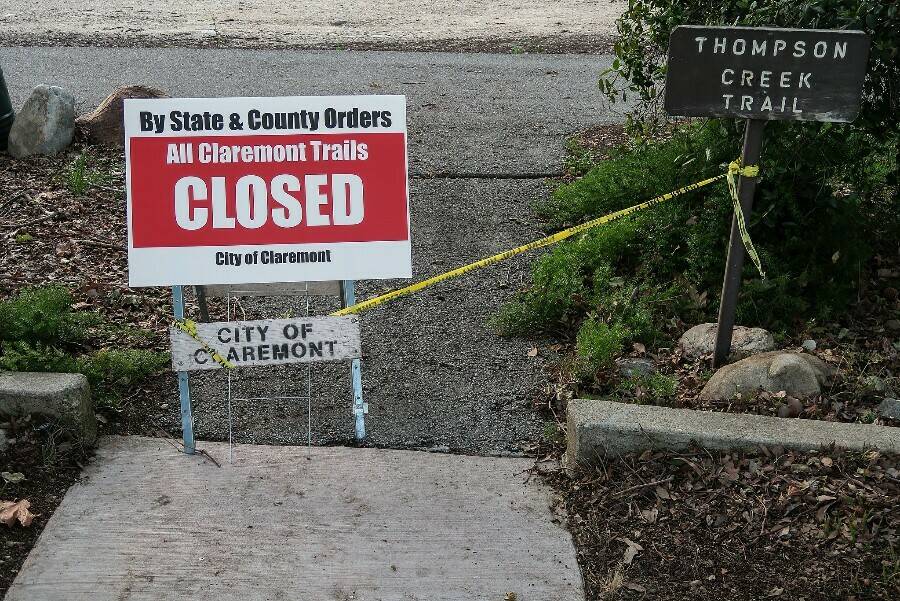 Across the United States, local authorities have sealed off public parks and open spaces, blaming visitors who failed to maintain social distance. What started with closed urban playgrounds spread like a contagion in its own right. In California the city of Santa Cruz banned surfing. In Colorado San Juan County issued an order threatening to tow vehicles belonging to backcountry skiers. ​"Socially distant" gradually became synonymous with ​"indoors."
It was only a few weeks ago that going for a hike was seen as a reasonable way to shelter in place. Then the sun came.
Beachgoers and picnickers turned out en masse, making headlines from San Francisco to London. Mayors and governors scolded the public on live television as they announced new restrictions.
A common refrain on social media lamenting the park closures has been, ​"Why can't we have nice things?" But blaming ourselves for crowded parks misses the underlying issue: In many parts of the country, there simply isn't enough public space to go around.
This problem is most pronounced in urban areas. An analysis of the country's 100 largest cities found that only half of residents live within a half-mile of a park. Access is especially limited for communities of color and low-income groups, where neighborhoods lack public spaces to exercise, relax, gather, or simply breathe clean air.
This lack of city parks puts further pressure on nearby rural areas. The Golden Gate National Recreation Area (near San Francisco) and the Blue Ridge Parkway (near Washington, D.C.) had 15 million visitors apiece last year — more than triple the number at Yellowstone or Yosemite.
In the past decade, the National Park Service has seen a 15% increase in visits. But in that same decade, funding grew by less than .5% in real terms, leaving the agency unable to build new trailheads, expand parking lots or address a $12 billion repair backlog.
When recreation sites become overwhelmed, access becomes self-limiting. In much of the country, finding a parking spot at a trailhead is a summer adventure in its own right. We've overcrowded and underfunded ourselves into this situation.
This problem has a straightforward solution. Safeguarding access to public spaces requires protecting more land and improving infrastructure in existing parks. Doing so has the double-effect of creating more space for nature while distributing the impact of visitors. These should be easy wins to support an outdoor recreation economy valued at $500 billion by the Bureau of Economic Analysis.
There are any number of ways Congress could address this issue. A simple first step: Mandate that taxes on oil and gas drilling allocated to the Land and Water Conservation Fund are not diverted to other projects or left unappropriated. According to Congress' in-house researchers, less than half of the $41 billion raised by the fund was spent to support public lands and recreation.
This lack of support is hardly accidental. ​"The Founding Fathers intended all lands owned by the federal government to be sold," wrote William Perry Pendley in 2016. He is now the acting director of the Bureau of Land Management, overseeing a huge swath of federal public land.
Some officials are pushing a narrative in which landscapes are made whole through private development instead of public stewardship. Now, in the midst of a national emergency, we find ourselves unable to keep public spaces open at the time when we need them most — proof that this vision is gaining literal ground. With too little space to go around, staying home is the only way to stay safe.
The pandemic didn't create this crisis. But in the confines of our homes, we should ask whether we've taken our parks for granted. Our stewardship of public spaces must be continually reaffirmed, so that we can all go out in search of social distance — and perhaps even solitude.
Editor's Note: This article was originally published by The Revelator, a publication of the Center for Biological Diversity.
Did you know?
Many nonprofits have seen a big dip in support in the first part of 2021, and here at In These Times, donation income has fallen by more than 20% compared to last year. For a lean publication like ours, a drop in support like that is a big deal.

After everything that happened in 2020, we don't blame anyone for wanting to take a break from the news. But the underlying causes of the overlapping crises that occurred last year remain, and we are not out of the woods yet. The good news is that progressive media is now more influential and important than ever—but we have a very small window to make change.

At a moment when so much is at stake, having access to independent, informed political journalism is critical. To help get In These Times back on track, we've set a goal to bring in 500 new donors by July 31. Will you be one of them?
Here's how you can help
In These Times is funded entirely by readers like you, but through the first half of 2021, reader donations are down 20% compared to last year. If that continues, it could spell real trouble for In These Times. We're running a short fundraising drive (from now until July 31) to get things back on track. Will you chip in?