LGBTQ Protests Against Israel Are About Justice, Not Anti-Semitism
Israel uses a reductive version of "gay rights" to market itself with a positive, welcoming image—despite its egregious human rights abuses against Palestinians.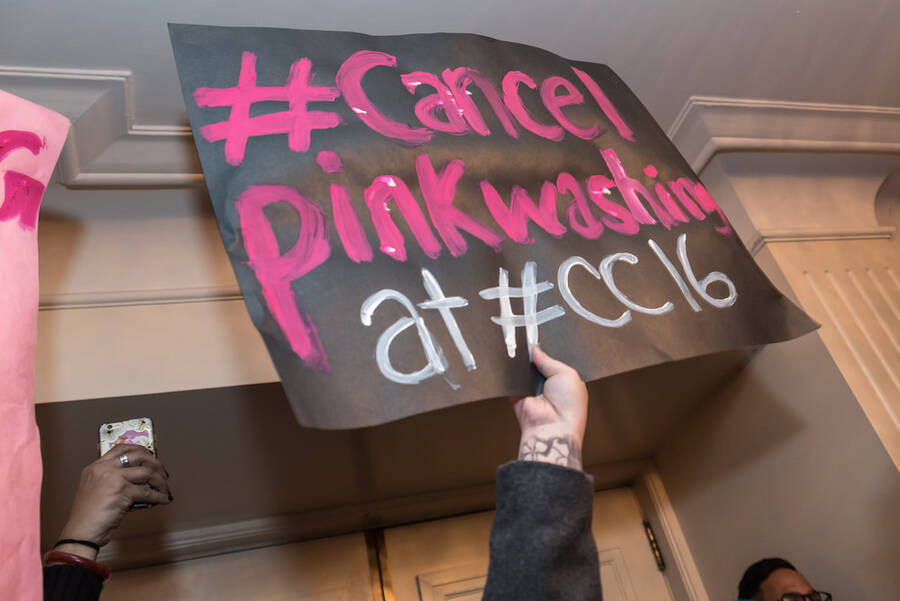 I first heard the term ​"pinkwash­ing" at an event in Seat­tle four years ago, where I saw that, as a Jew­ish queer, I was the prime tar­get for Israel's lat­est pub­lic rela­tions strat­e­gy: mar­ket­ing Israel as an LGBTQ-friend­ly des­ti­na­tion to shift focus from its human rights abus­es against all Pales­tini­ans. A suc­cess­ful push by local activists to can­cel an Israel-spon­sored speak­ing event of LGBT Israelis had been fol­lowed by intense back­lash from sev­er­al LGBTQ and Jew­ish orga­ni­za­tions. At a report-back, Pales­tin­ian and Jew­ish activists clar­i­fied why they had orga­nized to can­cel the tour and led a dis­cus­sion on pinkwash­ing, insist­ing that, as queer peo­ple, we ask crit­i­cal ques­tions about the use of our iden­ti­ties. Which queer voic­es are allowed to be heard? Whose expe­ri­ences are erased? What pow­er struc­tures are these nar­ra­tives upholding?
There's no pink door in the apartheid wall—pinkwashing erases queer Palestinians, or uses them as props for a narrative in which Israel becomes a savior, while intentionally distracting from the oppression, violence and racism all Palestinians face.
I felt a vis­cer­al response upon learn­ing of the state-spon­sored tour and see­ing queer iden­ti­ty wield­ed as a brand­ing tac­tic — flat­tened, sim­pli­fied and pack­aged to assure U.S. queers, espe­cial­ly white Jew­ish ones, that Israel was ​"just like us," with the unspo­ken, racist impli­ca­tion that Pales­tini­ans, Arabs and Mus­lims aren't.
Events last week brought pinkwash­ing to nation­al atten­tion: the lead­er­ship of Cre­at­ing Change, a major LGBTQ con­fer­ence, ini­tial­ly can­celled but then rein­stat­ed a recep­tion by Israel advo­ca­cy orga­ni­za­tion A Wider Bridge. A Wider Bridge seeks to devel­op ties between LGBTQ peo­ple in North Amer­i­ca and Israel towards LGBTQ Amer­i­cans hav­ing a ​"mean­ing­ful con­nec­tion with Israel"; they also part­nered with the Israeli gov­ern­ment and right-wing Israel advo­ca­cy group Stand­With­Us to put on the Seat­tle event men­tioned above. Many activists attend­ing the con­fer­ence, how­ev­er, refused to remain silent about A Wider Bridge's pinkwash­ing work, and hun­dreds of queer and trans atten­dees protest­ed and chant­ed in the hall­ways, halt­ing the recep­tion mid­way. I had chills watch­ing the #can­celpinkwash­ing tag on Twit­ter that evening, hear­ing a mul­tira­cial protest for Pales­tin­ian lib­er­a­tion resound through the hotel hall­ways, led by queer and trans peo­ple of col­or demand­ing and build­ing a move­ment against all sys­tems of oppression.
With both the ini­tial can­cel­la­tion and the lat­er protest, how­ev­er, the back­lash has been swift, as sup­port­ers of A Wider Bridge attempt to bury the core issues under alarmist lan­guage, espe­cial­ly by con­flat­ing Jews with the state of Israel. An arti­cle in Haaretz false­ly accused the pro­test­ers of vio­lence, and an arti­cle in Slate claimed that the LGBT move­ment has an anti-Semi­tism problem.
Mark Joseph Stern, in the Slate piece, mis­char­ac­ter­izes the pro­test­ers' argu­ment as one claim­ing that ​"Israel's effort to grant civ­il rights to LGBTQ peo­ple is real­ly just an insid­i­ous attempt to cause a dis­trac­tion from its human rights vio­la­tions else­where." Rather, pinkwash­ing crit­ics have been clear that their cri­tique is in the use of a reduc­tive ver­sion of ​"gay rights" to mar­ket Israel, brand­ing the coun­try with a pos­i­tive, wel­com­ing image despite its egre­gious human rights abus­es against Pales­tini­ans (both queer and otherwise).
When he speaks of gen­er­al ​"civ­il rights to LGBTQ peo­ple," this ignores that such ​"rights" do not apply in the same way to every­one gov­erned and occu­pied by the Israeli state. With­out the con­text of Pales­tin­ian queer voic­es, he's left to assume that an amor­phous anti-Semi­tism was at the root of the protests: ​"They stormed a recep­tion for a bunch of Jews."
This idea advances an incor­rect and harm­ful def­i­n­i­tion of anti-Semi­tism that equates dis­sent against Israel's oppres­sive poli­cies with anti-Jew­ish big­otry. Mean­while, this and oth­er sim­i­lar pieces con­ceal the lived expe­ri­ences and polit­i­cal expres­sions of Pales­tini­ans, includ­ing queer Pales­tini­ans, while avoid­ing a much-need­ed dis­cus­sion around the com­plic­i­ty of LGBTQ insti­tu­tions in struc­tures that oppress mem­bers of their own communities.
The allure of dialogue
A Wider Bridge has a long his­to­ry of ignor­ing and cov­er­ing up Israel's human rights abus­es against Pales­tini­ans by tout­ing Israel's ​"gay-friend­ly" rep­u­ta­tion. Upon learn­ing of their par­tic­i­pa­tion at Cre­at­ing Change, a diverse coali­tion, with LGBTQ Pales­tin­ian orga­ni­za­tions and lead­ers at the cen­ter, came togeth­er to oppose it. The coali­tion argued that sup­port of Israel's ​"mil­i­tary occu­pa­tion, eth­nic cleans­ing, racism and colo­nial­ism [is] incom­pat­i­ble with queer lib­er­a­tion and with fun­da­men­tal human rights."
Their orga­niz­ing led to the ini­tial can­cel­la­tion of the event, but the back­lash from insti­tu­tion­al play­ers was quick, lead­ing to the first round of mis­lead­ing op-eds and the uncer­tain Nation­al LGBT Task Force, which runs the con­fer­ence, revers­ing their decision.
The state­ments from A Wider Bridge and allied groups sound appeal­ing at first — why not come togeth­er for dia­logue, include every­one, find the mid­dle road? But, as is often the case with appeals to dia­logue between par­ties in dif­fer­ent social posi­tions, this con­ceals the pow­er dynam­ics at play and attempts to dis­tract from the ongo­ing vio­lence Pales­tini­ans face from the Israeli state. Appeal­ing to a sim­plis­tic notion of tol­er­ance — and eras­ing issues of pow­er in the process — are key com­po­nents of any pinkwash­ing effort.
As the over 50 orga­ni­za­tions who signed on to the coali­tion state­ment note:
Pinkwash­ing is an explic­it strat­e­gy that the state of Israel and Israeli advo­ca­cy orga­ni­za­tions engage in to try to improve Israel's image which has been tar­nished by its glob­al rep­u­ta­tion for eth­nic cleans­ing and apartheid. By shift­ing the focus to a very nar­row def­i­n­i­tion of LGBT rights (exclu­sive, of course, of queer Pales­tini­ans), these Pinkwash­ing efforts nor­mal­ize the occu­pa­tion of Pales­tin­ian land by dis­tract­ing from the vio­lent, inhu­mane actions of the Israeli set­tler state.
Pinkwash­ing is an inte­gral part of Israel's ​"Brand Israel" pub­lic rela­tions strat­e­gy, which appeals to racist and colo­nial notions of Pales­tini­ans, Arabs and Mus­lims as back­wards and intol­er­ant in con­trast to the sup­pos­ed­ly enlight­ened West­ern lib­er­al­ism of Israel. A sim­pli­fied notion of ​"gay rights" has become one of the most effec­tive ways to mark that West­ern iden­ti­ty and is used by orga­ni­za­tions like A Wider Bridge to build sup­port for the Israeli state. An ongo­ing his­to­ry of apartheid, occu­pa­tion and set­tler-colo­nial­ism is replaced with a feel-good sto­ry of lib­er­al tolerance.
But as anti-pinkwash­ing activists have long observed, there's no pink door in the apartheid wall — pinkwash­ing eras­es queer Pales­tini­ans, or uses them as props for a nar­ra­tive in which Israel becomes a sav­ior, while inten­tion­al­ly dis­tract­ing from the oppres­sion, vio­lence and racism all Pales­tini­ans face.
The effort to exclude A Wider Bridge from Cre­at­ing Change was not about exclud­ing Jews, but rather to make clear that our strug­gles for lib­er­a­tion are all inter­con­nect­ed, and that sup­port for occu­pa­tion, colo­nial­ism and dis­crim­i­na­tion has no place in our com­mu­ni­ty. There is a wide range of opin­ion with­in the Jew­ish com­mu­ni­ty on Israeli pol­i­cy, and grow­ing num­bers of us are join­ing the move­ment for jus­tice in Palestine.
The evening of the recep­tion, a group of queer Jews led an alter­na­tive Shab­bat in sol­i­dar­i­ty with Pales­tini­ans. And, con­trary to the alarmist claims about the protests as inher­ent­ly anti-Semit­ic, queer Jews were part of the anti-pinkwash­ing orga­niz­ing and protests from the beginning.
Build­ing queer visions of justice
Pinkwash­ing isn't only about Israel: at the very same con­fer­ence, the U.S. Immi­gra­tions and Cus­toms Enforce­ment (ICE) agency was invit­ed to lead a work­shop on immi­gra­tion — even as ICE active­ly con­ducts raids to deport Cen­tral Amer­i­can refugees (who are flee­ing vio­lence root­ed in U.S. impe­ri­al­ism). How else can we under­stand the work­shop but as an attempt to pinkwash away their bru­tal­i­ty? Migrant jus­tice groups orga­nized effec­tive­ly to can­cel that work­shop, but right­ly con­tin­ue to demand answers from the Nation­al LGBTQ Task Force: Why was ICE invit­ed in the first place?
As queer peo­ple, we need to con­tin­ue to devel­op our think­ing and approach­es to avoid the traps of pinkwash­ing, to resist sin­gle-issue pol­i­tics that help LGBTQ peo­ple in posi­tions of rel­a­tive social pow­er while ignor­ing the real­i­ties that affect the most mar­gin­al­ized in our com­mu­ni­ties. We have to hold insti­tu­tions that claim to speak for us account­able, as we try to under­stand and under­mine oppres­sive pow­er struc­tures rather than rein­force them.
The Nation­al LGBTQ Task Force should learn from the work for jus­tice that many of this year's pre­sen­ters, atten­dees and speak­ers do, and respond to the demands from the #can­celpinkwash­ing coali­tion orga­niz­ing for jus­tice in Pales­tine, by com­mit­ting to oppose colo­nial­ism and state vio­lence every­where, from the Unit­ed States to Cen­tral Amer­i­ca to Israel. Whether they do or not, the grass­roots move­ment for glob­al jus­tice and lib­er­a­tion we saw at the Chica­go pinkwash­ing protest will only con­tin­ue to grow.
Jim­my Pasch
is the West Region­al Orga­niz­er at Jew­ish Voice for Peace.