Teamsters Say Union Buster C&S Wholesale Grocers Aims To Kill Jobs at Safeway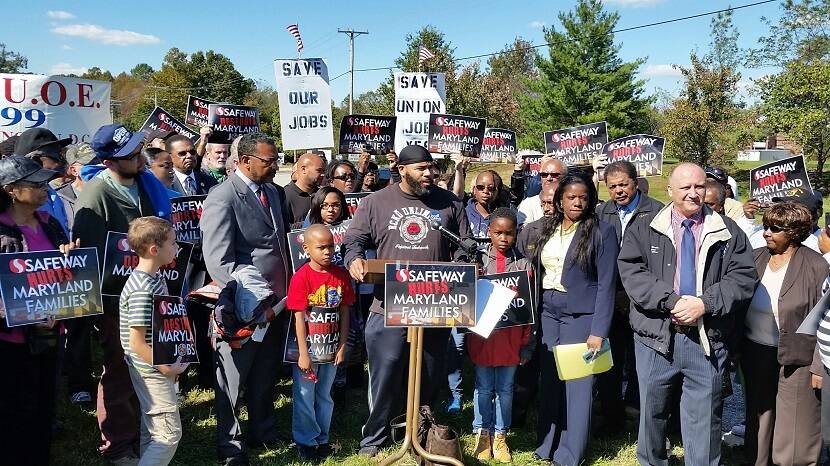 Teamster members and their supporters are mobilizing to block a union busting effort at two huge warehouses controlled by the Safeway supermarket chain, one of several food retailers recently combined into national grocery store colossus by Wall Street private equity firm Cerberus Capital.
The two warehouses are located in the Maryland suburbs of Washington, D.C., and currently employ about 700 workers, most of them represented by the Teamsters. The union members were notified last week that their jobs will be eliminated when the warehouses are closed in early December, labor sources say, with most of the jobs transferred to non-union warehouses elsewhere in Maryland and Pennsylvania.
"We had a meeting to talk about our contract, which comes up for renewal in May, but they walked in and handed us a WARN notice," announcing that most union truck drivers will lose their jobs December 6, says Phil Giles, Vice President of Washington-based Teamsters Local 639. (A WARN notice is a requirement of the WARN Act, which requires large companies to warn workers in advance of plant closures and mass firings.) ​"That was the first we heard of it."
The meeting was with officials of Collington Services, a subsidiary of C&S Wholesale Grocers, which bills itself as the largest wholesale grocery distributor in the United States. C&S has had a contract with Safeway for the last 15 years to operate the warehouses that supply the chain's supermarkets in Maryland, Virginia and the District of Columbia, Giles says, with Safeway in turn owned by Cerberus Capital-controlled Albertsons Companies Inc.
"Frankly, I am shocked that Safeway would send — with no prior discussion — a 60-day WARN notice to Teamsters members and their local unions," Teamsters President James Hoffa stated in an Oct. 9 open letter to Albertsons CEO Robert Miller. C&S, Hoffa continued, is ​"a grocery company with a notorious record of casting thousands of workers aside, destroying decent jobs and leaving taxpayers and communities with the task of picking up the pieces and cleaning up the economic fallout."
As reported last year at In These Times, C&S has been aggressively expanding its operations, often at the expense of Teamster members. It has become almost commonplace for C&S to acquire control of Teamster-contracted warehouses, transfer the shipping work to other C&S non-union subsidiaries, and then get rid of the unionized workers, one Teamster official said. The union estimates it has lost about 4,500 jobs from such C&S union busting since 2001.
Last year, for example, C&S acquired Associated Wholesalers Inc. (AWI), a Pennsylvania company that employed about 1,100 Teamster members. Seven months after the acquisition was complete, it closed three of the company's New Jersey warehouses with the loss of about 400 jobs. And Teamsters employment has been slashed by more than half at AWI's largest remaining Pennsylvania warehouse, according to Local 429 Business Agent Bill Geise. ​"It's the worst I've seen in 25 years," of representing union members at AWI, Geise tells In These Times. ​"They (C&S) just don't care."
The immediate goal for the Teamsters in the new Safeway/C&S case is to convince Safeway/​Albertsons to agree to a 180-day moratorium on any closures, according to the Hoffa letter. The Teamster leader proposes the company meet with the union and with Maryland local and state economic development officials to negotiate a plan to save the jobs. Also involved would be the International Association of Machinists and the International Union of Operating Engineers, both of which represent smaller units of workers at the warehouses, Local 639's Giles says.
The unions are also appealing to elected officials to get involved. Maryland State Senator C. Anthony Muse is organizing a demonstration in support of the workers for October 16, and other public officials are being recruited by the unions, according to Giles. Elected officials have supported financial incentives for Safeway to save local jobs in the past, according to Giles, so the union believes that such incentives should be part of a negotiation to keep the warehouses open.
Hoffa cited these past incentives, as well as contract concessions made by the Teamsters in the past, in his open letter.
In fact, in the late 1990s, cooperation between Safeway, state and county elected official, and the Teamsters helped bring this brand-new facility to…Maryland. Safeway received $2 million dollars from Maryland taxpayers for building the facility and obtained concessions from its employees over the last 15 years to defray the cost of building this $91 million state-of-the-art distribution center…

The very workers whose concessions helped pay for your success in Maryland and who are now facing unemployment have not been told whether they'll be offered jobs at other locations. Even worse, the closure is planned to occur just 19 days before Christmas. This is shameful.

Safeway wasn't always the kind of company that treated local communities this way. Things have not been the same since the private equity firm Cerberus Capital Management bought Safeway.
Cerberus appears to be at the root of the union busting, Giles continues. The New York-based financing company acquired Albertsons and Safeway separately, and are now combining the two for the purpose of making a public stock offering that should be profitable for Cerberus. Job cuts at Safeway are part of increasing the profitability of the stock offering, Giles says, and C&S Wholesale is the mechanism to implement the cuts.
According to the company's web site, C&S is the largest wholesale grocery distributor in the United States, based on revenue. Net sales were $25.9 billion in 2014, making it one of the largest privately held companies in the United States, as ranked by Forbes magazine. C&S operates in 15 states, with contracts with such well known retailers as Stop & Shop, Giant Food, BI-LO/Winn-Dixie, Great Atlantic & Pacific Tea Co. (A&P), Safeway and Target.
According to the Safeway web site, ​"our parent company, AB Acquisition LLC, and Safeway completed a merger [in January 2015] that created one of the largest food and drug retailers in the country, with over 2,200 stores in 33 states and the District of Columbia, and employing approximately 265,000 people."
Bruce Vail
is a Baltimore-based freelance writer with decades of experience covering labor and business stories for newspapers, magazines and new media. He was a reporter for Bloomberg BNA's Daily Labor Report, covering collective bargaining issues in a wide range of industries, and a maritime industry reporter and editor for the Journal of Commerce, serving both in the newspaper's New York City headquarters and in the Washington, D.C. bureau.