Whatever Obama's Calculations, Socialism Is Still Alive and Well in Cuba
After 54 years of the most powerful country on earth with its boot on your collective neck, any relief is worthy of celebration.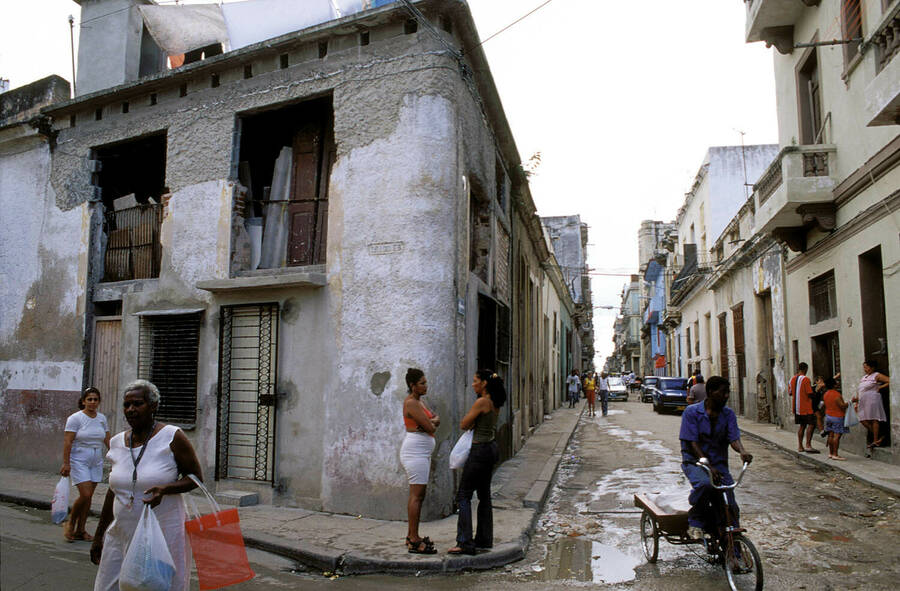 In 1992, a rag­tag group of 106 car­a­vanistas con­front­ed some 400 fed­er­al offi­cials at the U.S.-Mexico bor­der in Lare­do, Texas. Under the lead­er­ship of the late Rev. Lucius Walk­er, we were loaded with med­i­cines, school sup­plies and used bicy­cles bound for Havana. This was the first pub­lic chal­lenge to the U.S. block­ade of Cuba since the blockade's estab­lish­ment in 1961.
If U.S. officials simply leave Cuba alone, the economy will do quite well, thank you.
It was a time of fear and bod­ing — for us, for Cuba, and for the Left as a whole. Months before the car­a­van, the U.S. Trea­sury Depart­ment sent the caravan's par­tic­i­pants let­ters threat­en­ing 10 years in prison and fines of $250,000 each if we went through with our plans.
In Cuba, the pop­u­la­tion was suf­fer­ing from a sud­den and unex­pect­ed loss of Sovi­et trade after the dis­so­lu­tion of the Sovi­et Union in 1991. The econ­o­my shrank by near­ly half between 1989 and 1995. All my friends on the island lost weight, as there sim­ply wasn't enough food.
Mean­while, right-wingers, lib­er­als and social democ­rats in the U.S. were still cel­e­brat­ing the fall of the Berlin Wall. Sens­ing ​"vic­to­ry" in strug­gling Cuba, Con­gress passed the Tor­ri­cel­li Law, fol­lowed a few years lat­er by Helms-Bur­ton, both strength­en­ing four decades of an eco­nom­ic block­ade of the island. Miami's infa­mous­ly anti­com­mu­nist Cuban-Amer­i­cans were mak­ing plans for a tri­umphant return to a new­ly cap­i­tal­ist Cuba.
How times have changed. On Decem­ber 17, Pres­i­dents Barack Oba­ma and Raúl Cas­tro opened a new era of U.S.-Cuba rela­tions with simul­ta­ne­ous speech­es in Wash­ing­ton and Havana. A pris­on­er exchange — three Cubans, who infil­trat­ed ter­ror­ist groups in Mia­mi plan­ning to attack Cuba, for a U.S. spy and a U.S.A.I.D. agent — gar­nered imme­di­ate attention.
But Oba­ma may be cast­ing a wider net, includ­ing restored diplo­mat­ic rela­tions, relaxed trav­el restric­tions, bilat­er­al bank oper­a­tions, increased fam­i­ly remit­tances and com­merce and removal of Cuba from its ridicu­lous inclu­sion on the U.S. list of ter­ror­ist coun­tries. It remains to be seen if a Tea Par­ty Con­gress will try to sab­o­tage these mod­est, and long over­due, changes.
Cuban Pres­i­dent Raúl Cas­tro was cir­cum­spect. He her­ald­ed the move toward for­mal diplo­mat­ic rela­tions, while not­ing the block­ade is cod­i­fied in law and only a will­ing U.S. Con­gress can end it. Oba­ma retains exec­u­tive author­i­ty to mod­i­fy its imple­men­ta­tion, but how far will he go? Even if new trav­el reg­u­la­tions restrict U.S. tourist vis­its, and bilat­er­al com­merce is lim­it­ed to its cur­rent one-way ​"cash for food and med­i­cine," it would help Cuba immense­ly if the U.S. sim­ply stopped inter­na­tion­al­iz­ing the block­ade. Cur­rent­ly, we fine for­eign banks for pro­cess­ing dol­lar-denom­i­nat­ed trans­ac­tions, force for­eign ships that stop in Cuba to wait six months before enter­ing U.S. har­bors, and use back­room diplo­ma­cy or out­right threats to con­vince for­eign cor­po­ra­tions with busi­ness inter­ests in the Unit­ed States to avoid Cuban com­merce, all very much to the cha­grin of our allies around the world.
Cuba already enjoys friend­ly rela­tions with the rest of the world and has a well-devel­oped phar­ma­ceu­ti­cal indus­try, a grow­ing tourist indus­try and the pos­si­bil­i­ty of off­shore oil. If U.S. offi­cials sim­ply leave Cuba alone, the econ­o­my will do quite well, thank you.
After all, Cuba retooled its entire econ­o­my twice, from U.S. tech­nol­o­gy pre-1959, to Sovi­et bloc tech­nol­o­gy until 1990, to an amal­gam of Chi­nese, Latin Amer­i­can and Euro­pean tech­nol­o­gy today. The fact that Cuba sur­vived is a tes­ta­ment to the cre­ativ­i­ty of the Cuban peo­ple and the intel­li­gence of the polit­i­cal leadership.
The next steps are unclear. Repub­li­cans and some Democ­rats are threat­en­ing to with­hold mon­ey to estab­lish an embassy, though the cur­rent U.S. ​"Inter­ests Sec­tion" in Havana is already a ful­ly oper­a­tional de fac­to embassy, lack­ing only an ambas­sador in name.
One won­ders what caused Oba­ma to act now. Per­haps we can take him at his word: that con­fronta­tion and block­ades have accom­plished noth­ing (aside from mak­ing 11 mil­lion Cubans poor­er). After all, he's right. Per­haps he has in mind the 2016 pres­i­den­tial elec­tion and chang­ing vot­ing pat­terns among younger Cuban-Amer­i­cans in Flori­da. It's hard to imag­ine this deci­sion wasn't con­sult­ed with Hillary Clin­ton. Or per­haps he is learn­ing a les­son from the Mid­dle East, where a series of U.S.-inspired mil­i­tary con­flicts and eco­nom­ic med­dling spawned not democ­ra­cy and pros­per­i­ty, but ISIS and misery.
Per­haps the Oba­ma admin­is­tra­tion is learn­ing the inevitable dialec­tic of unfore­seen con­se­quences. As he not­ed in his speech, ​"We know from hard-earned expe­ri­ence that coun­tries are more like­ly to enjoy last­ing trans­for­ma­tion if their peo­ple are not sub­ject­ed to chaos" — a pro­found, if belat­ed, indict­ment of U.S. sup­port for Cuban-Amer­i­can ter­ror­ist oper­a­tions on the island as well as the blockade.
What­ev­er Obama's cal­cu­la­tions may have been, in Cuba, social­ism is alive and well, if chang­ing in form, and Cubans are cel­e­brat­ing — watch­ful­ly. After 54 years of the most pow­er­ful coun­try on earth with its boot on your col­lec­tive neck, any relief is wor­thy of celebration.
Cuba con­tin­ues to play an out­sized role inter­na­tion­al­ly. More Cuban doc­tors are fight­ing Ebo­la in West Africa (15,000 doc­tors vol­un­teered) than any oth­er coun­try, and they far out­pace the U.S. con­tri­bu­tion. Cuban influ­ence among youth and the Left in Latin Amer­i­ca con­tin­ues to be strong. Uni­ver­sal free health­care and edu­ca­tion make Cubans among the continent's most healthy and edu­cat­ed people.
The U.S. stands to learn a lot from Cuban social­ism. Let's hope this new Oba­ma ini­tia­tive is not anoth­er false start, one more in a long his­to­ry. It's too ear­ly to pop the cham­pagne, but this author jumped for joy and cracked a beer.
By the way, after a day­long stand­off, the car­a­van crossed into Mex­i­co and con­tin­ued on to Cuba via ship, the first of many such efforts at pop­u­lar diplo­ma­cy and civ­il dis­obe­di­ence. Rev. Walk­er often char­ac­ter­ized us as a civ­il rights move­ment in defense of Cuban sov­er­eign­ty. We were proud to stand shoul­der to shoul­der with 11 mil­lion Cubans, because what­ev­er their polit­i­cal posi­tions, I dare say not a sin­gle island res­i­dent sup­ports the block­ade. Too bad our polit­i­cal class wouldn't lis­ten back then.
Tom Hansen
was the Nation­al Coor­di­na­tor of Pas­tors for Peace and the lead orga­niz­er on the first five Friend­ship­ment car­a­vans to Cuba. He holds a Ph.D. in rur­al devel­op­ment from the U.A.M.-Xochimilco in Mex­i­co City and cur­rent­ly leads a study abroad pro­gram in Cuba orga­nized by the
Autonomous Uni­ver­si­ty of Social Move­ments
.