Cult of Character
How the 'secular' Character Training Institute is working to build evangelist Bill Gothard's vision of a First-Century Kingdom of God--one city, one state, one school board, one police force and one mind at a time.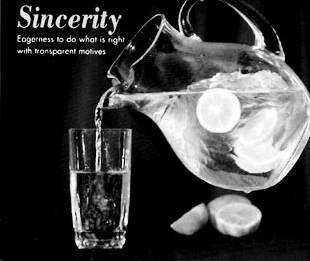 From the out­side the bland, unmarked exte­ri­or of the Char­ac­ter Train­ing Institute's head­quar­ters blends remark­ably well into its imme­di­ate sur­round­ings. This is a sec­tion of Okla­homa City that hasn't yet ben­e­fit­ed from the near­by, upscale urban devel­op­ment intend­ed to draw both tourism and busi­ness to the area. Both the down­town Grey­hound Sta­tion and the coun­ty jail are sit­u­at­ed a few blocks from here, which explains the num­ber of for­lorn, tran­sient men and women wan­der­ing down West Main Street. For the
most part these folks seem to have more imme­di­ate pri­or­i­ties than pay­ing atten­tion to the dozens of for­eign-look­ing vis­i­tors enter­ing and exit­ing the 10-sto­ry Char­ac­ter Train­ing Insti­tute (CTI), which also serves as the head­quar­ters of the Inter­na­tion­al Asso­ci­a­tion of Char­ac­ter Cities (IACC).
But one elder­ly woman wear­ing mis­matched cloth­ing and a weath­ered plas­tic visor ambles across the street to get a clos­er look. She leans against the wall and tries to peer inside, but the heavy dou­ble doors, dark­ened win­dows and drawn shades make it near­ly impos­si­ble to do so.
"What's going on in there?" she asks a young man with a mil­i­tary-style hair­cut walk­ing toward the door. He takes a polite moment to explain that this is a very impor­tant ​"Build­ing Cities of Char­ac­ter" con­fer­ence, spon­sored by the IACC. Many peo­ple, he adds, have come from all over the world to be here. And with that, he dis­ap­pears into the build­ing. The woman tries, one last and unsuc­cess­ful time, to see what's going on inside.
"

The sin of witchcraft"

Inside the insti­tute, Ari­zona state trea­sur­er David Petersen takes to the con­fer­ence podi­um to tell how his state's Fam­i­ly Ser­vices Com­mit­tee passed ​"Char­ac­ter Edu­ca­tion Legislation."

"All schools now have it imple­ment­ed," he says proud­ly. ​"We're fight­ing for the soul of this nation." Petersen is not being hyper­bol­ic. He attrib­ut­es his pas­sion for ​"char­ac­ter" to a per­son­al meet­ing with evan­ge­list Bill Gothard.

Gothard, the 74-year-old, unmar­ried man at the head of the Oak-Brook, Illi­nois-based Insti­tute in Basic Life Prin­ci­ples (IBLP) – which brings in an esti­mat­ed prof­it of at least $63 mil­lion annu­al­ly – has been in the evan­ge­lism busi­ness since 1964. Orig­i­nal­ly named the Insti­tute in Basic Youth Con­flicts, IBLP changed its name in 1990. All totaled, IBLP boasts that at least 2.5 mil­lion peo­ple have attend­ed the organization's sem­i­nars and min­istries in the Unit­ed States and oth­er coun­tries, includ­ing Rus­sia, Mon­go­lia, Roma­nia and Taiwan.

Although legal­ly and fis­cal­ly inde­pen­dent, the CTI is for all intents and pur­pos­es a ​"sec­u­lar" front group for Gothard's IBLP. In the last decade, the CTI has qui­et­ly gained entry into hun­dreds of ele­men­tary, mid­dle and high schools, state and city offices, cor­po­ra­tions, police depart­ments and jails.

Though he nev­er uses the term, Gothard's ide­ol­o­gy fits into the frame­work of the bur­geon­ing ​"Chris­t­ian Recon­struc­tion­ist" move­ment, which aims to rebuild soci­ety accord­ing to bib­li­cal man­dates. With­in the Chris­t­ian Recon­struc­tion­ist world­view, mod­ern-day chaos is direct­ly attrib­ut­able to the divi­sion of church and state and the con­se­quent degra­da­tion of indi­vid­ual character.

For Gothard, the solu­tion is restor­ing the Unit­ed States – and then the rest of the world – to some­thing that he calls ​"The Sev­en­fold Pow­er of First-Cen­tu­ry Church­es and Homes."

The con­cept of obey­ing God-grant­ed author­i­ty runs through vir­tu­al­ly all IBLP-pub­lished mate­ri­als. ​"The key to under­stand­ing author­i­ty is iden­ti­fy­ing four areas of God-ordained juris­dic­tion: par­ents, gov­ern­ment, church lead­ers, and employ­ers," reads an intro­duc­to­ry pas­sage to Basic Life Prin­ci­ples Sem­i­nar. ​"When a deci­sion is to be made, we must ask, ​'Whose juris­dic­tion is this under?' God gives direc­tion, pro­tec­tion, and pro­vi­sion through human author­i­ties. If we rebel against them, we expose our­selves to the destruc­tion of evil prin­ci­pal­i­ties. … This is why ​'rebel­lion is the sin of witchcraft.' "

Accord­ing to Gothard's inter­pre­ta­tion, first cen­tu­ry Roman Cen­tu­ri­ons were admirable fig­ures of author­i­ty who fol­lowed their orders with­out ques­tion – the pro­to­types for the kinds of police offi­cers that CTI instruc­tor Ray Nash, the sher­iff of Dorch­ester Coun­ty, South Car­oli­na, wants to cre­ate in his state and elsewhere.

Nash has con­duct­ed ​"Police Dynam­ics" train­ing for numer­ous U.S. and inter­na­tion­al police departments.

"Real­ly, what Police Dynam­ics is, in a nut­shell, is bib­li­cal wis­dom that's been pack­aged into a law enforce­ment mes­sage," Nash told Rev. Mark Creech in a Novem­ber 2004 arti­cle for Alan Keyes' RenewAmer­i­ca Web site.
Char­ac­ter Cities Conference
"Lead­ers around the world are increas­ing­ly con­cerned by the decline in society's stan­dards," CTI founder Thomas A. Hill writes in his intro­duc­tion to the brochure invit­ing peo­ple to the IACC con­fer­ence. ​"As you reflect on the past, you may ask your­self, ​'Where did the good old days go?' and ​'How did we get to this point?' The answer is root­ed in a grow­ing lack of per­son­al character."
Any­one want­i­ng to explore such ques­tions and will­ing to fork over $360 for this annu­al three-day con­fer­ence would be buzzed in through the dou­ble doors into an odd­ly serene and well-ordered environment.
Dec­o­rat­ed in a faux-Vic­to­ri­an style, the lob­by is spot­less and dust-free, com­plete with dis­plays of fake flow­ers in vas­es, rows of couch­es and psalm-quilt­ed pil­lows. Low-lev­el clas­si­cal and hym­nal music is piped in, but there are no tele­vi­sion sets, radios or wall clocks to be seen. A busy group of young, unadorned women in ankle-length tan skirts, flats and dark polo shirts – and their ado­les­cent male coun­ter­parts in pressed shirts and slacks – seem to make sure that every­thing runs on sched­ule. It doesn't take long to notice that the female roles are rigid­ly sec­re­tar­i­al and/​or service-oriented.
When they arrive at the lob­by desk, reg­is­trants are hand­ed their Char­ac­ter First! plas­tic binders. The cov­er announces ​"a new par­a­digm for per­son­al growth," while the intro­duc­to­ry let­ter from IACC Direc­tor Steven Men­zel thanks atten­dees for their ​"com­mit­ment and deter­mi­na­tion to revi­tal­ize your com­mu­ni­ty based upon the time­less attrib­ut­es of character."
Over the course of the next three days, atten­dees will come to learn that absolute­ly every­thing bad hap­pen­ing in our soci­ety – from crime to divorce, from drug use to school shoot­ings – can be explained by lack of character.
Instill­ing character
The CTI was found­ed in 1996 by Kim­ray Oil and Gas tycoon Thomas A. Hill. A tax exempt, non­prof­it edu­ca­tion­al orga­ni­za­tion, the institute's mis­sion is to instill 49 ​"Char­ac­ter Qual­i­ties" into four major civ­il insti­tu­tions: fam­i­ly, busi­ness, edu­ca­tion and law enforce­ment. In 1998 the CTI spread its wings and estab­lished the IACC, which aimed to make local gov­ern­ments ​"com­mit to devel­op character."
The Char­ac­ter Cities con­cept has caught on quick­ly: 160 cities rang­ing from Comp­ton, Cal­i­for­nia, to Ham­burg, New York, 31 coun­ties, and sev­en states – Alaba­ma, Arkansas, Delaware, Geor­gia, Ohio, Okla­homa and South Car­oli­na – have now passed ​"char­ac­ter" res­o­lu­tions and procla­ma­tions based on CTI's teach­ings and materials.
Nor has the CTI's influ­ence been lim­it­ed by Amer­i­can bor­ders. Forty-sev­en inter­na­tion­al cities have already declared them­selves Cities of Char­ac­ter, and at least one-third of the approx­i­mate­ly 100 peo­ple attend­ing the IACC con­fer­ence arrived from for­eign coun­tries, includ­ing Roma­nia, Mex­i­co, Guatemala, Peru, Argenti­na, the Philip­pines and Sri Lanka.
Many have gone so far as to brand their local­i­ties with Char­ac­ter First! sym­bols, plaques, flags, pins, posters, brochures, books, mouse pads and calendars.
Under­stand­ably, the Char­ac­ter Train­ing Insti­tute tries to obfus­cate the links between its work and Gothard's recon­struc­tion­ist Chris­t­ian vision.
"This is not reli­gion, these are char­ac­ter traits," says John Thomas, vice pres­i­dent for glob­al infra­struc­ture ser­vices for Per­ot Sys­tems Cor­po­ra­tion, dur­ing one of three suc­ces­sive busi­ness-ori­ent­ed pre­sen­ta­tions at the IACC conference.
Speak­ers emphat­i­cal­ly and repeat­ed­ly stress that Char­ac­ter First! train­ing has noth­ing to do with pro­mul­gat­ing reli­gion. Instead, atten­dees are told, the train­ing pro­motes great char­ac­ter and, as a side ben­e­fit, dri­ves up cor­po­rate prof­it mar­gins. The Char­ac­ter First! DVD is chock-full of tales of incred­i­ble sav­ings to busi­ness­es: Kimray's Hill, for instance, talks of work­ers' com­pen­sa­tion drop­ping from $24,000 per month to a mere $2,000 to $4,000, while Todd Ander­son, the vice pres­i­dent of C.P. Mor­gan, a home con­struc­tion firm, brags about a ten­fold increase in prof­itabil­i­ty attrib­ut­able direct­ly to CTI training.
The list of Char­ac­ter First! sem­i­nar atten­dees already reads like a who's who of top cor­po­ra­tions and gov­ern­ment insti­tu­tions: McDonald's, Burg­er King, Aflac, Cost­co, Coca Cola, the Cor­rec­tion­al Cor­po­ra­tion of Amer­i­ca, the Bet­ter Busi­ness Bureau, Tyson Foods, the U.S. Air Force, U.S. Navy, U.S. Marine Corps, U.S. Coast Guard, U.S. Bureau of Pris­ons, the Arkansas Prison Sys­tem and the U.S. Dis­trict Attorney's office are all men­tioned, in addi­tion to more than a dozen school dis­tricts (includ­ing Den­ver, Mem­phis and Ft. Laud­erdale), and eight health­care com­pa­nies and hospitals.
At the con­fer­ence, atten­dees are told that the IACC exists ​"to sup­port gov­ern­ment and com­mu­ni­ty lead­ers who want to devel­op char­ac­ter in them­selves and encour­age it in their fam­i­lies and communities."
Okla­homa City – and the state of Okla­homa in gen­er­al – seems to have tru­ly tak­en this to heart. Here, even the local coun­ty jail's ele­va­tors fea­ture Char­ac­ter First! posters in Plex­i­glass dis­plays, and juve­nile detainees study char­ac­ter con­cepts with the jail chap­lains. Each employ­ee receives a Char­ac­ter Bul­letin with his or her pay­check, explains Chap­lain Argyle Dick. ​"We hire for char­ac­ter, and we fire, most of the time, for lack of char­ac­ter. … We are always look­ing for new ways to sat­u­rate even more of our employ­ees with character."
The Char­ac­ter Coun­cil of Cen­tral Okla­homa has even entered into a ​"covenant" with the region­al career tech pro­grams, cov­er­ing 12 cam­pus­es. ​"That's our plan for get­ting char­ac­ter qual­i­ties into the hearts and minds of all stu­dents," explains Dr. Ear­lene Smith, the Edu­ca­tion Com­mit­tee chair­man for the council.
Oth­er exam­ples abound through­out the con­fer­ence: McDo­nough, Geor­gia, flies a City of Char­ac­ter flag out­side of city hall; Owas­so, Okla­homa, police squad cars sport a ​"City of Char­ac­ter" emblem on each vehi­cle; and the Char­ac­ter Coun­cil of Flori­da has ensured that all ele­men­tary schools will incor­po­rate CTI train­ing by 2006, and expand from there to high­er grades.
Sign of the eagle
On the sur­face it does not appear as though Gothard is at all involved in the ​"sec­u­lar" char­ac­ter train­ing that the CTI pro­vides to count­less schools, city coun­cils, state agen­cies, cor­po­ra­tions and law enforce­ment agen­cies across the world. Hun­dreds of cities have also passed their own char­ac­ter res­o­lu­tions, mod­eled on the IACC's mate­ri­als. None of the CTI/IACC mate­ri­als men­tion Gothard's name, but the more obvi­ous attempts to hide the con­nec­tions end there.
CTI founder Thomas Hill is also the board chair­man for the IBLP – along­side oth­er influ­en­tial board mem­bers, such as Rep. Sam John­son (R‑Texas).
There's also an omnipresent eagle sym­bol, iden­ti­cal­ly illus­trat­ed for both orga­ni­za­tions, with dif­fer­ent acronyms encir­cling the image of the bird tak­ing flight. Each group also uses the exact same 49 Char­ac­ter Qual­i­ties – CTI's Char­ac­ter Qual­i­ties delete all the ref­er­ences to Jesus Christ. Sev­er­al of Gothard's books (and oth­er Chris­t­ian books, includ­ing Bill Burt­ness' The Third Alter­na­tive: Chris­t­ian Self-Gov­ern­ment) are for sale in the back of the CTI/IACC bookstore.
Then there are the shoutouts that Phil Heim­lich, a con­ser­v­a­tive pro-lif­er and for­mer Cincin­nati city coun­cil mem­ber, gives to both Hill and Gothard at the IACC's ​"Build­ing Cities" con­fer­ence. One of the longest pre­sen­ta­tions at the con­fer­ence is deliv­ered by George Mat­tix, the inter­na­tion­al direc­tor for the IBLP's mis­sion­ary efforts. He describes the extent of their suc­cess­es in bring­ing IBLP teach­ings to chil­dren and teens in at least 30 coun­tries, under the ini­tial pre­tense of teach­ing Eng­lish and char­ac­ter training.
Obe­di­ence, not willfulness
By the first day of the IACC con­fer­ence, the main meet­ing room resem­bled a mini‑U.N., com­plete with simul­ta­ne­ous trans­la­tion for each of the non-Eng­lish-speak­ing attendees.
The Philip­pines has one of the strong-est inter­na­tion­al del­e­ga­tions here, led by attor­ney Fran­cis Tolenti­no, the for­mer may­or of Tagay­tay. (His broth­er now holds the same office.) Tagay­tay became a City of Char­ac­ter back in 2000 and, with Tolentino's assis­tance, the first nation­wide Char­ac­ter Con­fer­ence was held in the Philip­pines in 2002, with con­fer­ence mate­ri­als pro­vid­ed by the IACC.
Tagay­tay not only has an offi­cial ​"char­ac­ter oath," but an ​"offi­cial jin­gle, so that the char­ac­ter pro­gram will always be incul­cat­ed in the minds of the peo­ple." Tagay­tay police offi­cers wear a City of Char­ac­ter badge, says Tolenti­no, and the city now requires char­ac­ter train­ing before a mar­riage license will be grant­ed. May­or Sal­ly Lee of Sor­so­gon City speaks of sim­i­lar ini­tia­tives in her city, where her ​"goal and objec­tive [is] to real­ly push through this kind of program."
Most of the domes­tic or inter­na­tion­al atten­dees seem famil­iar with the con­cepts espoused; indeed, the vast major­i­ty rep­re­sent city and char­ac­ter coun­cils, state or local agen­cies, school dis­tricts or busi­ness­es that have already bought into ongo­ing train­ings and sup­ple­men­tary materials.
It's hard to ignore how much mon­ey there is to be made in this enter­prise. To give a few exam­ples: the Char­ac­ter First! resource disk set runs $40 per month, and the framed char­ac­ter posters cost $89 per month. The actu­al dis­play cas­es for the month­ly char­ac­ter qual­i­ties run from $435 (alu­minum) to $685 (oak or cher­ry). For law enforce­ment, Sher­iff Nash's ​"Police Dynam­ics" char­ac­ter con­cept-based DVD sets run $595 for each series.
But for those of us who aren't yet in the loop – or con­vinced yet that we need to buy into the whole pack­age – the con­fer­ence orga­niz­ers make sure to dri­ve ​"char­ac­ter" as close to home as pos­si­ble. Each pre­sen­ter is intro­duced by name, and then by how many years he has been mar­ried, and by the num­ber of chil­dren and grand­chil­dren he has. (There are only a hand­ful of female pre­sen­ters; each is intro­duced in sim­i­lar fash­ion.) All pre­sen­ters are giv­en a cer­tifi­cate at the end of his or her pre­sen­ta­tion, and a CTI offi­cial announces which one of the 49 Char­ac­ter Qual­i­ties best describes that person's accom­plish­ments. Dur­ing some of the pre­sen­ta­tions, the word ​"char­ac­ter" is repeat­ed any­where from four to six times a minute.
As if that weren't enough, atten­dees are told con­stant­ly to refer to the lam­i­nat­ed, pock­et-sized list of the 49 Char­ac­ter Qual­i­ties that are essen­tial for true suc­cess in life.
"Obe­di­ence: Quick­ly and cheer­ful­ly car­ry­ing out the direc­tion of those who are respon­si­ble for me," reads one of the 49 Char­ac­ter Qual­i­ties. ​"Jus­tice: Tak­ing per­son­al respon­si­bil­i­ty to uphold what is pure, right and true," reads another.
Each of the 49 Char­ac­ter Qual­i­ties is not only con­trast­ed with its oppo­site ("Will­ful­ness," for instance, as the oppo­site of ​"Obe­di­ence"); they are also paired with col­or­ful ani­mal fig­ures and sim­plis­tic descrip­tions of how those ani­mals rep­re­sent these con­cepts. A moth­er wood duck and her duck­lings rep­re­sent ​"Obe­di­ence;" and ​"Jus­tice" takes the form of a bull African ele­phant. Okla­homa City pro­claimed Sep­tem­ber 25 a ​"ZOOrif­ic Day of Char­ac­ter," with bill­boards and adver­tise­ments through­out the city encour­ag­ing par­ents to bring their chil­dren to the city zoo to learn about how var­i­ous ani­mals illus­trate char­ac­ter traits.
The ani­mal imagery isn't just reserved for the children's mate­r­i­al; gigan­tic posters of the ani­mals are plas­tered through­out the CTI head­quar­ters, adja­cent to posters fea­tur­ing his­tor­i­cal fig­ures, such as Louisa May Alcott and Mar­tin Luther King Jr., who, like the ani­mals, are laud­ed for hav­ing dis­played true char­ac­ter. (Lit­tle Women author Alcott, the poster explains, wrote to end her ​"mon­e­tary prob­lems," but nev­er lost sight of her pri­ma­ry respon­si­bil­i­ty to take care of her extend­ed family.)
It's not real­ly about the animals
Chuck Cok­er is an autho­rized Char­ac­ter First! train­er. He is one of the first to start mud­dy­ing the ​"sec­u­lar" con­cept by men­tion­ing that he engages in mis­sion­ary work in the IBLP Moscow orphan­age, among oth­er loca­tions. But Lar­ry Rhoads, the exec­u­tive direc­tor of Char­ac­ter First!, quick­ly brings the focus back to both busi­ness and the fam­i­ly. One sto­ry moves the audi­ence to wild applause: He describes how he real­ized how impor­tant it was not to leave his dirty socks inside out before leav­ing them for his wife to wash, some­thing he had appar­ent­ly been doing for their entire mar­ried life. The true mea­sure of char­ac­ter, as it's repeat­ed in mantra-like fash­ion, is what you do when no one is watching.
It's per­haps for this rea­son that Dr. Joseph Ahne, anoth­er cer­ti­fied CTI train­er, decides to be upfront about every­thing on the last day of the con­fer­ence, over a break­fast of pan­cakes and syrup eat­en under poster-sized animals.
"They don't tell you this here, but it's all bib­li­cal­ly based," Dr. Ahne says. ​"They use the ani­mals to illus­trate the points that are all from the Bible. You see, it's about becom­ing like Christ. Through teach­ing the char­ac­ter, we're teach­ing peo­ple how to be like Christ. We could all use that."
A for­mer Methodist preach­er, Dr. Ahne says that he has devot­ed his life to spread­ing the teach­ings of the IBLP and the IACC, which he trans­lates into Kore­an. Every year, Ahne leaves his home in Chica­go and spends five months in Korea, where he has a staff of six full-time employ­ees. Ahne says that they have already reached 18,000 Kore­ans with a com­bi­na­tion of char­ac­ter-based train­ings. He explains that he has brought teenage boys to the Unit­ed States for fur­ther edu­ca­tion at the IBLP's ALERT train­ing ranch in Big Sandy, Texas – as well as send­ing teenage girls to the IACC in Okla­homa City for their own form of ser­vice train­ing. Home-school­ing, he adds, is one of the biggest emphases of IBLP world­wide because the orga­ni­za­tion prefers that young peo­ple nev­er get exposed to the per­ni­cious influ­ences in the pub­lic school system.
"We use this," he says, point­ing to the Char­ac­ter First! binder in the mid­dle of the table, ​"because we can't take reli­gion into schools and gov­ern­ment. But it's all based on the same thing."
Gothard's vision
Each of the 49 Char­ac­ter Qual­i­ties in CTI's sec­u­lar mate­ri­als have their exact coun­ter­part in IBLP mate­ri­als. In books like Gothard's Pow­er of King­dom Liv­ing and The Sev­en­fold Pow­er of First-Cen­tu­ry Church­es and Homes, they are typ­i­cal­ly referred to as ​"The Laws of the Kingdom."
The IBLP's ​"blue book," for­mal­ly titled The Pow­er for True Suc­cess, is car­ried around by many of the IACC offi­cials. It explains the imper­a­tive for learn­ing the 49 char­ac­ter qual­i­ties this way: ​"Char­ac­ter reveals the Lord Jesus Christ, since He is the full per­son­i­fi­ca­tion of all good char­ac­ter qual­i­ties." It con­tin­ues, ​"under­stand­ing char­ac­ter explains why things hap­pen to us, because all things work togeth­er for good to con­form us to the char­ac­ter of Christ."
This book is now in the hands of most of the 1,200-strong Cincin­nati police force, cour­tesy of a life insur­ance sales­man and CTI cheer­leader named Mike Daly who, along with Phil Heim­lich, helped turn Cincin­nati into a City of Char­ac­ter. The two worked hand-in-hand to imple­ment the CTI train­ing into near­ly all facets of gov­ern­ment and sec­ondary edu­ca­tion. Dur­ing one of his train­ings, Daly gift­ed curi­ous offi­cers with the reli­gious books while telling them to become ​"apos­tles for character."
In the blue book and oth­er IBLP mate­ri­als, the 49 char­ac­ter qual­i­ties take on a more stri­dent and extrem­ist tone. ​"Obe­di­ence" is defined as the ​"free­dom to be cre­ative under the pro­tec­tion of divine­ly appoint­ed author­i­ties. All legit­i­mate author­i­ty comes from God. He is the One who sets up rulers and takes them down. … God ordained gov­ern­ment to car­ry out his will in mat­ters of justice."
"Those who vio­late God's laws are like cit­i­zens who com­mit crimes," Gothard explains in Sev­en­fold Pow­er. ​"They are still cit­i­zens, but they lose cer­tain rights and priv­i­leges that they oth­er­wise would have enjoyed."
Appar­ent­ly, some­times the sin­ners and the crim­i­nals are one and the same. In recent years, IBLP has expand­ed into high­ly con­tro­ver­sial reli­gious juve­nile boot camps and, most recent­ly, into a part­ner­ship with the pri­vate prison com­pa­ny, the Cor­rec­tions Cor­po­ra­tion of Amer­i­ca, which has announced its intent to bring the teach­ings to all of the pris­ons it owns.
To take but one exam­ple, the work­book mate­ri­als dis­trib­uted to the pris­on­ers in the CCA-run Grants, New Mex­i­co, women's prison include a break­down of ​"basic life prin­ci­ples," includ­ing ​"Moral Puri­ty," ​"Yield­ing Rights" and ​"Prop­er Submission."
"Wives, sub­mit your­selves unto your own hus­bands, as it is fit in the Lord," reads one of the bib­li­cal selec­tions. Empha­sis is placed on ​"court­ing" rather than ​"dat­ing;" on women obey­ing their hus­bands; avoid­ing the ​"addic­tion" of all forms of music except for those writ­ten and/​or approved by the IBLP; pre­serv­ing mar­riage at all costs; and on the need for Chris­tians to respect, obey and sub­mit to church and gov­ern­ment. These insti­tu­tions and their rulers, as the work­books explain, exist because of God's will.
Again, here is the fun­da­men­tal premise: what the IBLP hopes will come of these myr­i­ad efforts on sec­u­lar and reli­gious fronts is a patri­ar­chal, hier­ar­chi­cal Chris­t­ian gov­ern­ment that tru­ly has no place for dis­sent, for dis­be­liev­ers, or for those whose char­ac­ter qual­i­ties fall short of expec­ta­tions. Gov­ern­ment, from this view­point, is akin to the right hand of God: Noth­ing or no one should stand between the two enti­ties, or ques­tion their right to rule over our lives.
"God ordained gov­ern­ment to car­ry out His will in mat­ters of jus­tice. Rulers are to praise those who do well and pun­ish those who do evil," reads the IBLP's Pow­er for True Suc­cess. ​"Because civ­il author­i­ties derive their pow­er from God, they will be judged if they vio­late the Laws of God." Church lead­ers, fathers and hus­bands, and even busi­ness lead­ers, are giv­en near­ly the same pow­er in this con­cep­tion of a well-ordered soci­ety: ​"Employ­ees are to obey employ­ers with whole­heart­ed service."
As Bill Burt­ness writes in a book sold in both the CTI's book­store and through the IBLP, The Third Alter­na­tive: Chris­t­ian Self-Gov­ern­ment, civ­il gov­ern­ment is ​"an insti­tu­tion ordained and giv­en by God … [and] Chris­tians are the stew­ards of civ­il gov­ern­ment as an aspect of their stew­ard­ship of society."
It is worth not­ing that the IBLP is just one orga­ni­za­tion whose ideals fit with­in the broad­er Chris­t­ian Recon­struc­tion move­ment. But Gothard and the IBLP, unlike many of their fel­low orga­ni­za­tions, do not appear to be look­ing for Chris­t­ian allies in their quest. On the sec­u­lar front, they alone seem to have accom­plished more toward their end goal than most of their Chris­t­ian Recon­struc­tion­ist con­tem­po­raries, and the prof­it-mak­ing aspects of this large-scale ven­ture can­not be underestimated.
The strat­e­gy, in this sense, has proved to be inge­nious. After all, who wants to argue with ​"char­ac­ter"? What kind of per­son would object to such an innocu­ous-sound­ing con­cept? Couldn't we all ben­e­fit from hav­ing a bit more eth­i­cal char­ac­ter in the way that we con­duct our day-to day-lives? Of course we could! And that's pre­cise­ly the reac­tion that both the IACC and the IBLP have bet on.
IBLP's mas­ter plan appears to be well under­way. That is, until inquir­ing minds final­ly begin to ask where, exact­ly, all of this is head­ed. What, pray tell, lies behind the smil­ing bears, ele­phants and zebras so ready and eager to deliv­er their char­ac­ter traits to you, your chil­dren and your community?
If they could talk, they might be able to tell you that all's not well in the peace­able king­dom, no mat­ter how inno­cent it might look at first glance.
Research sup­port for this arti­cle was pro­vid­ed by the Inves­tiga­tive Fund of The Nation Institute.
Sil­ja J.A. Talvi
, a senior edi­tor at In These Times, is an inves­tiga­tive jour­nal­ist and essay­ist with cred­its in many dozens of news­pa­pers and mag­a­zines nation­wide, includ­ing The Nation, Salon, San­ta Fe Reporter, Utne, and the Chris­t­ian Sci­ence Monitor.