The Decline of Custom Harvests and the Struggle of Rural America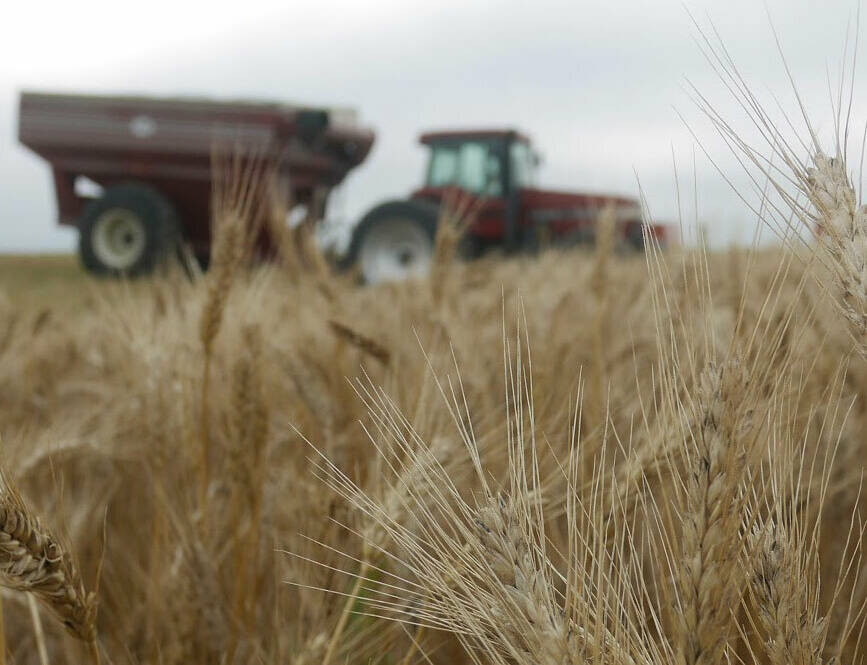 After cut­ting their final acres of wheat in east­ern Col­orado, Jim and Tra­cy Zeo­ri­an, the hus­band and wife team that make-up Zeo­ri­an Har­vest­ing and Truck­ing, start­ed the process of load­ing their com­bine, head­er truck, and trail­er to make the jour­ney to their next job in Jor­dan, Mont. Even after the two trips need­ed to move their equip­ment, they were still ear­ly. The spring wheat they planned to cut wouldn't be ready for a few weeks, but that didn't mean it was time to rest.
After set­ting up camp in the small RV park tucked away on the edge of town, Jim parked their bright yel­low, New Hol­land com­bine with con­tact infor­ma­tion in the wind­shield next to the café that marks the town's west­ern entrance.
Tra­cy, a third-gen­er­a­tion har­vester, has been com­ing to Jor­dan since 1981. In those days, there were enough cus­tom har­vesters — also known as cus­tom cut­ters or ​"Wheaties" — that they would all set-up togeth­er on the out­skirts of town in makeshift camps that would dis­band as soon as they moved onto the next town. Many har­vesters already had work lined-up, but oth­ers arrived in hopes of find­ing jobs, and it was com­mon for har­vesters to park their equip­ment in a pub­lic place so that farm­ers with acres to cut could eas­i­ly find and hire them.
Those days are most­ly over. The large, rau­cous har­vest camps of the past are a stark con­trast to the Zeorian's incon­spic­u­ous camp­site adorned with pic­nic table, grill and pot­ted flow­ers. Back then, Jor­dan might have had as many as 20 crews look­ing for work, but in 2018, Zeorian's was the lone com­bine sit­ting out­side town.
Since World War II, cus­tom har­vest­ing has been inte­gral to the social and eco­nom­ic fab­ric of wheat belt states like Okla­homa, Kansas, Mon­tana and the Dako­tas. Start­ing in the south­ern plains in the spring, har­vest crews would move from town to town, fol­low­ing the ripen­ing wheat north through­out the season.
Har­vest sea­son would bring much hope and antic­i­pa­tion, and although Tra­cy feels that eager­ness as keen­ly as ever, today, har­vesters can enter and leave a town with hard­ly any notice. There are few­er acres of wheat and few­er har­vesters need­ed to cut them, but as much as any­thing, cus­tom harvesting's shrink­ing cul­tur­al imprint is inter­twined with the decline of rur­al America.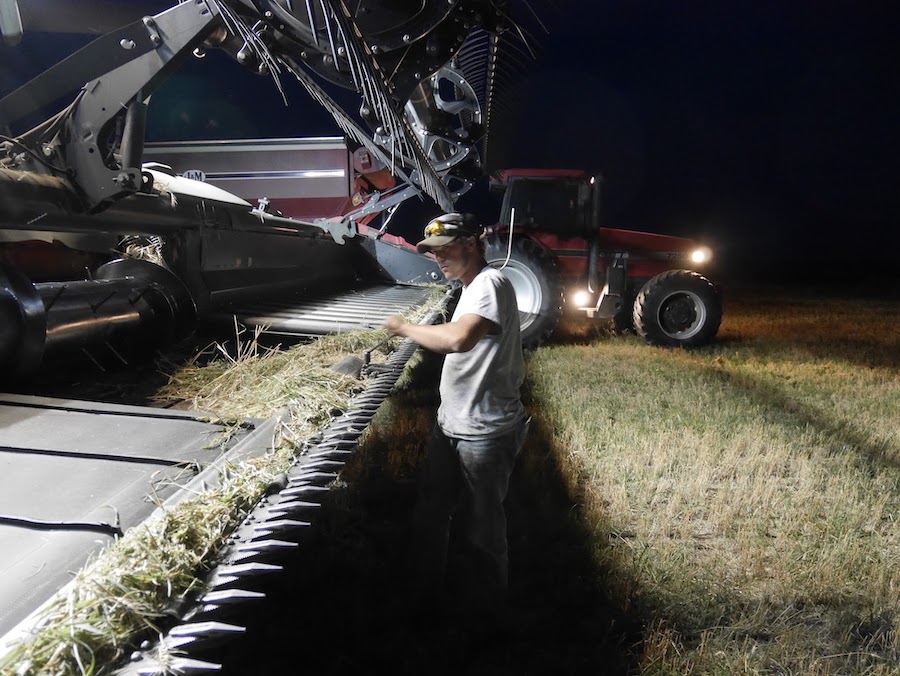 One of the Eberts' field hands cleans a com­bine head­er in order to fix a bro­ken blade. (Michael J. Dax)
Over the course of the 20th cen­tu­ry, many rur­al farm­ing com­mu­ni­ties came to depend on the eco­nom­ic activ­i­ty gen­er­at­ed by har­vest crews. In addi­tion to the farmer, whose year­ly income relied on a good har­vest, restau­rants, bars, hard­ware and gro­cery stores and gas sta­tions all received a depend­able boost for the cou­ple weeks each year when har­vest crews came through town. Oth­er busi­ness­es direct­ly tied to agri­cul­ture like equip­ment deal­er­ships and grain ele­va­tors exist­ed sole­ly because of the harvest.
As a result, the har­vest became essen­tial to cre­at­ing and main­tain­ing the cul­tur­al and social net­works that have uni­fied the Great Plains as a region. His­tor­i­cal­ly, it served as a rite of pas­sage for farm kids who made-up the major­i­ty of har­vest crews. The height of har­vest could bring more than 100 wheaties to some of the larg­er towns like Fred­er­ick, Okla. and Col­by, Kan. Not only would these large gath­er­ings allow for peo­ple across the region to get to know one anoth­er, form friend­ships and com­radery between crews, but inevitably the har­vest also led to romances that fur­ther solid­i­fied a shared sense of region­al identity.
"This was a spec­tac­u­lar and reward­ing way of life," says Tom Isern, a his­to­ry pro­fes­sor at North Dako­ta State Uni­ver­si­ty in Far­go whose 1981 book, Cus­tom Com­bin­ing on the Great Plains, details the industry's ear­ly years. ​"If it came up in con­ser­va­tion, they [for­mer har­vesters] want­ed to talk about it." But grad­u­al­ly, both as a cause and effect of rur­al America's strug­gles, the harvest's sig­nif­i­cance— cul­tur­al­ly and eco­nom­i­cal­ly — has waned.
As much as any­thing, these eco­nom­ic and social life­ways and tra­di­tions are a prod­uct of the unpre­dictable nature of har­vest­ing. Through­out the sea­son, har­vesters often find them­selves at the mer­cy of the weath­er. A long stretch of rain can put a crew at a stand­still for as much as a week, so that when they get back in the field, they need to work as quick­ly as pos­si­ble in order to reach the next job. This unpre­dictably and lack of con­trol over their sched­ule often means that when they do get in the field, they are work­ing ear­ly morn­ings and late nights, doing what­ev­er it takes to get the crop off.
Nan­cy and Myron Eberts, based in South Heart, N.D., have been mak­ing the har­vest for 40 years. They recall their ear­ly days when every­one would pull togeth­er to help with the har­vest. Grain ele­va­tors would stay open late, café own­ers would keep the kitchen open and allow har­vest crews to call in their orders, and gro­cery stores would let crews run a tab while they were in town. Har­vesters devel­oped close rela­tion­ships with local deal­er­ships who made sure to have cer­tain parts in stock so that a bro­ken-down com­bine could be fixed as soon as pos­si­ble. Even local post offices were will­ing to work with har­vesters who nev­er knew for sure where they were going to be and when.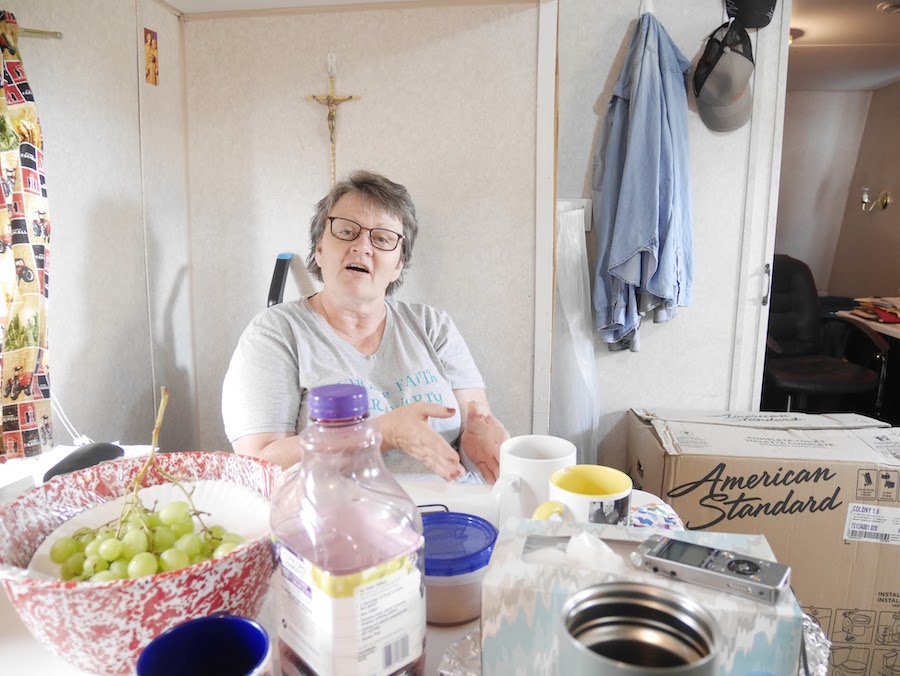 Nan­cy Eberts tak­ing a break in her trail­er after break­fast. (Michael J. Dax)
But slow­ly, cafes and gro­cery stores have closed or been replaced by nation­al chains unwill­ing or able to tai­lor their busi­ness to accom­mo­date the har­vest. Grain ele­va­tors have also been bought by larg­er cor­po­rate enti­ties and are more like­ly to keep pre­de­ter­mined hours. Equip­ment deal­er­ships have con­sol­i­dat­ed as well, sac­ri­fic­ing the per­son­al rela­tion­ships that har­vesters devel­oped. ​"We're los­ing that home­town feel," says Myron.
When he first start­ed har­vest­ing, Good­land, Kan., had two gro­cery stores, both of which closed when Wal-Mart moved in. Massey-Fer­gu­son, Inter­na­tion­al Har­vester, and John Deere all had deal­ers in Kiowa, Kan., but none of them exist today. In his home­town of South Heart, N.D., all that remains of the two bars, gro­cery store and agri­cul­ture co-op that once exist­ed is a sin­gle bar and some gas pumps.
"For the most part, small towns in the wheat belt – nothing's grow­ing," says Jim Zeo­ri­an. ​"They're all los­ing. Only a few towns still recruit enough har­vesters to feel like the old days."
Although har­vesters were gen­er­al­ly derid­ed as row­dy, nomadic gyp­sies — a label worn as a badge of hon­or by many — towns depend­ed on the har­vest as much as har­vesters depend­ed on the towns, and with­out that infra­struc­ture, their job has become con­sid­er­ably tougher.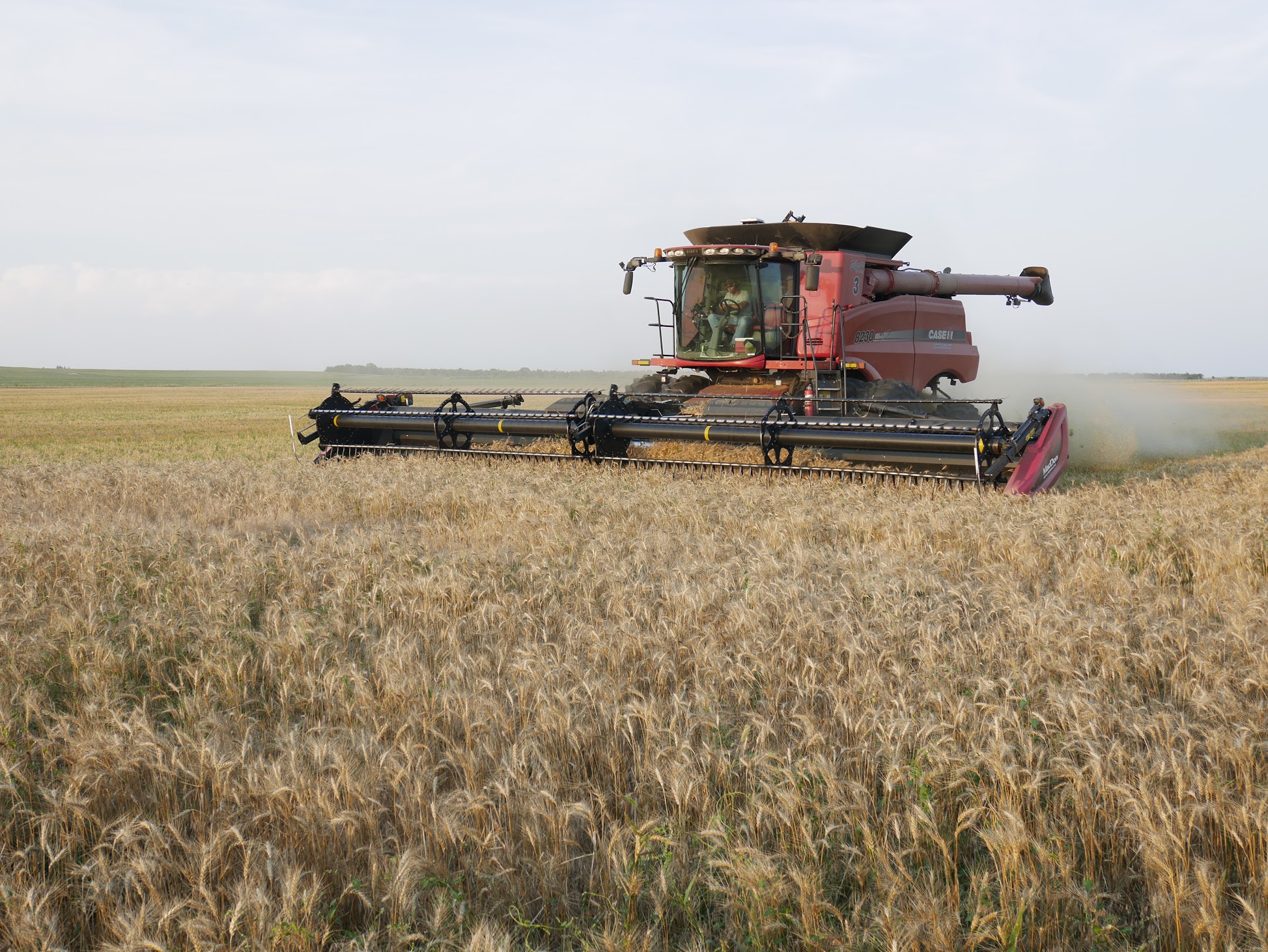 Cut­ting wheat in the late after­noon of a South Dako­ta sum­mer day. (Michael J. Dax)
Hir­ing crew mem­bers has also become more chal­leng­ing as out­mi­gra­tion from the region has grown. In 1970, rough­ly 26 per­cent of Amer­i­cans lived in rur­al areas and about 4.6 per­cent of the labor force was famers. Today, rur­al res­i­dents make up only 14 per­cent of the pop­u­la­tion and less than 2 per­cent are farm­ers. This has made it hard­er for har­vesters to find farm kids who are famil­iar with the equip­ment and lifestyle that the har­vest trail demands.
With just one com­bine, the Zeo­ri­ans no longer need an extra crew mem­ber, but when they did, they always hired some­one from their home in east­ern Nebras­ka. Fit­ting­ly, the first per­son they ever hired now works for a New Hol­land deal­er and is their local sales rep­re­sen­ta­tive. He was 16 years old when he did his first of three sea­sons with the Zeo­ri­ans. ​"He just became part of the fam­i­ly," recalls Tra­cy. ​"When you have a good crew, they just do."
The Eberts run two or three com­bines with at least three trucks and a grain cart, neces­si­tat­ing a crew of at least five, which is con­sid­ered a small or mid­size crew. They, too, view their hired hands as an exten­sion of their fam­i­ly and appre­ci­ate the oppor­tu­ni­ty to impart their knowl­edge and skills. ​"We used to say that peo­ple would bring us their boys and at the end of the sum­mer we'd give them back their men," says Nancy.
For 30 years, they nev­er had any prob­lem find­ing good help, but more and more it has been tough. In addi­tion to a small­er pool of poten­tial work­ers, par­ents are less like­ly to let their teenagers leave for the sum­mer, and few­er young Amer­i­cans are attract­ed to the work, which is unpre­dictable and requires long hours. Accord­ing­ly, crew mem­bers are far more like­ly to leave mid-sea­son than they ever were in the past. ​"Times have changed. Peo­ple have changed," says Nan­cy. ​"If some­one doesn't like it, they're gone. There's not that stick-to-it-ness."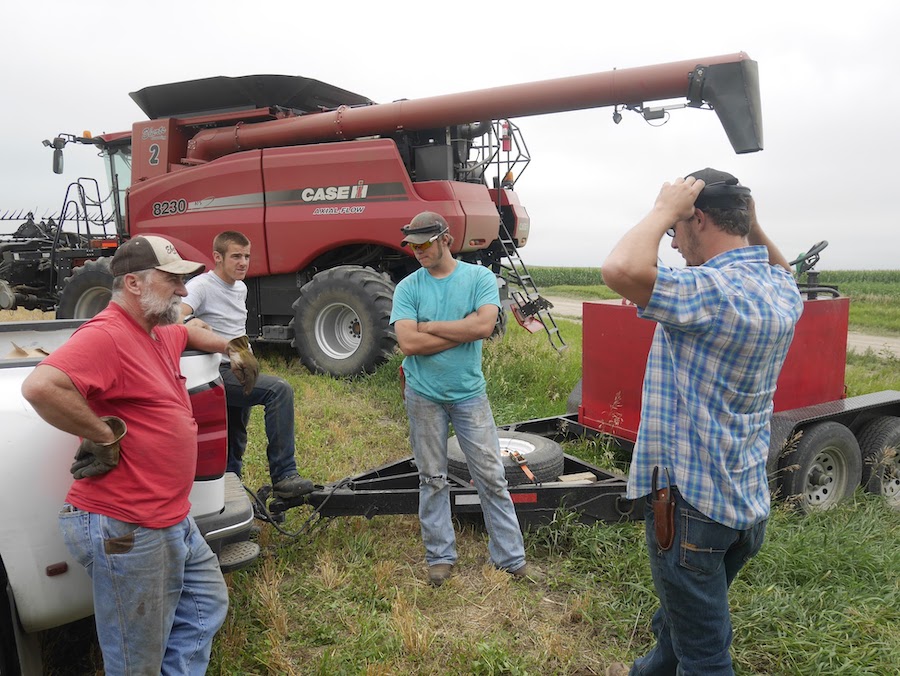 The Eberts' crew takes a break while wait­ing for the morn­ing dew to burn off. (Michael J. Dax)
This has com­pelled har­vesters to rely on for­eign work­ers with tem­po­rary H‑2A visas, which are designed specif­i­cal­ly for agri­cul­tur­al work. Most of these work­ers orig­i­nate from oth­er wheat pro­duc­ing coun­tries like Ire­land, South Africa and Aus­tralia. For them, it's an oppor­tu­ni­ty to gain expe­ri­ence they can then apply at home. By the nature of their visas, these work­ers tend to be more reli­able because they must stay for the entire sea­son if they want to remain in the coun­try. Espe­cial­ly for larg­er har­vest­ing out­fits, H‑2A work­ers have become the norm as the prospect of hav­ing to rehire through­out the sea­son is imprac­ti­cal and inefficient.
Long-term, this shift has start­ed to have an impact. The fact that for­eign work­ers even­tu­al­ly return home has under­mined the uni­ty that once bond­ed] the Great Plains. ​"There's a social impact," says North Dako­ta State's Isern. ​"Its decline is part of the ero­sion of social net­works that used to tie togeth­er town and coun­try, and even Texas to Mon­tana. It's a piece of the loss of rur­al culture."
Rela­tion­ships between har­vesters and their crew mem­bers aren't the only ones that have suf­fered in recent years. Over­all, agri­cul­ture has become far less prof­itable. Crop prices have stag­nat­ed, cor­po­ra­tions have more con­trol over the indus­try, and to sur­vive farm­ers have had to be savvi­er busi­ness­men. Har­vesters still rely on hand­shake agree­ments with the farm­ers they work for, but the loy­al­ty that used to tie them is not as strong as it once was. ​"Our cus­tomers are still pret­ty loy­al to us because we've done busi­ness for so many years," says Myron. ​"But I know oth­er guys that don't have that."
Accord­ing to Isern, espe­cial­ly in sit­u­a­tions where the son of a farmer had worked for the har­vester, inter­lock­ing fam­i­ly rela­tion­ships cre­at­ed a ​"moral econ­o­my" that tied them to one anoth­er. Now, with few­er younger Amer­i­cans work­ing the har­vest, these kinds of rela­tion­ships that fos­ter loy­al­ty are far less common.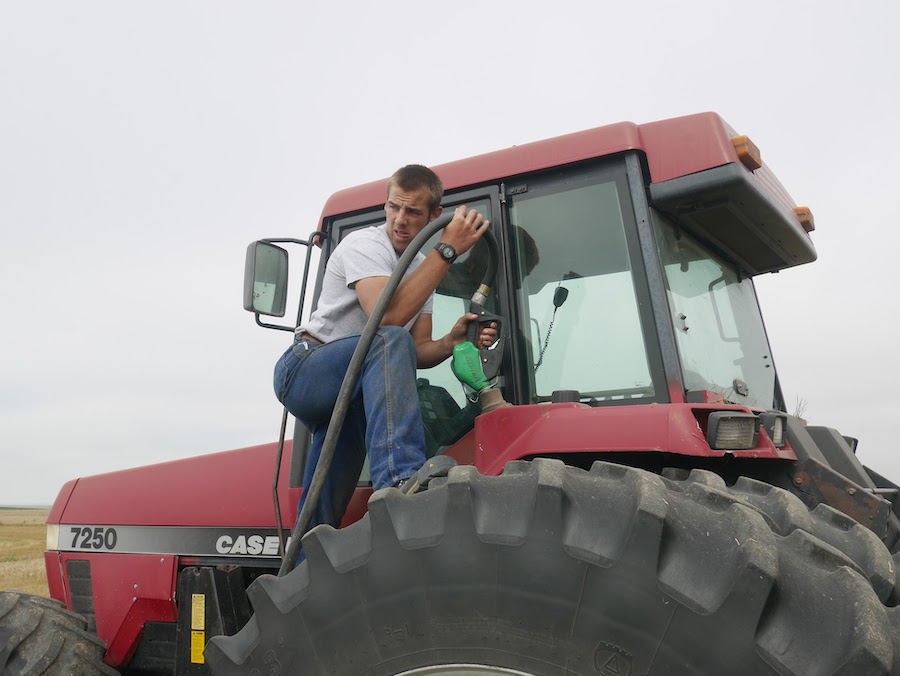 One of the Eberts field hands fuel­ing up the trac­tor, which pulls the grain cart. (Michael J. Dax)
The Zeo­ri­ans have been at the mer­cy of this shift­ing dynam­ic. ​"It used to be more of a loy­al­ty thing," says Jim. ​"Now it's more based on ​'can you cut it cheap­er than he can.'"
This has left many har­vesters scram­bling to find work, and with 2017 and 2018 see­ing the fewest acres of wheat plant­ed since 1920, it's not easy to do. Due to GMOs and hybridiza­tion, farm­ers are able to plant corn and soy­beans in arid regions that once could only sup­port wheat. This has fur­ther hurt har­vesters because across the Mid­west, these crops ripen in the fall and don't cre­ate the sea­son­al migra­tion that wheat does. ​"Every­one has to look out for them­selves," con­cedes Jim. ​"But in todays' cli­mate it would be safe to say, it's a lit­tle eas­i­er for them to say, ​'We just can't use ya.' "
As a result, the indus­try has pro­gres­sive­ly fad­ed into anonymi­ty. ​"Even in our small lit­tle rur­al com­mu­ni­ty, peo­ple don't under­stand what we do," says Tra­cy. ​"Unless you live with­in the wheat belt where com­bin­ers come through, most peo­ple don't know any­thing about it."
The changes that have come to cus­tom har­vest indus­try are a micro­cosm of the trans­for­ma­tion alter­ing life in rur­al Amer­i­can and the Great Plains as a whole. These places thrived because of the per­son­al rela­tion­ships and sense of com­mu­ni­ty that rur­al liv­ing neces­si­tates, but with every local restau­rant or equip­ment deal­er­ship that clos­es, with every teenag­er who won't have the mem­o­ry of the sum­mer har­vest, and with every har­vester no longer able to make a liv­ing, the loss of com­mu­ni­ty accel­er­ates, tak­ing with it the hopes for the future.
Michael J. Dax
writes about the inter­sec­tion of envi­ron­ment and cul­ture in the Amer­i­can West from his home in San­ta Fe, New Mex­i­co. He is the author of Griz­zly West: A Failed Attempt to Rein­tro­duce Griz­zly Bears in the Amer­i­can West.