Cynthia Nixon's Plan to Stem Mass Incarceration Has a Uniquely Feminist Provision
The candidate has a plank to help survivors of domestic violence who are incarcerated for defending themselves.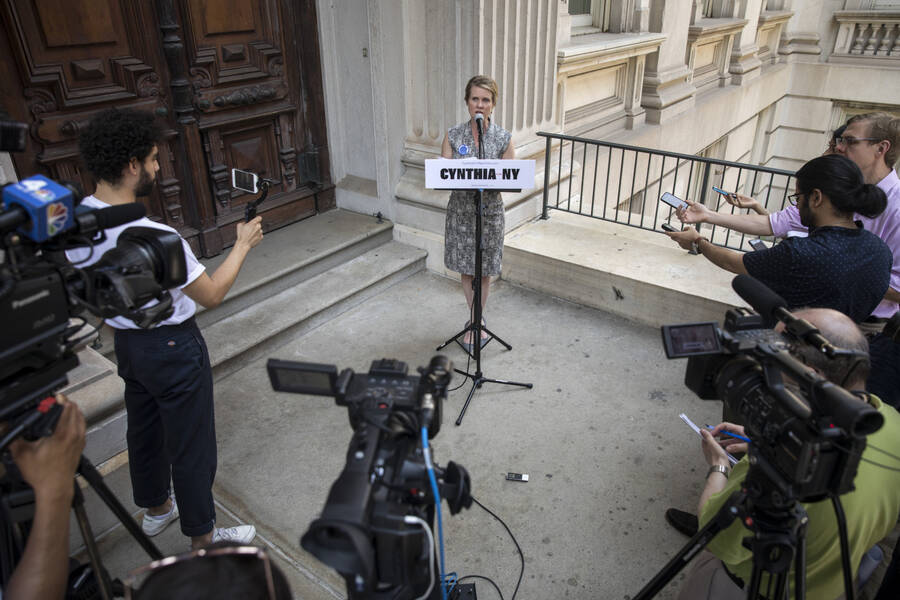 New York Guber­na­to­r­i­al can­di­date Cyn­thia Nixon on July 26 unveiled a new plat­form, #Jus­tice­ForAll, to deliv­er on her cam­paign promis­es to stem mass incar­cer­a­tion. The plat­form calls for an end to: cash bail, the crim­i­nal­iza­tion of mar­i­jua­na, soli­tary con­fine­ment and the pros­e­cu­tion of chil­dren as adults. In her bold­est pro­vi­sion, Nixon advo­cates an expan­sion of com­mu­ta­tions and par­dons for sur­vivors of domes­tic vio­lence who are incar­cer­at­ed for defend­ing them­selves. This is a unique­ly fem­i­nist mea­sure giv­en that women, espe­cial­ly women of col­or, are often unable to receive help for domes­tic vio­lence. Nixon acco­lades from many activists, but some cau­tioned that her plat­form — while far bet­ter than that of her oppo­nent, Gov­er­nor Cuo­mo — does not go far enough.
Nixon, notably, includes a plank to address this social problem, pledging to increase commutations and pardons for domestic violence survivors who commit "crimes" in self defense.
Nixon's plan, which declares that ​"It's time for #School­sNot­Jails," points to the influ­ence of invest/​divest strate­gies reflect­ed in grass­roots efforts like the Move­ment for Black Lives and No Cop Acad­e­my. Both cam­paigns call for mon­ey to be fun­neled away from pris­ons and polic­ing, and into edu­ca­tion, health­care and oth­er pub­lic goods. Nixon has already unveiled sev­er­al pro­pos­als to address the con­cerns of work­ing-class New York­ers, includ­ing increased invest­ments in afford­able hous­ing, edu­ca­tion and pub­lic trans­porta­tion. The can­di­date says her crim­i­nal jus­tice plat­form is intend­ed to decrease state vio­lence against com­mu­ni­ties that are, in her words, ​"dev­as­tat­ed by a biased and unre­lent­ing jus­tice system."
In one of the most rad­i­cal aspects of her plat­form, Nixon's parole reforms raise the pos­si­bil­i­ty of extend­ing parole to peo­ple who have com­mit­ted ​"vio­lent" crimes. This includes per­mit­ting the Board of Parole to ​"eval­u­ate all per­sons who are over the age of 55 who have served at least 15 years in prison for pos­si­ble parole release," even if that per­son has not com­plet­ed their min­i­mum sen­tence. The reforms, tar­get­ed at an aging prison pop­u­la­tion with a very low risk of recidi­vism, ​"reflect sci­ence and com­mon sense," Nixon's chief spokesper­son, Lau­ren Hitt, told In These TImes.
Some argue that, to tru­ly address mass incar­cer­a­tion, it is nec­es­sary to advance poli­cies towards reha­bil­i­tat­ing — and free­ing — peo­ple charged with vio­lent crimes. A focus on end­ing the war on drugs is insuf­fi­cient, as peo­ple charged with drug crimes make up a rel­a­tive­ly small seg­ment of the prison pop­u­la­tion. Activists have long not­ed that the bina­ry of ​"vio­lent" vs. ​"non-vio­lent" charges is itself mis­rep­re­sen­ta­tive, as evi­denced by the fact that sur­vivors of domes­tic vio­lence are often crim­i­nal­ized for how they defend them­selves, and demo­nized as ​"vio­lent offenders."
Nixon, notably, includes a plank to address this social prob­lem, pledg­ing to increase com­mu­ta­tions and par­dons for domes­tic vio­lence sur­vivors who com­mit ​"crimes" in self defense. The crim­i­nal­iza­tion of sur­vivors of gen­der vio­lence is still large­ly over­looked. Media nar­ra­tives, as well as poli­cies like for­mer Pres­i­dent Barack Obama's My Brother's Keep­er ini­tia­tive, over­whelm­ing­ly depict the vic­tims of police bru­tal­i­ty and mass incar­cer­a­tion as young, black and male. While the #Say­H­er­Name move­ment has drawn more atten­tion to black women killed at the hands of police, the con­cerns of incar­cer­at­ed women and LGBTQ peo­ple are often not incor­po­rat­ed into main­stream crim­i­nal jus­tice reforms.
That is chang­ing, how­ev­er, thanks to the hard work of orga­niz­ers from groups like Love and Pro­tect, which, in its own words, ​"sup­ports those who iden­ti­fy as women and gen­der non-con­form­ing per­sons of col­or who are crim­i­nal­ized or harmed by state and inter­per­son­al vio­lence." The #FreeThem­NY cam­paign, which is ​"ded­i­cat­ed to free­ing crim­i­nal­ized sur­vivors of gen­der vio­lence held in pris­ons in New York," has also shined a spot­light on the issue, and Nixon's plat­form reflects the insights of these activists.
Nixon's plat­form also takes aim at reform­ing the bail sys­tem. Abol­ish­ing cash bail has been a high pri­or­i­ty for crim­i­nal jus­tice reform activists and orga­ni­za­tions in New York, which see grow­ing wealth inequal­i­ty and mass incar­cer­a­tion as two trou­bling sides of the same coin. Accord­ing to the Brook­lyn Com­mu­ni­ty Bail Fund, a New York City-based orga­ni­za­tion that pays bail for peo­ple who can't afford it, 45,000 peo­ple in New York City are incar­cer­at­ed per year because they can­not afford bail. The inabil­i­ty to afford bail, cou­pled with a dys­func­tion­al court sys­tem, means that many peo­ple will plead guilty to avoid spend­ing time in jail await­ing tri­al — turn­ing pover­ty itself into a crime.
In Jan­u­ary 2018, Gov­er­nor Andrew Cuo­mo announced that he would pur­sue an end to mon­ey bail for non­vi­o­lent offend­ers, as well pre-tri­al reforms, includ­ing time­ly evi­dence dis­cov­ery and speedy tri­al require­ments. But Gov­er­nor Cuomo's bud­get bill did not include any of these pro­posed crim­i­nal jus­tice reforms, leav­ing room for Nixon to chal­lenge him on these issues from the left.
Akeem Brow­der, the broth­er of Kalief Brow­der and an activist who advised Nixon's cam­paign on the plat­form, told In These Times that Cuo­mo had not ful­filled his promis­es to fix New York's pro­found­ly unjust bail and pre-tri­al sys­tem. Browder's broth­er Kalief com­mit­ted sui­cide after lan­guish­ing for three years await­ing tri­al at Rik­ers Island, in part because he could not afford to pay his $3,000 bail.
In New York, where ram­pant Wall Street crimes go unpun­ished and the poor are still sub­ject­ed to bro­ken win­dows polic­ing, the injus­tice of the sys­tem is espe­cial­ly stark. Brow­der told In These Times that his then-teenage broth­er ​"spent three years in jail for alleged­ly steal­ing a back­pack," while Hol­ly­wood pro­duc­er Har­vey Wein­stein walked away free from a Man­hat­tan court­room after pay­ing $1 mil­lion in bail on numer­ous rape and sex-crime charges.
Accord­ing to some, Nixon's bail reforms do not go far enough. Rachel Foran, man­ag­ing direc­tor of the Brook­lyn Com­mu­ni­ty Bail Fund, says that Nixon's pro­pos­al could be improved by explic­it­ly stat­ing that New York's cash bail sys­tem will not be replaced by risk assess­ment algo­rithms. These algo­rithms, already in wide use in New York City and cities across the coun­try, replace mon­ey as the deter­min­ing fac­tor for gain­ing free­dom with a person's his­to­ry of pri­or convictions.
Crit­ics point out that these met­rics reflect and repro­duce the racial and socio-eco­nom­ic dis­par­i­ties of the crim­i­nal jus­tice sys­tem, because poor com­mu­ni­ties of col­or are more like­ly to be over­po­liced. ​"Tools such as these are not solu­tions to reform­ing our unjust and bro­ken bail sys­tem," Foran told In These Times in an email. ​"In fact, they often wors­en racial dis­par­i­ties and can increase incar­cer­a­tion rates."
Anoth­er area of Nixon's plat­form is like­ly to catch some crit­i­cism from activists. In addi­tion to send­ing all youth under the age of 18 to fam­i­ly rather than crim­i­nal court, Nixon's pro­pos­al clos­es tra­di­tion­al deten­tion cen­ters (called ​"secure facil­i­ties") for young peo­ple, instead send­ing them to ​"non-secure facil­i­ties" — small group homes that pro­vide a sup­port­ive and less restric­tive envi­ron­ment. She plans to fun­nel the esti­mat­ed $30.5 mil­lion in saved rev­enue from these clo­sures towards pro­grams that help at-risk youth, includ­ing staffing juve­nile facil­i­ties with experts in trau­ma-informed care and child­hood devel­op­ment. This last pro­vi­sion, how­ev­er, is cer­tain to be con­tro­ver­sial, as many pro­po­nents of the divest/​invest strat­e­gy oppose any fund­ing for carcer­al facil­i­ties, even ones with an explic­it­ly ​"reha­bil­i­ta­tive" mission.
What­ev­er its short­com­ings, the fact that Nixon's cam­paign is broad­en­ing the Over­ton win­dow on crim­i­nal jus­tice pol­i­cy is heart­en­ing to the activists who've cho­sen to sup­port her. The prospect of a gov­er­nor who may be respon­sive to grass­roots demands stands in direct con­trast to Gov­er­nor Cuomo's tenure. The reign of Cuo­mo — dubbed Gov­er­nor 1 per­cent by activists — has been char­ac­ter­ized by fis­cal con­ser­vatism, cor­rup­tion and per­son­al vin­dic­tive­ness, in addi­tion to his backpedal­ing on crim­i­nal jus­tice reform. If imple­ment­ed, Nixon's plat­form would mark a sharp diver­gence from the gov­er­nor, who has been crit­i­cized for fail­ing to fol­low through on his promis­es to short­en more prison sentences.
For a group like the New York City Demo­c­ra­t­ic Social­ists of Amer­i­ca (DSA), which vot­ed to endorse Nixon after a peri­od of con­tentious debate, the stakes are high, and there is a strong sense that Nixon must be account­able to the grass­roots orga­ni­za­tions that will undoubt­ed­ly put in long hours on her cam­paign. Accord­ing to DSA Steer­ing Com­mit­tee mem­ber Danya Lagos, Nixon's plan aligns with demands that orga­ni­za­tions like hers have been fight­ing for for years, like the Cam­paign to Close Rik­ers coali­tion, a 150+ mem­ber coali­tion work­ing to close the noto­ri­ous­ly vio­lent and cor­rupt Rik­ers Island Jail. The over­lap between Nixon's crim­i­nal jus­tice plat­form and the demands that ground DSA's orga­niz­ing speaks to the poten­tial for an alliance between ​"elec­toral and move­ment pol­i­tics" in Nixon's cam­paign, Lagos told In These Times.
Prac­ti­cal­ly speak­ing, Nixon needs that alliance as much as any­one. To con­front the pow­er­ful mon­eyed inter­ests allied with Gov­er­nor 1 per­cent and to win mean­ing­ful crim­i­nal jus­tice reform, her sup­port­ers say she needs a mass move­ment behind her — and hold­ing her accountable.
Rachel John­son
is a writer based in Chica­go. She holds a mas­ter's degree in U.S. his­to­ry from North­west­ern University.