Cynthia Nixon Was Right: New York Needs To Get with the Cannabis Equity Program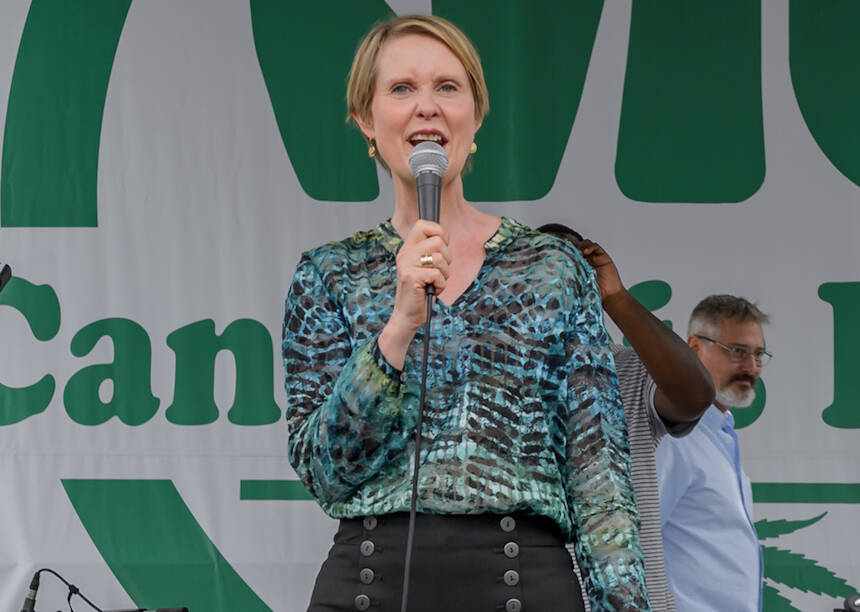 Pro­grams like Oakland's are a first step toward — yes — reparations.
One night back in the late 90s, I smoked a joint with Sex and the City author Can­dace Bush­nell. We were on the bal­cony of an expen­sive East Side Man­hat­tan apart­ment. Spin mag­a­zine founder Bob Guc­cione, Jr. — boss of my then-wife — was there. Nobody was get­ting bust­ed for smok­ing pot. The idea was ludi­crous, not even a con­sid­er­a­tion. Mean­while, up the island in Harlem or, for that mat­ter, down the avenue in Alpha­bet City, dudes my age were get­ting cuffed up for the exact same out­door enjoy­ment. It was Giu­liani Time.
That night popped back into my head upon see­ing New York guber­na­to­r­i­al can­di­date Cyn­thia Nixon's tweet on the need for cannabis equity.
"We must ensure that every aspect of drug pol­i­cy going for­ward places the inter­ests, needs and con­cerns of those who've been most harmed in the past at the cen­ter, not the mar­gins — includ­ing who is able to ben­e­fit from the legal­iza­tion of mar­i­jua­na," Nixon tweeted.
The priv­i­lege of the bal­cony I vis­it­ed that night was some­thing White Amer­i­ca could not much see, like those aquar­i­um fish swim­ming in bliss­ful igno­rance. The unre­lent­ing Green Rush has been just as unre­lent­ing­ly white. That's despite Black America's ties to the drug's earthy essence, a gift to the jazz, hip­pie and hip-hop move­ments. For a peo­ple with such cul­tur­al equi­ty in mar­i­jua­na and such a his­to­ry of being over-policed, black peo­ple have lit­tle busi­ness equi­ty and a crim­i­nal rate of arrests.
Nixon is say­ing, to noisy con­ser­v­a­tive oppo­si­tion as black in New York City as it has been in Comp­ton, that she's not going to just watch a new wrong rise to replace an old one. That the for­mer Sex and the City star is mak­ing this posi­tion part of her chal­lenge to incum­bent Gov. Andrew Cuo­mo speaks to just how far the push for cannabis equi­ty has come in a very short time.
Nixon and oth­ers have called these pro­grams a poten­tial form of repa­ra­tions. Real-deal repa­ra­tions would be some­thing much big­ger. For starters, cannabis repa­ra­tions are pri­mar­i­ly tar­get­ed at the war on drugs, while full repa­ra­tions would redress a chain of injus­tices that goes all the way back to slav­ery. Of the many forms such repa­ra­tions could take, the most direct are lump sum pay­ments to all African Amer­i­cans. Anoth­er option is aggre­gat­ing repa­ra­tions funds to make asset-build­ing grants avail­able to African Amer­i­cans over time. That's arguably more fair, as Dan­ny Vinik writes in The New Repub­lic, in that it com­pen­sates for ​"decades of lost human cap­i­tal" by build­ing ​"the human and wealth cap­i­tal that black Amer­i­cans strug­gled to gain over the past few cen­turies."
Cannabis equi­ty is not yet at the point of deliv­er­ing any­thing more than ground-floor entrance to a boom­ing indus­try, and to just a rel­a­tive few. But the swift-mov­ing notion is still serv­ing to open a broad­er con­ver­sa­tion about reparations.
A wave from the West Coast
The move­ment to legal­ize weed shares a birth­place with the Black Pan­thers — the West Coast. In 1996, Cal­i­for­nia became the first state to allow med­ical mar­i­jua­na; in 2012, Col­orado and Wash­ing­ton led the way on legal­iz­ing all use. Most of the East remains igno­rant about mar­i­jua­na legal­iza­tion, allow­ing med­ical weed, at best.
So it's only right that the city of Oak­land, Calif., spoke the con­cept of cannabis equi­ty into being. Oakland's Cannabis Equi­ty Assis­tance Pro­gram went into effect at the start of this year, along with the legal­iza­tion of adult-use marijuana.
The pro­gram reserves half of Oakland's mar­i­jua­na per­mits — which include licens­es to grow, test, trans­port, man­u­fac­ture prod­ucts, and dis­pense — for res­i­dents who make 80 per­cent or less of Oakland's medi­an income (rough­ly $53,000 for a sin­gle per­son), have a mar­i­jua­na con­vic­tion and have resided in neigh­bor­hoods that have been vic­tim­ized by dis­pro­por­tion­ate pot arrests. Local entre­pre­neurs who don't qual­i­fy, from would-be grow­ers to bud­ding dis­pen­saries, can part­ner with those who do and join them at the front of the license line.
Ver­sions of the pro­gram have spread to San Fran­cis­co, Sacra­men­to and my home city of Los Ange­les. The state of Cal­i­for­nia is devel­op­ing a sim­i­lar pro­gram, as are Penn­syl­va­nia, Flori­da and Ore­gon. Mass­a­chu­setts imple­ment­ed cannabis equi­ty last month. Busi­ness incu­ba­tion ini­tia­tives com­mon­ly accom­pa­ny the pro­grams, to help emerg­ing indus­tri­al­ists com­pete in a heat­ed mar­ket increas­ing­ly crowd­ed with MBAs.
Oakland's pro­gram only pro­vides pay­back to entre­pre­neurs who reside in the most over-policed areas, even though low-lev­el pot deal­ers of col­or were also has­sled in oth­er Oak­town neigh­bor­hoods, as well as Berke­ley and San Fran­cis­co. Crit­ics — often small-scale cannabis entre­pre­neurs strug­gling to find a road to legal com­pli­ance — say the nar­row­ness of the equi­ty cri­te­ria unfair­ly forces them to com­pete against well-monied big timers.
A cannabis equi­ty pro­gram that actu­al­ly mir­rored repa­ra­tions would have a laser-like focus on devel­op­ing grow­ers — 40 acres and a mule refus­es to stop being a thing — instead of the low­er-yield­ing dis­pen­sary and deliv­ery busi­ness­es. There exists still the pos­si­bil­i­ty of an entrenched mar­i­jua­na-indus­try hier­ar­chy, with grow­ers reap­ing huge prof­its while blacks remain entrenched in the less depend­ably lucra­tive deliv­ery and dis­pen­sary sectors.
It's hard to explain to peo­ple still mak­ing their peace with med­ical mar­i­jua­na and — philistines — with smok­ing mar­i­jua­na*, that, while not full-blown repa­ra­tions, cannabis has the poten­tial to grow into the most racial­ly pro­gres­sive indus­try ever. The Team­sters and UFCW have begun orga­niz­ing the large­ly Lati­no Cal­i­for­nia mar­i­jua­na trim­mer work­force. Exper­i­men­tal Los Ange­les and East Bay entre­pre­neurs are explor­ing avenues by which to fun­nel cannabis equi­ty div­i­dends into his­tor­i­cal­ly dis­crim­i­nat­ed-against sec­tors of Amer­i­ca, whether that means more and bet­ter can­na-busi­ness incu­ba­tors or police-mon­i­tor­ing pro­grams. Ben­e­fi­cia­ries would not even need to endorse the prod­uct to ben­e­fit. Cyn­thia Nixon knows these pos­si­bil­i­ties, and by Novem­ber, Gov. Cuo­mo will be called upon to fit in or fit out.
An open door
As with ​"pussy," ​"repa­ra­tions" is a word I hard­ly imag­ined being main­streamed in my life­time. Pres­i­den­tial can­di­date Don­ald Trump took care of the for­mer, through the evil-made-vocal of 2016. And here we are with Sex and the City​'s Miran­da tak­ing us unex­pect­ed places, in the most pro­gres­sive man­ner imaginable.
Cannabis equi­ty isn't an easy-access con­ver­sion for a nation still try­ing to decide whether the drug is addic­tive. Can­di­date Nixon has in her own way demand­ed that the door to a con­ver­sa­tion about repa­ra­tions open right now.
After that par­ty in Man­hat­tan, my white then-wife and I got off the train and prob­a­bly hugged up as we made our way through our new­ly gen­tri­fy­ing Brook­lyn neigh­bor­hood. Just a few miles away, the fore­run­ners of today's green rush were get­ting bust­ed. I walked unafraid. Could have maybe sparked up a blunt and not had a prob­lem. You see, I had a white girl by my side. Cannabis equi­ty isn't real repa­ra­tions; If it weren't for the very crit­i­cal fact that black women birthed cannabis equi­ty, I would say that the the con­cept func­tions pret­ty much like a white girl to hold your hand and pro­tect you.
I dwelled in Ore­gon when legal­iza­tion came to that state three years ago. I took and passed my state bud­ten­der test and repeat­ed­ly applied for jobs. In a most­ly cash-based indus­try — fed­er­al laws still keep banks from inter­act­ing with even legal mar­i­jua­na — trust is an issue, and no one hired me. You should have seen some of the dim ston­ers who got hired over me.
A black busi­ness own­er might have kept me up North. The need for what Nixon is sell­ing is no small thing.
*It's 2018; go get your­self a tinc­ture and a clue.
Non-fic­tion sto­ry­teller
Don­nell Alexan­der
makes pod­casts and films when he's not writ­ing arti­cles. L.A. is his home.