Cynthia Nixon Was Right: New York Needs To Get with the Cannabis Equity Program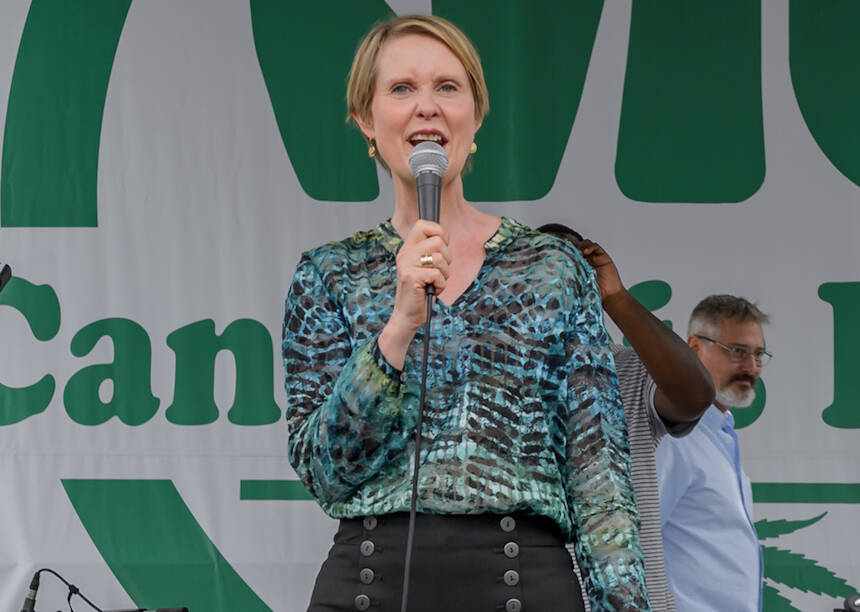 Programs like Oakland's are a first step toward — yes — reparations.
One night back in the late 90s, I smoked a joint with Sex and the City author Candace Bushnell. We were on the balcony of an expensive East Side Manhattan apartment. Spin magazine founder Bob Guccione, Jr. — boss of my then-wife — was there. Nobody was getting busted for smoking pot. The idea was ludicrous, not even a consideration. Meanwhile, up the island in Harlem or, for that matter, down the avenue in Alphabet City, dudes my age were getting cuffed up for the exact same outdoor enjoyment. It was Giuliani Time.
That night popped back into my head upon seeing New York gubernatorial candidate Cynthia Nixon's tweet on the need for cannabis equity.
"We must ensure that every aspect of drug policy going forward places the interests, needs and concerns of those who've been most harmed in the past at the center, not the margins — including who is able to benefit from the legalization of marijuana," Nixon tweeted.
The privilege of the balcony I visited that night was something White America could not much see, like those aquarium fish swimming in blissful ignorance. The unrelenting Green Rush has been just as unrelentingly white. That's despite Black America's ties to the drug's earthy essence, a gift to the jazz, hippie and hip-hop movements. For a people with such cultural equity in marijuana and such a history of being over-policed, black people have little business equity and a criminal rate of arrests.
Nixon is saying, to noisy conservative opposition as black in New York City as it has been in Compton, that she's not going to just watch a new wrong rise to replace an old one. That the former Sex and the City star is making this position part of her challenge to incumbent Gov. Andrew Cuomo speaks to just how far the push for cannabis equity has come in a very short time.
Nixon and others have called these programs a potential form of reparations. Real-deal reparations would be something much bigger. For starters, cannabis reparations are primarily targeted at the war on drugs, while full reparations would redress a chain of injustices that goes all the way back to slavery. Of the many forms such reparations could take, the most direct are lump sum payments to all African Americans. Another option is aggregating reparations funds to make asset-building grants available to African Americans over time. That's arguably more fair, as Danny Vinik writes in The New Republic, in that it compensates for ​"decades of lost human capital" by building ​"the human and wealth capital that black Americans struggled to gain over the past few centuries."
Cannabis equity is not yet at the point of delivering anything more than ground-floor entrance to a booming industry, and to just a relative few. But the swift-moving notion is still serving to open a broader conversation about reparations.
A wave from the West Coast
The movement to legalize weed shares a birthplace with the Black Panthers — the West Coast. In 1996, California became the first state to allow medical marijuana; in 2012, Colorado and Washington led the way on legalizing all use. Most of the East remains ignorant about marijuana legalization, allowing medical weed, at best.
So it's only right that the city of Oakland, Calif., spoke the concept of cannabis equity into being. Oakland's Cannabis Equity Assistance Program went into effect at the start of this year, along with the legalization of adult-use marijuana.
The program reserves half of Oakland's marijuana permits — which include licenses to grow, test, transport, manufacture products, and dispense — for residents who make 80 percent or less of Oakland's median income (roughly $53,000 for a single person), have a marijuana conviction and have resided in neighborhoods that have been victimized by disproportionate pot arrests. Local entrepreneurs who don't qualify, from would-be growers to budding dispensaries, can partner with those who do and join them at the front of the license line.
Versions of the program have spread to San Francisco, Sacramento and my home city of Los Angeles. The state of California is developing a similar program, as are Pennsylvania, Florida and Oregon. Massachusetts implemented cannabis equity last month. Business incubation initiatives commonly accompany the programs, to help emerging industrialists compete in a heated market increasingly crowded with MBAs.
Oakland's program only provides payback to entrepreneurs who reside in the most over-policed areas, even though low-level pot dealers of color were also hassled in other Oaktown neighborhoods, as well as Berkeley and San Francisco. Critics — often small-scale cannabis entrepreneurs struggling to find a road to legal compliance — say the narrowness of the equity criteria unfairly forces them to compete against well-monied big timers.
A cannabis equity program that actually mirrored reparations would have a laser-like focus on developing growers — 40 acres and a mule refuses to stop being a thing — instead of the lower-yielding dispensary and delivery businesses. There exists still the possibility of an entrenched marijuana-industry hierarchy, with growers reaping huge profits while blacks remain entrenched in the less dependably lucrative delivery and dispensary sectors.
It's hard to explain to people still making their peace with medical marijuana and — philistines — with smoking marijuana*, that, while not full-blown reparations, cannabis has the potential to grow into the most racially progressive industry ever. The Teamsters and UFCW have begun organizing the largely Latino California marijuana trimmer workforce. Experimental Los Angeles and East Bay entrepreneurs are exploring avenues by which to funnel cannabis equity dividends into historically discriminated-against sectors of America, whether that means more and better canna-business incubators or police-monitoring programs. Beneficiaries would not even need to endorse the product to benefit. Cynthia Nixon knows these possibilities, and by November, Gov. Cuomo will be called upon to fit in or fit out.
An open door
As with ​"pussy," ​"reparations" is a word I hardly imagined being mainstreamed in my lifetime. Presidential candidate Donald Trump took care of the former, through the evil-made-vocal of 2016. And here we are with Sex and the City​'s Miranda taking us unexpected places, in the most progressive manner imaginable.
Cannabis equity isn't an easy-access conversion for a nation still trying to decide whether the drug is addictive. Candidate Nixon has in her own way demanded that the door to a conversation about reparations open right now.
After that party in Manhattan, my white then-wife and I got off the train and probably hugged up as we made our way through our newly gentrifying Brooklyn neighborhood. Just a few miles away, the forerunners of today's green rush were getting busted. I walked unafraid. Could have maybe sparked up a blunt and not had a problem. You see, I had a white girl by my side. Cannabis equity isn't real reparations; If it weren't for the very critical fact that black women birthed cannabis equity, I would say that the the concept functions pretty much like a white girl to hold your hand and protect you.
I dwelled in Oregon when legalization came to that state three years ago. I took and passed my state budtender test and repeatedly applied for jobs. In a mostly cash-based industry — federal laws still keep banks from interacting with even legal marijuana — trust is an issue, and no one hired me. You should have seen some of the dim stoners who got hired over me.
A black business owner might have kept me up North. The need for what Nixon is selling is no small thing.
*It's 2018; go get yourself a tincture and a clue.
Non-fiction storyteller
Donnell Alexander
makes podcasts and films when he's not writing articles. L.A. is his home.