How Ending DACA Hurts All Low-Wage Workers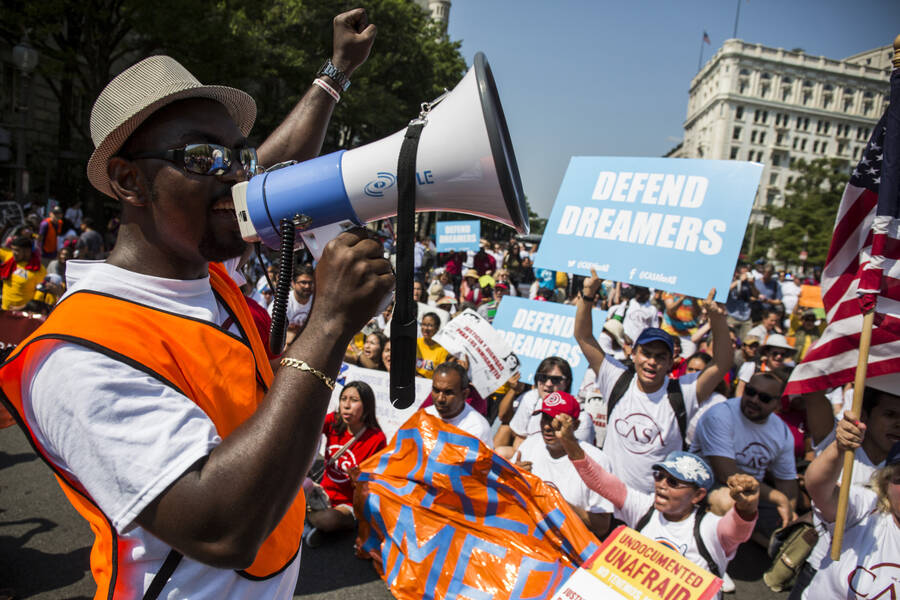 This arti­cle first appeared on the Work­ing Eco­nom­ics Blog of the Eco­nom­ic Pol­i­cy Institute.
This morn­ing Attor­ney Gen­er­al Jeff Ses­sions announced that the Trump admin­is­tra­tion will ​"wind down," and in six months, end Deferred Action for Child­hood Arrivals (DACA), a Depart­ment of Home­land Secu­ri­ty ini­tia­tive put in place in 2012 that tem­porar­i­ly deferred the depor­ta­tion of approx­i­mate­ly 800,000 young immi­grants who were brought to the Unit­ed States as chil­dren. DACA has been an unqual­i­fied suc­cess and has ben­e­fit­ed not only the DACA recip­i­ents them­selves, but also the coun­try and the economy.
The young immi­grants who met the require­ments and passed the nec­es­sary back­ground checks for DACA were promised by the fed­er­al gov­ern­ment that they would not be removed from the Unit­ed States for two years at a time, as long as they kept apply­ing to renew, kept a clean crim­i­nal record, and were either enrolled in school or grad­u­at­ed, or serv­ing in the mil­i­tary or hon­or­ably dis­charged. Because of these require­ments, we know that near­ly all of the recip­i­ents are deeply inte­grat­ed into their local Amer­i­can com­mu­ni­ties and labor markets.
Along with pro­tec­tion from removal, DACA recip­i­ents are enti­tled to receive an employ­ment autho­riza­tion doc­u­ment (EAD), allow­ing them to be employed in the Unit­ed States legal­ly, along with cer­tain oth­er ben­e­fits. More than 100 legal experts and 20 state attor­neys gen­er­al have recent­ly argued that DACA is a law­ful use of the exec­u­tive branch's pros­e­cu­to­r­i­al dis­cre­tion, and as I have writ­ten before, the grant­i­ng of an EAD to deferred action recip­i­ents is clear­ly autho­rized by statute. Togeth­er this means that elim­i­nat­ing DACA is entire­ly a polit­i­cal deci­sion and not a legal one. The impact of this polit­i­cal deci­sion is sig­nif­i­cant: 800,000 young immi­grants — many of whom have nev­er known anoth­er coun­try except when they were small chil­dren — will become instant­ly deportable and lose the abil­i­ty to work legal­ly and con­tribute to the Unit­ed States, and will be effec­tive­ly left with­out labor rights and employ­ment law pro­tec­tions in the workplace.
To call this deci­sion trag­ic is an under­state­ment. Not only is it inhu­mane — after Pres­i­dent Trump promised to treat DACA recip­i­ents with ​"heart" — but the evi­dence is clear that DACA has pos­i­tive­ly ben­e­fit­ed the U.S. labor mar­ket. The vast major­i­ty of DACA recip­i­ents are employed, 87 per­cent, and on aver­age DACA recip­i­ents saw their wages increase by 42 per­cent after receiv­ing an EAD. Those gains — and the high­er tax rev­enue to the fed­er­al and state and local gov­ern­ments that have accom­pa­nied it and ben­e­fit­ed pub­lic cof­fers — are now in jeopardy.
Pres­i­dent Trump has also repeat­ed­ly voiced his desire to help improve work­ing con­di­tions for Amer­i­can work­ers, but by end­ing DACA he is harm­ing the U.S. cit­i­zens and law­ful per­ma­nent res­i­dents who are employed along­side DACA recip­i­ents. Once DACA recip­i­ents lose their work autho­riza­tion, they will effec­tive­ly be unable to com­plain when they are paid below the min­i­mum wage, aren't paid for over­time hours, or when their employ­er sub­jects them to unsafe con­di­tions at the work­place. All immi­grant work­ers who are unau­tho­rized are often too afraid to speak out when employ­ers take advan­tage of them, because they know their boss­es can threat­en them with depor­ta­tion and use their immi­gra­tion sta­tus to retal­i­ate against them. The impact of this is not the­o­ret­i­cal: research has shown that unau­tho­rized immi­grants suf­fer much high­er rates of wage theft than U.S. cit­i­zens. The rea­son­able fear unau­tho­rized work­ers feel keeps them docile and qui­et, which in turn dimin­ish­es the bar­gain­ing pow­er of Amer­i­cans who work along­side unau­tho­rized work­ers. End­ing DACA and forc­ing these young work­ers out of the for­mal, reg­u­lat­ed labor mar­ket, thus mak­ing them eas­i­ly exploitable, will not help Amer­i­can work­ers, it will do the opposite.
End­ing DACA will destroy the edu­ca­tion­al and employ­ment prospects of 800,000 young immi­grants who did noth­ing wrong, while at the same time hurt­ing the wages and labor stan­dards of Amer­i­can work­ers. If Pres­i­dent Trump were seri­ous about improv­ing labor stan­dards for work­ing peo­ple, he would recon­sid­er and reverse his decision.
Daniel Cos­ta
has been direc­tor of immi­gra­tion law and pol­i­cy research since
2013
, hav­ing joined EPI in
2010
as an immi­gra­tion pol­i­cy ana­lyst. An attor­ney, his cur­rent areas of research include a wide range of labor migra­tion issues, includ­ing the man­age­ment of tem­po­rary for­eign work­er pro­grams, both high- and less-skilled migra­tion, immi­grant work­ers' rights, and forced migra­tion, includ­ing refugee and asy­lum issues and the glob­al migra­tion crisis.