After Trump's DACA Reversal, Prognosis Uncertain for Loyola Medical Students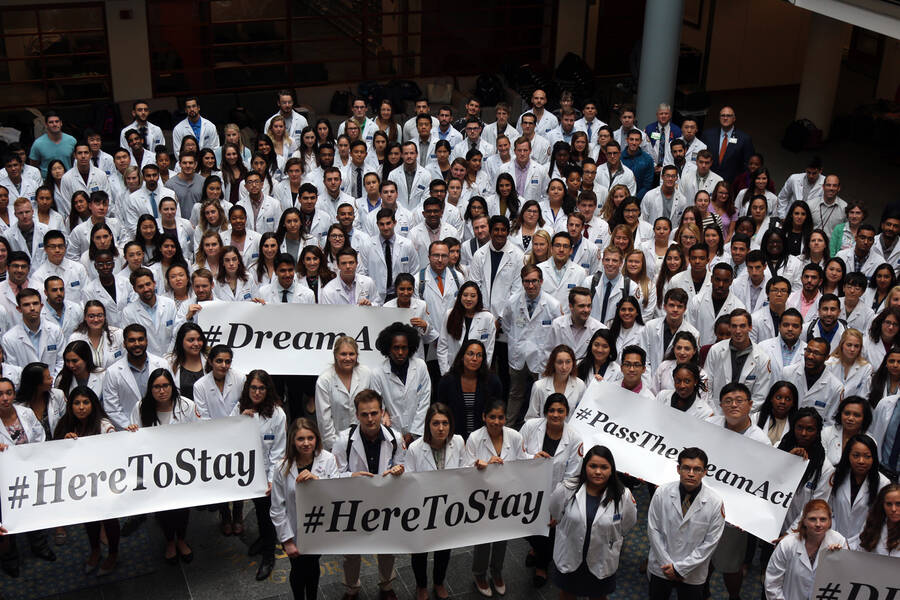 MAYWOOD, Ill.. — Eleven miles west of downtown Chicago more than 300 medical school students and staff gathered at Loyola University Medical Center's suburban campus. Some in attendance held white banners with slogans that said "#DreamAct" and "#HereToStay."
Student organizers say they held the event to show solidarity and make a unified call for long lasting legislation to help their fellow students at the Stritch School of Medicine, which has about 32 medical students who entered the program with DACA status this year, says Mark G. Kuczewski, the chair of the Department of Medical Education at Stritch.
In 2016, approximately 70 DACA-status medical school students were enrolled across the U.S., according to the Association of American Medical Colleges. And currently there are more than 886,000 people who have been granted DACA status since the program was implemented by the Obama administration in 2012, according to data from U.S. Citizenship and Immigration Services.
Alejandra Duran Arreola, a 26-year-old second year medical student with DACA status, was born in Mexico and came to the U.S. when she was 14. She grew up in Georgia where she says revealing your status puts you at risk to raids and attacks. Studying at Stritch gives her a possibility to another path in life.
"The fact that you are here says a lot about who we are at Stritch," Duran Arreola said to the crowd at the solidarity event. ​"I am you and you are me. We both wear this white coat with the same purpose…we want to become physicians for others."
Stritch openly welcomes DACA status students through several initiatives, according to Kuczewski. An online invitation policy lists clear instructions on how to apply to Stritch. School officials have been instrumental in creating accessible financing mechanism such as special loan programs to fund the high cost of medical school for DACA status students. And support for DACA students is widespread on campus: faculty, staff and peers show support for their DACA status peers through organized ally lunches and advocacy opportunities.
"They welcomed us so I knew I could be open about my status here," she told her fellow students at the solidarity event. ​"That I would be welcome, that I wouldn't just be tolerated here."
As a student intern at local health clinics, Duran Arreola has worked with migrant farmers growing Vidalia onions and saw firsthand their poor access to healthcare.
"It was women who were working in south Georgia, some of them pregnant and many of them without appropriate healthcare," Duran Arreola says. ​"The first time many saw the doctor was when they were delivering the baby."
This experience inspired her to apply to medical school in order to become a doctor specializing in obstetrics and gynaecology.
Many of the 11 million undocumented immigrants living in the U.S. are low-income with limited access to jobs offering health insurance and excluded from federally funded insurance such as Medicare and Medicaid, according to the Hastings Center. Duran Arreola believes her experience living as an undocumented woman in America may enable her to one day provide better healthcare for undocumented women, especially migrant laborers.
"It seems unfair that in this first world country a lot people have to work so much and go without healthcare," she says.
Joseph Nye, a second year medical student who attended the solidarity rally, wants President Donald Trump's administration to see the value students with DACA status bring to the medical field.
"[DACA-status students] have a background that is unlike any other in this country," says Nye. ​"And the struggles they go through on a daily basis, those are things that are necessary to treat people in underserved communities."
Diversity in the medicine is increasingly being seen as a solution to expanding access to high quality health care among nation's underserved minority communities which includes the undocumented, according to research from Georgetown University's Health Policy Institute.
At Stritch there are 11 DACA medical students enrolled who have loans structured through the Illinois Finance Authority and are pledged to four years of service in underserved areas of Illinois after graduation, according to Kuczewski.
Trump ordered an end to the DACA program, which shields immigrants who were brought to the U.S. illegally as minors from deportation, on September 5. That same day he urged Congress to pass a replacement before a phase out of DACA protections in six months.
Trump's actions have led to Duran Arreola worrying about the financial consequences of her decision to become a doctor. Before Trump ordered an end to DACA, she expected to graduate medical school in 2020 with over $300,000 in debt. Without the ability to renew her DACA status she's unable complete her education and will struggle repaying her considerable student debt.
"Medical students generally don't think about the amount of debt that they're getting because… you will get a job," she says. ​"You will be a doctor [and] you will be earning enough money to pay this debt back easily."
Classes at Stritch began at the end of July. Current DACA students have been able to start the semester because they were able to sign for their loans this year. The problem is that next year anyone who has expired out of DACA will not be able to secure their funding, says Kuczewski.
So unless the some type of immigration reform addressing DACA is created by mid-winter, fourth year medical students at Stritch will not be able to complete their residency. So for now, Kuczewski is trying to figure out how to be helpful and develop solutions for the massive debt that many DACA status medical students hold.
"The rescinding of DACA felt mean and cruel," he says. ​"These students came out of the shadows on their path to their dream and now they effectively were told to go back into the shadows."
Be one of the first
Help kick off the new era of In These Times! Without a media that brings people together and creates a written record of the struggles of workers, their voices will be fragmented and forgotten.
The mission of In These Times is to be that written record, and to guide and grow those movements.
We have a lot of work ahead of us, and that work starts today. Early support is the most valuable support, and that's why we're asking you to pitch in now. If you are excited for this new era of In These Times, please make a donation today.
Sarah Conway
is a multimedia journalist whose work has appeared in Chicago magazine, Chicago Reader, South Side Weekly, Newcity and other publications. She's also a reporting fellow at City Bureau, a civic journalism lab based on Chicago's South Side.