5 Million Immigrants, Promised Safety From Deportation, Are Still Waiting
Three months after Obama's executive action was supposed to take effect, it's held up in court, leaving millions in legal limbo.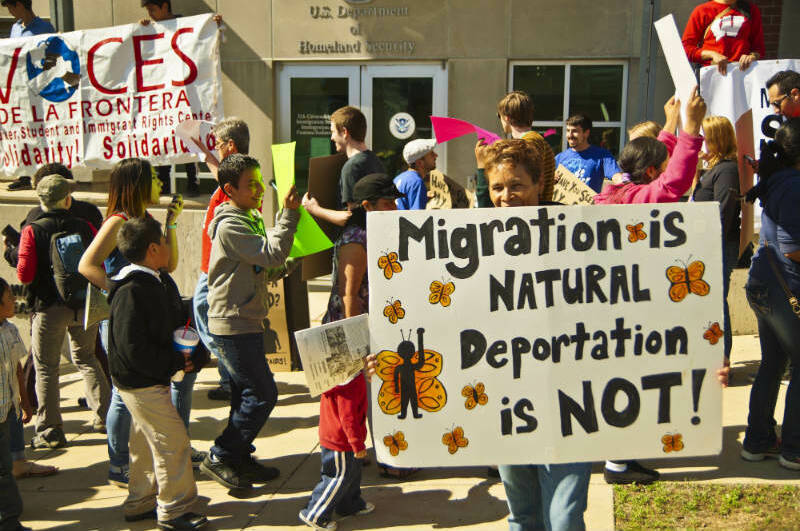 We wanted to make sure you didn't miss the announcement of our new Sustainer program. Once you've finished reading, take a moment to check out the new program, as well as all the benefits of becoming a Sustainer.

Eighteen-year-old Jamie Esquivel sits outside a San Francisco Bay area taqueria, sipping on a tall glass of horchata. He's one of millions of young adults covered by Deferred Action for Childhood Arrivals, or DACA, a measure that grants temporary legal status to undocumented persons brought to the U.S. as children.
An estimated 5 million unauthorized immigrants in the U.S. who qualify for an expanded deferred action program are living in a legal limbo as the case winds through the federal court system.
In November, when President Barack Obama announced executive actions to expand deportation relief to other members of families with mixed immigration status, Esquivel breathed a sigh of relief for his parents. The expanded deferred action program would give temporary relief from deportation to parents of U.S.-born children and other members of mixed-status families.
"I was really happy they were finally going to get something to protect them," the young man says. ​"I feel like they would have more opportunities, like I did when I got my DACA and they would feel safe here also, not as a foreigner. Like they could feel a temporary sense of citizenship, like I have."
DACA took effect in August of 2012 via executive action. Young immigrants must meet a list of criteria to qualify, like the ability to prove five years of continuous residence in the United States and enrollment in or graduation from high school. Anyone convicted of a felony, a serious misdemeanor or three misdemeanors of any kind is ineligible.
Esquivel is the first in his family to graduate from high school and attend a university.
"When I got my DACA, I finally felt safe," he says, adding that DACA status lifted a burden of fear and anxiety. ​"I finally felt like the police were my allies in a way. I just didn't feel scared of them anymore, like I was. Because usually all I think of the police, like ICE [U.S. Immigration and Customs Enforcement], and people who if I tell them my status, they would instantly deport me. I always feel like if my house ever got robbed, it would be hard to talk to the police because of my own status."
The measure known as Deferred Action for Parents of Americans and Lawful Permanent Residents, or DAPA, was supposed to take effect in February. But an injunction granted by a federal judge in Texas in response to a legal challenge brought by 26 states has put the measure on hold for now. An estimated 5 million unauthorized immigrants in the U.S. who qualify for an expanded deferred action program are living in a legal limbo as the case winds through the federal court system.
Attorneys for the states opposed to the president's executive actions on immigration say they would be a drain on resources and reward lawbreakers.
"DACA makes unlawful conduct lawful," said Scott Keller, an attorney representing the state of Texas in the case, during oral arguments before the 5th Circuit Court of Appeals last month. ​"As we pointed out in our stay opposition, the U.S. code triggers benefits based on whether a person has lawful presence. They are eligible for Social Security, Medicare, the earned income tax credit and unemployment insurance. Those are all benefits that one becomes eligible for by having lawful presence."
Tanya Broder, Senior Attorney at the National Immigration Law Center, disputes the idea that deferred action would cause irreparable harm to state economies and says immigration relief could even benefit the states. She says research shows that providing access to work authorization documents provides an economic benefit to state and local economies.
"One study done by the center for American Progress shows that over five years, administrative relief could lead to something like $900 million increase in California state revenue," notes Broder. ​"So it's very concrete, very positive. These are people who have been living and working in California communities for many years, at least five but many for more than 15 years. We expect that if the relief goes forward as planned that it will be of great benefit to the state."
Others argue the costs would at least balance out once immigrants qualifying for deferred action are deemed to no longer be a law enforcement priority. Ben Mizer, attorney for the United States, told the 5th Circuit Court judges the measures would also reduce crime by allowing individuals to work on the books rather than off the books.
"Working off the books is a third party crime under [8 U.S. Code §] 1324a, for an employer to employ an individual who does not have work authorization that employer is engaged in a crime," Mizer told the three-judge panel. ​"So giving the deferred action and giving the employment authorization actually reduces crime by reducing the third-party employer crime. In addition, it allows these individuals to be identified by the Department of Homeland Security as extremely low priorities for removal."
The 5th Circuit Court hearing was an emergency appeal to lift the injunction issued earlier this year, and to allow the deferred action programs to proceed as planned. It is unclear at this time when the judges will rule on the emergency appeal.
Meanwhile, the Department of Justice prepares to defend the constitutionality of the president's executive actions on immigration — actions congressional Republicans say constitute an overreach of presidential authority. The 5th Circuit Court is due to hear those arguments in early July.
No matter how the Circuit Court rules, both sides have the option of appealing to the Supreme Court.
This story originally appeared at Free Speech Radio News. Listen to the audio version here.
Be a Sustainer
We surveyed thousands of readers and asked what they would like to see in a monthly giving program. Now, for the first time, we're offering three different levels of support, with rewards at each level, including a magazine subscription, books, tote bags, events and more—all starting at less than 17 cents a day. Check out the new Sustainer program.
Saadia Malik
has more than
10
years experience as a freelance print and radio journalist, reporting for numerous outlets including the
Bay Area Guardian
, Free Speech Radio News and KPFA, Berkeley.