Day Laborers Leader on Right-Wing Hostility: "So Far, We Have Won This Fight"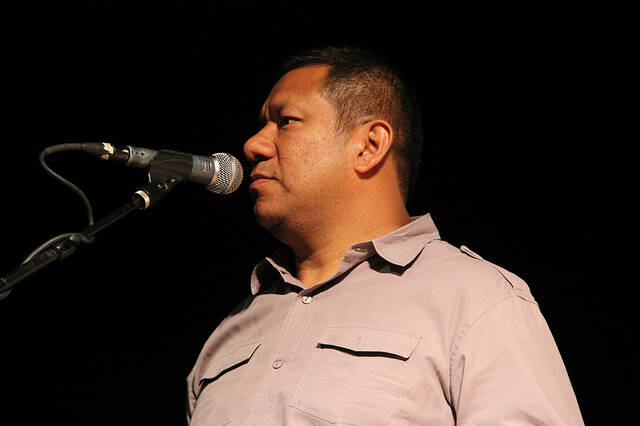 Pablo Alvara­do is exec­u­tive direc­tor of the Los Ange­les-based Nation­al Day Labor­er Orga­niz­ing Net­work (NDLON) — a group ded­i­cat­ed to build­ing a move­ment among low-wage work­ers, most of them immi­grants and many of them undoc­u­ment­ed. The 49-year old Alvara­do, who came to the Unit­ed States in 1990 from El Sal­vador, views NDLON as both a work­ers' rights and an immi­grants' rights orga­ni­za­tion. It has been an impor­tant play­er in cam­paigns to win local min­i­mum wage laws and to stop the exploita­tion of immi­grant work­ers, many of whom sur­vive in the shad­ow econ­o­my as day labor­ers, house­keep­ers, gar­den­ers, restau­rant work­ers and janitors.
We recent­ly spoke with Alvara­do in his small office at the Pasade­na Com­mu­ni­ty Job Cen­ter in Pasade­na, Cal­i­for­nia, one of some 70 work­er cen­ters in 21 states con­nect­ed with NDLON. He is a whirl­wind of activ­i­ty, typ­i­cal­ly work­ing 12 hours a day, run­ning a nation­al orga­ni­za­tion while engaged in the dai­ly activ­i­ties of the Pasade­na cen­ter — coun­sel­ing work­ers, orga­niz­ing demon­stra­tions, nego­ti­at­ing with city offi­cials, rais­ing mon­ey and super­vis­ing staff.
This inter­view has been edit­ed and con­densed for clarity.
Tell us about your life in El Sal­vador before you came to the Unit­ed States.
I came to the U.S. in 1990 when I was 22. My moth­er was a house­keep­er with nine chil­dren. Three died while they were small. My father was a peas­ant who worked the land. We lived in a vil­lage called El Nis­pero, sur­round­ed by cof­fee plan­ta­tions. There was no run­ning water. We had to go to the city to car­ry the water. My father had oxen and we would bring water in bar­rels. My moth­er nev­er went to school. She learned to read and write from the news­pa­per that wrapped the rice or beans. My father went up to third grade. He was right wing and a very smart man. He could talk you about com­mu­nism and the Cold War, or almost anything.
You went to uni­ver­si­ty and received a B.A. in social sci­ence in El Sal­vador. How did that happen?
My fam­i­ly was one of the first in the vil­lage to send their kids to high school. My broth­er was nick­named ​"Bachiller," what they call you when you grad­u­ate from high school. He went on to uni­ver­si­ty and got a degree to be an ele­men­tary school teacher. He need­ed hun­dreds of hours of com­mu­ni­ty ser­vice so he came back to the same vil­lage and start­ed a lit­er­a­cy class for peas­ants. His method was based on the ideas of Paulo Freire (the Brazil­ian edu­ca­tor who wrote Ped­a­gogy of the Oppressed).
I went along with him to the class­es. Even though I was only 10 years old, I began to under­stand the Freiri­an method­ol­o­gy he was using. You don't just teach the syl­lab­ic mean­ing of the word. You also teach the social mean­ing. It was fan­tas­tic. I remem­ber the thick voic­es of the old­er men who were pick­ing cof­fee dur­ing the day, repeat­ing the vow­els. It was music to my ears at that age.
Were you polit­i­cal­ly active in El Salvador?
Some of the res­i­dents of my vil­lage includ­ed pow­er­ful peo­ple in the mil­i­tary, includ­ing mem­bers of the death squads. If they didn't like you, if you spoke up for your rights or com­plained about the gov­ern­ment, they could tor­ture or even ​"dis­ap­pear" you.
There was a soc­cer field in the vil­lage, the only flat prop­er­ty in the vil­lage where young peo­ple could play. But it was bought by a pow­er­ful per­son in the vil­lage, who was close to the mil­i­tary and their death squads. He closed the soc­cer field and began prepar­ing the land to grow corn, dis­re­gard­ing the peo­ple who had played there for decades. One day he brought in his oxen and farm equip­ment and began prepar­ing the land, dis­re­gard­ing a pri­or agree­ment to lease it to the soc­cer team.
Now, my father was a right winger aligned with the mil­i­tary. But he was also the pres­i­dent of the local soc­cer team. That after­noon, when all the peas­ants were com­ing from work, he led a protest and demand­ed that the own­ers nego­ti­ate with them to keep the soc­cer field open. He nev­er would have called it an occu­pa­tion, but that's what it was. We were so close to hav­ing a mas­sacre right there. My father was the bal­ance, the medi­a­tor. He stopped a mas­sacre. If he hadn't been present, there would have been a lot of dead people.
I was there, watch­ing it all hap­pen. That was when I began to under­stand some of the basic con­cepts of jus­tice and the pow­er of organizing.
Why and how did you come to the Unit­ed States?
It was my last day of col­lege. When I got home I saw the whole fam­i­ly was meet­ing. My younger broth­er (had) received death threats because he'd join(ed) the (anti-gov­ern­ment) armed strug­gle in the vil­lage where we grew up. He was 16 at that time. My fam­i­ly ask me to accom­pa­ny him to the Unit­ed States the next day. It cost us $3,000, each, for coy­otes (smug­glers who help peo­ple cross the U.S.-Mexico bor­der). We were very vul­ner­a­ble. Even the Mex­i­can police robbed us of our money.
At the time, the (U.S) bor­der con­trol wasn't as tight as it is now. The coy­otes put five peo­ple in the trunk of a Toy­ota Corol­la. My broth­er was ahead of me and was about to go in anoth­er car. I grabbed him and we wait­ed for the next car. That was lucky, because the bor­der patrol stopped the first car and caught the peo­ple try­ing to get into the Unit­ed States. My broth­er and I took the next car.
What did you do when you arrived in the Unit­ed States?
I worked as a day labor­er from 1990 until 1995. First I worked at a par­ty rental store from Fri­days through Mon­days when the busi­ness was good. I helped set up and take down par­ties. But on Tues­days to Thurs­days I went to the day labor cor­ner. I did that for eight months. Then I got a job in a fac­to­ry in Chatsworth (a Los Ange­les sub­urb) where they made sham­poos. I hat­ed that job so much. There were two Sal­vado­rans and about 25 Mex­i­cans. My first job there was to wash the bar­rels of Vase­line. That was the worst job. Nobody want­ed to do that job. But with my work eth­ic, I washed them well, so that was my job for a long time.
My sis­ter worked for this rich man who made dol­ly carts used to move film equip­ment. She got me a job there in North Hol­ly­wood. I worked there for nine months. I would grind the met­al to make the parts for the carts. The work­ers at the fac­to­ry includ­ed Arme­ni­ans, Cen­tral Amer­i­cans and Mex­i­cans. Dur­ing the 40-minute break we'd play soc­cer. It was unhealthy, social­ly, the Mex­i­cans ver­sus the Cen­tral Amer­i­cans. They would just go at each oth­er. So I ini­ti­at­ed the process to form a soc­cer team to play on week­ends. Every­one was includ­ed in the team. Things changed because we would be play­ing on the same team. The Cen­tral Amer­i­cans and Mex­i­cans start­ed to get along because they played with each oth­er instead of against each other.
Also, at the fac­to­ry, there were four peo­ple I worked with who didn't know how to read or write. I began to teach a class in that fac­to­ry. In the nine months I was there, they learned to read and write.
Lat­er on, I estab­lished a class in Pasade­na and one of my stu­dents was an old­er man. One day he came to class in pain because he fell from a tree at his work. He was prun­ing a large tree. Even though he didn't drink, that day he was drunk. He drank to sur­vive the pain. When I took him to the hos­pi­tal with a bro­ken shoul­der, the nurs­es didn't want to care for him because he was drunk. As I was talk­ing to him and oth­er work­ers, I start­ed to think about my own expe­ri­ence as a work­er, both in El Sal­vador and in the Unit­ed States. I had nev­er heard the words ​"health and safe­ty" with regard to work, but I real­ized that a lot of immi­grant work­ers work in dan­ger­ous jobs and need­ed some pro­tec­tion, and it wasn't going to hap­pen unless they were orga­nized and demand­ed bet­ter work­ing conditions.
How did NDLON get started?
We offi­cial­ly start­ed NDLON in 2001 dur­ing the first con­ven­tion in North­ridge (an area of Los Ange­les). NDLON was the first nation­al orga­ni­za­tion to take up the cause of day labor­ers — not only to orga­nize work­ers but also to pro­tect them and help them inte­grate into their com­mu­ni­ties. Though not all are direct­ly affil­i­at­ed with our net­work, NDLON has helped to open more than 70 day labor offices in 21 states. Thou­sands of work­ers go to these job cen­ters across the coun­try every day. Nation­wide these cen­ters have about 300 employ­ees. Most of them work as orga­niz­ers. About 30 per­cent of orga­niz­ers were for­mer day labor­ers. We also have a few lawyers on the staffs of these local work­er cen­ters. Our nation­al office is in Los Ange­les (and) has a staff of 25, includ­ing orga­niz­ers and lawyers as well as finance and devel­op­ment staff.
Each of the cen­ters is autonomous and oper­ates inde­pen­dent­ly, but we have some com­mon goals and strate­gies and we shared the same prin­ci­ples. In these cen­ters we do all kinds of projects and pro­vide ser­vices. We do wage claims, ESL (Eng­lish as a Sec­ond Lan­guage), job skills train­ing, depor­ta­tion defense.
The job cen­ters are hir­ing halls. It's like the streets but more order­ly. The cen­ters bring trans­paren­cy to the con­trac­tu­al agree­ment between work­ers and employ­er. There is clar­i­ty about wages and work­ing con­di­tions. If employ­ers are not sat­is­fied with the work, they know where to go. Some­times when work­ers mess things up at the work­place, the folks at the cen­ters send a crew to fix the mis­take. The cen­ters also advo­cate for and orga­nize work­ers who face wage theft and oth­er prob­lems. They also help immi­grant work­ers become nat­u­ral­ized and fight depor­ta­tion. We orga­nize to change pub­lic pol­i­cy, like the min­i­mum wage and immi­grant rights. The cen­ters have become more than hir­ing halls. They are work­er and immi­grant rights insti­tu­tions. They are com­mu­ni­ty centers.
What is the rela­tion­ship between NDLON and the U.S. labor movement?
In the past, NDLON had a very con­tentious rela­tion­ship with labor unions. Back in 1998 or 1999, the AFL-CIO (Amer­i­can Fed­er­a­tion of Labor and Con­gress of Indus­tri­al Orga­ni­za­tions) had their con­ven­tion in Los Ange­les. A group of 50 day labor­ers went to check it out and they were kicked out. Some of the union del­e­gates were chant­i­ng ​"scabs, scabs." For many years the major unions weren't inter­est­ed in orga­niz­ing immi­grant work­ers. That's begun to change, at least in cer­tain unions. And the labor move­ment has changed its tune on immi­grant rights. We've shift­ed the way that the labor move­ment thinks about migrant and low-wage workers.
How did your rela­tion­ship to unions change?
At first they didn't under­stand what we do. They thought we were scabs — like in 2001 when the jan­i­tors in L.A. went on strike with SEIU. The jan­i­to­r­i­al com­pa­nies went to the day labor cen­ters to hire work­ers. But we had edu­cat­ed our work­ers about the strike so instead of work­ers going to work for the employ­er, they joined the strik­ers. At the big march down Wilshire Boule­vard, there were 250 day labor­ers walk­ing with the janitors.
Our work­ers were charg­ing $15 per hour for their ser­vices and this was in place before the Fight for 15 began. So one day we asked some pro­gres­sive labor lead­ers to come and check out what we do. We took 20 labor lead­ers to one of our cor­ners in Agoura Hills. That day the work­ers were insist­ing on get­ting a min­i­mum wage of $120 a day, which was $20 more than they'd been paid before. Most of the work­ers came from the same indige­nous town in Guatemala. Before they demand­ed a high­er wage, they dis­cussed what impact it might have. Will we lose employ­ers? It went back and forth. But after that dis­cus­sion, they decid­ed to insist on the high­er wage. And they did.
The Fight for 15 is not a fight that starts with the employ­er. It is a fight that starts with the work­ers them­selves, when they decide that they are worth the mon­ey and more. The time for vot­ing came up after a 90-minute dis­cus­sion and the work­ers in Agoura Hills vot­ed 85 – 15 for the pay increase. This was in ear­ly 2006. The main leader at the cor­ner drew a line on the dirt floor and then he asked those that vot­ed no to move to the oth­er side of the line. He stood in front of them and said, ​"I want the 85 who vot­ed in favor of increas­ing the min­i­mum wage to look at them. They are not our ene­mies. But if we are not vig­i­lant, they will drag down our wages and work­ing con­di­tions. And we want to know who they are and we want them to look at our faces and know that they have the same needs we have." The labor lead­ers were watch­ing in sur­prise. They said, ​"this is the way my grand­par­ents start­ed their union."
So that was the moment when some labor union lead­ers under­stood that there were new kids on the block and that we should be allies, not adver­saries. They under­stood that it was time to open up. A few months lat­er, we signed a part­ner­ship agree­ment with the AFL-CIO.
What does NDLON do for immi­grants' rights?
We played a big role in the fight for DACA (Deferred Action for Child­hood Arrivals). We had been push­ing for admin­is­tra­tive relief for a long time, even when the main­stream immi­grant rights groups said it was too nar­row, that we have to fight for com­pre­hen­sive immi­gra­tion reform. Cit­i­zen­ship or noth­ing, they said. And they didn't even ask undoc­u­ment­ed folks what they wanted.
Before DACA, we con­duct­ed about 20 ICE (Immi­gra­tion and Cus­toms Enforce­ment) shut­downs with civ­il dis­obe­di­ence across the coun­try. Peo­ple put their bod­ies under the depor­ta­tion bus­es. Day labor­ers chained them­selves to the White House gates because Pres­i­dent Barack Obama's admin­is­tra­tion kept deport­ing peo­ple and break­ing up fam­i­lies in record num­bers. When it was clear that com­pre­hen­sive immi­gra­tion reform wasn't mov­ing for­ward, we worked with the ​"Dream­ers" to push for DACA. Our lit­i­ga­tion direc­tor, Jes­si­ca Karp Bansal, helped make the case that Pres­i­dent Oba­ma had the author­i­ty to car­ry out DACA.
The main­stream immi­grant rights groups were pri­mar­i­ly focused on fed­er­al laws, but the strug­gle goes on in local­i­ties — at city halls, at neigh­bor­hood meet­ings, at schools and in courts. Every time we open a job cen­ter we are legal­iz­ing peo­ple from the bot­tom up. I call the day labor­er cen­ters, ​"street lev­el immi­gra­tion reform." Day labor­er cen­ters are sanc­tu­ary insti­tu­tions. Every time we push a local­i­ty to adopt sanc­tu­ary mea­sures, we are achiev­ing immi­gra­tion reform.
We have to build immi­grants' and work­ers' pow­er at the local lev­el and then we'll have a stronger voice when we go to Wash­ing­ton. So far, Con­gress has been hijacked by the extrem­ists, so they're not going to pass any­thing soon. But we will con­tin­ue to push local­i­ties to be more friend­ly to immi­grants while we push for admin­is­tra­tive relief at the fed­er­al lev­el. There are mul­ti­ple lay­ers of uncer­tain­ty for immi­grants. And we have to build mul­ti­ple lay­ers of pro­tec­tion every­where in the country.
I think both the Repub­li­cans and a seg­ment of Democ­rats want to have immi­gra­tion as a wedge issue rather than accom­plish­ing a solu­tion. It works for both of them: The Repub­li­cans appease their increas­ing­ly nativist vot­ers and the Democ­rats keep mak­ing progress to turn Lati­nos into a per­ma­nent Demo­c­ra­t­ic vot­ing bloc. The more to the right the GOP becomes, the less the Democ­rats have to do to be dif­fer­ent and sat­is­fy Lati­nos. If we want to win rights for peo­ple, we must delink our strug­gles from par­ti­san politics.
What have been some of the big issues at the local level?
We've most­ly strug­gled against anti-immi­grant and anti-day labor laws at the local lev­el. We've worked with oth­er groups to push back against local police coop­er­at­ing with immi­gra­tion offi­cials. Now about 350 local­i­ties have laws draw­ing a line between immi­gra­tion agents and local police.
We've also fought against local laws that pro­hib­it day labor­ers from gath­er­ing in pub­lic places to wait for jobs. We won a big vic­to­ry in 2012 when the anti-day labor­er ordi­nance in Redon­do Beach (a Los Ange­les sub­urb) was ruled uncon­sti­tu­tion­al. (The U.S. Ninth Cir­cuit Court of Appeals ruled that the law, aimed at crack­ing down on day labor­ers, is an uncon­sti­tu­tion­al restric­tion on free speech.)
Have work­er cen­ters faced hos­til­i­ty from con­ser­v­a­tives and anti-immi­gra­tion groups?
Yes, of course. Every day, we work with undoc­u­ment­ed work­ers. In many cities, we get fund­ing from the local gov­ern­ment. So right-wing groups, like Judi­cial Watch, are con­stant­ly tar­get­ing us. They try to get local gov­ern­ments to with­draw our fund­ing. They try to get offi­cials to arrest and deport the work­ers we serve.
But we push back. The num­ber of work­er cen­ters is grow­ing. We now have cen­ters in Tuc­son and Phoenix. We opened a cen­ter in Alaba­ma, where there's a grow­ing num­ber of immi­grant work­ers. We are mov­ing into Utah, Las Vegas, North Car­oli­na, etc. Peo­ple have a right to have a space of their own. Every­body knows that these work­ers' cen­ters are quin­tes­sen­tial sanc­tu­ary insti­tu­tions and, as such, they are the tar­get of racist groups. They have orches­trat­ed legal attacks and coor­di­nat­ed demon­stra­tions across the coun­try. They want­ed to pro­voke work­ers into vio­lence. But we have respond­ed peace­ful­ly. For every per­son they mobi­lized to demon­strate against our cen­ter, we had 15 defend­ing our com­mu­ni­ty. So far, we have won this fight.
You play sev­er­al instru­ments — the bass, con­ga, gui­tar — and play in a band, and use music in your polit­i­cal work. How did that happen?
I was 14 when I began teach­ing myself to play gui­tar, and then I played in the local choir where faith-based lib­er­a­tion the­ol­o­gy was preached. We would sing ​"La Misa Campesina" songs. One of the things that I've learned is that you can turn every sig­nif­i­cant act of oppres­sion into a prac­tice of liberation.
For exam­ple, in 1996 we were orga­niz­ing day labor­ers in the City of Indus­try (a work­ing-class sub­urb of Los Ange­les). This was right after Prop 187 (an anti-immi­grant propo­si­tion that denied pub­lic ser­vices to those with­out doc­u­men­ta­tion) so the sit­u­a­tion was very hos­tile and the sher­iff called the immi­gra­tion agents who came into a park­ing lot where mobile HIV test­ing was tak­ing place. After every­one ran away, one of the work­ers, Omar Sier­ra, wrote a bal­lad about what hap­pened that day. We had an emer­gency meet­ing that after­noon and about 50 men came and he brought his gui­tar and he began to sing his song for every­one, ​"The Bal­lad of Indus­try," and that's how the day labor band was formed.
After this expe­ri­ence, we asked Omar to bring his gui­tar and sing rather than giv­ing speech­es about the lives of work­ers. We began to go to oth­er cor­ners to look for oth­er day labor musi­cians. We didn't go to school to learn music. Most of us taught our­selves. Our band, Los Jor­naleros del Norte, (Day Labor­ers of the North), trav­eled up and down Cal­i­for­nia play­ing at march­es and ral­lies. We'll play any­where where there's a strug­gle for work­ers' and immi­grants' rights — a park­ing lot, out­side of L.A. Coun­ty jail, a park or a con­cert hall. The band's mem­ber­ship is flu­id. But we share the same polit­i­cal views. We have three albums. You can find some of our music on our web­site.
Peter Dreier teach­es pol­i­tics at Occi­den­tal Col­lege. Mark Maier teach­es eco­nom­ics at Glen­dale Com­mu­ni­ty College.