Death of the Yuppie Dream
The rise and fall of the professional-managerial class.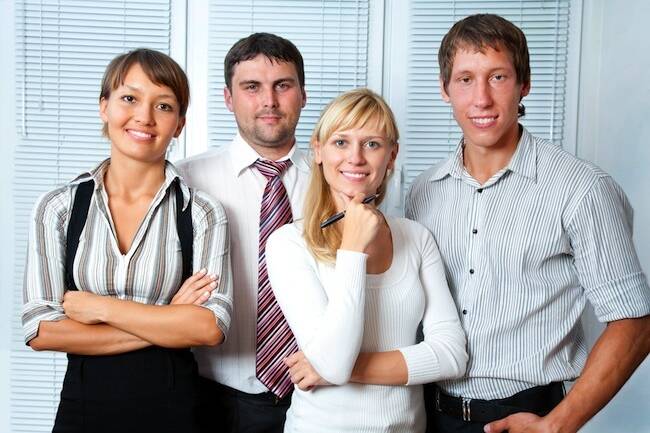 Reprint­ed and con­densed with per­mis­sion from Rosa Lux­em­burg Stiftung — New York Office.
Should we mourn the fate of the Professional Managerial Class or rejoice that there is one less smug, self-styled, elite to stand in the way of a more egalitarian future?
Every would-be pop­ulist in Amer­i­can pol­i­tics pur­ports to defend the ​"mid­dle class," although there is no agree­ment on what it is. Just in the last cou­ple of years, the ​"mid­dle class" has var­i­ous­ly been defined as every­body, every­body minus the 15 per­cent liv­ing below the fed­er­al pover­ty lev­el; or every­body minus the very rich­est Amer­i­cans. Mitt Rom­ney famous­ly exclud­ed ​"those in the low end" but includ­ed him­self (2010 income $21.6 mil­lion) along with ​"80 to 90 per­cent" of Amer­i­cans. The Depart­ment of Com­merce has giv­en up on income-based def­i­n­i­tions, announc­ing in a 2010 report that ​"mid­dle class fam­i­lies" are defined ​"by their aspi­ra­tions more than their income […]. Mid­dle class fam­i­lies aspire to home own­er­ship, a car, col­lege edu­ca­tion for their chil­dren, health and retire­ment secu­ri­ty and occa­sion­al fam­i­ly vaca­tions" — which excludes almost no one.
Class itself is a mud­dled con­cept, per­haps espe­cial­ly in Amer­i­ca, where any allu­sion to the dif­fer­ent inter­ests of dif­fer­ent occu­pa­tion­al and income groups is like­ly to attract the charge of ​"class war­fare." If class requires some sort of ​"con­scious­ness," or capac­i­ty for con­cert­ed action, then a ​"mid­dle class" con­ceived of as a sort of default class — what you are left with after you sub­tract the rich and the poor — is not very interesting.
But there is anoth­er, poten­tial­ly more pro­duc­tive, inter­pre­ta­tion of what has been going on in the mid-income range. In 1977, we first pro­posed the exis­tence of a ​"pro­fes­sion­al-man­age­r­i­al class," dis­tinct from both the ​"work­ing class," from the ​"old" mid­dle class of small busi­ness own­ers, as well as from the wealthy class of owners.
The ori­gins of the pro­fes­sion­al-man­age­r­i­al class
The notion of the ​"PMC" was an effort to explain the large­ly ​"mid­dle class" roots of the New Left in the six­ties and the ten­sions that were emerg­ing between that group and the old work­ing class in the sev­en­ties, cul­mi­nat­ing in the polit­i­cal back­lash that led to the elec­tion of Rea­gan. The right embraced a car­i­ca­ture of this notion of a ​"new class," propos­ing that col­lege-edu­cat­ed pro­fes­sion­als — espe­cial­ly lawyers, pro­fes­sors, jour­nal­ists, and artists — make up a pow­er-hun­gry ​"lib­er­al elite" bent on impos­ing its ver­sion of social­ism on every­one else.
The PMC grew rapid­ly. From 1870 to 1910 alone, while the whole pop­u­la­tion of the Unit­ed States increased two and one-third times and the old mid­dle class of busi­ness entre­pre­neurs and inde­pen­dent pro­fes­sion­als dou­bled, the num­ber of peo­ple in what could be seen as PMC jobs grew almost eight­fold. And in the years that fol­lowed, that growth only accel­er­at­ed. Although a vari­ety of prac­ti­cal and the­o­ret­i­cal obsta­cles pre­vent mak­ing any pre­cise analy­sis, we esti­mate that as late as 1930, peo­ple in PMC occu­pa­tions still made up less than 1 per­cent of total employ­ment. By 1972, about 24 per­cent of Amer­i­can jobs were in PMC occu­pa­tions. By 1983 the num­ber had risen to 28 per­cent and by 2006, just before the Great Reces­sion, to 35 percent.
The rela­tion­ship between the emerg­ing PMC and the tra­di­tion­al work­ing class was, from the start, riv­en with ten­sions. It was the occu­pa­tion­al role of man­agers and engi­neers, along with many oth­er pro­fes­sion­als, to man­age, reg­u­late, and con­trol the life of the work­ing class. They designed the divi­sion of labor and the machines that con­trolled work­ers' minute-by-minute exis­tence on the fac­to­ry floor, manip­u­lat­ed their desire for com­modi­ties and their opin­ions, social­ized their chil­dren, and even medi­at­ed their rela­tion­ship with their own bodies.
At the same time though, the role of the PMC as ​"ratio­nal­iz­ers" of soci­ety often placed them in direct con­flict with the cap­i­tal­ist class. Like the work­ers, the PMC were them­selves employ­ees and sub­or­di­nate to the own­ers, but since what was tru­ly ​"ratio­nal" in the pro­duc­tive process was not always iden­ti­cal to what was most imme­di­ate­ly prof­itable, the PMC often sought auton­o­my and free­dom from their own bosses.
By the mid-twen­ti­eth cen­tu­ry, jobs for the PMC were pro­lif­er­at­ing. Pub­lic edu­ca­tion was expand­ing, the mod­ern uni­ver­si­ty came into being, local gov­ern­ments expand­ed in size and role, char­i­ta­ble agen­cies merged, news­pa­per cir­cu­la­tion soared, tra­di­tion­al forms of recre­ation gave way to the pop­u­lar cul­ture, enter­tain­ment and sports indus­tries, etc. — and all of these devel­op­ments cre­at­ed jobs for high­ly edu­cat­ed pro­fes­sion­als, includ­ing jour­nal­ists, social work­ers, pro­fes­sors, doc­tors, lawyers, and ​"enter­tain­ers" (artists and writ­ers among others).
Some of these occu­pa­tions man­aged to retain a mea­sure of auton­o­my and, with it, the pos­si­bil­i­ty of oppo­si­tion to busi­ness dom­i­na­tion. The so-called ​"lib­er­al pro­fes­sions," par­tic­u­lar­ly med­i­cine and law, remained large­ly out­side the cor­po­rate frame­work until well past the mid­dle of the 20th cen­tu­ry. Most doc­tors, many nurs­es, and the major­i­ty of lawyers worked in inde­pen­dent (pri­vate) practices.
In the 1960s, for the first time since the Pro­gres­sive Era, a large seg­ment of the PMC had the self-con­fi­dence to take on a crit­i­cal, even oppo­si­tion­al, polit­i­cal role. Jobs were plen­ti­ful, a col­lege edu­ca­tion did not yet lead to a life­time of debt, and mate­ri­al­ism was briefly out of style. Col­lege stu­dents quick­ly moved on from sup­port­ing the civ­il rights move­ment in the South and oppos­ing the war in Viet­nam to con­fronting the raw fact of cor­po­rate pow­er through­out Amer­i­can soci­ety — from the pro-war incli­na­tions of the weapons indus­try to the gov­er­nance of the uni­ver­si­ty. The revolt soon spread beyond stu­dents. By the end of the six­ties, almost all of the lib­er­al pro­fes­sions had ​"rad­i­cal cau­cus­es," demand­ing that access to the pro­fes­sions be opened up to those tra­di­tion­al­ly exclud­ed (such as women and minori­ties), and that the ser­vice ethics the pro­fes­sions claimed to uphold actu­al­ly be applied in practice.
The cap­i­tal­ist offensive
Begin­ning in the sev­en­ties, the cap­i­tal­ist class deci­sive­ly re-assert­ed itself. The ensu­ing cap­i­tal­ist offen­sive was so geo­graph­i­cal­ly wide­spread and thor­ough­go­ing that it intro­duced what many left­wing the­o­rists today describe as a new form of cap­i­tal­ism, ​"neolib­er­al­ism."
The new man­age­ment strat­e­gy was to raise prof­its by sin­gle-mind­ed­ly reduc­ing labor costs, most direct­ly by sim­ply mov­ing man­u­fac­tur­ing off­shore to find cheap­er labor. Those work­ers who remained employed in the Unit­ed States faced a series of ini­tia­tives designed to dis­ci­pline and con­trol them ever more tight­ly: inten­si­fied super­vi­sion in the work­place, drug tests to elim­i­nate slack­ers, and increas­ing­ly pro­fes­sion­al­ized efforts to pre­vent union­iza­tion. Cuts in the wel­fare state also had a dis­ci­plin­ing func­tion, mak­ing it hard­er for work­ers to imag­ine sur­viv­ing job loss.
Most of these anti-labor mea­sures also had an effect, direct­ly or indi­rect­ly, on ele­ments of the PMC. Gov­ern­ment spend­ing cuts hurt the job prospects of social work­ers, teach­ers, and oth­ers in the ​"help­ing pro­fes­sions," while the dec­i­ma­tion of the U.S.-based indus­tri­al work­ing class reduced the need for mid-lev­el pro­fes­sion­al man­agers, who found them­selves increas­ing­ly tar­get­ed for down­siz­ing. But there was a spe­cial ani­mus against the lib­er­al pro­fes­sions, sur­passed only by neolib­er­al hos­til­i­ty to what con­ser­v­a­tives described as the ​"under­class." Crush­ing this lib­er­al elite — by ​"defund­ing the left" or attack­ing lib­er­al-lean­ing non­prof­it orga­ni­za­tions — became a major neolib­er­al project.
Of course, not all the forces under­min­ing the lib­er­al pro­fes­sions since the 1980s can be traced to con­scious neolib­er­al poli­cies. Tech­no­log­i­cal inno­va­tion, ris­ing demand for ser­vices, and ruth­less prof­it-tak­ing all con­tributed to an increas­ing­ly chal­leng­ing envi­ron­ment for the lib­er­al pro­fes­sions, includ­ing the ​"cre­ative ones."
The Inter­net is often blamed for the plight of jour­nal­ists, writ­ers, and edi­tors, but eco­nom­ic change pre­ced­ed tech­no­log­i­cal trans­for­ma­tion. Jour­nal­ism jobs began to dis­ap­pear as cor­po­ra­tions, respond­ing in part to Wall Street investors, tried to squeeze high­er prof­it mar­gins out of news­pa­pers and TV news pro­grams. The effects of these changes on the tra­di­tion­al­ly cre­ative pro­fes­sions have been dire. Staff writ­ers, edi­tors, pho­tog­ra­phers, announc­ers, and the like faced mas­sive lay­offs (more than 25% of news­room staff alone since 2001), increased work­loads, salary cuts, and buy-outs.
Then, in just the last dozen years, the PMC began to suf­fer the fate of the indus­tri­al class in the 1980s: replace­ment by cheap for­eign labor. It came as a shock to many when, in the 2000s, busi­ness­es began to avail them­selves of new high speed trans­mis­sion tech­nolo­gies to out­source pro­fes­sion­al functions.
By the time of the finan­cial melt­down and deep reces­sion of the post-2008 peri­od, the pain inflict­ed by neolib­er­al poli­cies, both pub­lic and cor­po­rate, extend­ed well beyond the old indus­tri­al work­ing class and into core seg­ments of the PMC. Unem­ployed and under­em­ployed pro­fes­sion­al work­ers — from IT to jour­nal­ism, acad­e­mia, and even­tu­al­ly law — became a reg­u­lar fea­ture of the social land­scape. Young peo­ple did not lose faith in the val­ue of an edu­ca­tion, but they learned quick­ly that it makes more sense to study finance rather than physics or ​"com­mu­ni­ca­tions" rather than lit­er­a­ture. The old PMC dream of a soci­ety rule by impar­tial ​"experts" gave way to the real­i­ty of inescapable cor­po­rate domination.
But the PMC was not only a vic­tim of more pow­er­ful groups. It had also fall­en into a trap of its own mak­ing. The pro­longed, expen­sive, and spe­cial­ized edu­ca­tion required for pro­fes­sion­al employ­ment had always been a chal­lenge to PMC fam­i­lies — as well, of course, as an often-insu­per­a­ble bar­ri­er to the work­ing class. High­er degrees and licens­es are no longer a guar­an­tee of PMC sta­tus. Hence the icon­ic fig­ure of the Occu­py Wall Street move­ment: the col­lege grad­u­ate with tens of thou­sands of dol­lars in stu­dent loan debts and a job pay­ing about $10 a hour, or no job at all.
Whith­er class consciousness?
So in the hun­dred years since its emer­gence, the PMC has not man­aged to hold its own as a class. At its wealth­i­er end, skilled pro­fes­sion­als con­tin­ue to jump ship for more lucra­tive posts in direct ser­vice to cap­i­tal: Sci­en­tists give up their research to become ​"quants" on Wall Street; physi­cians can dou­ble their incomes by find­ing work as invest­ment ana­lysts for the finance indus­try or by set­ting up ​"concierge" prac­tices serv­ing the wealthy. At the less for­tu­nate end of the spec­trum, jour­nal­ists and PhDs in soci­ol­o­gy or lit­er­a­ture spi­ral down into the retail work­force. In between, health work­ers and lawyers and pro­fes­sors find their work lives more and more hemmed in and reg­u­lat­ed by cor­po­ra­tion-like enter­pris­es. The cen­ter has not held. Con­ceived as ​"the mid­dle class" and as the sup­posed repos­i­to­ry of civic virtue and occu­pa­tion­al ded­i­ca­tion, the PMC lies in ruins.
More pro­found­ly, the PMC's orig­i­nal dream — of a soci­ety ruled by rea­son and led by pub­lic-spir­it­ed pro­fes­sion­als — has been dis­cred­it­ed. Glob­al­ly, the social­ist soci­eties that seemed to come clos­est to this goal either degen­er­at­ed into heav­i­ly mil­i­ta­rized dic­ta­tor­ships or, more recent­ly, into author­i­tar­i­an cap­i­tal­ist states. With­in the US, the grotesque fail­ure of social­ism in Chi­na and the Sovi­et Union became a pro­pa­gan­da weapon in the neolib­er­al war against the pub­lic sec­tor in its most innocu­ous forms and a core argu­ment for the pri­va­ti­za­tion of just about everything.
But the PMC has also man­aged to dis­cred­it itself as an advo­cate for the com­mon good. Con­sid­er our gleam­ing tow­ers of med­ical research and high-tech­nol­o­gy care — all too often abut­ting urban neigh­bor­hoods char­ac­ter­ized by extreme pover­ty and fore­short­ened life spans.
Should we mourn the fate of the PMC or rejoice that there is one less smug, self-styled, elite to stand in the way of a more egal­i­tar­i­an future? On the one hand, the PMC has played a major role in the oppres­sion and dis­em­pow­er­ing of the old work­ing class. It has offered lit­tle resis­tance to (and, in fact, sup­plied the man­pow­er for) the right's cam­paign against any mea­sure that might ease the lives of the poor and the work­ing class.
On the oth­er hand, the PMC has at times been a ​"lib­er­al" force, defend­ing the val­ues of schol­ar­ship and human ser­vice in the face of the relent­less pur­suit of prof­it. In this respect, its role in the last cen­tu­ry bears some anal­o­gy to the role of monas­ter­ies in medieval Europe, which kept lit­er­a­cy and at least some form of inquiry alive while the bar­bar­ians raged outside.
As we face the deep­en­ing ruin brought on by neolib­er­al aggres­sion, the ques­tion may be: Who, among the sur­vivors, will uphold those val­ues today? And, more pro­found­ly, is there any way to sal­vage the dream of rea­son — or at least the idea of a soci­ety in which rea­son­able­ness can occa­sion­al­ly pre­vail — from the accre­tion of elit­ism it acquired from the PMC?
Any renew­al of oppo­si­tion­al spir­it among the Pro­fes­sion­al-Man­age­r­i­al Class, or what remains of it, needs to start from an aware­ness that what has hap­pened to the pro­fes­sion­al mid­dle class has long since hap­pened to the blue col­lar work­ing class. The debt-rid­den unem­ployed and under­em­ployed col­lege grad­u­ates, the rev­enue-starved teach­ers, the over­worked and under­paid ser­vice pro­fes­sion­als, even the occa­sion­al whis­tle-blow­ing sci­en­tist or engi­neer — all face the same kind of sit­u­a­tion that con­front­ed skilled craft-work­ers in the ear­ly 20th cen­tu­ry and all Amer­i­can indus­tri­al work­ers in the late 20th century.
In the com­ing years, we expect to see the rem­nants of the PMC increas­ing­ly mak­ing com­mon cause with the rem­nants of the tra­di­tion­al work­ing class for, at a min­i­mum, rep­re­sen­ta­tion in the polit­i­cal process. This is the project that the Occu­py move­ment ini­ti­at­ed and spread, for a time any­way, worldwide.
Want to read the rest? You can down­load the full report here.
Bar­bara Ehren­re­ich, a jour­nal­ist and author, first wrote for In These Times in 1977. Her recent books include Bright-sided: How Pos­i­tive Think­ing is Under­min­ing Amer­i­ca and Nick­el and Dimed: On (Not) Get­ting by in Amer­i­ca.
John Ehren­re­ich is pro­fes­sor of psy­chol­o­gy at the State Uni­ver­si­ty of New York, Col­lege at Old West­bury. He wrote The Human­i­tar­i­an Com­pan­ion: A Guide for Inter­na­tion­al Aid, Devel­op­ment, and Human Rights Work­ers.
They co-authored the essay ​"The Pro­fes­sion­al-Man­age­r­i­al Class" in the March-April 1977 issue of Rad­i­cal Amer­i­ca.