"A Bittersweet Victory": MOVE Member Debbie Sims Africa on Being Released After 39 Years in Prison
Debbie is the first of the MOVE 9 to be freed from prison. But her family is still locked up.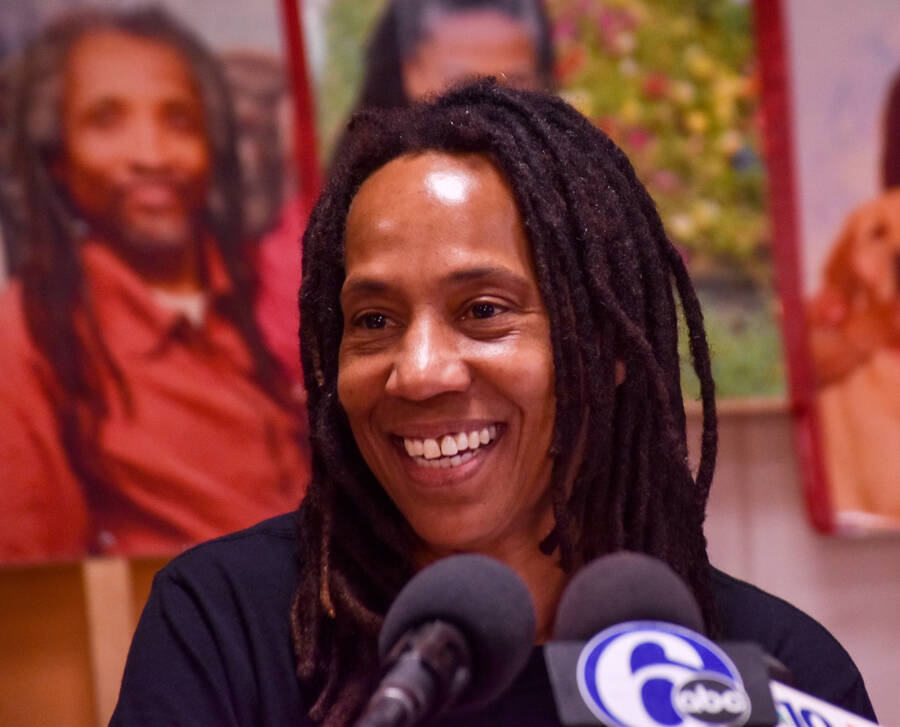 On June 16, Deb­bie Sims Africa was released from a north­west­ern Penn­syl­va­nia prison after serv­ing near­ly four decades behind bars. Her fam­i­ly and friends were there wait­ing for her, ready to begin the sev­en-hour dri­ve back to Philadel­phia, a dis­tance that had sep­a­rat­ed them for so many years.
"Janine and Janet are still there and walking out of those doors without them was really, really hard. My husband is still in prison."
Three days lat­er, Deb­bie held her first offi­cial press con­fer­ence seat­ed along­side her son, Mike Africa Jr., and lawyer, Brad Thom­son. Reflect­ing on the days since her release, Deb­bie observed on Tues­day, June 19, ​"I've been in prison almost forty years … I still don't think I've actu­al­ly caught up with my feelings."
Deb­bie is the first of nine MOVE mem­bers, col­lec­tive­ly known as the ​"MOVE 9," to be freed from prison. She and eight oth­ers were impris­oned fol­low­ing a police siege of the MOVE com­mu­nal home on August 8, 1978. The state repres­sion of the MOVE orga­ni­za­tion in Philadel­phia in the 1970s and 1980s was repli­cat­ed through­out the coun­try as Black activists involved in a wide vari­ety of lib­er­a­tion and jus­tice move­ments found them­selves the tar­gets of arrest, per­se­cu­tion and state violence.
This state vio­lence reached unprece­dent­ed lev­els in the most well-known of the police assaults against MOVE mem­bers on May 13, 1985, when the Philadel­phia police sur­round­ed the MOVE house on Osage Ave., fired off thou­sands of rounds of ammu­ni­tion and poured a del­uge of water on the roof. Lat­er that evening, a police heli­copter dropped a bomb onto the house­hold and ignit­ed a fire. The result­ing fire destroyed 61 homes and killed six adults and five chil­dren in the house.
At Tuesday's press con­fer­ence, Deb­bie recalled learn­ing about that bomb­ing from inside the prison walls and being not only dis­traught, but in a state of dis­be­lief, despite her own inti­mate famil­iar­i­ty with police repres­sion. ​"It was dev­as­tat­ing," Deb­bie said. ​"In fact, none of us believed it when the offi­cers came to tell us, and we actu­al­ly said, ​'Get away from our doors, because it's not true.'"
"A bit­ter­sweet victory"
Mem­bers of MOVE iden­ti­fy as a col­lec­tive fam­i­ly, joined by their shared polit­i­cal and envi­ron­men­tal prin­ci­ples, which Mike Jr. describes as, ​"I believe MOVE is life. I believe it's clean air, clean water, clean soil." He spoke at the press con­fer­ence about how those val­ues have his­tor­i­cal­ly placed MOVE in con­flict with cor­po­ra­tions and state insti­tu­tions that rou­tine­ly dis­play a lack of con­cern for human and oth­er life­forms. ​"That is the only rea­son," Mike Jr. asserts, ​"the sys­tem tar­get­ed us the way they did … And they tar­get­ed us very forcefully."
On the August day that led to Debbie's arrest in 1978, police laid siege to the group's com­mu­nal home, and a Philadel­phia police offi­cer, James Ramp, was shot and killed in the ensu­ing con­fronta­tion. In the high­ly politi­cized tri­al that fol­lowed, nine mem­bers of MOVE (five men and four women) were all con­vict­ed of third-degree homi­cide and sen­tenced to 30 to 100 years in prison.
No evi­dence was pre­sent­ed at tri­al charg­ing any of the MOVE women with hav­ing han­dled firearms nor of hav­ing had any role in the shoot­ing of the offi­cer. Many have argued that Offi­cer Ramp was most like­ly killed by friend­ly fire. One of the four women, Mer­le Austin Africa, died while incar­cer­at­ed in March 1998, and Phil Africa passed away inside a Penn­syl­va­nia men's prison in Jan­u­ary 2015.
The three remain­ing MOVE women – Deb­bie, Janet, and Janine Africa – all went up for parole on the same day in May 2018. It was not their first appear­ance before the parole board. In fact, this was Deb­bie's ninth appear­ance, hav­ing been denied on eight pre­vi­ous occa­sions since 2008. While Debbie's parole was grant­ed this time, Janet and Janine Africa were both denied. ​"Although I felt excit­ed and over­whelmed," Deb­bie observed, ​"I still felt incom­plete, because it shouldn't have been that I left prison, but Janet and Janine did not. It's still a bit­ter­sweet victory."
Parole is not sup­posed to be a polit­i­cal deter­mi­na­tion and should, by its own statutes, only be denied on the basis that the per­son pos­es a clear threat to soci­ety. How­ev­er, many polit­i­cal pris­on­ers in Penn­syl­va­nia and beyond have become eli­gi­ble for parole only to be repeat­ed­ly denied by their respec­tive parole boards.
"Sep­a­rat­ed from my children"
At the time of her orig­i­nal sen­tenc­ing, Deb­bie was 22 years old and eight months preg­nant. She gave birth to her son, Mike Africa Jr., in jail and was allowed to spend only three days with him before they were sep­a­rat­ed. ​"The hard­est thing for me was being sep­a­rat­ed from my chil­dren," Deb­bie recalls. She described the moment of hav­ing her new­born child tak­en from her as one of epic anguish: ​"There's no words to describe it… And then feel­ing that emptiness."
At the press con­fer­ence, Mike Africa Jr. talked about the tremen­dous hard­ship of grow­ing up with both of his bio­log­i­cal par­ents incar­cer­at­ed. His father, Debbie's hus­band Mike Africa Sr., was arrest­ed along­side Deb­bie. He spoke to the many things that he and his moth­er had nev­er had a chance to do togeth­er until now, due to the strict reg­u­la­tions attached to prison vis­its. ​"I knocked on her door the oth­er day and she said ​'come in' and I saw her feet," Mike Jr. recount­ed, with a swell of emo­tion and sur­prise. ​"I noticed that this was the first time I'd ever seen her feet before. A friend of mine said to me, ​'You are learn­ing, at almost 40 years old, what babies learn about their parents.'"
Mike Africa Sr. is still incar­cer­at­ed and will have his next parole hear­ing in Sep­tem­ber 2018. ​"Our fam­i­ly is still sep­a­rat­ed," Mike Jr. observed. ​"We're on the path now to mak­ing our fam­i­ly whole. I can't wait to see my dad come home."
Many have ques­tioned the dif­fer­ent parole out­comes that the three women received. Lawyer Brad Thom­son assert­ed on Tues­day morn­ing that ​"there is no ratio­nal jus­ti­fi­ca­tion for the denial of the oth­er two women." Accord­ing to Thom­son, all three of their parole appli­ca­tions includ­ed exten­sive doc­u­men­ta­tion of their activ­i­ties and par­tic­i­pa­tion in pro­gram­ming with­in the prison, as well as let­ters of sup­port from fam­i­ly, com­mu­ni­ty mem­bers, for­mer Depart­ment of Cor­rec­tions staff, the cur­rent Dis­trict Attorney's office and many for­mer woman pris­on­ers who cred­it their suc­cess­ful reen­try to a large degree upon the influ­ence of Janet, Janine, and Deb­bie Africa. Thom­son said that none of the three MOVE women have had any rule vio­la­tion in prison for more than 20 years.
When asked what she will be doing now that she is released, Deb­bie replied that, in addi­tion to reunit­ing with and enjoy­ing the com­pa­ny of her fam­i­ly, ​"I'm also going to advo­cate for my fam­i­ly that's still in prison. Janine and Janet are still there and walk­ing out of those doors with­out them was real­ly, real­ly hard. My hus­band is still in prison. And so, a por­tion of my life is going to be ded­i­cat­ed to that." She added, ​"I'm going to move for­ward and con­tin­ue to work for the beliefs I stand for."
Part of a larg­er movement
The press con­fer­ence took place in the Faith Immanuel Luther­an Church in East Lans­downe, Penn­syl­va­nia. Among the atten­dees was also Robert Hol­brook, who was recent­ly released from the Penn­syl­va­nia prison sys­tem in Feb­ru­ary 2018, after serv­ing 27 years on a juve­nile life with­out parole sen­tence that he received at the age of 16. Upon exit­ing the prison walls, he jumped direct­ly into work as a com­mu­ni­ty orga­niz­er and para­le­gal for the Abo­li­tion­ist Law Cen­ter and has been assist­ing with the MOVE 9 cases.
"For me to actu­al­ly come home, and to be work­ing on the cas­es of Deb­bie and Janet and Janine gave me a tremen­dous sense of not only hon­or, but also a val­i­da­tion for their strug­gle and also mine," Hol­brook notes. ​"I didn't just read about these strug­gles, I actu­al­ly came home and con­tributed to bring­ing home a polit­i­cal pris­on­er in our movement."
"When I was released," Hol­brook assert­ed, ​"there were so many oth­er pris­on­ers who were so moved – almost to tears – to see me released, and one thing they spoke about was their sense that ​'if you could be released then I could be.'" He sees a sim­i­lar rip­ple effect in action with Debbie's release. This sen­ti­ment was echoed in a let­ter that Janet Africa sent to Mike Jr. short­ly fol­low­ing Debbie's release. ​"Every­body here," Janet wrote, ​"espe­cial­ly the lif­ers and long ter­m­ers are uplift­ed and moti­vat­ed by Deb­bie leav­ing. They said it gives them hope."
Deb­bie Sims Africa's release, at the age of 62, comes amid a grow­ing move­ment around the issue of life and long-term sen­tences in Penn­syl­va­nia, and when a nation­al con­ver­sa­tion is tak­ing place about how the dra­mat­ic increase in incar­cer­a­tion over the last forty years has led to an unprece­dent­ed num­ber of elder­ly pris­on­ers. The six remain­ing incar­cer­at­ed MOVE mem­bers range in age from 58 to 72 years old. (Full dis­clo­sure: This author is a found­ing mem­ber of the Philadel­phia Coali­tion to Abol­ish Death By Incar­cer­a­tion and has been direct­ly involved in the grass­roots move­ment to end life with­out parole sen­tenc­ing, or what is more accu­rate­ly called death by incarceration.)
Thom­son empha­sized that, while Debbie's release is a cause for cel­e­bra­tion, there is a lot more work to be done. ​"We con­sid­er this a big vic­to­ry toward free­ing all of the MOVE 9, six of whom are still incar­cer­at­ed. They, like so many oth­ers in the state deserve parole, are wor­thy of parole – and should receive it."
Com­mu­ni­ty sup­port­ers of the Move 9 have orga­nized a call-in cam­paign for this upcom­ing week, from June 25 – 27, request­ing mem­bers of the pub­lic to con­tact the Penn­syl­va­nia Board of Pro­ba­tion and Parole Chair­man Leo Dunn, urg­ing Dunn to have the Board recon­sid­er its denial and grant Janet and Janine Africa parole.
August 8, 2018 will mark the 40-year anniver­sary of the stand-off with police that led to the MOVE 9's incar­cer­a­tion and sev­er­al Philadel­phia events are planned for that week in com­mem­o­ra­tion. At the close of Tuesday's press con­fer­ence, Thom­son urged atten­dees to remem­ber, ​"These are peo­ple who are aging, and aging in pris­ons that are not places which are designed for people's health and safe­ty. It's impor­tant that the parole board rec­og­nize that Deb­bie and the rest of the MOVE 9 have loved ones and com­mu­ni­ty mem­bers who sup­port them. And sup­port them because of the unique indi­vid­u­als that they are."
Emi­ly Aben­droth
is a Philadel­phia-based writer, teacher, and found­ing mem­ber of the Coali­tion to Abol­ish Death by Incar­cer­a­tion (CAD­BI).