"A Bittersweet Victory": MOVE Member Debbie Sims Africa on Being Released After 39 Years in Prison
Debbie is the first of the MOVE 9 to be freed from prison. But her family is still locked up.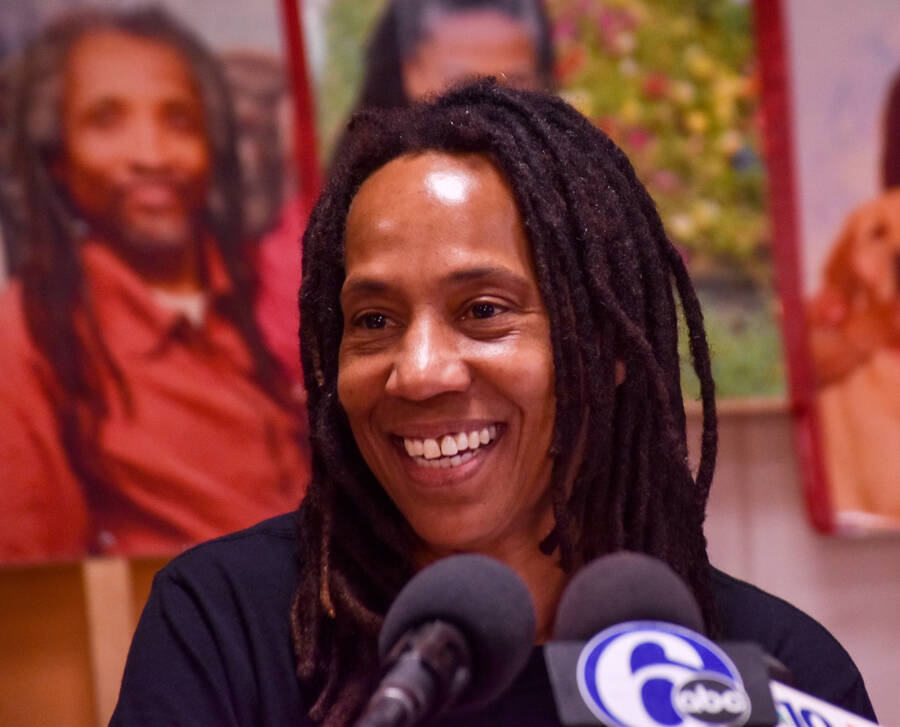 On June 16, Debbie Sims Africa was released from a northwestern Pennsylvania prison after serving nearly four decades behind bars. Her family and friends were there waiting for her, ready to begin the seven-hour drive back to Philadelphia, a distance that had separated them for so many years.
"Janine and Janet are still there and walking out of those doors without them was really, really hard. My husband is still in prison."
Three days later, Debbie held her first official press conference seated alongside her son, Mike Africa Jr., and lawyer, Brad Thomson. Reflecting on the days since her release, Debbie observed on Tuesday, June 19, ​"I've been in prison almost forty years … I still don't think I've actually caught up with my feelings."
Debbie is the first of nine MOVE members, collectively known as the ​"MOVE 9," to be freed from prison. She and eight others were imprisoned following a police siege of the MOVE communal home on August 8, 1978. The state repression of the MOVE organization in Philadelphia in the 1970s and 1980s was replicated throughout the country as Black activists involved in a wide variety of liberation and justice movements found themselves the targets of arrest, persecution and state violence.
This state violence reached unprecedented levels in the most well-known of the police assaults against MOVE members on May 13, 1985, when the Philadelphia police surrounded the MOVE house on Osage Ave., fired off thousands of rounds of ammunition and poured a deluge of water on the roof. Later that evening, a police helicopter dropped a bomb onto the household and ignited a fire. The resulting fire destroyed 61 homes and killed six adults and five children in the house.
At Tuesday's press conference, Debbie recalled learning about that bombing from inside the prison walls and being not only distraught, but in a state of disbelief, despite her own intimate familiarity with police repression. ​"It was devastating," Debbie said. ​"In fact, none of us believed it when the officers came to tell us, and we actually said, ​'Get away from our doors, because it's not true.'"
"A bittersweet victory"
Members of MOVE identify as a collective family, joined by their shared political and environmental principles, which Mike Jr. describes as, ​"I believe MOVE is life. I believe it's clean air, clean water, clean soil." He spoke at the press conference about how those values have historically placed MOVE in conflict with corporations and state institutions that routinely display a lack of concern for human and other lifeforms. ​"That is the only reason," Mike Jr. asserts, ​"the system targeted us the way they did … And they targeted us very forcefully."
On the August day that led to Debbie's arrest in 1978, police laid siege to the group's communal home, and a Philadelphia police officer, James Ramp, was shot and killed in the ensuing confrontation. In the highly politicized trial that followed, nine members of MOVE (five men and four women) were all convicted of third-degree homicide and sentenced to 30 to 100 years in prison.
No evidence was presented at trial charging any of the MOVE women with having handled firearms nor of having had any role in the shooting of the officer. Many have argued that Officer Ramp was most likely killed by friendly fire. One of the four women, Merle Austin Africa, died while incarcerated in March 1998, and Phil Africa passed away inside a Pennsylvania men's prison in January 2015.
The three remaining MOVE women – Debbie, Janet, and Janine Africa – all went up for parole on the same day in May 2018. It was not their first appearance before the parole board. In fact, this was Debbie's ninth appearance, having been denied on eight previous occasions since 2008. While Debbie's parole was granted this time, Janet and Janine Africa were both denied. ​"Although I felt excited and overwhelmed," Debbie observed, ​"I still felt incomplete, because it shouldn't have been that I left prison, but Janet and Janine did not. It's still a bittersweet victory."
Parole is not supposed to be a political determination and should, by its own statutes, only be denied on the basis that the person poses a clear threat to society. However, many political prisoners in Pennsylvania and beyond have become eligible for parole only to be repeatedly denied by their respective parole boards.
"Separated from my children"
At the time of her original sentencing, Debbie was 22 years old and eight months pregnant. She gave birth to her son, Mike Africa Jr., in jail and was allowed to spend only three days with him before they were separated. ​"The hardest thing for me was being separated from my children," Debbie recalls. She described the moment of having her newborn child taken from her as one of epic anguish: ​"There's no words to describe it… And then feeling that emptiness."
At the press conference, Mike Africa Jr. talked about the tremendous hardship of growing up with both of his biological parents incarcerated. His father, Debbie's husband Mike Africa Sr., was arrested alongside Debbie. He spoke to the many things that he and his mother had never had a chance to do together until now, due to the strict regulations attached to prison visits. ​"I knocked on her door the other day and she said ​'come in' and I saw her feet," Mike Jr. recounted, with a swell of emotion and surprise. ​"I noticed that this was the first time I'd ever seen her feet before. A friend of mine said to me, ​'You are learning, at almost 40 years old, what babies learn about their parents.'"
Mike Africa Sr. is still incarcerated and will have his next parole hearing in September 2018. ​"Our family is still separated," Mike Jr. observed. ​"We're on the path now to making our family whole. I can't wait to see my dad come home."
Many have questioned the different parole outcomes that the three women received. Lawyer Brad Thomson asserted on Tuesday morning that ​"there is no rational justification for the denial of the other two women." According to Thomson, all three of their parole applications included extensive documentation of their activities and participation in programming within the prison, as well as letters of support from family, community members, former Department of Corrections staff, the current District Attorney's office and many former woman prisoners who credit their successful reentry to a large degree upon the influence of Janet, Janine, and Debbie Africa. Thomson said that none of the three MOVE women have had any rule violation in prison for more than 20 years.
When asked what she will be doing now that she is released, Debbie replied that, in addition to reuniting with and enjoying the company of her family, ​"I'm also going to advocate for my family that's still in prison. Janine and Janet are still there and walking out of those doors without them was really, really hard. My husband is still in prison. And so, a portion of my life is going to be dedicated to that." She added, ​"I'm going to move forward and continue to work for the beliefs I stand for."
Part of a larger movement
The press conference took place in the Faith Immanuel Lutheran Church in East Lansdowne, Pennsylvania. Among the attendees was also Robert Holbrook, who was recently released from the Pennsylvania prison system in February 2018, after serving 27 years on a juvenile life without parole sentence that he received at the age of 16. Upon exiting the prison walls, he jumped directly into work as a community organizer and paralegal for the Abolitionist Law Center and has been assisting with the MOVE 9 cases.
"For me to actually come home, and to be working on the cases of Debbie and Janet and Janine gave me a tremendous sense of not only honor, but also a validation for their struggle and also mine," Holbrook notes. ​"I didn't just read about these struggles, I actually came home and contributed to bringing home a political prisoner in our movement."
"When I was released," Holbrook asserted, ​"there were so many other prisoners who were so moved – almost to tears – to see me released, and one thing they spoke about was their sense that ​'if you could be released then I could be.'" He sees a similar ripple effect in action with Debbie's release. This sentiment was echoed in a letter that Janet Africa sent to Mike Jr. shortly following Debbie's release. ​"Everybody here," Janet wrote, ​"especially the lifers and long termers are uplifted and motivated by Debbie leaving. They said it gives them hope."
Debbie Sims Africa's release, at the age of 62, comes amid a growing movement around the issue of life and long-term sentences in Pennsylvania, and when a national conversation is taking place about how the dramatic increase in incarceration over the last forty years has led to an unprecedented number of elderly prisoners. The six remaining incarcerated MOVE members range in age from 58 to 72 years old. (Full disclosure: This author is a founding member of the Philadelphia Coalition to Abolish Death By Incarceration and has been directly involved in the grassroots movement to end life without parole sentencing, or what is more accurately called death by incarceration.)
Thomson emphasized that, while Debbie's release is a cause for celebration, there is a lot more work to be done. ​"We consider this a big victory toward freeing all of the MOVE 9, six of whom are still incarcerated. They, like so many others in the state deserve parole, are worthy of parole – and should receive it."
Community supporters of the Move 9 have organized a call-in campaign for this upcoming week, from June 25-27, requesting members of the public to contact the Pennsylvania Board of Probation and Parole Chairman Leo Dunn, urging Dunn to have the Board reconsider its denial and grant Janet and Janine Africa parole.
August 8, 2018 will mark the 40-year anniversary of the stand-off with police that led to the MOVE 9's incarceration and several Philadelphia events are planned for that week in commemoration. At the close of Tuesday's press conference, Thomson urged attendees to remember, ​"These are people who are aging, and aging in prisons that are not places which are designed for people's health and safety. It's important that the parole board recognize that Debbie and the rest of the MOVE 9 have loved ones and community members who support them. And support them because of the unique individuals that they are."
Emily Abendroth
is a Philadelphia-based writer, teacher, and founding member of the Coalition to Abolish Death by Incarceration (CADBI).