Why the Left Should Embrace Debt Forgiveness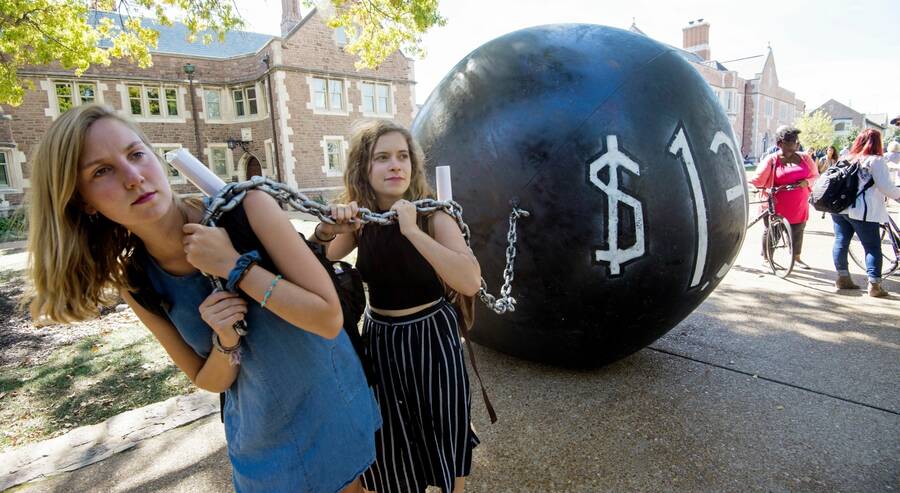 Bar­ring a major upset in Novem­ber, proud demo­c­ra­t­ic social­ist Alexan­dria Oca­sio-Cortez will be head­ing to Con­gress in Jan­u­ary. Break­ing with many Democ­rats' cau­tious tri­an­gu­la­tion, she ran on an unabashed­ly pro­gres­sive plat­form which includ­ed Medicare-for-all, a fed­er­al jobs guar­an­tee, the abo­li­tion of Immi­gra­tion and Cus­toms Enforce­ment (ICE), and hous­ing as a human right. Yet the crit­i­cal demand for a uni­ver­sal debt jubilee is miss­ing from her slate — and is gen­er­al­ly being left out of pro­gres­sive pol­i­cy dis­cus­sions. As trans­for­ma­tive left-wing poli­cies move from the mar­gins to the main­stream, we must fix this omis­sion posthaste.
The polit­i­cal upshot of orga­niz­ing around an issue that inti­mate­ly affects so many people's liveli­hoods would be enor­mous. Such orga­niz­ing would throw the injus­tices and irra­tional­i­ty of cap­i­tal­ism into stark relief, encour­ag­ing the emer­gence of a coali­tion around eco­nom­ic jus­tice that tran­scends race, gen­der, reli­gion and oth­er com­mon cleav­ages in soci­ety. It would assured­ly receive enthu­si­as­tic back­ing from the tens of mil­lions of Amer­i­cans who are shack­led to enor­mous debts incurred through spend­ing on health­care and high­er edu­ca­tion, both of which are con­sid­ered basic human rights in near­ly every devel­oped nation except for the Unit­ed States.
A uni­ver­sal debt jubilee cer­tain­ly wouldn't be polit­i­cal­ly expe­di­ent. It would encounter major, sus­tained oppo­si­tion from the many indus­tries that prof­it immense­ly off of work­ing people's debts. It would be derid­ed as pie-in-the-sky by the Right, cen­trists and many lib­er­als. But it is nec­es­sary giv­en the per­ilous eco­nom­ic con­di­tions most peo­ple face today.
Con­trary to pro­pa­gan­da tout­ing a sup­pos­ed­ly thriv­ing econ­o­my, ordi­nary Amer­i­cans live pre­car­i­ous­ly. The Amer­i­can econ­o­my is defined by pover­ty and inequal­i­ty. One of the cen­tral caus­es is debts that are chok­ing the work­ing class, which faces woe­ful­ly insuf­fi­cient wages and an ever-increas­ing cost of liv­ing in most cities. In 2013 alone, it's esti­mat­ed that med­ical-debt-relat­ed bank­rupt­cies impact­ed 2 mil­lion Amer­i­cans, and around 20 per­cent of adults have trou­ble pay­ing their health­care-relat­ed bills despite the increas­ing­ly imper­iled Afford­able Care Act. Sim­i­lar­ly, stu­dent debt chains peo­ple to a life­time of mis­ery sim­ply for try­ing to get an edu­ca­tion: As of 2016, 42 mil­lion Amer­i­cans were swamped in $1.3 tril­lion of stu­dent debt, and stu­dent loan debt now stands at about $1.4 tril­lion. The stu­dent debt busi­ness is a $140 bil­lion annu­al indus­try, and debtors reg­u­lar­ly face harass­ment from pri­vate col­lec­tors. In New Jer­sey, as a 2016 case revealed, it's almost impos­si­ble to get out of stu­dent debt, even if the stu­dent in ques­tion has died.
Amer­i­cans' cred­it card debt is rapid­ly approach­ing their total stu­dent debt, amount­ing to $1 tril­lion in 2016. The anx­i­ety it caus­es is intense: An April 2018 sur­vey found that about one third of peo­ple with cred­it card debt would be will­ing to give up their social media pres­ence for a year in exchange for hav­ing their debts relieved. Since its caus­es are more diverse than med­ical and stu­dent loan debt, cred­it card debt may be hard­er to defend rhetor­i­cal­ly, because debtors are vul­ner­a­ble to accu­sa­tions of per­son­al irre­spon­si­bil­i­ty (unfound­ed though they are, giv­en the numer­ous firm­ly entrenched eco­nom­ic struc­tures that incen­tivize con­sumerism while dis­cour­ag­ing fru­gal­i­ty and finan­cial lit­er­a­cy). But the ubiq­ui­ty of cred­it card debt may make the gen­er­al pub­lic more sym­pa­thet­ic to poli­cies intend­ed to alle­vi­ate it.
Attacks on the bail bond and pay­day loan indus­tries would find extreme­ly recep­tive audi­ences, as these indus­tries are two par­tic­u­lar­ly egre­gious exam­ples of debt-dri­ven vicious cycles. The pay­day loan indus­try, which preys on the poor, unbanked and under­banked, makes around $50 bil­lion a year and charges inter­est rates of between rough­ly 200 and 575 per­cent. Like­wise, the bail bond indus­try thrives on extreme pover­ty and mis­for­tune: The bail bond indus­try under­writes almost $14 bil­lion in bonds annu­al­ly for those too poor to pay them on the spot, mak­ing near­ly $2 bil­lion in prof­it. Bail pay­ments are an essen­tial mech­a­nism behind the pro­found­ly racist, class-based sys­tem of mass incar­cer­a­tion. By focus­ing on the pay­day loan and bail bond indus­tries, and con­nect­ing them to the var­i­ous forms of debt that imprison even sup­pos­ed­ly free Amer­i­cans, an anti-debt move­ment could join forces with the move­ment for crim­i­nal jus­tice reform. Togeth­er, a broad anti-debt coali­tion could expose the ways that pover­ty, inequal­i­ty, debt and the prof­it motive feed off each oth­er to keep peo­ple trapped with­in a sys­tem that rewards bil­lion­aires hand­some­ly and keeps every­one else unfree.
Lib­er­at­ing peo­ple from debt would mas­sive­ly enhance their abil­i­ty to con­trol their own des­tinies. It would serve as a tremen­dous spur to the econ­o­my, elim­i­nat­ing tens of bil­lions of dol­lars squan­dered annu­al­ly on social­ly unpro­duc­tive debt pay­ments. The Bible — the source of the orig­i­nal call for a jubilee year where all debts are for­giv­en — says to ​"pro­claim lib­er­ty through­out the land." As the win­dow of oppor­tu­ni­ty to defeat author­i­tar­i­an­ism clos­es and Democ­rats look for a bold pro­gram to recon­sti­tute our democ­ra­cy, a debt jubilee is an impor­tant step towards mak­ing true lib­er­ty into a reality.
Scott Remer
received a master's degree in polit­i­cal thought and intel­lec­tu­al his­to­ry at the Uni­ver­si­ty of Cam­bridge, with a spe­cial­iza­tion in the polit­i­cal phi­los­o­phy of the Frank­furt School. He grad­u­at­ed Yale Uni­ver­si­ty sum­ma cum laude in Ethics, Pol­i­tics,
&
amp; Eco­nom­ics and wrote his the­sis on Occu­py Wall Street and the his­to­ry of Amer­i­can social move­ments. He blogs at soulof​so​cial​ism​.word​press​.com.