Debtors' Prisons Make a Comeback
Across the U.S., debts to private companies are landing poor people in jail.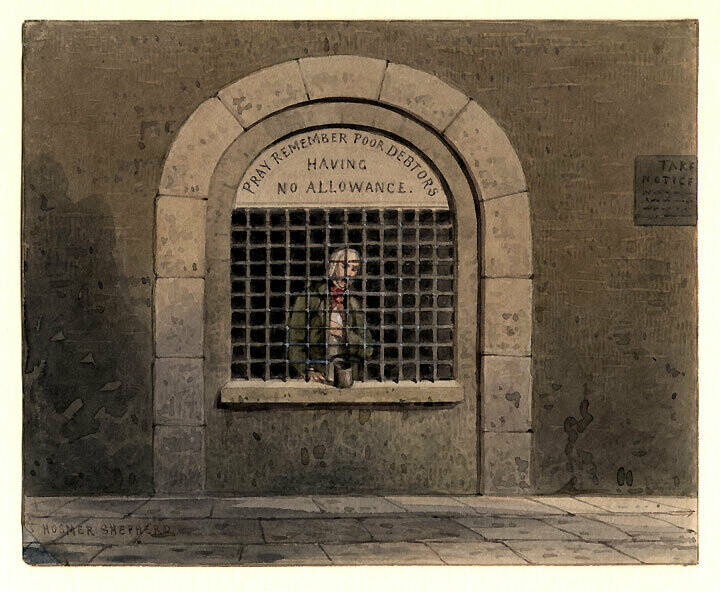 Reprinted with permission from AlterNet.
The phenomenon of debtors' prisons creates a two-tiered justice system. For poor people unable to pay up money they owe from traffic infractions or other debts, jail becomes home for longer.
Kawana Young, a single mother of two kids, was arrested in Michigan after failing to pay money she owed as a result of minor traffic offenses. She was recently laid off from her job, and could not pay the fees she owed because she couldn't find another source of employment. So a judge sentenced her to three days in jail. In addition, Young was charged additional fees for being booked and for room and board for a place she did not want to be. In total, she has been jailed five times for being unable to pay her debts.
​"It doesn't make sense to jail people when they can't pay, because they definitely can't pay while they're in jail," said Young.
Debtors' prisons seem to belong in America's past. But if you think the existence of prisons for people who can't afford to pay their debts in the past, think again. Young's ordeal, profiled in an American Civil Liberties Union report, began in 2005, after she was ticketed because she was driving without her license. It all came to a head in 2010, when Young was arrested because she did not pay off all of her debts from traffic violations. That arrest led to the judge ordering Young to jail due to her inability to pay off the money.
Prison time for poor people in debt remains something that is practiced throughout the United States, despite the fact that a 1983 Supreme Court decision ruled that a prisoner on probation who could not afford to pay his debts could not be thrown in jail for that reason. The practice of imprisoning people for debt is being fueled by the economic crash that has decimated state and city budgets. Debtors' prisons are also on the rise thanks to the zeal of private companies that ​"file lawsuits against debtors and often fail to serve them with notice of court dates or intentionally serve them at incorrect addresses," as the Brennan Center for Justice's Inimai Chettiar noted. ​"When debtors do not show up, agencies procure arrest warrants from courts, leading to incarceration of the debtors. Bail is usually set at an amount equal to or higher than the original fees and fines they defendants couldn't pay in the first place. All this has amounted to a return of debtors prisons."
A 2010 report from the American Civil Liberties Union (ACLU) lays out the breadth of this problem. Titled ​"In For a Penny: The Rise of America's New Debtor Prisons," the report examines how ​"day after day, indigent defendants are imprisoned for failing to pay legal debts they can never hope to manage. In many cases, poor men and women end up jailed or threatened with jail though they have no lawyer representing them."
The practice of throwing people into jail got more attention last year due to a New York Times report examining ​"the mushrooming of fines and fees levied by money-starved towns across the country and the for-profit businesses that administer the system," with the result being ​"growing numbers of poor people…ending up jailed and in debt for minor infractions."
New York Times reporter Ethan Bronner profiled 31-year-old Gina Ray, who was fined $179 for a speeding ticket. Ray did not show up in court — she says the ticket had the wrong date on it — and her license was revoked. So the next time Ray got into trouble with the law was even worse. She was pulled over, and found to be driving without a license. ​"By then her fees added up to more than $1,500. Unable to pay, she was handed over to a private probation company and jailed — charged an additional fee for each day behind bars," wrote Bronner.
The phenomenon of debtors' prisons creates a two-tiered justice system. For poor people unable to pay up money they owe from traffic infractions or other debts, jail becomes home for longer.
For the rich, it's a different story. ​"Pay-or-stay sentences are no choice for the poor," the ACLU's Michael Steinberg told The Detroit News. ​"They translate to rich people writing a check and going home and poor people going to jail. It's a modern-day debtors' prisons. This two-tiered system of justice is shameful, it's a waste of resources, it is unconstitutional, and it must be changed."
Additionally, the two-tiered justice system means that poor people often have to pay even more than their initial fees and fines, due to additional booking and jail fees. This leads to a toxic cycle where poor people are arrested for fees they can't pay and are then walloped with even more financial obligations. And going to jail disrupts life for these poor people, making it even more difficult to find a job that would help them pay off their debt.
Alex Kane
is AlterNet's New York-based World editor, and an assistant editor for
Mondoweiss
. Follow him on Twitter @alexbkane.