The $717 Billion Defense Bill That Just Breezed Through the Senate Should Be a National Scandal
Democrats and Republicans rubber-stamped a severely bloated war budget.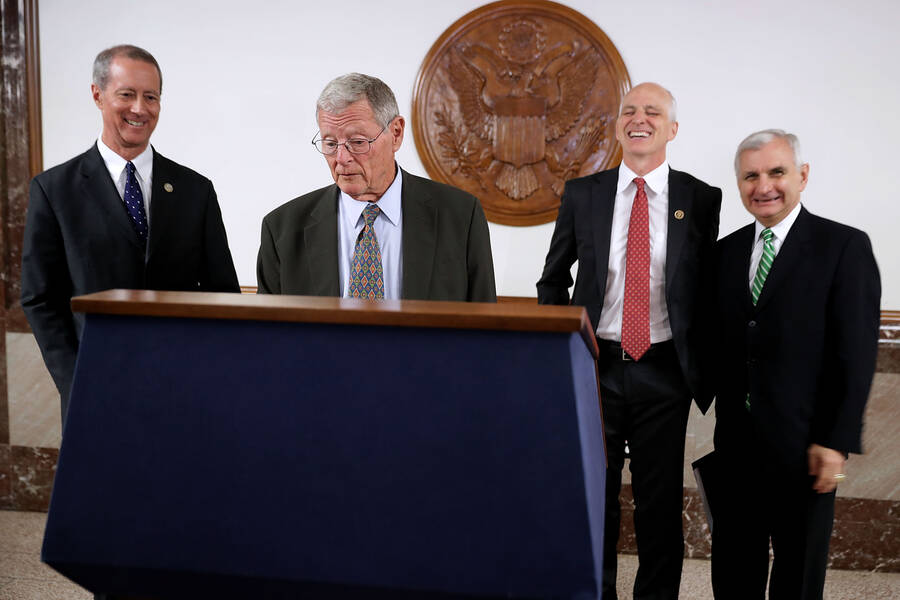 With lit­tle debate or pub­lic atten­tion, the Sen­ate just fol­lowed the House in approv­ing $717 bil­lion for the nation's mil­i­tary, mean­ing the bill is head­ed for the president's sig­na­ture. The pas­sage is no sur­prise. The Nation­al Defense Autho­riza­tion Act is one of the few pieces of fed­er­al bud­get leg­is­la­tion that sails through every year, with­out fail, on a bipar­ti­san basis.
The military authorization bill must become a place for dissent and discussion.
Yet, the bill deserves fierce debate — and dis­sent. At $717 bil­lion, the pack­age pro­vides a his­tor­i­cal­ly high mil­i­tary bud­get. By my cal­cu­la­tions based on num­bers from the Office of Man­age­ment and Bud­get, in 1997, after Cold War spend­ing was ratch­eted down from its Rea­gan-era peak, mil­i­tary spend­ing was $386 bil­lion after adjust­ing for infla­tion. By the height of spend­ing dur­ing the Iraq and Afghanistan wars, it had more than dou­bled to $799 bil­lion. Yet today, despite mas­sive troop draw­downs and mul­ti­ple dec­la­ra­tions of vic­to­ry from the war on ter­ror, mil­i­tary spend­ing in 2019 will remain $268 bil­lion more than it was before the start of the Iraq and Afghanistan wars.
In oth­er words, U.S. war spend­ing remains severe­ly bloat­ed, as spend­ing on vital pub­lic goods — like edu­ca­tion and water sys­tems — falters.
A win for arms manufacturers
That a $717 bil­lion spend­ing pack­age could pass with so lit­tle debate or con­tention is a symp­tom of our elect­ed lead­ers' def­er­ence to the Pen­ta­gon. But it's also a sign of a seem­ing­ly unre­lat­ed old adage: It's the econ­o­my. In too many instances, old-fash­ioned pork and provin­cial inter­ests are the real motivations.
So, what is the mil­i­tary buy­ing, and why? And just as impor­tant, what isn't the fed­er­al gov­ern­ment buy­ing as it hoards cash for the military?
One answer is that the bill rep­re­sents a big win for weapons con­trac­tors, pro­vid­ing funds for 77 new F‑35 jet fight­ers — the Lock­heed Mar­tin show horse that has been in devel­op­ment for near­ly 20 years and is bil­lions of dol­lars over bud­get. Even mil­i­tary spend­ing cham­pi­on Sen. John McCain, for whom the bill is named, has called the jet fight­er ​"a scan­dal and a tragedy" for its sched­ule and bud­get problems.
An ear­li­er House ver­sion of a defense spend­ing bill had increased the num­ber of F‑35 fight­ers to 93: 16 more than the Pen­ta­gon asked for. That bill, which is no longer under con­sid­er­a­tion, came from a sub­com­mit­tee chaired by Rep­re­sen­ta­tive Kay Granger (R‑Texas), whose dis­trict is home to a key Lock­heed facil­i­ty where the F‑35 is made.
The bill also includes funds for 13 new ships, three more than the Navy asked for. The jus­ti­fi­ca­tion for two of the three addi­tion­al ships was open­ly eco­nom­ic: The bill pro­vides fund­ing for three new ships of the same kind as a Navy ship that caused a minor scan­dal when it was strand­ed in ice off the coast of Mon­tréal this win­ter. A con­gres­sion­al staffer involved with the defense bill nego­ti­a­tions com­ment­ed that autho­riz­ing just one ship would be ​"dam­ag­ing to the two con­struc­tion yards" in Wis­con­sin and Alaba­ma, where the ships are built. Like the F‑35, the ship is also made by Lock­heed Mar­tin, the biggest fed­er­al con­trac­tor with more than $44 bil­lion in mil­i­tary con­tracts in 2017.
Among new ini­tia­tives, the bill pro­vides $65 mil­lion for a new nuclear weapons pro­gram, that would repur­pose exist­ing weapons into ​"low-yield" weapons, com­pared to most of the nuclear war­heads the Unit­ed States has today. But, these ​"low-yield" weapons would be com­pa­ra­ble in pow­er to the weapon the Unit­ed States dropped on Hiroshi­ma, and equal to rough­ly 1,000 of the con­ven­tion­al MOABs, or ​"Moth­er of All Bombs" that Trump autho­rized for its first-ever com­bat use in Afghanistan in 2017. The new weapons are like­ly to be adapt­ed from Tri­dent mis­siles, made of course by none oth­er than Lock­heed Martin.
In a few instances, rea­son pre­vailed over prof­li­gate spend­ing. The fig­ure of 77 F‑35 fight­ers is too high, but it's bet­ter than the 93 the House sub­com­mit­tee rec­om­mend­ed. The Sen­ate ver­sion of the autho­riza­tion bill placed mod­est lim­its on the president's mil­i­tary parade, requir­ing that no troops be deferred from real mil­i­tary needs to march through the streets of our nation's cap­i­tal. And per­haps most sig­nif­i­cant from a spend­ing per­spec­tive, the Sen­ate – though not the House – deferred the president's repeat­ed request to add a whole new branch of the armed ser­vices: the so-called Space Force.
Run­away mil­i­tary spending
As is usu­al­ly the case, the bill passed with wide bipar­ti­san majori­ties in both the House (359−54) and the Sen­ate (87−10). If there is one thing sacred in U.S. fed­er­al bud­get­ing, it is the mil­i­tary budget.
But, while the pol­i­tics may pave the way for seem­ing­ly unend­ing mil­i­tary spend­ing, one inter­est­ing pat­tern emerged from the votes. Among the 10 ​"no" votes in the Sen­ate were four of the five most-often men­tioned Demo­c­ra­t­ic pres­i­den­tial men­tions: Sen­a­tor Eliz­a­beth War­ren (Mass), Sen­a­tor Bernie Sanders (Vt.), Sen­a­tor Kamala Har­ris (Calif.) and Sen­a­tor Kirsten Gilli­brand (N.Y.). Sen­a­tors Sanders and Gilli­brand both vot­ed no on the bill last year, but the oth­ers are new con­verts. Sen­a­tor Cory Book­er (D‑N.J.), who is also often men­tioned as a pos­si­ble can­di­date, vot­ed yes. Could the pol­i­tics of a pres­i­den­tial race help focus ques­tions about the Unit­ed States' run­away mil­i­tary spend­ing and dan­ger­ous new weapons programs?
It's a dif­fi­cult ques­tion. The eco­nom­ics of the bill can trap usu­al­ly-pro­gres­sive leg­is­la­tors. Sen­a­tor War­ren vot­ed no this year, but last year her yes vote was trum­pet­ed by a state­ment cham­pi­oning fund­ing for Hanscom and West­over Air Force bases, both in Massachusetts.
A heavy price
The tragedy is that the short-term eco­nom­ic gains from mil­i­tary fund­ing often come at the expense of more mean­ing­ful jobs gains that could come through invest­ing in health care, edu­ca­tion, clean ener­gy and more. It's worth a look at what could be, if those 10 ​"no" votes mul­ti­plied and the mil­i­tary had to bud­get more carefully.
What if the war on ter­ror were to real­ly end, and the mil­i­tary bud­get returned to its post-Cold War, pre‑9/​11 days, aver­ag­ing about $415 bil­lion a year?
That would save rough­ly $300 bil­lion a year — a sum that could finance Sen­a­tor Sanders' plan for free col­lege and help address the country's back­log of unfund­ed infra­struc­ture needs — includ­ing water sys­tems, roads, bridges, elec­tric­i­ty and schools.
The mil­i­tary autho­riza­tion bill must become a place for dis­sent and dis­cus­sion. Rub­ber stamp­ing ever-grow­ing mil­i­tary spend­ing is good for the Lock­heed Mar­tins of the world, but the rest of us pay a heavy price.
Lind­say Koshgar­i­an
is the pro­gram direc­tor of the Nation­al Pri­or­i­ties Project at the Insti­tute for Pol­i­cy Studies.