Democracy's Death
Haitian dissidents find themselves the targets of massive repression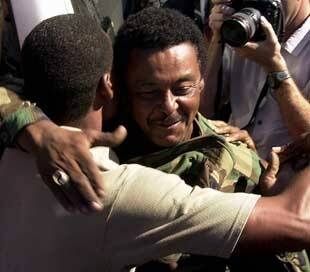 In sync with its grandiose claims about build­ing democ­ra­cy in the Mid­dle East, the Bush admin­is­tra­tion is pro­mot­ing new elec­tions in Haiti in Octo­ber and Novem­ber as the great hope for the poor­est nation in the West­ern Hemi­sphere. Yet, while Wash­ing­ton pro­vides diplo­mat­ic, polit­i­cal and mil­i­tary sup­port for the Hait­ian gov­ern­ment of Inter­im Prime Min­is­ter Ger­ard Latortue, hood­ed police and death squads are sys­tem­at­i­cal­ly repress­ing polit­i­cal sup­port­ers of for­mer pres­i­dent Jean-Bertrand Aristide.
Aristide's Lavalas Par­ty is still the Hait­ian polit­i­cal orga­ni­za­tion with the most pop­u­lar sup­port by a large mar­gin. Months after the Feb­ru­ary 29, 2004, coup that drove Aris­tide from office, Con­rad Trib­ble of the U.S. Embassy in Port-au-Prince con­ced­ed, ​"If there were an elec­tion held today, Lavalas would win." But today, Lavalas par­ti­sans can bare­ly go out­doors safe­ly, while the right-wing para­mil­i­tary leader Guy Philippe, who was trained by U.S. Spe­cial Forces in Ecuador in the ​'90s, has launched his own polit­i­cal par­ty, the Front for Nation­al Reconstruction.
In the begin­ning of Feb­ru­ary 2004, Philippe led U.S.-trained para­mil­i­taries across the bor­der from the Domini­can Repub­lic in attacks on Haiti's sec­ond largest city, Cap-Hai­tien. Also direct­ing the para­mil­i­tary attacks was Louis-Jodel Cham­blain, for­mer sec­ond-in-com­mand of the Rev­o­lu­tion­ary Front for Hait­ian Advance­ment and Progress, an anti-Lavalas death squad that the CIA helped cre­ate in 1993. In the fol­low­ing two weeks, these forces emp­tied Haiti's pris­ons; among those set free were anti-Aris­tide death squad vet­er­ans from the 1991 – 1994 coup peri­od. The new régime has now filled the jails with gov­ern­ment offi­cials, teach­ers and Lavalas supporters.
Thomas Grif­fin, a Philadel­phia immi­gra­tion lawyer, inter­viewed both poor slum dwellers and rich elites in Haiti for a report recent­ly pub­lished by the Uni­ver­si­ty of Miami's Cen­ter for the Study of Human Rights. The report not­ed, ​"Haiti's secu­ri­ty and jus­tice insti­tu­tions fuel the cycle of vio­lence. Sum­ma­ry exe­cu­tions are a police tac­tic. … Haiti's bru­tal and dis­band­ed army has returned to join the fray. Sus­pect­ed dis­si­dents fill the pris­ons, their con­sti­tu­tion­al rights ignored. As voic­es for non­vi­o­lent change are silenced by arrest, assas­si­na­tion or fear, vio­lent defense becomes a cred­i­ble option."
Much of the repres­sion has occurred under the watch of the Unit­ed Nations Sta­bi­liza­tion Mis­sion in Haiti (MINUS­TAH), estab­lished by the U.N. Secu­ri­ty Coun­cil on June 1, 2004. A March 2005 report by the Har­vard Law Stu­dent Advo­cates for Human Rights and the Glob­al Jus­tice Cen­ter notes that the mis­sion was endowed ​"with a strong man­date in three prin­ci­pal areas: pro­vid­ing a secure and sta­ble envi­ron­ment, par­tic­u­lar­ly through dis­ar­ma­ment; sup­port­ing the polit­i­cal process and good gov­er­nance in prepa­ra­tion for upcom­ing elec­tions; and mon­i­tor­ing and report­ing on human rights," but it has ​"made lit­tle, if any, progress on any of these three fronts."
The Har­vard report con­cludes: ​"MINUS­TAH has pro­vid­ed cov­er for abus­es com­mit­ted by the HNP [Hait­ian Nation­al Police] dur­ing oper­a­tions in poor, his­tor­i­cal­ly tense Port-au-Prince neigh­bor­hoods. Rather than advis­ing and instruct­ing the police in best prac­tices, and mon­i­tor­ing their mis­steps, MINUS­TAH has been the mid­wife of their abus­es." The report also attacked the Unit­ed Nations' unwill­ing­ness to pro­tect civil­ians from polit­i­cal vio­lence, say­ing, ​"the fail­ure to do so when civil­ians beg for U.N. assis­tance is sim­ply incomprehensible."
Vio­lent imprisonment
Father Ger­ard Jean-Juste, famous in both Haiti and the dias­po­ra for decades of ser­vice to the poor, is still work­ing on the ground in Port-au-Prince. On Octo­ber 13, 2004, masked Hait­ian police arrest­ed Jean-Juste as he was feed­ing hun­dreds of hun­gry chil­dren at his parish.
Latortue claimed there was a war­rant for Jean-Juste's arrest, but no one ever pro­duced the doc­u­ment or any evi­dence link­ing the priest to a crime. This means the arrest was in vio­la­tion of Haiti's con­sti­tu­tion, but the U.S. State Depart­ment explained this away, say­ing, ​"Hait­ian legal experts have told us that under Hait­ian law, the gov­ern­ment can hold Father Jean-Juste for up to three months in his cur­rent sta­tus while final­iz­ing the case against him." A State Depart­ment spokesper­son also assured reporters that Jean-Juste was being ​"law­ful­ly held."
But as one of Jean-Juste's lawyers, Loy­ola Uni­ver­si­ty New Orleans pro­fes­sor William Quigley, put it: ​"The sit­u­a­tion here is very bad — there is no real law except the law of the powerful."
On Novem­ber 29, Jean-Juste was released for lack of evi­dence. He told In These Times, ​"A guy like me is lucky." While impris­oned, his wrists were cuffed so tight­ly that cir­cu­la­tion hadn't com­plete­ly returned in one hand, but ​"they didn't beat me." Twelve of his fel­low cell­mates had been beat­en so bad­ly ​"their heads were broken."
In con­trast to Jean-Juste, Ted Nazaire's case received no inter­na­tion­al atten­tion. Nazaire was arrest­ed after fight­ing with his broth­er. Because a judge hap­pened to be pass­ing by when the fight occurred, a war­rant actu­al­ly was filled out for his arrest, unlike most of his fel­low inmates. A tall, mus­cu­lar man of 26, Nazaire spent four months in prison until his moth­er resort­ed to brib­ing a judge to gain his release.
While in prison, Nazaire wit­nessed the bloody Decem­ber 1 mas­sacre of pris­on­ers by guards at the Nation­al Pen­i­ten­tiary — the same day that Col­in Pow­ell was engaged in a high-pro­file meet­ing with Latortue. Nazaire esti­mates that police sys­tem­at­i­cal­ly killed at least 60 pris­on­ers. Oth­er eye­wit­ness­es, includ­ing Radio Megas­tar jour­nal­ist Saby Ket­tny, who saw police fir­ing machine guns from a cat­walk at pris­on­ers, con­firm that mass exe­cu­tions took place. Accord­ing to the Insti­tute for Jus­tice and Democ­ra­cy in Haiti, on Decem­ber 1, only 22 of the 1,041 pris­on­ers in the Nation­al Pen­i­ten­tiary had been con­vict­ed of a crime.
The swollen eye, knot on his head, and bruised arms and legs tes­ti­fied to the severe beat­ing Nazaire received from guards who threat­ened to kill him if he talked about the mas­sacre. Nazaire and his fam­i­ly have since gone into hid­ing for their safety.
A com­plic­it media
Jean-Juste says that on most Hait­ian radio sta­tions ​"every­thing bad hap­pen­ing this week will be blamed on Lavalas." The sta­tions, pri­mar­i­ly owned by elites who opposed Aristide's efforts to increase the min­i­mum wage and advance oth­er pro­gres­sive ini­tia­tives, have demo­nized Lavalas for years.
The press owner's asso­ci­a­tion, the Nation­al Asso­ci­a­tion of Hait­ian Media, is a mem­ber of the Group of 184, an anti-Lavalas out­fit mas­querad­ing as a civ­il soci­ety umbrel­la group that spear­head­ed the coup with fund­ing from the U.S.-based Inter­na­tion­al Repub­li­can Insti­tute (itself an arm of the Nation­al Endow­ment for Democ­ra­cy). Between 2001 and 2003 the Euro­pean Com­mis­sion con­tributed approx­i­mate­ly $890,000 to orga­ni­za­tions affil­i­at­ed with the Group of 184, and the U.S. Agency for Inter­na­tion­al Devel­op­ment allo­cat­ed more than $3 mil­lion. This fund­ing occurred dur­ing the U.S. aid embar­go that finan­cial­ly par­a­lyzed the Aris­tide government.
Andre Apaid Jr., the Group of 184's leader, is a fac­to­ry own­er who found­ed Haiti's main TV sta­tion, Tele-Haiti, and led the 2003 cam­paign oppos­ing Aristide's deci­sion to dou­ble the min­i­mum wage. For the Uni­ver­si­ty of Mia­mi report, Grif­fin talked to numer­ous sources who described Apaid's sup­port for the Port-au-Prince gang leader Labanye, who had ter­ror­ized the city's res­i­dents before his vio­lent death on March 31. One vet­er­an Hait­ian dis­si­dent told Grif­fin that despite Apaid's claims to be non-polit­i­cal, he was in fact ​"the government's boss."
Grif­fin believes ​"Lavalas gangs" has become a catch­phrase used to jus­ti­fy fur­ther repres­sion. ​"The U.N. is in there to make it legit­i­mate, but they can't even talk to the peo­ple they're sup­posed to be help­ing," he says. ​"There's no strat­e­gy in enter­ing the poor­est neigh­bor­hoods dur­ing so-called secu­ri­ty oper­a­tions. They shoot wild­ly, as do the police. Since Aris­tide was oust­ed, the out­spo­ken demo­c­ra­t­ic lead­ers, includ­ing gov­ern­ment offi­cials, have been either killed or arrested.
"For Aris­tide to be blamed for their des­per­a­tion is absurd," he concludes.
The Latortue régime has also accused Aris­tide of orches­trat­ing vio­lence from his exile in South Africa — a ques­tion­able charge accord­ing to human rights lawyer Bri­an Con­can­non, who worked for years to put death squad leader Cham­blain behind bars. (The Latortue régime acquit­ted Cham­blain last sum­mer in an overnight tri­al that Amnesty Inter­na­tion­al called ​"an insult to jus­tice" and a ​"mock­ery.")
"Latortue can say that Aris­tide is back­ing vio­lence in Port-au-Prince with­out pre­sent­ing any proof and it's pre­sent­ed as gospel in the news­pa­pers," Con­can­non says. ​"But when peo­ple talk to our lawyers in Haiti about the inter­im government's per­se­cu­tion of dis­si­dents, they have extreme­ly cred­i­ble, con­sis­tent and cor­rob­o­rat­ed infor­ma­tion. That infor­ma­tion will not get into the main­stream media."
Such bias has also char­ac­ter­ized the elec­toral process. In Novem­ber, Roselor Julien resigned as pres­i­dent of the Pro­vi­sion­al Elec­toral Coun­cil, call­ing prepa­ra­tions for the upcom­ing elec­tions a ​"bur­lesque com­e­dy." Julien warned that oth­er pan­el mem­bers were try­ing to rig the bal­lot and that the coun­cil was not capa­ble of ensur­ing free and fair elec­tions. The coun­cil has also exclud­ed rep­re­sen­ta­tives of Lavalas.
"Today in 2005, who can expect free, fair and demo­c­ra­t­ic elec­tions in Haiti with thou­sands of Lavalas [mem­bers] in jail, exile and hid­ing?" asked Aris­tide at an April 19 press con­fer­ence in South Africa. He demand­ed that four steps be tak­en to reverse the ​"trag­ic mis­take" of the 2004 coup d'etat.
"One, thou­sands of Lavalas who are in jail and in exile must be free to return home. Two, the repres­sion that has already killed 10,000 peo­ple must end imme­di­ate­ly. Three, then there must be nation­al dia­logue. Four, free, fair and demo­c­ra­t­ic elec­tions must be orga­nized in an envi­ron­ment where the huge major­i­ty of Hait­ian peo­ple is nei­ther exclud­ed nor repressed as they have been up until today."