This Latina Democratic Socialist Could Unseat One of the Most Powerful Democrats in Congress
Alexandria Ocasio-Cortez is waging an insurgent challenge to incumbent Rep. Joe Crowley in New York—and her bold left message is gaining steam.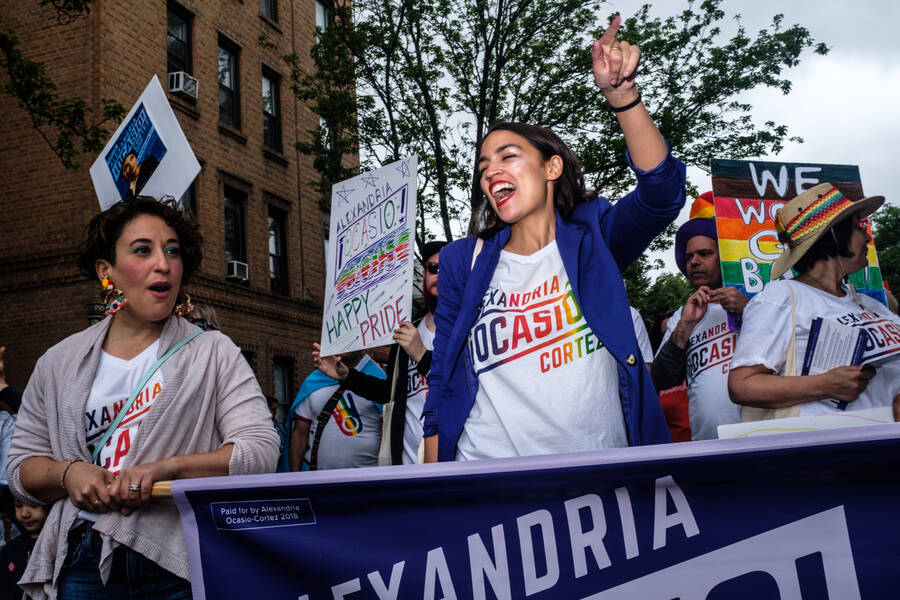 It's pos­si­ble that Rep. Joseph Crow­ley (D‑NY) nev­er expect­ed to run in a com­pet­i­tive Demo­c­ra­t­ic pri­ma­ry. After all, over the past 14 years, Crow­ley hasn't faced a chal­lenger from his own par­ty, until now.
Ocasio-Cortez is critical of the corporate influence over the Democratic Party which she believes is alienating voters who see the interests of working families being sold off in favor of corporate and developer greed.
On June 26, Crow­ley will go head-to-head with 28-year-old Puer­to Rican Bronx native Alexan­dria Oca­sio-Cortez in New York's 14th Dis­trict. A long­time com­mu­ni­ty orga­niz­er, activist and demo­c­ra­t­ic social­ist, Oca­sio-Cortez is wag­ing a grass­roots insur­gent cam­paign to unseat the pow­er­ful incumbent.
She's run­ning on a plat­form of Medicare for All, the abo­li­tion of ICE, free pub­lic col­lege, a Mar­shall Plan for Puer­to Rico and a fed­er­al jobs guar­an­tee. Since announc­ing her cam­paign in 2017, she's been endorsed by a num­ber of nation­al pro­gres­sive groups includ­ing MoveOn​.org, Our Rev­o­lu­tion, Jus­tice Democ­rats and the Demo­c­ra­t­ic Social­ists of America.
On June 15, dur­ing the first and only tele­vised debate in the race, Crow­ley appeared vis­i­bly ner­vous as Oca­sio-Cortez crit­i­cized him for not liv­ing in the dis­trict he claims to rep­re­sent as well as for accept­ing cor­po­rate dona­tions. ​"I just think that if a per­son loved their com­mu­ni­ty they would choose to raise their fam­i­ly here," she said. ​"They would choose to drink our water and breathe our air."
Crow­ley has amassed an incred­i­ble amount of pow­er as the chair both the House Demo­c­ra­t­ic Cau­cus and the Queens Coun­ty Demo­c­ra­t­ic Par­ty, earn­ing him the nick­name the ​"King of Queens." From his perch in these posi­tions, Crow­ley acts as the vir­tu­al king­mak­er for aspir­ing New York politi­cians. With­out his sup­port, polit­i­cal careers can be killed before they even begin. Such pow­er has made him unac­cus­tomed to oppo­si­tion because so few dare to chal­lenge his authority.
To Oca­sio-Cortez, that author­i­ty is part of the prob­lem — along with the sup­port he receives from large real estate devel­op­ers and Wall Street. She has refused to take any cor­po­rate mon­ey in the race and while dona­tions of $200 or less account for near­ly 70 per­cent of her dona­tions, for Crow­ley that fig­ure stands at less than one percent.
Dur­ing the June 15 debate, Crow­ley tried to por­tray him­self as the anti-Trump can­di­date. ​"We're here to fight against Don­ald Trump," he said, argu­ing that his own lead­er­ship is vital to win­ning back the House dur­ing the midterms. ​"It's not enough to fight Trump," Oca­sio-Cortez lat­er shot back, ​"We have to fight the issues that made his rise in the first place."
Ocasio-Cortez's cam­paign rep­re­sents more than just a response to the cur­rent admin­is­tra­tion. View­ing Trump as a symp­tom of much larg­er prob­lems in our polit­i­cal sys­tem, she has been out­spo­ken about struc­tur­al issues such as endem­ic pover­ty, police vio­lence and a bru­tal immi­gra­tion system.
A for­mer vol­un­teer for Bernie Sanders' 2016 pres­i­den­tial run, Oca­sio-Cortez is also crit­i­cal of the cor­po­rate influ­ence over the Demo­c­ra­t­ic Par­ty which she believes is alien­at­ing vot­ers who see the inter­ests of work­ing fam­i­lies being sold off in favor of cor­po­rate and devel­op­er greed. ​"This race is more than just about diver­si­ty or race," Oca­sio-Cortez said dur­ing the debate, ​"it's about class."
Grow­ing up in the Bronx, Oca­sio-Cortez has expe­ri­enced first hand the strug­gles work­ing fam­i­lies face with try­ing to afford rent on low wages. ​"My mom was forced to move to Flori­da because she could­n't afford to live in New York any­more," she tells In These Times.
Oca­sio-Cortez also sees her cam­paign as part of a larg­er move­ment of women across the coun­try who are run­ning for pub­lic office in record num­bers. At least 575 women have declared their can­di­da­cy for the House, Sen­ate or gov­er­nor­ship, three-quar­ters of whom are Democ­rats. ​"The surge of women can­di­dates is indica­tive of insti­tu­tion­al injus­tice," Oca­sio-Cortez says. ​"We are part of a move­ment fight­ing for racial, eco­nom­ic and social justice."
As Ocasio-Cortez's cam­paign shows, this trend of pro­gres­sive women run­ning for office isn't only play­ing out in red states but deep in the heart­land of the Demo­c­ra­t­ic Par­ty in places like New York. She is joined by three oth­er female can­di­dates run­ning in Demo­c­ra­t­ic pri­maries in New York's out­er bor­oughs, Jes­si­ca Ramos in the 13th Dis­trict, Melis­sa Sklarz in the 30th Dis­trict and Julia Salazar in Dis­trict 18. This sud­den surge of female can­di­dates chal­leng­ing incum­bent Democ­rats in New York reflects both a pro­gres­sive upsurge in the city as well as a grow­ing dis­dain for machine politics.
While Oca­sio-Cortez has gained nation­al atten­tion in her race — thanks to a viral video cou­pled with a sophis­ti­cat­ed cam­paign — she still faces sig­nif­i­cant hur­dles in her quest to unseat Crow­ley, who has been float­ed as the poten­tial next House speak­er. Crow­ley has raised $3.4 mil­lion for the race com­pared to Ocasio-Cortez's $300,000.
Vot­er turnout is anoth­er major obsta­cle her cam­paign has to over­come. In last year's may­oral pri­ma­ry only 31,000 peo­ple showed up to the polls in the 14th Dis­trict. Turnout for the June 26 pri­ma­ry could dip well below 20,000 explained John Mel­lonkopf, direc­tor of CUNY's Cen­ter for Urban Research.
With­out Crow­ley's lev­el of resources or media vis­i­bil­i­ty, Mel­lonkopf believes Ocasio-Cortez's cam­paign will have trou­ble com­pet­ing. Along with Crow­ley's cor­po­rate fun­ders, he also has the back­ing of labor unions such as the AFL-CIO as well as orga­ni­za­tions such as Make the Road NY and Planned Parenthood
What she lacks in cash, how­ev­er, she is hop­ing to make up for in vol­un­teer pow­er. One of the most chal­leng­ing obsta­cles poten­tial can­di­dates face before they run is get­ting on the bal­lot in the first place. The New York Board of Elec­tions requires can­di­dates col­lect 1,250 sig­na­tures for con­gres­sion­al races in order to appear on the bal­lot. Ocasio-Cortez's army of vol­un­teers sub­mit­ted around 5,400 peti­tion sig­na­tures, well beyond the required amount, and has con­tin­ued to knock on doors and can­vass for her cam­paign ever since.
By forc­ing Crow­ley into the district's first pri­ma­ry in 14 years, Ocasio-Cortez's sup­port­ers can already add a vic­to­ry under their belt. ​"If I lose on June 26, our com­mu­ni­ty will have no more or no less pow­er then it did on June 25," Oca­sio-Cortez says. ​"But this cam­paign has already built an infra­struc­ture of power."
What­ev­er the out­come, it's clear that the seeds of pro­gres­sive change have been plant­ed. ​"No mat­ter what hap­pens on elec­tion day," Oca­sio-Cortez says, ​"what we're build­ing is per­ma­nent. Every con­ver­sa­tion is like gas in the tank."
Amir Khafagy
is a jour­nal­ist, activist, orga­niz­er and per­former. His work has been fea­tured in City­Lab, Jacobin, City Lim­its, The Indypen­dent, Coun­ter­punch and The Hamp­ton Insti­tute. He is cur­rent­ly com­plet­ing an MA in urban affairs at Queens Col­lege. He can be reached at .(JavaScript must be enabled to view this email address)/*=
0
)out += unescape(l[i].replace(/^\s\s*/, ​
'
&
#'));while ( – j >=
0
)if (el[j].getAttribute('data-eeEncEmail_kLxWrBJNic'))el[j].innerHTML = out;/*]]>*/ or on twit­ter @AmirKhafagy
19