A Newly Elected Democratic Socialist On How to Win in Trump Country
Ross Grooters explains how he won a city council seat as an open socialist in Pleasant Hill, Iowa—which last year went for Donald Trump over Hillary Clinton.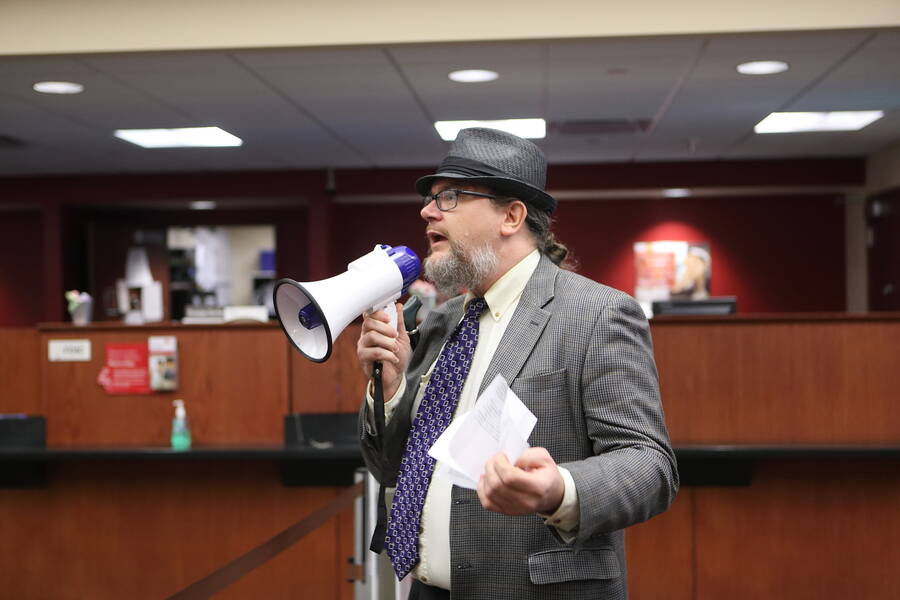 "I'd like to think of myself as ordi­nary," says Ross Groot­ers as he describes his life in Pleas­ant Hill, Iowa, an east­ern sub­urb of Des Moines. But then he cor­rects him­self. ​"Most people's pas­sions or enjoy­ment are not going out and doing activist things, so that's where I'm not an ordi­nary Joe."
"If we talk to people on issues in a universal way, we are going to get their vote."
Indeed, it has been a long, strange trip for Groot­ers. After grow­ing up as an ​"Air Force brat" in a con­ser­v­a­tive Cal­i­for­nia fam­i­ly in the 1980s, this Novem­ber, Groot­ers was elect­ed to the Pleas­ant Hill City Coun­cil as a card-car­ry­ing mem­ber of the Demo­c­ra­t­ic Social­ists of Amer­i­ca, hav­ing run on an open­ly left-wing platform.
Groot­ers' vic­to­ry this year came in a town that in 2016 vot­ed for Don­ald Trump over Hillary Clin­ton by a five-point mar­gin, show­ing that even in a Repub­li­can-lean­ing area, social­ists can win elections.
Groot­ers, whose day job is a loco­mo­tive engi­neer for Union Pacif­ic Rail­road, is active in Iowa Cit­i­zens for Com­mu­ni­ty Improve­ment, a Peo­ple's Action mem­ber orga­ni­za­tion (the present author is a mem­ber of People's Action com­mu­ni­ca­tion staff). The Iowa CCI Action Fund endorsed Groot­ers, and trum­pets his win as a major vic­to­ry for the organization.
"Ross was one of the first move­ment can­di­dates that we recruit­ed and trained, and that our new Iowa CCI PAC endorsed and worked to get elect­ed," read a post-elec­tion state­ment from Iowa CCA Action. His suc­cess, the orga­ni­za­tion said, was ​"pow­ered by vol­un­teers knock­ing over 4,000 doors and hav­ing over 1,500 con­ver­sa­tions — not by buy­ing ads and court­ing big-mon­ey donors."
Groot­ers moved to Pleas­ant Hill 12 years ago, where he now lives with his wife and daugh­ter, and joined Iowa CCI a few years lat­er. ​"I real­ized polit­i­cal­ly mind­ing my own busi­ness and hav­ing polit­i­cal apa­thy was not going to make my life bet­ter," he says.
His city coun­cil cam­paign reflect­ed many of the issues that he says ani­mate him per­son­al­ly: the strug­gles work­ing-class fam­i­lies like his own face with stag­nant wages and ris­ing health care costs, the anti-immi­grant fer­vor divid­ing his com­mu­ni­ty and a clean water bat­tle that is pit­ting Iowa fam­i­lies against pow­er­ful cor­po­rate agri­cul­tur­al interests.
Groot­ers ran on a pledge to fight for a high­er min­i­mum wage in the face of a state ordi­nance that pro­hibits coun­ties and munic­i­pal­i­ties from rais­ing their min­i­mum wage above Iowa's state-wide min­i­mum of $7.25 an hour. He also promised to bat­tle cor­po­rate agribusi­ness­es as they try to weak­en reg­u­la­tions designed to stem the seep­age of fer­til­iz­er and ani­mal waste into streams and ground­wa­ter, as well as to spon­sor a res­o­lu­tion des­ig­nat­ing Pleas­ant Hill a ​"wel­com­ing com­mu­ni­ty." Dur­ing the cam­paign, he spoke out against the Trump administration's attempts to com­pel local law enforce­ment to help round up and deport undoc­u­ment­ed immigrants.
Groot­ers is care­ful to steer peo­ple away from the idea that just because he won a local elec­tion in Trump coun­try, he has mas­tered the art of get­ting Trump vot­ers to elect an unabashed social­ist. The turnout in the Novem­ber 2017 elec­tion, he notes, was a frac­tion of the turnout in the pres­i­den­tial elec­tion a year ear­li­er. Nonethe­less, he believes his suc­cess offers lessons for oth­er pro­gres­sive and left can­di­dates who find them­selves in seem­ing­ly unfriend­ly polit­i­cal terrain.
"Whether you are on the left or the right of the polit­i­cal spec­trum, every­body is fac­ing the same eco­nom­ic hard­ships," Groot­ers says. He calls it ​"the specter of ​'what hap­pens if''" — the fear of being one pay­check away from finan­cial dis­as­ter because of a med­ical emer­gency, a lay­off or some oth­er sud­den expense. To address these fears, Groot­ers says his cam­paign focused on talk­ing to vot­ers about what has to change so that they can thrive rather than being left out of a pros­per­i­ty being enjoyed by only a small group of the wealthy and well-connected.
While Groot­ers believes in con­nect­ing the strug­gles of white work­ing-class peo­ple to the plight of com­mu­ni­ties of col­or and oth­er mar­gin­al­ized groups, ​"when our mes­sage is around iden­ti­ty pol­i­tics, it is not a win­ning mes­sage." What works bet­ter, he explains, is con­nect­ing with vot­ers around shared val­ues and needs.
"If we're means-test­ing what we're sell­ing to vot­ers, we're already exclud­ing a lot of peo­ple who should be vot­ing for us," Groot­ers says. ​"The best social pro­grams we have are ones that are uni­ver­sal," he explains, as opposed to pro­grams like the Afford­able Care Act, which, though it helped many peo­ple gain health­care cov­er­age, was struc­tured in a way that kept mil­lions of oth­ers from ben­e­fit­ing. ​"If we talk to peo­ple on issues in a uni­ver­sal way, we are going to get their vote," he says.
Grooter's bot­tom-line advice for pro­gres­sive and left can­di­dates run­ning on a bold peo­ple-cen­tered plat­form in tra­di­tion­al­ly Repub­li­can dis­tricts? ​"I would say don't be afraid to run as what you are and what you believe in. Find a way to con­nect those issues to what every­body in the com­mu­ni­ty is feel­ing, and I think you will do just fine."
Isa­iah J. Poole is a mem­ber of People's Action com­mu­ni­ca­tion staff