Even in Power, Democrats Are Proving To Be Their Own Worst Enemy
The "pay-go" rule is more proof that establishment Democrats would rather kneecap bold redistributive policies than embrace an emerging left-wing agenda.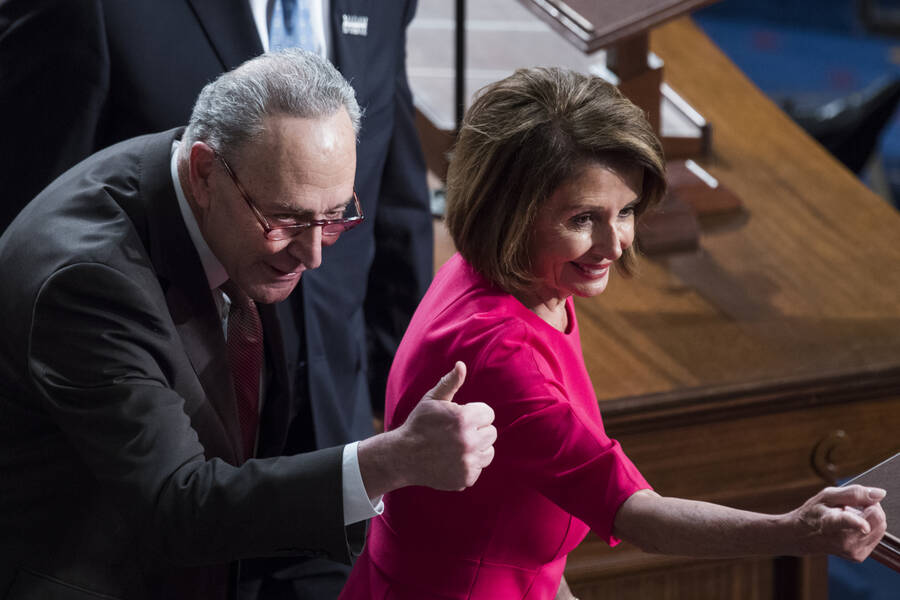 Lob any insult at a Repub­li­can politi­cian — fas­cist, war hawk, reli­gious zealot, racist ide­o­logue, misog­y­nist big­ot — and they're unlike­ly to flinch. Yet for main­stream Democ­rats, the slight they can't abide is ​"tax-and-spend liberal."
Pelosi and her fellow establishment Democrats are demonstrating that they're content to turn back to the party's cowardly past rather than meet the demands of the moment.
Democ­rats have a long-stand­ing aver­sion to the charge that they're will­ing to run high­er deficits to ful­fill pol­i­cy objec­tives. Yet again, they have cod­i­fied this trep­i­da­tion by pass­ing a rule that will both ham­string any­thing resem­bling a pro­gres­sive agen­da while also lock­ing in austerity.
The so-called ​"pay-go" rule pushed by House Speak­er Nan­cy Pelosi and Demo­c­ra­t­ic lead­er­ship requires any new tax cuts or spend­ing increas­es to be off­set by bud­get cuts or tax increas­es else­where. On Thurs­day night, the House passed a rules pack­age includ­ing pay-go. The imple­men­ta­tion of such a rule will tie the hands of Democ­rats when try­ing to pass major ini­tia­tives, from Medicare for All to a Green New Deal, at the very time the party's base is demand­ing just such bold proposals.
By cling­ing to pay-go, despite calls from lead­ing pro­gres­sives to drop the rule, Pelosi and her fel­low estab­lish­ment Democ­rats are demon­strat­ing that they're con­tent to turn back to the party's cow­ard­ly past rather than meet the demands of the moment. In doing so, Democ­rats are prov­ing to be their own worst ene­my, embrac­ing both bad eco­nom­ics and bad pol­i­tics in order to ful­fill the goals of a cen­trist ide­ol­o­gy that has proven time and again to be an abject failure.
Where did pay-go come from?
If you want to get a sense of how con­ser­v­a­tive the pay-go rule is, just look to its incep­tion. Cre­at­ed in 1990 under Repub­li­can Pres­i­dent George H.W. Bush, pay-go was first intro­duced as part of that year's Bud­get Enforce­ment Act in order to stave off increas­es in the deficit.
While a num­ber of main­stream econ­o­mists, as well as for­mer Pres­i­dent Barack Oba­ma, cred­it pay-go with help­ing to sta­bi­lize the econ­o­my and cre­ate a bud­get sur­plus in the 1990s, they often neglect to men­tion the neg­a­tive effects of the aus­ter­i­ty poli­cies enact­ed dur­ing this peri­od. Pres­i­dent Bill Clinton's 1996 wel­fare reform law, for instance, decreased fed­er­al spend­ing but also led to a marked increase in deep pover­ty, espe­cial­ly among children.
Where­as Clin­ton boast­ed about leav­ing office with a bal­anced bud­get, his suc­ces­sor George W. Bush would show no such pre­oc­cu­pa­tion with fis­cal pru­dence. Instead, Bush the sec­ond made clear that his Repub­li­can admin­is­tra­tion had no prob­lem expand­ing the deficit, so long as spend­ing went toward poli­cies like hand­outs to the wealthy and end­less war rather than mea­sures that would mate­ri­al­ly improve most people's lives.
In 2002, dur­ing Bush's first term, pay-go was allowed to expire and Bush pro­ceed­ed to push through a num­ber of deficit-explod­ing pro­grams, includ­ing his infa­mous tax cuts for the rich through the Jobs and Growth Tax Relief Rec­on­cil­i­a­tion Act of 2003.
After Democ­rats regained con­trol of Con­gress in 2007, the House of Rep­re­sen­ta­tives rein­tro­duced the rule which guid­ed leg­is­la­tion under then-Speak­er Pelosi. In 2010, Pres­i­dent Oba­ma, who had pre­vi­ous­ly advo­cat­ed pay-go when serv­ing in the Sen­ate and when run­ning for pres­i­dent in 2008, suc­cess­ful­ly pushed both cham­bers to take the pol­i­cy up as law.
In announc­ing his push for pay-go in 2009, Oba­ma said, ​"Enti­tle­ment increases…need to be paid for, they're not free. And bor­row­ing to finance them is not a sus­tain­able long-term pol­i­cy." He went on to refer to pre­vi­ous spend­ing that had raised the deficit as ​"reck­less."
It's fair to cred­it Oba­ma for crit­i­ciz­ing the eco­nom­ic ratio­nale of poli­cies such as the Bush tax cuts. Hand­ing out tax breaks to the rich is cer­tain­ly reck­less, after all. But the Oba­ma administration's ded­i­ca­tion to deficit hawk­ery led fig­ures includ­ing Trea­sury Sec­re­tary Tim Gei­th­n­er and Chief of Staff Rahm Emanuel to make sure the eco­nom­ic stim­u­lus pack­age passed in the throes of the Great Reces­sion was far small­er than what plen­ty of pro­gres­sive econ­o­mists of the time — includ­ing lib­er­al dar­ling Paul Krug­man—rec­om­mend­ed.
In a new report, researcher Josh Bivens at the Eco­nom­ic Pol­i­cy Insti­tute explains that this mut­ed stim­u­lus helped lead to the drawn-out recov­ery from the finan­cial cri­sis dur­ing which the rich have mas­sive­ly increased their wealth while low-income Amer­i­cans con­tin­ue to face low wages, increas­ing health­care costs and a pre­car­i­ous job market.
The aus­ter­i­ty poli­cies that fol­lowed the stim­u­lus, includ­ing the Bud­get Con­trol Act of 2011, led gov­ern­ment spend­ing to con­tract rather than increase. Accord­ing to Bivens, ​"The recov­ery from the Great Reces­sion was the slow­est in post-World War II his­to­ry, and the degree of fis­cal aus­ter­i­ty can entire­ly explain its slowness."
The lega­cy of pay-go
While pay-go was first intro­duced under a GOP pres­i­dent, Repub­li­cans have since resist­ed includ­ing the pol­i­cy in House rules when they've held the gav­el. The mas­sive tax cuts passed under Pres­i­dent Trump in 2017 put on full dis­play the dis­hon­esty of GOP fig­ures such as House Speak­er Paul Ryan and Sen­ate leader Mitch McConnell who them­selves have con­tin­u­al­ly warned about the dan­gers of ​"reck­less" spending.
Of course, Repub­li­cans are per­fect­ly hap­py to blow the lid off of the fed­er­al deficit if it helps achieve their agen­da. Trump's near­ly $2 bil­lion tax cut, which pri­mar­i­ly ben­e­fits the wealthy and cor­po­ra­tions, is a case in point. Now, con­gres­sion­al Repub­li­cans are using the result­ing deficit increas­es to demand cuts to pro­grams like Medicare and Social Secu­ri­ty — oth­er long­stand­ing goals of the U.S. Right.
As soon as the new Demo­c­ra­t­ic House pro­pos­es any pol­i­cy or pro­gram that skews the fed­er­al ledgers, the GOP is sure to resort back to the ​"tax-and-spend" alle­ga­tions. With Pelosi's pay-go pol­i­cy, Repub­li­cans will have a new cud­gel at their dis­pos­al: They can point out that such pro­grams defy the very House rules that Demo­c­ra­t­ic lead­er­ship put forward.
This abil­i­ty to force Democ­rats to adopt the lan­guage of deficit neu­tral­i­ty is one of the great suc­cess­es of the U.S. con­ser­v­a­tive move­ment. While Repub­li­cans have used the fed­er­al purse strings to ruth­less­ly advance their reac­tionary agen­da, since the pres­i­den­cy of Bill Clin­ton, Democ­rats have embraced the role of being the par­ty of fis­cal responsibility.
This is a goal far more in line with the dic­tates of the Nation­al Review​'s William F. Buck­ley than with pro­gres­sive econ­o­mists. And with good rea­son: Such deficit obses­sion is sure to stymie left-wing poli­cies from gain­ing leg­isla­tive traction.
The lan­guage of deficit neu­tral­i­ty will always ben­e­fit the right wing, as it pre­sup­pos­es that spend­ing tax­pay­er mon­ey on social pro­grams and pub­lic goods is nec­es­sar­i­ly a risky mea­sure that should be reined in. Yet, as has been shown time and again, deficit crises are often large­ly man­u­fac­tured. And regard­less of con­ser­v­a­tive pearl-clutch­ing over red ink, the Unit­ed States has always found enough funds to keep pump­ing mon­ey into the most expan­sive mil­i­tary on the globe.
But spend­ing the mon­ey gen­er­at­ed by our soci­ety on things that will make people's lives bet­ter — whether it's improved health­care, employ­ment, edu­ca­tion or trans­porta­tion — is exact­ly what those who call them­selves pro­gres­sives should be push­ing for. The fact that this is con­sid­ered con­tro­ver­sial shows just how far the main­stream polit­i­cal debate has skewed to the right.
Give us what we want
Vot­ers in 2018 didn't go to the polls to elect cham­pi­ons of fis­cal restraint. Rather, what they said they want­ed was more afford­able and high­er qual­i­ty healthcare.
In the midterms, states such as Ida­ho, Nebras­ka and Utah passed bal­lot ini­tia­tives to expand Med­ic­aid while Kansas and Wis­con­sin elect­ed new Demo­c­ra­t­ic gov­er­nors on their promis­es to expand the pro­gram. And across the board, vot­ers cit­ed health­care as their top con­cern — for the first time in at least a decade.
Many experts and clin­i­cians, includ­ing the Amer­i­can Med­ical Asso­ci­a­tion, agree that the most effec­tive way to pro­vide cheap­er and bet­ter health­care is through a sin­gle-pay­er, Medicare for All sys­tem which would expand cov­er­age uni­ver­sal­ly and elim­i­nate the role of the pri­vate mar­ket. And the pub­lic has come around to the idea — a poll last year shows that 70 per­cent of Amer­i­cans sup­port Medicare for All.
Pass­ing such an expan­sive pro­gram that would affect — and essen­tial­ly democ­ra­tize — a sixth of the U.S. econ­o­my nec­es­sar­i­ly requires upfront costs. And as a result, it like­ly wouldn't be able to pass under pay-go, since the rule requires bud­get offsets.
Yet even a Koch Broth­ers-fund­ed study shows that over a 10-year peri­od, Medicare for All would actu­al­ly save the coun­try $2 trillion.
Oth­er pro­grams such as a Green New Deal, which would pro­vide uni­ver­sal, liv­ing-wage employ­ment and mas­sive­ly expand the renew­able ener­gy sec­tor in order to pre­vent cli­mate dev­as­ta­tion, would also pose imme­di­ate costs. But, ulti­mate­ly, such a plan would trans­form the econ­o­my to serve the needs of the pop­u­la­tion over the long run.
John May­nard Keynes, who influ­enced gen­er­a­tions of U.S. econ­o­mists, saw such social invest­ment and uni­ver­sal employ­ment as key to achiev­ing eco­nom­ic health. And while he was a strong sup­port­er of mar­ket cap­i­tal­ism, Keynes also famous­ly not­ed in his 1936 Gen­er­al The­o­ry of Employ­ment, Wages and Inter­est that ​"The out­stand­ing faults of the eco­nom­ic soci­ety in which we live are its fail­ure to pro­vide for full employ­ment and its arbi­trary and inequitable dis­tri­b­u­tion of wealth and incomes."
Ten years after the Great Reces­sion, more and more Amer­i­cans are now com­ing to see such inequities as inte­gral to cap­i­tal­ism, and, for the first time, Democ­rats now view social­ism more favor­ably. This growth in the pop­u­lar­i­ty of social­ism has coin­cid­ed with swelling sup­port for left poli­cies, not just Medicare for All but also tuition-free col­lege, the Green New Deal and a fed­er­al jobs guarantee.
Beyond cen­trism
In 1935, the left­ist Hun­gar­i­an econ­o­mist and writer Karl Polanyi wrote of the chal­lenge fac­ing gov­ern­ments, ​"Basi­cal­ly there are two solu­tions. The exten­sion of the demo­c­ra­t­ic prin­ci­ple from pol­i­tics to eco­nom­ics, or the abo­li­tion of the demo­c­ra­t­ic ​'polit­i­cal sphere' alto­geth­er." Polanyi posed the choice as one between an eco­nom­i­cal­ly demo­c­ra­t­ic, or social­ist, sys­tem and one marked by anti-demo­c­ra­t­ic author­i­tar­i­an­ism. With Trump and his cabal of right-wing syco­phants in pow­er, along­side the grow­ing pop­u­lar­i­ty of stri­dent­ly left pol­i­tics, the choice appears to be the same in 2019.
Demo­c­ra­t­ic lead­ers should see the time as ripe to ful­ly back left-wing poli­cies that would draw a stark line in the sand between them and Repub­li­cans who would rather cut food stamps, turn Med­ic­aid into a vouch­er pro­gram and elim­i­nate the fed­er­al min­i­mum wage.
Fig­ures in the Demo­c­ra­t­ic Par­ty estab­lish­ment, how­ev­er, would appar­ent­ly rather begin their term in pow­er by hand­cuff­ing pro­gres­sive legislation.
But why?
The fact that the cor­po­rate donors bankrolling many lead­ing Democ­rats are fun­da­men­tal­ly opposed to far-reach­ing left poli­cies is like­ly one key rea­son. Pelosi her­self has long been trep­i­da­tious about ful­ly back­ing Medicare for All, while tak­ing in more than $400,000 from the health sec­tor over the course of the 2017 – 2018 elec­tion cycle. House Major­i­ty Leader Rep. Ste­ny Hoy­er, mean­while, oppos­es Medicare For All while serv­ing as the top Demo­c­ra­t­ic recip­i­ent of dona­tions from health insur­ance com­pa­nies and the sec­ond high­est from phar­ma­ceu­ti­cal com­pa­nies from 2015 to 2016.
But that's not the whole sto­ry. Cen­trist ide­ol­o­gy has long been so dom­i­nant in Demo­c­ra­t­ic cir­cles that insti­tu­tion­al­iz­ing deficit neu­tral­i­ty and avoid­ing the ​"tax-and-spend" label is now sim­ply the establishment's nat­ur­al incli­na­tion. And it con­tin­ues to be pushed for­ward by neolib­er­al think tanks includ­ing New Democ­ra­cy and Third Way.
The push for pay-go did not go unop­posed, how­ev­er. Some on the Demo­c­ra­t­ic Party's left-flank mount­ed an insur­gent cam­paign to sink the rule, includ­ing Cal­i­for­nia Rep. Ro Khan­na and incom­ing New York Rep. Alexan­dria Oca­sio-Cortez, who referred to pay-go in a tweet as ​"a dark polit­i­cal maneu­ver designed to ham­string progress on healthcare+other leg.," con­tin­u­ing, ​"We shouldn't hin­der our­selves from the start."
While they made a lone­ly duo among House Democ­rats, Khan­na and Oca­sio-Cortez helped to reveal the hypocrisy of a par­ty lead­er­ship that claims the man­tle of pro­gres­sivism while simul­ta­ne­ous­ly under­cut­ting poli­cies that would actu­al­ly pose a threat to cor­po­rate inter­ests and the casi­no cap­i­tal­ist sys­tem that keeps them at the levers of power.
The fact that Khan­na and Oca­sio-Cortez are will­ing to push back against this domin­ion of mod­er­a­tion is a heart­en­ing sign that the ascen­dance of left pol­i­tics may open the door to chal­leng­ing not just the cen­trist sta­tus quo, but the entire eco­nom­ic sys­tem on which it stands.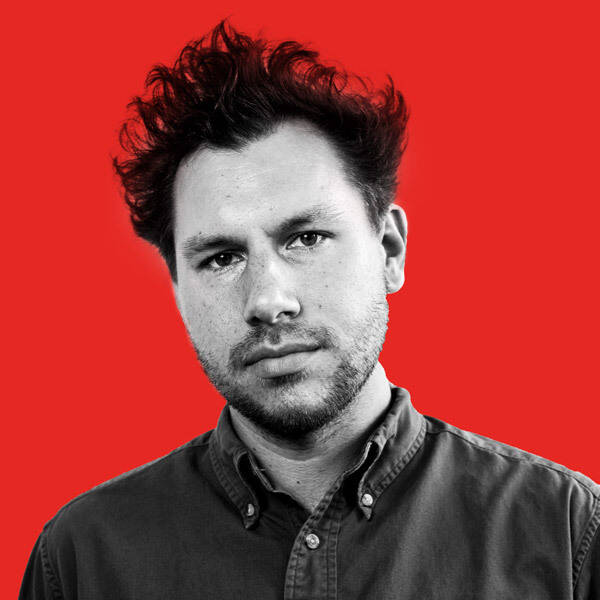 Miles Kampf-Lassin, a grad­u­ate of New York Uni­ver­si­ty's Gal­latin School in Delib­er­a­tive Democ­ra­cy and Glob­al­iza­tion, is a Web Edi­tor at In These Times. Fol­low him on Twit­ter @MilesKLassin