Top Democrats Say They Support the Iran Deal—But Here's How They've Undermined It
How imperial arrogance and veiled racism damned Obama's signature achievement.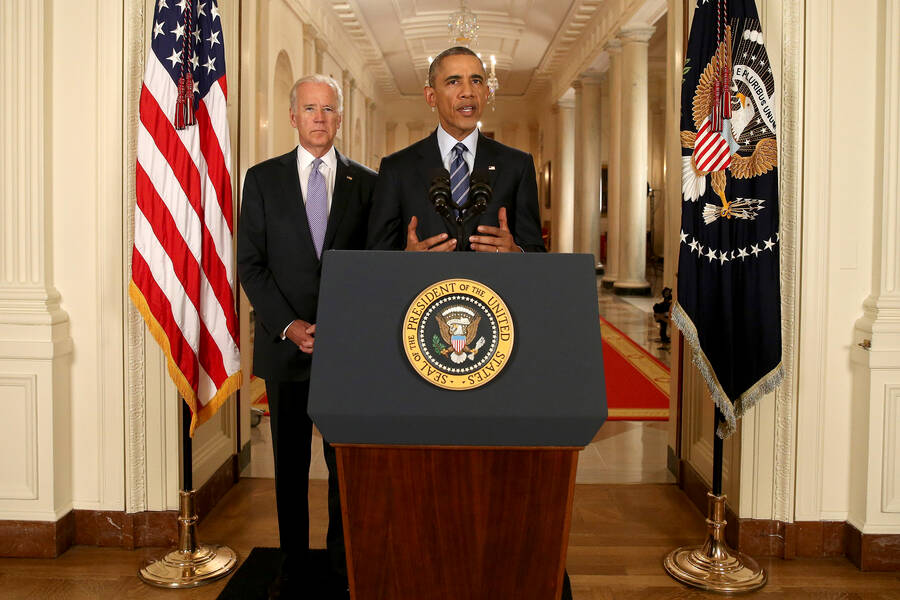 The U.S. government's tar­get­ed assas­i­na­tion of Iran­ian Gen­er­al Qas­sim Suleimani, char­ac­ter­ized by the Trump admin­is­tra­tion as a pre­emp­tive ​"defen­sive strike" after the death of a mil­i­tary con­trac­tor, was the lat­est U.S. mil­i­tary provo­ca­tion against Iran. A glee­ful John Bolton, for­mer assis­tant to the Pres­i­dent for Nation­al Secu­ri­ty Affairs, con­grat­u­lat­ed ​"all involved in elim­i­nat­ing Qassem Soleimani," call­ing the assas­si­na­tion a ​"deci­sive blow" that he hopes will lead to ​"régime change in Tehran."
Despite the diplomatic frills and savoir-faire, the United States has committed itself to a policy of extortion for decades: threats and mounting sanctions designed to bring Iranian civil society to its knees.
While war hawks like Karl Rove and Ari Fleis­ch­er sali­vat­ed at the prospect of anoth­er war, Democ­rats were quick to feign out­rage over the killing of Suleimani, lean­ing into what they char­ac­ter­ize as Trump's strate­gic fail­ures: Eliz­a­beth War­ren described the inci­dent as ​"reck­less." Biden's said ​"Trump just tossed a stick of dyna­mite into a tin­der­box." And Cory Book­er crit­i­cized ​"a pres­i­dent who has had, real­ly, a fail­ure in his Iran­ian pol­i­cy and who's had no larg­er strate­gic plan." For­mer Oba­ma aides, mean­while, have been swift in blam­ing this lat­est provo­ca­tion on Pres­i­dent Trump's 2018 with­draw­al from the Joint Com­pre­hen­sive Plan of Action (JCPOA), com­mon­ly referred to in the Unit­ed States as the Iran nuclear deal.
Signed in 2015 after almost two years of nego­ti­a­tions, the JCPOA eased the U.S.-led sanc­tions régime imposed on the Islam­ic Repub­lic by suc­ces­sive admin­is­tra­tions since 1979 in exchange for severe restric­tions on Iran's civil­ian nuclear ener­gy pro­gram. Democ­rats in Con­gress and run­ning for pres­i­dent have told the U.S. pub­lic that by rip­ping up Barack Obama's sig­na­ture for­eign pol­i­cy achieve­ment just to tar his predecessor's lega­cy, Trump undid a deal that was work­ing. But how was the deal so easy to under­mine? How have the most hawk­ish ele­ments of the Repub­li­can par­ty reassert­ed them­selves at the high­est lev­el of a sup­pos­ed­ly iso­la­tion­ist administration?
The answer is that Obama's lega­cy was to momen­tar­i­ly side­line the neo­con­ser­v­a­tive project in the Mid­dle East with­out ques­tion­ing its key premis­es. The Democ­rats damned the Iran deal — they damned it with faint praise, veiled racism, and colo­nial arro­gance. In fact, the Democ­rats have been under­min­ing the cause of peace with Iran since before the JCPOA was a glim­mer in John Kerry's eye.
In 2010, Oba­ma was asked by a reporter for BBC Per­sian if he saw any con­tra­dic­tion between his con­cil­ia­to­ry Per­sian New Year address (a ges­ture of good­will on the hal­lowed spring equinox that his admin­is­tra­tion had already been estab­lished as an annu­al tra­di­tion) and the dra­con­ian sanc­tions he'd just imposed against Iran, sanc­tions his admin­is­tra­tion would tout as ​"crip­pling." He replied that ​"what the Iran­ian gov­ern­ment has said is, it's more impor­tant for us to defy the inter­na­tion­al com­mu­ni­ty, engage in a covert nuclear weapons pro­gram, than it is to make sure that our peo­ple are pros­per­ing." Here's the thing: Iran wasn't engag­ing in a covert nuclear weapons pro­gram, and every sin­gle U.S. intel­li­gence agency would have told him so.
Sec­re­tary of State Hillary Clin­ton went fur­ther the fol­low­ing year, telling BBC Per­sian that ​"even­tu­al­ly the Iran­ian peo­ple will be free, they will not be oppressed by the kind of total­i­tar­i­an régime that cur­rent­ly rules Iran." In oth­er words, with­out declar­ing it the stat­ed pol­i­cy of the U.S. gov­ern­ment that the Islam­ic Repub­lic is ille­git­i­mate and should be over­thrown, Clin­ton nev­er­the­less sug­gests that it would be a nice idea. The de fac­to endorse­ment of régime change by Clinton's State Depart­ment is echoed in the pub­lic posi­tion of her coun­ter­part in the Trump admin­is­tra­tion, Mike Pom­peo, who has said that ​"the objec­tives are to change the behav­ior of the Islam­ic Repub­lic of Iran." Then as now, the administration's ratio­nale presents Ira­ni­ans with a par­tic­u­lar­ly cru­el catch-22: No mat­ter what the facts are, we know your gov­ern­ment is up to no good, and if ordi­nary Ira­ni­ans don't like it, you can just over­throw your sup­pos­ed­ly total­i­tar­i­an gov­ern­ment. The log­i­cal con­clu­sion of this para­dox is, of course, régime change.
Oba­ma and Clin­ton could have just said that Iran wasn't devel­op­ing nuclear weapons. Instead, they repeat­ed­ly remind­ed Iran, the gov­ern­ment and its peo­ple, that ​"all options are on the table," a geno­ci­dal threat of pre­emp­tive mil­i­tary inva­sion jus­ti­fied by the image of a scary Islam­ic Repub­lic whose fanat­i­cal lead­er­ship is a death cult, secret­ly pur­su­ing nuclear weapons to ​"wipe Israel off the map." They affirmed the fic­tion that a nuclear-armed Iran pos­es an ​"exis­ten­tial threat" to Israel, a claim that is pred­i­cat­ed on the Islam­o­pho­bic assump­tion that the gov­ern­ment of Iran is sui­ci­dal and sim­ply can­not be trust­ed with a nuclear deter­rent against bel­liger­ent aggres­sors con­stant­ly threat­en­ing to bomb it. Only a view of the Mid­dle East steeped in racism can explain the auto­mat­ic accord­ing of vic­tim sta­tus to America's junior part­ner in the Mid­dle East, an out­post of white suprema­cy appar­ent­ly enti­tled to unde­clared nuclear monop­oly as car­ries out its set­tler-colo­nial expansion.
The nuclear deal was con­ceived in sin, an impe­ri­al­ist shake­down to guar­an­tee U.S. and Israeli region­al hege­mo­ny with­out becom­ing embroiled in anoth­er pro­tract­ed mil­i­tary engage­ment. Dur­ing her failed 2008 pres­i­den­tial cam­paign, Hillary Clin­ton remind­ed Ira­ni­ans that the Unit­ed States ​"would be able to total­ly oblit­er­ate them." This men­ac­ing dis­clo­sure was an effort on Clin­ton's part ​"to get back to what worked dur­ing the Cold War," as she put it in remarks dur­ing her cam­paign. Despite the diplo­mat­ic frills and savoir-faire, the Unit­ed States has com­mit­ted itself to a pol­i­cy of extor­tion for decades: threats and mount­ing sanc­tions designed to bring Iran­ian civ­il soci­ety to its knees.
As Ker­ry, new­ly sworn in as Sec­re­tary of State, began talks with Iran­ian For­eign Min­is­ter Javad Zarif in 2013, Democ­rats who opposed nego­ti­a­tions with Iran found the image of Iran as an irra­tional actor quite use­ful. Sen. Cory Book­er and Rep. Tul­si Gab­bard, the lat­ter cur­rent­ly run­ning for pres­i­dent, were vocal crit­ics of Obama's Iran pol­i­cy from the right. When Book­er (who just dropped out of the pres­i­den­tial race) ulti­mate­ly declined to buck Oba­ma, it was begrudg­ing­ly and with half a heart. He wrote by way of expla­na­tion that while nego­ti­a­tions with Iran ​"have only delayed — not blocked — Iran's poten­tial nuclear breakout…we have now passed a point of no return that we should have nev­er reached, leav­ing our nation to choose between two imper­fect, dan­ger­ous and uncer­tain options." He urged that ​"we must be more vig­i­lant than ever in fight­ing Iran­ian aggression."
And before Gab­bard final­ly came around, she earned con­sid­er­able atten­tion from con­ser­v­a­tive media for her record of vot­ing with Repub­li­cans on anti-Iran leg­is­la­tion aimed at scut­tling diplo­ma­cy and for her hawk­ish rhetoric par­rot­ing GOP talk­ing points about ​"the world's lead­ing state spon­sor of ter­ror­ism." She was laud­ed on the right for her ​"con­cerns" about the deal, which she voiced on Fox News and as a speak­er at the 2015 con­fer­ence of the Amer­i­can Israeli Pub­lic Affairs Com­mit­tee (AIPAC). And — implic­it­ly but unde­ni­ably — she sup­port­ed efforts to under­mine the deal by attend­ing Israeli Prime Min­is­ter Ben­jamin Netanyahu's address to Con­gress on the invi­ta­tion of Repub­li­can lead­ers that same year, a speech open­ly aimed at rebuk­ing Obama's Iran pol­i­cy and boy­cotted by 56 of her col­leagues, includ­ing Sens. Bernie Sanders (I‑Vt.) and Eliz­a­beth War­ren (D‑Mass), both of whom are run­ning for pres­i­dent. Gabbard's recent attempts to repo­si­tion her­self as an anti-war politi­cian notwith­stand­ing, the only extend­ed dis­cus­sion of Iran pol­i­cy dur­ing last year's Demo­c­ra­t­ic pri­ma­ry debates revealed how much ground the par­ty shares on the need to active­ly restrict Iran's sovereignty.
Book­er was the only then-can­di­date who said at the June 26 debate that he would decline to rejoin the JCPOA to allow for the ​"oppor­tu­ni­ty to lever­age a bet­ter deal." Gab­bard ced­ed that changes to the deal would be nec­es­sary after rejoin­ing: ​"It was an imper­fect deal, there are issues like their mis­sile devel­op­ment that need to be addressed. We can do both simul­ta­ne­ous­ly to pre­vent Iran from devel­op­ing a nuclear weapon."
In a Sep­tem­ber 2019 inter­view with CNN, Gab­bard claimed with great con­fi­dence and urgency that ​"Iran is mov­ing for­ward towards devel­op­ing a nuclear weapon." How­ev­er much Rep. Gab­bard, who is not run­ning for reelec­tion in Hawaii, may dif­fer­en­ti­ate her­self from the main­stream of the for­eign pol­i­cy estab­lish­ment, she remains in lock­step with her party's over­whelm­ing instinct to play up the threat of a nuclear Iran with­out a deal in place in hopes of fright­en­ing con­ser­v­a­tives back towards the JCPOA.
It was unavoid­able that this racist car­i­ca­ture of sui­ci­dal mul­lahs, hell­bent on Israel's destruc­tion know­ing full well that assured US retal­i­a­tion means it would entail their own, informed the Demo­c­ra­t­ic response to US with­draw­al from the deal. Nowhere was the fol­ly of this gam­bit more grotesque­ly typ­i­fied for the Trump era than in the deci­sion by Dai­ly Show alum­nus John Oliv­er and his pro­duc­ers at HBO's Last Week Tonight to buy ad time for a ​"pro-Iran deal" PSA in April of 2018 dur­ing Sean Hannity's time slot on Fox News, when the pres­i­dent is pre­sumed to be watch­ing. Oliv­er is the cur­rent gold­en child of a satir­i­cal news sub­genre whose pre­vi­ous poster boy, Jon Stew­art, was beloved by Democ­rats and even called to tes­ti­fy before Con­gress on issues close to their hearts. Like Stew­art and Stephen Col­bert, he is influ­en­tial among lib­er­als and symp­to­matic of their ide­o­log­i­cal blind spots.
"0 is less than 10," an actor dressed as a cow­boy repeats in the ad: 10 is the num­ber of years the deal would have con­strained Iran's insa­tiable hunger for nukes due to its so-called sun­set claus­es (this is not true), and 0 how many years it would take Iran to devel­op one with­out it (this, too, is not true). ​"The Iran deal may not be per­fect," the cow­boy con­cedes, ​"but it restricts Iran's abil­i­ty to start mak­ing a bomb." The spot con­cludes with a black-and-white image of a mush­room clad. Even in sup­posed defense of the bill, the lib­er­al fram­ing val­i­dates the most fevered neo­con­ser­v­a­tive fan­ta­sy of all, that a sov­er­eign Iran is an exis­ten­tial threat to the Unit­ed States, Israel and ​'glob­al secu­ri­ty,' what­ev­er that is.
In an inter­view with CNN, after he was barred from enter­ing the Unit­ed States where he had planned to to address the Unit­ed Nations Secu­ri­ty Coun­cil, Zarif deliv­ered a point­ed sum­ma­tion of Iran­ian atti­tudes in light of offens­es com­mit­ted by past and present admin­is­tra­tions: ​"The Unit­ed States has to wake up to the real­i­ty that the peo­ple of this region are enraged, that the peo­ple of this region want the Unit­ed States out, and that the Unit­ed States can­not stay in this region." The retal­ia­to­ry strike against US bases in Iraq marks a dynam­ic shift in U.S.-Iran rela­tions, one which may poten­tial­ly trans­form the region.
Trump has already promised fur­ther sanc­tions against Iran. As Democ­rats decry the president's strat­e­gy as mis­guid­ed, it is worth remem­ber­ing that the first major vio­la­tion of the nuclear deal occurred with their full sup­port back in 2017, when every Sen­a­tor save for Sanders and Ken­tucky Repub­li­can Rand Paul vot­ed in favor of a sanc­tions pack­age tar­get­ing Iran along with Rus­sia and North Korea.
Now, at the cur­rent point in the administration's ​"Max­i­mum Pres­sure" cam­paign, which has tar­get­ed food and med­i­cine and sought to bring the Islam­ic Republic's oil exports ​"to zero," it is unclear what there is left to sanc­tion. What should be clear to any­one seek­ing to mean­ing­ful­ly counter the momen­tum of mil­i­tary con­flict is that diplo­ma­cy can­not be war by oth­er means. An agree­ment between those who live in fear of anni­hi­la­tion and their prospec­tive anni­hi­la­tors is no less coerced than any promise you'd make with a gun to your head. As long as the Unit­ed States attempts to dic­tate the future the Mid­dle East in any capac­i­ty, half-mea­sures in the name of progress will be under­mined by the very rela­tion­ship of dom­i­na­tion that persists.