The Democrats Need a Clear Economic Vision. Here's Where to Start.
The rising left wing of the party is leading the way, and the People's Budget and Green New Deal show how Democrats can transform the economy.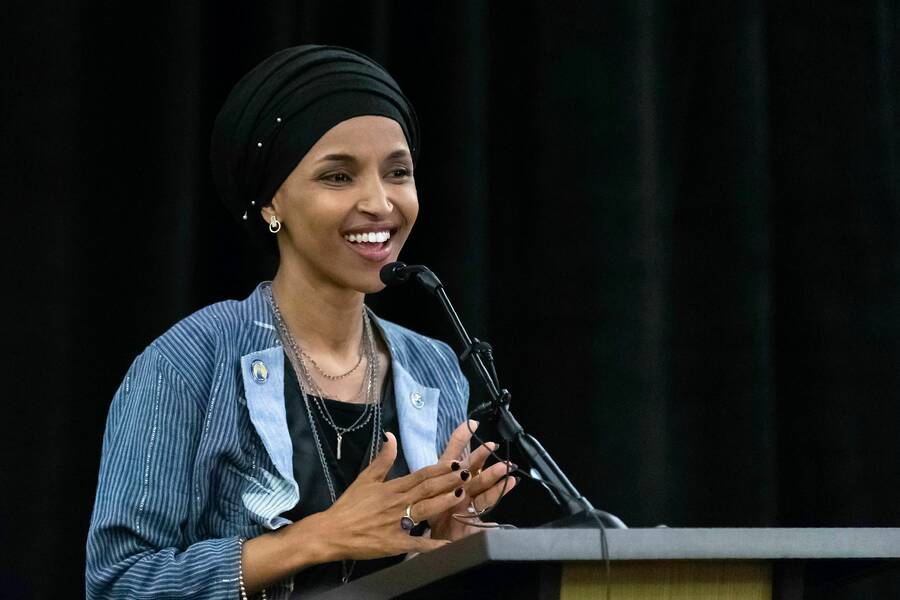 Bud­gets aren't sexy and don't get much air­time on the cam­paign trail, but the allo­ca­tion of America's finan­cial resources is arguably the most impor­tant act in pol­i­tics. As the new­ly Demo­c­ra­t­ic-con­trolled House of Rep­re­sen­ta­tives enters office in Jan­u­ary, the People's Bud­get presents an imme­di­ate oppor­tu­ni­ty for Democ­rats to sup­port a bold, con­crete plan for cre­at­ing liv­ing-wage jobs and rebuild­ing America's cor­rod­ed and unsus­tain­able infrastructure.
While costs for healthcare, education and housing continually skyrocket, wages for most workers are going nowhere.
Craft­ed annu­al­ly by the Con­gres­sion­al Pro­gres­sive Cau­cus (CPC) — the largest Demo­c­ra­t­ic cau­cus in the House — the People's Bud­get pro­pos­es to invest $2 tril­lion over 10 years (employ­ing 2.5 mil­lion peo­ple in the first year) to ​"elim­i­nate our lead-con­t­a­m­i­nat­ed water sys­tem, address our over­bur­dened mass tran­sit sys­tem, and rebuild our schools, crum­bling roads, and bridges." That's dou­ble what the Demo­c­ra­t­ic Par­ty lead­er­ship asks for in its ​"Bet­ter Deal" pack­age of reforms. The CPC bud­get also pro­vides mon­ey for work­er re-train­ing and appren­tice­ship pro­grams to help work­ers tran­si­tion to new green jobs.
But, will Demo­c­ra­t­ic Par­ty lead­ers embrace this brick-and-mor­tar eco­nom­ic jus­tice pack­age, which could boost employ­ment and wages for mil­lions while bol­ster­ing the nation's health­care, edu­ca­tion and infra­struc­ture and expand­ing green jobs to mit­i­gate cli­mate cri­sis? And, cru­cial­ly, how will Democ­rats hash out over­lap­ping agen­das in the People's Bud­get and the new­ly ascen­dant Green New Deal?
If past is pro­logue, the CPC budget's chances of pas­sage are slim even with a Demo­c­ra­t­ic plu­ral­i­ty — but the plan can help set the agen­da for both the incom­ing Con­gress and the 2020 pres­i­den­tial cam­paign. The CPC bud­get stepped clos­er to real­i­ty in 2017, gain­ing 108 Demo­c­ra­t­ic votes but still los­ing to a ​"no" coali­tion of 235 Repub­li­cans and 79 Democ­rats. (Demo­c­ra­t­ic minor­i­ty leader Nan­cy Pelosi abstained rather than sup­port­ing the measure.)
Mean­while, a resur­gent Green New Deal is pick­ing up steam in the House, with 19 mem­bers of Con­gress now back­ing Rep. Alexan­dria Ocasio-Cortez's pro­pos­al for a select com­mit­tee to craft a full Green New Deal plan by 2020. The com­mit­tee would, accord­ing to Ocasio-Cortez's web­site, ​"have author­i­ty to devel­op a detailed nation­al, indus­tri­al, eco­nom­ic mobi­liza­tion plan…for the tran­si­tion of the Unit­ed States econ­o­my to become car­bon neu­tral and to sig­nif­i­cant­ly draw down and cap­ture green­house gas­es from the atmos­phere and oceans."
Both of these mea­sures offer a proac­tive alter­na­tive often lack­ing on the Left — a brass-tacks vision for gen­er­at­ing clean, green liv­ing-wage jobs, espe­cial­ly in areas reliant on fos­sil fuel pro­duc­tion to main­tain local and region­al economies. As these par­al­lel efforts move for­ward, they offer a unique oppor­tu­ni­ty for coali­tion-build­ing around a con­crete and urgent agen­da. It remains to be seen whether the emerg­ing leg­is­la­tion will be fused togeth­er in some fash­ion, or pro­posed separately.
Eco­nom­ic Equity
While Trump and the Repub­li­cans press on with head-bury­ing cli­mate denial­ism, the People's Bud­get pro­vides a forth­right reck­on­ing with real­i­ty with its mix of green jobs, infra­struc­ture improve­ments, race and gen­der employ­ment equi­ty, and eco­nom­ic redistribution.
When it comes to trans­for­ma­tive pol­i­cy changes, the 2018 People's Bud­get would:
Close tax loop­holes and end sub­si­dies to oil, gas and coal companies
Place a price on ​

"

cor­po­rate car­bon pollution"
Invest $

12

.

8

bil­lion to ​

"

end fam­i­ly homelessness"
Invest $

1

tril­lion in ear­ly learn­ing and a ​

"

child care for all program"
Make debt-free col­lege ​

"

a real­i­ty for all students"
Enable states to ​

"

tran­si­tion to sin­gle-pay­er health care systems"
As the pro­pos­al acknowl­edges, ​"Plen­ti­ful, dig­ni­fied jobs are not enough. They must be paired with an agen­da that empow­ers women and com­mu­ni­ties of col­or while pro­tect­ing the plan­et." To boost race and gen­der jus­tice in employ­ment, ​"job train­ing and local hir­ing will reflect the racial and gen­der diver­si­ty of the community's work­force and those seek­ing employ­ment. Fed­er­al pro­cure­ment will pri­or­i­tize minor­i­ty- and women-owned busi­ness­es, coop­er­a­tives and employ­ee-owned firms, and com­mu­ni­ty-owned and munic­i­pal enterprises."
A Stim­u­lus for the Rest of Us
Some might ask, why push a New Deal-style stim­u­lus when Amer­i­ca is sport­ing an offi­cial unem­ploy­ment rate hov­er­ing around 4 per­cent? For any­one who must work for a liv­ing, the answer is clear: Beneath the veneer of offi­cial employ­ment num­bers lies deep and wide­spread under­em­ploy­ment and chron­i­cal­ly stag­nant wages for poor, work­ing- and mid­dle-class people.
While costs for health­care, edu­ca­tion and hous­ing con­tin­u­al­ly sky­rock­et, wages for most work­ers are going nowhere. Adjust­ed for infla­tion, ​"today's aver­age hourly wage has just about the same pur­chas­ing pow­er it did in 1978, fol­low­ing a long slide in the 1980s and ear­ly 1990s and bumpy, incon­sis­tent growth since then," accord­ing to an analy­sis by the Pew Research Center.
As CPC exec­u­tive direc­tor Michael Darn­er explained in an inter­view, ​"This polit­i­cal moment is char­ac­ter­ized by work­ing fam­i­lies feel­ing frus­trat­ed by stag­nant wages and squeezed by costs of edu­ca­tion, health care and hous­ing … Because of the struc­ture of the econ­o­my, there's been this break between wages and pro­duc­tiv­i­ty. The dis­con­nect in the econ­o­my between full employ­ment and good jobs, peo­ple are work­ing 2 to 3 jobs, and the min­i­mum wage has not kept up."
Save for the super rich, ​"to some extent every­body is being impact­ed" by widen­ing income gaps and stag­nant wages that can't pos­si­bly keep pace with out-of-con­trol costs of liv­ing. ​"The sense of eco­nom­ic inse­cu­ri­ty, peo­ple not being able to save, seems to cov­er a broad swath of the vot­ing population."
It's pre­cise­ly this breadth of strug­gle that makes the People's Bud­get both nec­es­sary and, at least to some degree, viable. In a March 2018 poll of swing dis­tricts across the coun­try, sig­nif­i­cant majori­ties of like­ly vot­ers expressed strong sup­port for poli­cies that are part of CPC's plat­form. More than two-thirds of these swing vot­ers, 67 per­cent, sup­port a $2 tril­lion infra­struc­ture invest­ment; 61 per­cent sup­port expand­ing Medicare and social secu­ri­ty, with 54 per­cent endors­ing Medicare for All; and 58 per­cent want to see ​"wealthy cor­po­ra­tions pay their fair share."
Anoth­er key indi­ca­tor is a sur­vey of 63 incom­ing Demo­c­ra­t­ic con­gres­sion­al rep­re­sen­ta­tives by the Pro­gres­sive Change Insti­tute. A full 84 per­cent of these new­ly elect­ed rep­re­sen­ta­tives say they aim to pro­tect social secu­ri­ty, 77 per­cent sup­port end­ing tax cuts to the rich and 60 per­cent back an increase in the min­i­mum wage, while 42 per­cent back Medicare for All and half agree to refuse cor­po­rate PAC money.
Since the CPC intro­duced the first People's Bud­get in 2014, sup­port with­in and beyond the Demo­c­ra­t­ic Par­ty has widened, Darn­er says. ​"These poli­cies are pop­u­lar not only in blue dis­tricts, but also pur­ple swing dis­tricts. The pol­i­tics are catch­ing up with the policy…the agen­da of the People's bud­get has slow­ly been embraced by the Demo­c­ra­t­ic cau­cus as a whole."
If Democ­rats and pro­gres­sives are seri­ous about address­ing America's lengthy list of domes­tic strug­gles — from health­care and hous­ing crises to a far more equi­table and enrich­ing edu­ca­tion sys­tem — they must take on mil­i­tary spend­ing, which Trump has bloat­ed con­sid­er­ably. While Demo­c­ra­t­ic lead­ers are loath to touch defense spend­ing with a 10-foot pole, the People's Bud­get begins the process of rein­ing in run­away mil­i­tary waste and excess, audit­ing the Pen­ta­gon, and invest­ing more mon­ey in diplo­ma­cy. ​"There's a tremen­dous amount of waste, and a lot of mon­ey in Cold War weapons that are not need­ed," Darn­er notes.
There's even a poten­tial sweet­en­er for deficit hawks. The bipar­ti­san and decid­ed­ly cen­trist Com­mit­tee for a Respon­si­ble Fed­er­al Bud­get notes that the CPC plan ​"calls for large increas­es in spend­ing but enough new rev­enue to both off­set that spend­ing and put debt on a down­ward path as a share of the econ­o­my," while reduc­ing debt inter­est costs by near­ly $1 tril­lion. In con­trast, the group found that Pres­i­dent Trump's bud­get ​"relies on extreme­ly opti­mistic and unre­al­is­tic eco­nom­ic growth assump­tions and numer­ous bud­get gim­micks… deficits and debt would like­ly con­tin­ue to rise unsus­tain­ably under the President's proposals."
A Green Fis­cal Coalition?
One mat­ter yet to be resolved is how the People's Bud­get and a polit­i­cal­ly surg­ing Green New Deal will fit togeth­er. Although it's ear­ly, there has been lit­tle vis­i­ble effort to bring these two agen­das togeth­er in coali­tion. The new mem­bers of Con­gress lead­ing the charge on a Green New Deal have so far made lit­tle men­tion of the People's Bud­get, but that could change when bud­get bat­tles flare up in Jan­u­ary. When asked about the Green New Deal, Con­gres­sion­al Pro­gres­sive Cau­cus leader Rep­re­sen­ta­tive Raúl Gri­jal­va (D‑AZ), told Huff­Post, ​"The res­o­lu­tion is a won­der­ful state­ment of urgency, you've got to take this seri­ous­ly and you've only got 10 years to do it…. I don't have a prob­lem with that. What I have a prob­lem with is the mech­a­nisms of how you're going to get this done. A select com­mit­tee? Great. Now what?"
Still, there is plen­ty of over­lap and room for coali­tion-build­ing, and the con­cept of a green jobs stim­u­lus under­lies both efforts. The CPC ​"has done a lot of think­ing about what a bold green ener­gy agen­da looks like," says Darn­er. ​"We have a price on car­bon, a $500 bil­lion invest­ment in clean ener­gy… We feel we have a lot of good ideas that go into what a Green New Deal would be. There's a broad goal to have bold action on a green jobs pro­gram in this Con­gress, and it could take many forms."
Christo­pher D. Cook
is an award-win­ning jour­nal­ist and author of
Diet for a Dead Plan­et: Big Busi­ness and the Com­ing Food Cri­sis
. His writ­ing has appeared in
Harper's
,
The Atlantic
,
The Nation
, the
Los Ange­les Times
and else­where. You can reach him at
http://​www​.christo​pherd​cook​.com/
.