If Democrats Want the Support of Millennials, They Should Cut Ties with the Fossil Fuel Industry
The Lawmakers elected in 2018 must lead one of the biggest government projects in history—a rapid transition to a 100-percent renewable energy economy.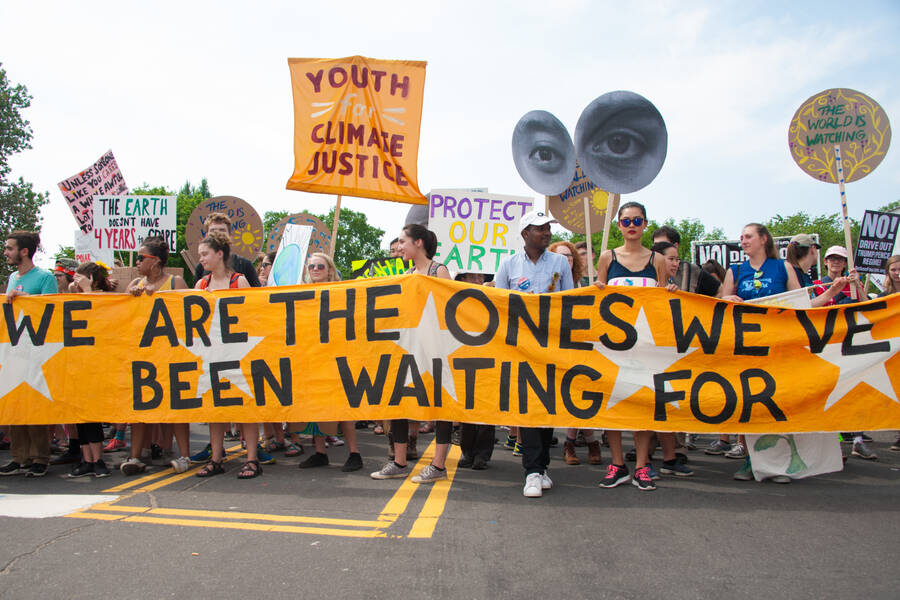 Fol­low­ing a slate of pro­gres­sive wins in late 2017, all eyes are on the 2018 elec­tions. Many across the polit­i­cal spec­trum now think the midterms could be a ​"Blue Wave" — with Democ­rats sweep­ing into office up and down the bal­lot. But amid all the buzz, a crit­i­cal ques­tion remains: Which Democ­rats will ride the Blue Wave into pow­er? Will it be those who accept cam­paign con­tri­bu­tions from and act on behalf of wealthy oil and gas exec­u­tives and lob­by­ists, or will it be those will­ing to take a stand against that indus­try to guar­an­tee a safe and secure planet?
As the record of the GOP shows, politicians trying to please Big Oil donors cannot be counted on to make decisions in line with what science says is necessary.
From issues of land sov­er­eign­ty to envi­ron­men­tal racism, there are myr­i­ad rea­sons why we need elect­ed offi­cials to reject the influ­ence of this dirty mon­ey. But the con­ver­sa­tion becomes all the more urgent when con­sid­er­ing the exis­ten­tial threat of cli­mate change, caused in large part by the burn­ing of fos­sil fuels. To stop record-break­ing, life-shat­ter­ing events like Hur­ri­canes Irma, Maria, and Har­vey, and the Cal­i­for­nia wild­fires from becom­ing the new nor­mal, sci­en­tists say indus­tri­al­ized coun­tries like the Unit­ed States must take mas­sive action by the ear­ly 2020s to tran­si­tion our econ­o­my away from oil, gas and coal-based energy.
Oil and gas exec­u­tives strive to main­tain com­pa­ny prof­its, which means hold­ing back this very tran­si­tion. They are adept at using their deep pock­ets to pres­sure politi­cians into car­ry­ing out their pro-fos­sil-fuels agen­da. If Demo­c­ra­t­ic can­di­dates choose to let Big Oil ride the Blue Wave this year, the prospects for action at the scale we need are grim. Part­ner­ing with these oil and gas exec­u­tives would not only be dis­as­trous for our society's abil­i­ty to stop cli­mate change, it would also be dead­ly for mil­len­ni­al vot­er turnout. Mil­len­ni­als were cru­cial to Demo­c­ra­t­ic wins in 2017, and we broad­ly dis­ap­prove of politi­cians tak­ing mon­ey from the com­pa­nies imper­il­ing our futures. The authors of this arti­cle are staff mem­bers for the orga­ni­za­tion Sun­rise, which is build­ing an army of young peo­ple to break the grip of the fos­sil fuel indus­try on our politics.
Over the past eight years, oil and gas mag­nates like the bil­lion­aire Koch Broth­ers have used their mas­sive wealth to change the direc­tion of major polit­i­cal par­ties. Repub­li­can politi­cians who sup­port any action to stop cli­mate change imme­di­ate­ly face pri­ma­ry chal­lengers from cli­mate deniers.
While the focus of the fos­sil fuel indus­try has been the Repub­li­can Par­ty, they've spent mil­lions in lob­by­ing and cam­paign con­tri­bu­tions to Democ­rats. In the 2016 elec­tion cycle, the oil and gas indus­try gave $7.6 mil­lion to fed­er­al Demo­c­ra­t­ic can­di­dates. Gas pipeline com­pa­nies gave $1.5 mil­lion, and util­i­ties gave $10.1 mil­lion. Calif. Gov. Jer­ry Brown, who bills him­self as an inter­na­tion­al cli­mate leader, has tak­en hun­dreds of thou­sands of dol­lars from the indus­try and lets these com­pa­nies shape cli­mate pol­i­cy for his state. In 2016, Hillary Clin­ton received $892,252 only $22,000 less than Trump. The results were clear: Clin­ton refused to sup­port a car­bon tax or a ban on frack­ing, while Bernie Sanders, who pledged to refuse con­tri­bu­tions from fos­sil fuel exec­u­tives, had a much more ambi­tious cli­mate platform.
Right now, many signs point to big oppor­tu­ni­ties for Democ­rats in 2018. Trump and the GOP con­tin­ue to push an unpop­u­lar agen­da that most Amer­i­cans see as ben­e­fit­ing the rich at the expense of the mid­dle class. The health care and tax bills are the most unpop­u­lar pieces of major leg­is­la­tion in the last 30 years. In part because of this agen­da, the gener­ic Con­gres­sion­al Demo­c­rat is cur­rent­ly polling 10 points above the gener­ic Republican.
Fos­sil fuel exec­u­tives can also see the Blue Wave com­ing, so we can expect they'll try to pour even more mon­ey into buy­ing off Democ­rats in 2018. If they suc­ceed in co-opt­ing the Blue Wave, it will be noth­ing short of dis­as­trous for the fight to secure a safe world for our gen­er­a­tion. The Democ­rats we elect in 2018 must lead one of the biggest gov­ern­ment projects in his­to­ry — a rapid tran­si­tion to a 100-per­cent renew­able ener­gy econ­o­my. If elect­ed, they will be the ones debat­ing how ambi­tious to make land­mark cli­mate leg­is­la­tion in 2021. As the record of the GOP shows, politi­cians try­ing to please Big Oil donors can­not be count­ed on to make deci­sions in line with what sci­ence says is necessary.
These debates and poli­cies will shape the course of human his­to­ry, and it's time pro­gres­sives start­ed act­ing like it. In 2018, we need to draw a line. Reject­ing the bribes of fos­sil fuel exec­u­tives, lob­by­ists and front groups must be the bare min­i­mum of any par­ty seri­ous­ly claim­ing to care about stop­ping cli­mate change and pro­tect­ing young people's futures.
For the first time, the mil­len­ni­al gen­er­a­tion will be the largest vot­ing bloc in U.S. pol­i­tics. We're fac­ing down the ter­ri­fy­ing real­i­ty that with­in our life­times, cli­mate change will trans­form our world. We come from diverse com­mu­ni­ties already feel­ing the impacts of the cri­sis, so, unsur­pris­ing­ly, we over­whelm­ing­ly sup­port ambi­tious cli­mate action. Eighty per­cent of us want to tran­si­tion Amer­i­ca to ​"most­ly" clean or renew­able ener­gy by 2030.
This year, Demo­c­ra­t­ic politi­cians across the coun­try will have a choice: do they want to court the vol­un­teer hours and votes of young peo­ple, or the cam­paign con­tri­bu­tions of fos­sil fuel exec­u­tives? Those who choose the sup­port of fos­sil fuel exec­u­tives will be judged harsh­ly by his­to­ry, but the con­se­quences may be felt soon­er. Despite the pro­ject­ed ​'Blue Wave,' Democ­rats face a dif­fi­cult and ger­ry­man­dered polit­i­cal map in 2018. To win, they will need an ener­gized vol­un­teer army, and that will take the ener­gy and time of tens of thou­sands from the mil­len­ni­als and Gen­er­a­tion Z to pull off. If can­di­dates want our sup­port, refus­ing mon­ey from the peo­ple destroy­ing our future is a good place to start.
Varshi­ni Prakash is from Boston and has orga­nized in the cli­mate move­ment for more than
5
years, lead­ing fos­sil fuel divest­ment cam­paigns on the local and nation­al lev­els. She is cur­rent­ly the Com­mu­ni­ca­tions Direc­tor for Sun­rise. Stephen O'Hanlon is a proud Penn­syl­van­ian liv­ing in Lan­cast­er. He has orga­nized for the past
4
years help­ing build a pow­er­ful pro­gres­sive move­ment in Penn­syl­va­nia to fight for a gov­ern­ment that works for all peo­ple, not just a pow­er­ful few. He is cur­rent­ly the Penn­syl­va­nia Direc­tor for Sun­rise.
&
nbsp;