Democrats Paid 'Pound of Flesh' in National Labor Board Fight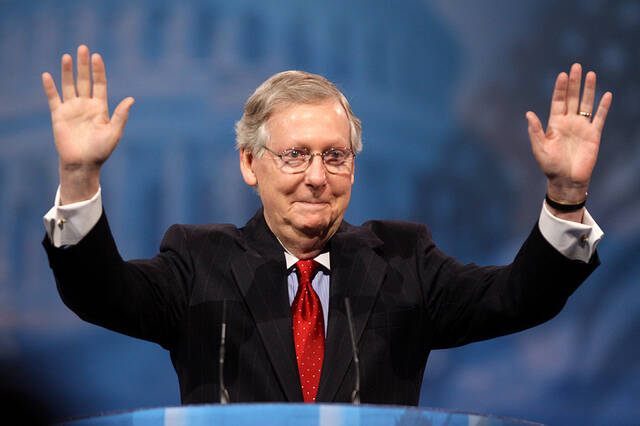 Senate Democrats on Tuesday brokered a deal with Republicans to end a stand-off over nominations to the National Labor Relations Board (NLRB), but the agreement left some with a bitter taste, and the lasting impact seems unclear.
In a broad compromise, Senate Majority Leader Harry Reid (D-Nev.) withdrew his threat to rein in the Republican use of the filibuster, in return for the speedy confirmation of a handful of President Barack Obama's nominees for federal office. Reid's compromise is getting mixed reviews, with some progressives and labor groups hailing it as a solid victory and others complaining that it was a missed opportunity to confront Republican filibuster tactics more forcefully.
Among the stalled Obama appointments that will go forward under Tuesday's deal are Thomas Perez as Secretary of the Department of Labor and Mark Gaston Pearce as Chairman of the NLRB.
The green light for Pearce, however, was only given by Republicans when Democrats agreed to jettison two sitting NLRB members: Richard R. Griffin Jr. and Sharon Block. Those two nominations are to be withdrawn and replacements offered up for quick consideration by the Senate, confirms Larry Cohen, president of the Communications Workers of America (CWA).
Griffin and Block have been among the most controversial of Obama's recent executive-branch nominations. They were originally named to the NLRB in January 2012 in contested ​"recess appoinments," but the U.S. Chamber of Commerce successfully sued to have the appointments declared unconstitutional. Since then, Senate Republicans, led by Sen. Lamar Alexander (R-Tenn.), have loudly demanded the pair's resignation. Democrats have ignored the demand because it would have reduced the NLRB to just one member, below the three-member quorum needed by law to carry out its functions as the arbiter and enforcer of the nation's principal collective bargaining law.
Cohen, who has been working with Senate Democrats on the filibuster issue on behalf of the AFL-CIO and other labor groups, alternated between calm satisfaction and barely controlled fury in discussing the deal on a conference call with news reporters on Tuesday.
​"Today is a positive day. … We take some joy in the progress [made]," Cohen began. He then lashed out at Senate Republican leader Mitch McConnell (R-Ky.) and the U.S. Chamber of Commerce for provoking a crisis at the NLRB and for using other tactics to obstruct Obama's political goals. ​"The Senate is a horror show," the CWA president said.
​"Sometimes we have to take casualties to make progress," Cohen added, in reference to Griffin and Block. The two ​"have been thrown under the bus," by both Republicans and Democrats who are unwilling to face a real showdown over the broader filibuster issue, he charged. ​"They (Republicans) wanted their pound of flesh and they got it."
The biggest failure of Tuesday's Senate deal is that it will not end the filibustering and obstructionism of Senate Republicans, except on a handful of executive department appointments, Cohen said. Organized labor is in favor of a broader and more aggressive approach that will sharply limit the ability of Republicans to use the filibuster to frustrate Obama and Congressional Democrats, he said.
Under the deal announced Tuesday, Griffin and Block will be replaced by Nancy Schiffer and Kent Hirozawa, both of whom enjoy support from labor groups. Schiffer is a former lawyer for AFL-CIO and the United Auto Workers (UAW), and Hirozawa is a NLRB staff lawyer currently working for Pearce. The Senate Committee on Health, Education, Labor, and Pensions (HELP) has already scheduled a confirmation hearing for July 23, said HELP Committee spokesperson Liz Wolgemuth.
Cohen said his understanding of the Senate deal is that Pearce, Schiffer and Hirozawa will all be confirmed by the full Senate next week. That would avoid a threatened shutdown of the NLRB that is now looming because of the August 27 expiration of Pearce's current term. If the Senate does not confirm Pearce's appointment by that date, the board would cease to have the legally required quorum to continue doing business.
The NLRB piece of the broader Senate deal represents a success for Sen. Alexander, who was stubborn in his insistence that Griffin and Block be taken off the board entirely and not merely reappointed. He issued this statement Tuesday:
This is the suggestion I offered in the HELP committee in May, that the president send us two new members to replace those that he had unconstitutionally appointed when he used his recess authority while the Senate was not in recess. This agreement allows the Senate to make clear that this president, or any president, cannot thumb his nose at the Senate's constitutional role in our system of checks and balances.
Labor groups were slow on Tuesday to endorse the Senate deal. Service Employees International Union (SEIU) President Mary Kay Henry offered this lukewarm endorsement:
We are encouraged that Leader Reid and moderate Republican Senators were able to reach an agreement on moving forward with executive nominations, particularly allowing an up or down vote on Tom Perez to be the next Secretary of Labor. … There is still a lot of work to be done to ensure that the NLRB is fully functional. Without Senate action, the NLRB will cease to function at the end of August. Without a fully functional NLRB, workers will be left with little recourse to recoup lost wages, get their jobs back or resolve other violations of our labor laws. Due to unresolved cases, thousands of workers are now waiting for justice — they deserve a fully functional NLRB. The Senate should move the President's new nominees to the floor as soon as possible.
Note: The CWA and the UAW are sponsors of InThe​se​Times​.com.
Bruce Vail
is a Baltimore-based freelance writer with decades of experience covering labor and business stories for newspapers, magazines and new media. He was a reporter for Bloomberg BNA's Daily Labor Report, covering collective bargaining issues in a wide range of industries, and a maritime industry reporter and editor for the Journal of Commerce, serving both in the newspaper's New York City headquarters and in the Washington, D.C. bureau.