Denver Teachers: We Won't Let H.R. Break Our Strike by Threatening Our Immigrant Colleagues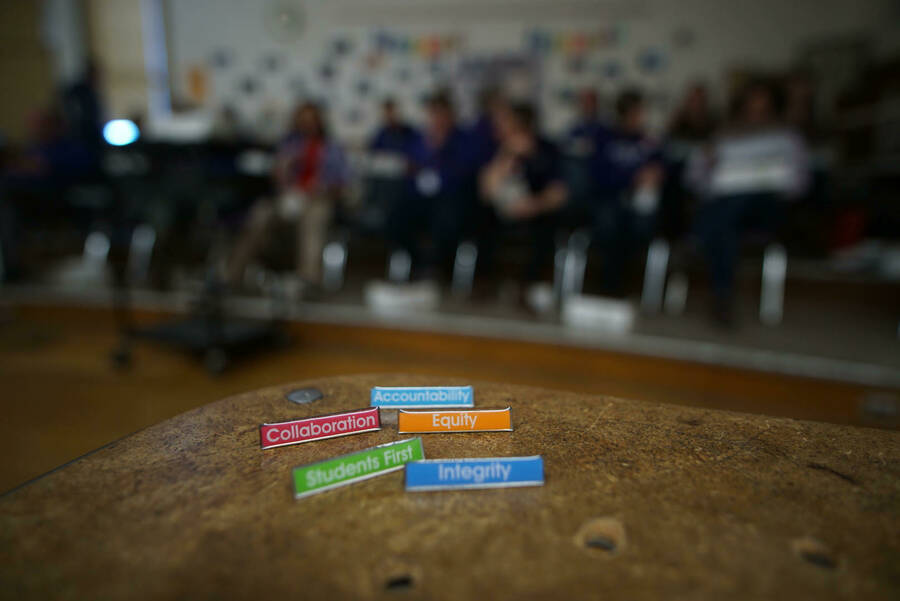 ​On February 16, 2017, the Denver Public Schools Board of Education unanimously passed the ​"Safe and Welcoming Schools Resolution." This resolution clarified and explained that Denver Public Schools is ​"committed to providing safe and welcoming spaces where all students are able to focus on their education, secure in the knowledge that the District will support their safety and emotional well-being regardless of immigration status, national origin, race or religion."
Particularly since the 2016 presidential election, students have been looking to their teachers and other school staff for guidance, stability, and a welcoming environment where they are sure they belong and feel valued, regardless of immigration status of themselves and their families. As Denver educators, we take seriously the responsibility for providing and ensuring access to education for all students.
Last night, it came to our attention that the Denver Public Schools Human Resources department sent an email letter to school administrators that threatened to report teachers on visas to immigration officials if they chose to participate in the legal strike that 93 percent of Denver Classroom Teachers Association members voted to support.
In addition to the real fear that our immigrant colleagues are feeling because of this action by their employer, we wonder what might be going through the minds of our students who happen to be undocumented. Could they too fear that DPS will take action against them the next time they do something that DPS doesn't approve of? Could they too be threatened with deportation?
DPS's action has lasting consequences on the greater community and is in direct violation of the 2017 Board Resolution that guarantees ​"safe and welcoming schools." How can we guarantee the safety of these students when we are actively persecuting members of the community for their immigration status? Today, less than 24 hours after hearing of this threatening email, our own students were in disbelief that the school district entrusted with educating them could send such an intimidating message to educators. As teachers, we want our students to feel they can trust all employees in our school district. This event has broken that trust.
Although DPS released a retraction, the damage has already been done. These types of scare tactics have lasting effects. By naming and threatening educators on visas, DPS has created divisions within the very community it was entrusted to protect. It has perpetuated the continued classification of immigrants as ​"other," and has reminded them that the value that DPS places on them extends only as far as their functioning as political pawns to disrupt a lawful strike.
As colleagues and friends, we wish to acknowledge their contribution to our community, that they do in fact have value, and they represent the very best of ​"Team DPS."
For many years, Denver Public Schools has announced its intentions to recruit and retain a workforce of educators that reflects our diverse student population. However, by creating an environment of fear and distrust, we are concerned about DPS's ability to fulfill this important mission.
Scott Stricker, school psychologist intern
Allison Mitchell, special education teacher
Nathan Woodward, social studies teacher
Hayley Breden, social studies teacher
Did you know?
Many nonprofits have seen a big dip in support in the first part of 2021, and here at In These Times, donation income has fallen by more than 20% compared to last year. For a lean publication like ours, a drop in support like that is a big deal.

After everything that happened in 2020, we don't blame anyone for wanting to take a break from the news. But the underlying causes of the overlapping crises that occurred last year remain, and we are not out of the woods yet. The good news is that progressive media is now more influential and important than ever—but we have a very small window to make change.

At a moment when so much is at stake, having access to independent, informed political journalism is critical. To help get In These Times back on track, we've set a goal to bring in 500 new donors by July 31. Will you be one of them?
Scott Stricker, Allison Mitchell, Nathan Woodward and Hayley Breden are all educators in Denver, Colorado.
Here's how you can help
In These Times is funded entirely by readers like you, but through the first half of 2021, reader donations are down 20% compared to last year. If that continues, it could spell real trouble for In These Times. We're running a short fundraising drive (from now until July 31) to get things back on track. Will you chip in?