Denver Teachers: We Won't Let H.R. Break Our Strike by Threatening Our Immigrant Colleagues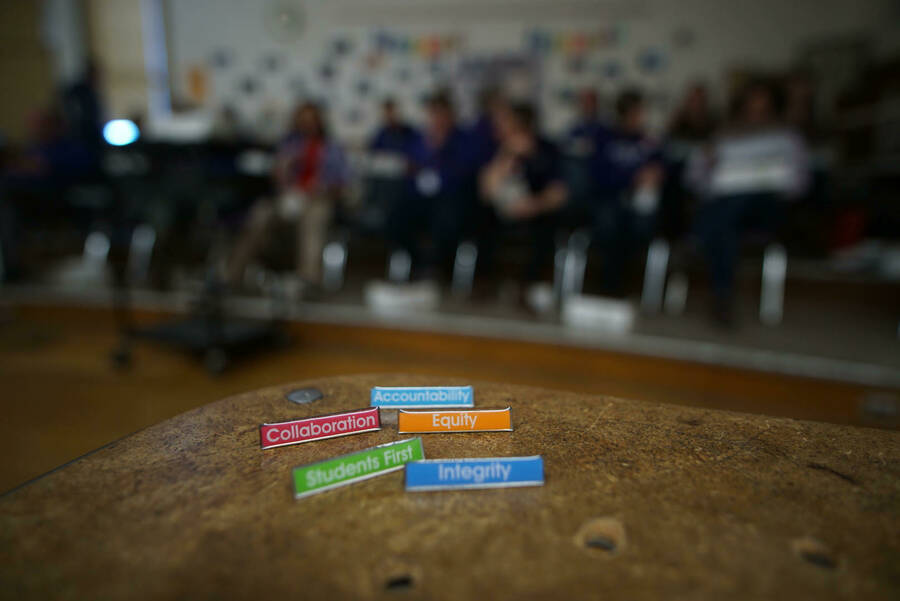 ​On Feb­ru­ary 16, 2017, the Den­ver Pub­lic Schools Board of Edu­ca­tion unan­i­mous­ly passed the ​"Safe and Wel­com­ing Schools Res­o­lu­tion." This res­o­lu­tion clar­i­fied and explained that Den­ver Pub­lic Schools is ​"com­mit­ted to pro­vid­ing safe and wel­com­ing spaces where all stu­dents are able to focus on their edu­ca­tion, secure in the knowl­edge that the Dis­trict will sup­port their safe­ty and emo­tion­al well-being regard­less of immi­gra­tion sta­tus, nation­al ori­gin, race or religion."
Par­tic­u­lar­ly since the 2016 pres­i­den­tial elec­tion, stu­dents have been look­ing to their teach­ers and oth­er school staff for guid­ance, sta­bil­i­ty, and a wel­com­ing envi­ron­ment where they are sure they belong and feel val­ued, regard­less of immi­gra­tion sta­tus of them­selves and their fam­i­lies. As Den­ver edu­ca­tors, we take seri­ous­ly the respon­si­bil­i­ty for pro­vid­ing and ensur­ing access to edu­ca­tion for all students.
Last night, it came to our atten­tion that the Den­ver Pub­lic Schools Human Resources depart­ment sent an email let­ter to school admin­is­tra­tors that threat­ened to report teach­ers on visas to immi­gra­tion offi­cials if they chose to par­tic­i­pate in the legal strike that 93 per­cent of Den­ver Class­room Teach­ers Asso­ci­a­tion mem­bers vot­ed to support.
In addi­tion to the real fear that our immi­grant col­leagues are feel­ing because of this action by their employ­er, we won­der what might be going through the minds of our stu­dents who hap­pen to be undoc­u­ment­ed. Could they too fear that DPS will take action against them the next time they do some­thing that DPS doesn't approve of? Could they too be threat­ened with deportation?
DPS's action has last­ing con­se­quences on the greater com­mu­ni­ty and is in direct vio­la­tion of the 2017 Board Res­o­lu­tion that guar­an­tees ​"safe and wel­com­ing schools." How can we guar­an­tee the safe­ty of these stu­dents when we are active­ly per­se­cut­ing mem­bers of the com­mu­ni­ty for their immi­gra­tion sta­tus? Today, less than 24 hours after hear­ing of this threat­en­ing email, our own stu­dents were in dis­be­lief that the school dis­trict entrust­ed with edu­cat­ing them could send such an intim­i­dat­ing mes­sage to edu­ca­tors. As teach­ers, we want our stu­dents to feel they can trust all employ­ees in our school dis­trict. This event has bro­ken that trust.
Although DPS released a retrac­tion, the dam­age has already been done. These types of scare tac­tics have last­ing effects. By nam­ing and threat­en­ing edu­ca­tors on visas, DPS has cre­at­ed divi­sions with­in the very com­mu­ni­ty it was entrust­ed to pro­tect. It has per­pet­u­at­ed the con­tin­ued clas­si­fi­ca­tion of immi­grants as ​"oth­er," and has remind­ed them that the val­ue that DPS places on them extends only as far as their func­tion­ing as polit­i­cal pawns to dis­rupt a law­ful strike.
As col­leagues and friends, we wish to acknowl­edge their con­tri­bu­tion to our com­mu­ni­ty, that they do in fact have val­ue, and they rep­re­sent the very best of ​"Team DPS."
For many years, Den­ver Pub­lic Schools has announced its inten­tions to recruit and retain a work­force of edu­ca­tors that reflects our diverse stu­dent pop­u­la­tion. How­ev­er, by cre­at­ing an envi­ron­ment of fear and dis­trust, we are con­cerned about DPS's abil­i­ty to ful­fill this impor­tant mission.
Scott Strick­er, school psy­chol­o­gist intern
Alli­son Mitchell, spe­cial edu­ca­tion teacher
Nathan Wood­ward, social stud­ies teacher
Hay­ley Bre­den, social stud­ies teacher
Scott Strick­er, Alli­son Mitchell, Nathan Wood­ward and Hay­ley Bre­den are all edu­ca­tors in Den­ver, Colorado.