Denver Teacher: I'm On Strike to Build a Nationwide Movement for Public Schools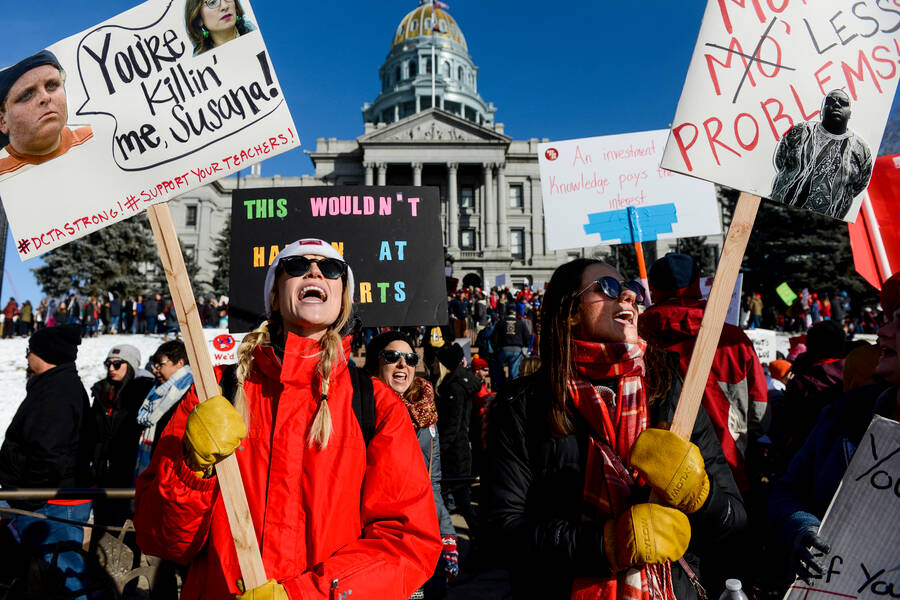 On Feb­ru­ary 11, pub­lic school teach­ers in Den­ver, Col­orado went on strike after 15 months of attempt­ed nego­ti­a­tions with the school dis­trict. The Den­ver Class­room Teach­ers Asso­ci­a­tion, which rep­re­sents the city's 5000-plus teach­ers, is look­ing for high­er salaries and changes to the dis­tricts bonus sys­tem, in which extra ​"mer­it pay" for teach­ers is cal­cu­lat­ed in a vague and incon­sis­tent way.
On a wider lev­el the Den­ver strike is an attempt to push back against the city's recent poli­cies of edu­ca­tion pri­va­ti­za­tion, which have all but engulfed the region. Accord­ing to a 2017 report from Chalk­beat, there are 104 pub­lic schools in Den­ver and 117 char­ter and ​"inno­va­tion" schools. Inno­va­tion schools are oper­at­ed by the dis­trict but they do not have to abide by all the rules that have been estab­lished in the teach­ers' union con­tract. Accord­ing to the Nation­al Edu­ca­tion Asso­ci­a­tion, Col­orado teach­ers rank 46th in the nation in pay.
Hay­ley Bre­den is a high school social stud­ies teacher and found­ing mem­ber of the Cau­cus of Today's Teach­ers, a group made up of Den­ver Class­room Teach­ers Asso­ci­a­tion mem­bers that pro­motes poli­cies of social jus­tice and anti-racism. She spoke with In These Times about the school pri­va­ti­za­tion, the polit­i­cal cli­mate and how oth­er teacher work stop­pages inspired this one.
Michael Arria: The pri­ma­ry dis­agree­ment between the union and the school dis­trict seems to be about how base pay is cal­cu­lat­ed. Can you explain how the cur­rent sys­tem is set up and what the teach­ers are fight­ing to change?
Hay­ley Bre­den: We are fight­ing for two main changes. The first issue is for high­er aver­age salaries, espe­cial­ly for edu­ca­tors in the begin­ning of their careers. Our aver­age salaries are not com­pet­i­tive with near­by school dis­tricts. This con­tributes to Den­ver's teacher turnover rate of over 20 per­cent. Nextdoor dis­trict Jef­fer­son Coun­ty, with near­ly the same num­ber of stu­dents, has a turnover rate of 14 per­cent in 2017 to 2018.
Sec­ond­ly, we are fight­ing for a reli­able salary sched­ule so that Den­ver edu­ca­tors can eas­i­ly under­stand and pre­dict their salaries each year. The cur­rent sys­tem relies heav­i­ly on incen­tives for work­ing in ​"high pri­or­i­ty" schools [Title I schools] and bonus­es for high test scores and test score growth. The main prob­lem with the cur­rent sys­tem is that the thresh­olds which must be met each year in order to earn these bonus­es are changed almost annu­al­ly, as do schools' Title I sta­tus­es. As a result, some teach­ers earn the Title I incen­tive as well as two bonus­es in one year, and then earn no incen­tives or bonus­es the fol­low­ing year. This can be solved by pro­vid­ing edu­ca­tors with high­er base pay dis­trict-wide, rather than rely­ing on a sys­tem which essen­tial­ly caus­es schools and teach­ers to com­pete for bonus money.
Michael: This actions comes on the heels of teach­ers' strikes and work stop­pages in West Vir­ginia, Okla­homa, Ken­tucky and Ari­zona. Most recent­ly teach­ers in Los Ange­les went on strike. Can you speak to how these actions inspired Den­ver teach­ers and what you learned from some of their tactics?
Hay­ley: From all of these strikes and walk­outs, we have been empow­ered by the mean­ing­ful change that has been cre­at­ed by these edu­ca­tors. While very inspir­ing, these events also brought more pub­lic atten­tion and engage­ment to the issue of stu­dents' learn­ing con­di­tions and teach­ers' work­ing con­di­tions. Stu­dents, par­ents and com­mu­ni­ty mem­bers are becom­ing engaged in a more proac­tive, urgent way in the face of increas­ing pri­va­ti­za­tion and dis­man­tling of our pub­lic schools here in Den­ver thanks to this new nation­al move­ment for pub­lic schools.
From the teach­ers in Los Ange­les, my col­leagues in the Cau­cus of Today's Teach­ers [a pro­gres­sive, social jus­tice cau­cus with­in the Den­ver Class­room Teach­ers Asso­ci­a­tion] have placed a renewed empha­sis on the need for a demo­c­ra­t­i­cal­ly orga­nized, mem­ber-dri­ven union that is proac­tive in a vari­ety of social jus­tice issues, not just teacher pay.
Michael: Unlike oth­er loca­tions where strikes have tak­en place, offi­cials have kept schools open and are using sub­sti­tutes. Why do you believe they made that deci­sion? Do you per­ceive it as a tac­tic that is being used to help break the strike?
Hay­ley: Many of the sub­sti­tutes that were sent to Den­ver schools today were actu­al­ly some of the many cen­tral office employ­ees of Den­ver Pub­lic Schools. This is impor­tant to note because many of those employ­ees sup­port DCTA's [Den­ver Class­rooms Teach­ers Asso­ci­a­tion] side of the con­tract nego­ti­a­tions, and they were told they must serve as sub­sti­tute teach­ers or else face ​"cor­rec­tive action."
I think this tac­tic can be seen as a way to help fam­i­lies who face sig­nif­i­cant hard­ships when schools are closed, but it cer­tain­ly does not help to build sol­i­dar­i­ty and team­work among all DPS employ­ees. Those of us on the pick­et lines under­stood and sym­pa­thized with our non-DCTA col­leagues who had lit­tle choice but to cross the pick­et lines. Based on today's stu­dent report­ing and local news cov­er­age, the qual­i­ty edu­ca­tion dur­ing the strike that was promised by our super­in­ten­dent did not occur.
Michael: Can you talk about some of the polit­i­cal oppo­si­tion you've faced on this? I under­stand there was a Repub­li­can attempt to out­law a strike before it happened.
Hay­ley: Last spring after the April statewide teacher walk­out in Col­orado, a leg­is­la­tor from out­side of Den­ver [Rep. Paul Lun­deen] intro­duced a bill that would have effec­tive­ly banned teacher strikes. How­ev­er, that quick­ly failed.
Much of the polit­i­cal oppo­si­tion has been with­in the so-called lib­er­al Den­ver com­mu­ni­ty. Much of the dis­agree­ment has to do with vast­ly dif­fer­ent views on what it takes to build a tru­ly equi­table school sys­tem. Myself and my col­leagues believe that bonus pay based on stu­dent test scores and incen­tives for teach­ers who work in Title I schools is just a band-aid and mean­ing­less attempt to fix more sys­temic issues like gen­tri­fi­ca­tion, income inequal­i­ty, and the need for a liv­ing wage for all people.
Peo­ple who may iden­ti­fy as Democ­rats but also sup­port the pri­va­ti­za­tion of our schools have argued that extra pay for teach­ers in Title I schools is a way to make schools more equi­table because putting more mon­ey into tra­di­tion­al­ly under­served com­mu­ni­ties is right. We dis­agree with that view because the teacher turnover rate in Title I schools is no dif­fer­ent – and high­er in some cas­es – than the dis­trict aver­age. It's not a few hun­dred or even a cou­ple thou­sand dol­lars that keeps teach­ers in their schools. The answer is a school sys­tem in which schools are not closed and opened every few years. The answer is build­ing an econ­o­my that is sus­tain­able for all Den­ver families.
Michael: Last­ly, I am won­der­ing what kind of response you've got­ten from the com­mu­ni­ty in response to the strike.
Hay­ley: While we did receive a few ​"thumbs down" and oth­er neg­a­tive ges­tures from dri­vers pass­ing our pick­et lines today, the com­mu­ni­ty sup­port for bet­ter teacher com­pen­sa­tion has been over­whelm­ing and so empow­er­ing. At the most recent school board meet­ing a few weeks ago, there were three hours of pub­lic com­ment, all of which was com­plete­ly sup­port­ive of Den­ver's teach­ers and stu­dents. Stu­dents at sev­er­al schools held walk­outs today, join­ing their teach­ers on the pick­et lines in the fight for bet­ter teacher retention.