Why Are Federal Workers Selling Oil Drilling Rights in the Midst of a Shutdown?
Any Green New Deal has to address the Department of the Interior's role in fueling climate change.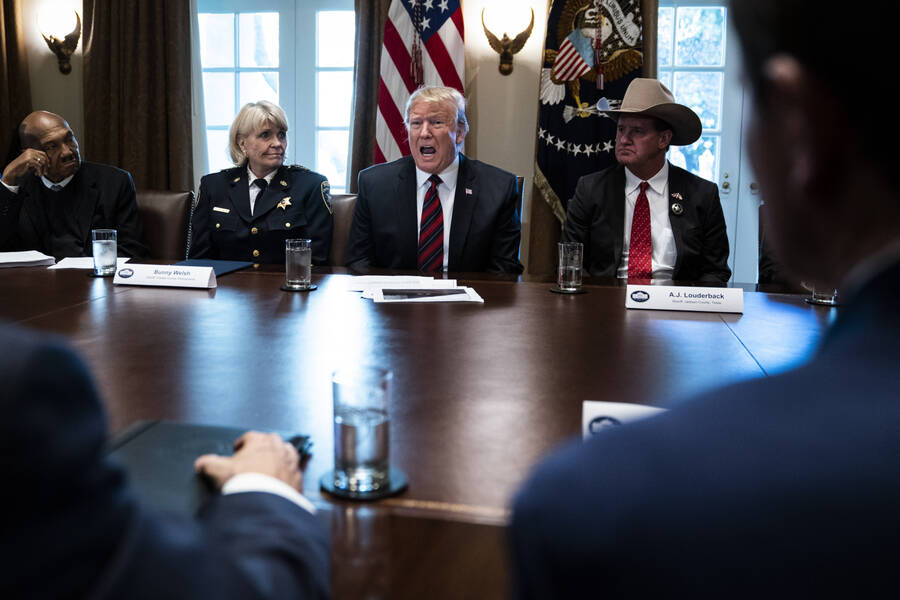 On Tues­day, the Trump admin­is­tra­tion ordered a skele­ton crew of fed­er­al employ­ees back to work dur­ing the longest gov­ern­ment shut­down in U.S. his­to­ry. Along­side the tens of thou­sands of work­ers need­ed to main­tain food safe­ty stan­dards and issue tax refunds, the White House includ­ed a small batch of staffers at the U.S. Depart­ment of the Inte­ri­or. These Inte­ri­or offi­cials, who process the sale of oil drilling rights, will ensure Big Oil gets its easy feast of pub­lic lands even with the rest of the gov­ern­ment ground to a halt.
The invisible handshake between the Interior and extractive industries originated at its founding.
The episode pro­vides the per­fect illus­tra­tion of one over­looked real­i­ty of the cli­mate cri­sis: The Inte­ri­or is the fed­er­al engine of the fos­sil-fuel econ­o­my, and there's no way to address cli­mate change with­out over­haul­ing the department.
The Inte­ri­or is the nation's largest land man­ag­er and over­sees about one fifth of the Unit­ed States. The pub­lic domain under its juris­dic­tion har­bors some of the largest coal, oil and nat­ur­al gas fields in the world. The offi­cials with­in the Inte­ri­or are respon­si­ble for the issuance of min­er­al leas­es on these pub­lic lands and ter­ri­to­ries. That has his­tor­i­cal­ly meant open­ing up America's resources for rapid exploita­tion. The Inte­ri­or, even by its own account, has leased and sold unimag­in­able acreages to pri­vate com­pa­nies for slack terms and at bar­gain-base­ment prices.
One hun­dred and sev­en­ty years of prepar­ing an easy feast for extrac­tive indus­tries has cer­tain­ly tak­en its toll on the envi­ron­ment. The Unit­ed States Geo­log­i­cal Sur­vey recent­ly con­duct­ed a study that found the pub­lic lands now con­tribute to one quar­ter of all U.S. car­bon emis­sions (not to men­tion size­able por­tions of the green­house gas­es methane and nitrous oxide). The first-of-its-kind report, com­mis­sioned under the Oba­ma admin­is­tra­tion and buried by the Trump admin­is­tra­tion late last year, con­clud­ed that coal-fired pow­er plants and coal mines — even aban­doned ones that con­tin­ue to release methane for years — rep­re­sent the largest share of these emis­sions. These oper­a­tions would nev­er have exist­ed with­out the Interior's free­wheel­ing policies.
The pub­lic faces of the Inte­ri­or often receive the blame for sup­port­ing the spade­work of fos­sil-fuel cap­i­tal­ism. A list of Inte­ri­or sec­re­taries reads like a ​"Who's Who" of ras­cals and né'er-do-wells. Albert Fall, who led the Inte­ri­or back in the 1920s, accept­ed bribes from oil com­pa­nies for the rights to drill on fed­er­al lands. His secret sale of oil reserves at Teapot Dome in Wyoming became the most sen­sa­tion­al case of high-lev­el cor­rup­tion pri­or to Water­gate. The for­mer Inte­ri­or Sec­re­tary James G. Watt has even been ranked among the ​"Top 10 Worst Cab­i­net Mem­bers" in his­to­ry for his leas­ing of pub­lic lands dur­ing the Rea­gan years.
The Interior's most recent chief, Ryan Zinke, earned blis­ter­ing crit­i­cisms through­out his tenure. He spent the bet­ter part of two years feed­ing the appetites of Don­ald Trump's plan for ​"ener­gy dom­i­nance." He once told a room full of ener­gy-sec­tor insid­ers that the ​"Inte­ri­or should not be in the busi­ness of being an adver­sary," but ​"in the busi­ness of being a part­ner." Dur­ing his final act at the Inte­ri­or, Zinke bragged that the pub­lic lands ​"shall nev­er be held hostage again for our ener­gy needs," and hand­ed over the reins to a for­mer fos­sil-fuel lobbyist.
This cap­i­tal­ist cru­sad­er makes a use­ful mus­tache-twirling vil­lain, but the Inte­ri­or is not a one-man show. The Interior's kow­tow to cor­po­rate inter­ests has bedev­iled even those lead­ers who voiced their mis­giv­ings. Stew­art Udall, who led the Inte­ri­or through­out most of the 1960s, was no stooge of pri­vate inter­ests. He warned Amer­i­cans about the ​"qui­et cri­sis" in con­ser­va­tion and the ​"van­ish­ing beau­ty" of the nation. He became some­thing of a patron saint with­in the envi­ron­men­tal move­ment for his sup­port of sev­er­al land­mark pieces of envi­ron­men­tal leg­is­la­tion. Nev­er­the­less, he strug­gled through­out his years to safe­guard America's pub­lic lands. His tenure over­saw a mas­sive cor­po­rate give­away of coal and oil leas­es in the west­ern states (some of which are large­ly respon­si­ble for car­bon emis­sions today).
The invis­i­ble hand­shake between the Inte­ri­or and extrac­tive indus­tries orig­i­nat­ed at its found­ing. The Inte­ri­or is tasked by law­mak­ers to bal­ance min­er­al extrac­tion and con­ser­va­tion on the pub­lic lands. These ​"fed­er­al sen­tinels" pro­tect the nation's nat­ur­al resources but also man­age them for com­mer­cial use. The ten­sion in these man­dates has nev­er been resolved. The Interior's knee-jerk ten­den­cy has been to exploit for the present rather than con­serve for the future. Back in the 19th cen­tu­ry, its pro­cliv­i­ties came under such heavy scruti­ny that Amer­i­can news­pa­pers and car­toons reg­u­lar­ly lam­pooned the Inte­ri­or as a Tro­jan Horse for min­ing inter­ests. A fed­er­al inves­ti­ga­tion in 1905 exposed so much cor­rup­tion and patron­age at the Inte­ri­or— ​"bad and unbusi­nesslike prac­tices" — that it rec­om­mend­ed its elimination.
The con­ser­va­tion­ist move­ment, and lat­er envi­ron­men­tal move­ment, heav­i­ly influ­enced Inte­ri­or per­son­nel, but old habits die hard. The Inte­ri­or remained com­mit­ted to rip-and-roar extrac­tion and at one point in the late 1960s issued three-quar­ters of a mil­lion acres to John­ny-on-the-spot coal com­pa­nies with­out regard to land-use plan­ning, envi­ron­men­tal pro­tec­tion, or mar­ket val­ue. ​"The sit­u­a­tion," the Nation­al Acad­e­my of Sci­ences wrote at the time, ​"has become near­ly chaot­ic." It took Nixon's Inte­ri­or Sec­re­tary Rogers Mor­ton, a rock-ribbed Repub­li­can, to ini­ti­ate a mora­to­ri­um on min­er­al leas­es just to fig­ure out how ener­gy com­pa­nies gob­bled up the country's pub­lic reserves so fast. In the after­math, the Inte­ri­or pro­duced a new tem­plate for min­er­al leas­ing based on cor­po­rate-friend­ly ​"mar­ket prin­ci­ples" — oth­er­wise known as con­duct­ing business-as-usual.
Now, more than ever, the Demo­c­ra­t­ic Par­ty needs a plat­form on the Inte­ri­or that pledges to pro­tect the pub­lic lands from fos­sil-fuel com­pa­nies. The pro­gres­sive move­ment for a ​"Green New Deal" has sought to rein-in the ​"brown econ­o­my" and its polit­i­cal and finan­cial back­ers. These activists have pro­posed a loose­ly-defined plan to extin­guish car­bon emis­sions (hope­ful­ly with­in a decade) and pro­vide a mas­sive pub­lic-works pro­gram to put com­mu­ni­ties on the front-lines of the fos­sil-fuel econ­o­my back to work. But this bold agen­da will nev­er come unto fruition unless the Inte­ri­or sev­ers its cozy ties to fos­sil-fuel interests.
The Inte­ri­or plays a cru­cial role in the pro­tec­tion of the envi­ron­ment but its con­ser­va­tion­ist eth­ic is too eas­i­ly under­mined by the pecu­niary forces with­in. What is nec­es­sary is to first stream­line the chaot­ic struc­ture of the Inte­ri­or. The nick­name for the Inte­ri­or, right after its found­ing in 1849, was the ​"Depart­ment of Every­thing Else," and pol­i­cy­mak­ers have nev­er fixed that sense of dis­or­der. The Inte­ri­or hous­es a hodge­podge of bureaus, offices and agen­cies: every­thing from Bureau of Ocean and Ener­gy Man­age­ment to the Bureau of Indi­an Edu­ca­tion. Some of these agen­cies pur­sue con­tra­dic­to­ry goals and peo­ple in dif­fer­ent parts of the Inte­ri­or view them­selves, and their work, in con­flict­ing ways. The his­to­ry of in-fight­ing at the Inte­ri­or could fill a bulky appen­dix. The staffers in the Bureau of Land Man­age­ment, for instance, have pre­vi­ous­ly worked with coal com­pa­nies to gain access to min­er­al rights under trib­al lands, while their col­leagues in the Bureau of Indi­an Affairs have some­times fought to bury the plans.
The Democ­rats need to ori­ent the Inte­ri­or around a con­sis­tent con­ser­va­tion­ist vision that puts renew­able resources front and cen­ter. Today, the Inte­ri­or ranks it two top pri­or­i­ties as ​"con­ser­va­tion stew­ard­ship" and the devel­op­ment of ​"our ener­gy and nat­ur­al resources." These pri­or­i­ties are incom­pat­i­ble with the mass extrac­tion of fos­sil fuels — no mat­ter much the Inte­ri­or likes the buzz­words of ​"sus­tain­abil­i­ty." The vision has opened too much lee­way for sleights-of-hand and skull­dug­gery. The Green New Deal, or any oth­er cli­mate change ini­tia­tive, won't be pos­si­ble until the Democ­rats beef-up the Interior's con­ser­va­tion­ist arm. This may require new laws about how the fed­er­al gov­ern­ment con­ducts its busi­ness with fos­sil-fuel com­pa­nies or how it issues min­er­al leas­es. But that's the only way to stop future Repub­li­can admin­is­tra­tions from slap­ping ​"ener­gy dom­i­nance" on the Interior's vision state­ment and auc­tion­ing off pub­lic lands for the price of an ice-cream cone.
Ryan Driskell Tate
is a PhD can­di­date in Amer­i­can his­to­ry at Rut­gers Uni­ver­si­ty. He is cur­rent­ly com­plet­ing a book on ener­gy devel­op­ment in the Amer­i­can West.