DeRay Mckesson's Baltimore Mayoral Run Has a Teach For America Problem
The media's favorite poster child for Black Lives Matter, DeRay Mckesson, came up through the school privatization movement's favorite organization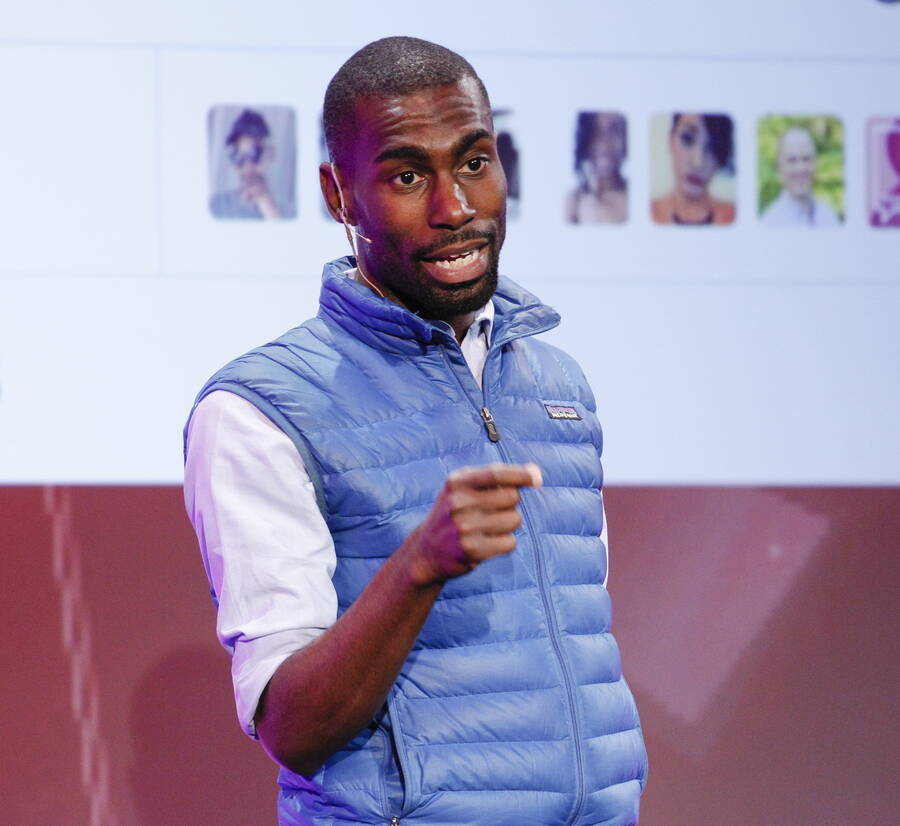 For those who've nev­er paid much atten­tion, Teach For Amer­i­ca sounds like a benev­o­lent and benign idea: recruit bright col­lege grads, give them some teacher-train­ing and place them in some of the nation's need­i­est schools for a two-year com­mit­ment to teach kids.
Baltimore activist Duane Davis, in a tweet addressed to DeRay, says, "[W]e crossed paths. On more than one occasion....you never engaged in conversation. [Y]ou were more focused on media attention."
The real­i­ty behind TFA's sun­ny exte­ri­or is some­what more sin­is­ter. Edu­ca­tion pol­i­cy experts today con­sid­er the non­prof­it found­ed by Wendy Kopp in 1990 to be at the van­guard of the school pri­va­ti­za­tion move­ment. TFA is also a media jug­ger­naut in its own right, known for deploy­ing a sophis­ti­cat­ed pub­lic rela­tions arse­nal to advance an agen­da focused on crush­ing teach­ers' unions and pri­va­tiz­ing pub­lic school sys­tems. TFA's fun­ders, includ­ing the Wal­tons, Bill and Melin­da Gates and top For­tune 500 cor­po­ra­tions, all have plen­ty to gain from the com­mod­i­fi­ca­tion of pub­lic goods and the destruc­tion of pub­lic ser­vice unions, and its 11,000 corps mem­bers pro­vide a valu­able ser­vice to that end.
Teach for America's pecu­liar brand of social jus­tice was on bold dis­play at its 25th Anniver­sary Sum­mit the week­end of Feb­ru­ary 5. The con­fab drew 15,000 corps mem­bers, alum­ni and sup­port­ers to Wash­ing­ton for three days of sem­i­nars on lofty issues like, ​"Allies, Co-Con­spir­a­tors and Coali­tion Build­ing: Show­ing Up for Jus­tice Across Lines of Pow­er." But one of the biggest draws was the dis­cus­sion on ​"The New Civ­il Rights Agen­da and Edu­ca­tion," co-head­lined by DeR­ay Mckesson, the TFA alum and 30-year-old Black Lives Mat­ter activist who received a $10,000 award from TFA last year.
When Mckesson announced his cam­paign for may­or of Bal­ti­more this month, his name topped the list of trend­ing top­ics on Twit­ter for sev­er­al hours. Even with­out out­lin­ing a strat­e­gy to defeat bet­ter-known, more entrenched can­di­dates, Mckesson received near­ly $130,000 in online dona­tions, met with Pres­i­dent Barack Oba­ma (who said Mckesson and asso­ciates ​"were bet­ter orga­niz­ers than I was"), and secured his sta­tus as one of the country's most close­ly watched polit­i­cal out­siders. Head­lines appeared across nation­al media, from Slate to the Guardian to the Wash­ing­ton Post, with the pro­gres­sive online mag­a­zine Truthdig pro­claim­ing Mckesson ​"Truthdig­ger of the Week."
With his can­di­da­cy for a city whose pub­lic schools are a key tar­get of the edu­ca­tion reform move­ment, the time seems right to scru­ti­nize Mckesson's rela­tion­ship with Teach for Amer­i­ca more close­ly. His high-pro­file appear­ance at the TFA gala only days after fil­ing his last-minute bid to enter the race was only the lat­est col­lab­o­ra­tion with the orga­ni­za­tion spear­head­ing a sus­tained attack on teacher's unions and tra­di­tion­al pub­lic schools.
Pro­mo­tion From TFA, Shade From Local Organizers
DeR­ay Mckesson is a pro­lif­ic Twit­ter per­son­al­i­ty who first came to nation­al promi­nence dur­ing the upris­ing of 2014 in Fer­gu­son, Mis­souri. His live-tweet­ing of protests in the wake of Michael Brown's death quick­ly gar­nered a mas­sive fol­low­ing, and as a wave of protests swept the Unit­ed States, Mckesson was con­sis­tent­ly among the first on the scene, mak­ing him and his Twit­ter feed an invalu­able source of infor­ma­tion for journalists.
With his rapid emer­gence, Mckesson devel­oped a well-tai­lored image as a media dar­ling, known in equal mea­sure for his ubiq­ui­tous blue Patag­o­nia vest and com­posed atti­tude, hold­ing his own in inter­views with the most con­fronta­tion­al cable news hosts. The name ​"DeR­ay" became syn­ony­mous with the Black Lives Mat­ter protest move­ment, boost­ed by fea­tures in main­stream news mag­a­zines and pro­mo­tion from inter­na­tion­al celebri­ties like Bey­once. His influ­ence emanates from Twit­ter, where he main­tains over 300,000 fol­low­ers, mix­ing live updates from demon­stra­tions against police bru­tal­i­ty with com­mer­cial-style pro­mo­tions of cor­po­ra­tions like McDon­ald's and Spotify.
As Mckesson rose to promi­nence, TFA was there to pro­vide pro­mo­tion through its pow­er­ful PR apparatus.
Mckesson had no con­nec­tion to Fer­gu­son when he first arrived on Aug. 16, 2014, accord­ing to an inter­view he gave Huff­in­g­ton Post lat­er the same year. But it didn't take him long to con­nect with anoth­er pro­test­er named Brit­tany Pack­nett, with whom he began work­ing the same day. The fact that Pack­nett is exec­u­tive direc­tor of TFA's St. Louis chap­ter like­ly con­tributed to their imme­di­ate rapport.
At the time, Mckesson was senior direc­tor of human cap­i­tal for Min­neapo­lis Pub­lic Schools. He says he com­mut­ed to Fer­gu­son on week­ends before even­tu­al­ly quit­ting his job to protest full-time.
A Twit­ter search query pro­duces a clear time­line of Mckesson's sub­se­quent tran­si­tion from human resources man­ag­er to social jus­tice tal­ent, aid­ed by pro­mo­tion from Teach For Amer­i­ca. It begins with a post to TFA's offi­cial blog, in which Mckesson pon­tif­i­cates on his activ­i­ties in Fer­gu­son. TFA tweet­ed a link to that post on Aug. 21, 2014, at which point Mckesson would have been in the besieged mid­west­ern town for five days.
The next item on the time­line, dat­ed Octo­ber 29, is an adver­tise­ment for a ​"nation­al con­fer­ence call fea­tur­ing TFA alum­ni @MsPackyetti [Pack­nett] and @deray." Two weeks after that, the Wash­ing­ton Post pub­lished a pro­file of McKesson and TFA pro­mot­ed it on social media, iden­ti­fy­ing him again as a ​"TFA alum­nus." On Dec. 10, Time Mag­a­zine named him along with a hand­ful of peers, col­lec­tive­ly referred to as the ​"Fer­gu­son pro­test­ers," as run­ners-up to its 2014 Per­son of the Year, and TFA pro­mot­ed that too.
Mckesson's big break, how­ev­er, was a cov­er sto­ry for the May 4 issue of the New York Times Mag­a­zine, with the head­line ​"Our Demand Is Sim­ple: Stop Killing Us." The 6700-word arti­cle pro­files McKesson and fel­low overnight celebri­ty Fer­gu­son pro­test­er Johnet­ta Elzie, as they drop in to demon­stra­tions in cities across the Unit­ed States over the course of nine months.
I reached Mckesson by phone soon after he announced his can­di­da­cy for may­or. When I asked him how he fund­ed all of his trav­el despite not hav­ing a job, he ini­tial­ly replied, ​
"
I don't have an answer to that. There's an answer in the
New York Times
article."
After being informed that the Times offered no such answer, Mckesson stat­ed, ​"You know, peo­ple ask me this, and I haven't even had to answer this. I, you know, me and you don't have a rela­tion­ship. You know, you're a reporter to me, you know — I've answered it many times. I will put that on my list of things and try to dou­ble back with you." Sev­er­al hours lat­er, Mckesson texted me the link to a Tweet from last spring claim­ing that his excur­sions were fund­ed by unnamed ​"fam­i­ly and friends."
Accord­ing to the Times pro­file, back in mid-Sep­tem­ber 2014, he and Pack­nett began pub­lish­ing a newslet­ter for the Fer­gu­son protests called ​"This Is the Move­ment," which boast­ed ​"a wide range of read­ers, from reporters to pro­test­ers to offi­cials with­in the Depart­ment of Jus­tice," The newslet­ter was most­ly com­posed of con­sist­ed of links to arti­cles from var­i­ous exter­nal pub­li­ca­tions, a few char­i­ties and sev­er­al T‑shirt vendors.
The arti­cle briefly touch­es on Mckesson's career pri­or to Fer­gu­son, describ­ing him as hav­ing devel­oped a rep­u­ta­tion as a ​"ruth­less admin­is­tra­tor," for whom fir­ing teach­ers was always in the best inter­ests of chil­dren. This echoes Teach For America's union-bust­ing cul­ture, per­haps best exem­pli­fied by its most infa­mous alum­na, for­mer D.C. Pub­lic Schools chan­cel­lor Michelle Rhee. Among the brazen stunts that marked her takeover of DCPS was her on-cam­era fir­ing of a tenured pub­lic school prin­ci­pal — a humil­i­a­tion lat­er com­pound­ed by the fact that the event was staged for film, to be replayed dur­ing a nation­al­ly tele­vised broad­cast as well as in the doc­u­men­tary fea­ture film, Wait­ing For Super­man.
Mckesson the ruth­less admin­is­tra­tor is a dif­fi­cult char­ac­ter­i­za­tion to rec­on­cile with Mckesson the pro­test­er, as he's typ­i­cal­ly por­trayed in print, nor does it come through in his tele­vi­sion appear­ances. But com­men­tary from some activists who have encoun­tered him on the ground in Fer­gu­son and Bal­ti­more sug­gests that the pub­lic image he's cul­ti­vat­ed is a media fiction.
Bal­ti­more activist Duane Davis, in a tweet addressed to DeR­ay, says, "[W]e crossed paths. On more than one occasion….you nev­er engaged in con­ver­sa­tion. [Y]ou were more focused on media attention."
In a Feb­ru­ary 15 inter­view with Jared Ball on Real News Net­work, Hands Up Unit­ed Coali­tion co-founder Tau­reen Rus­sell offered a with­er­ing assess­ment of Mckesson's alleged role as a protest orga­niz­er. ​"I nev­er worked with DeR­ay. I'm real­ly hard-pressed to find any local peo­ple who have worked with DeR­ay. All the local peo­ple that I know worked with DeRay…work with the estab­lish­ment," he said. ​"So when I hear him go on Col­bert and Col­bert is say­ing he's orga­nized protests in Ferguson…I don't know an action or a protest that he was a part of."
Rus­sell is a founder of the orga­ni­za­tion that ini­ti­at­ed the protests in Fer­gu­son against the police killing of Michael Brown and the acquit­tal of the offi­cer who gunned him down. He told Ball he was relieved that Mckesson had moved on to pol­i­tics because ​"it makes my job [as a grass­roots orga­niz­er] a lit­tle easier."
Address­ing Bal­ti­more, Rus­sell said of Mckesson: ​"He's a pro­po­nent for char­ter schools. He's not typ­i­cal­ly a fan of pub­lic schools. So the edu­ca­tion­al issue comes up. His pol­i­cy, to be hon­est, most peo­ple see as a neolib­er­al kind of pol­i­cy. And we know his pol­i­cy comes from Teach For America."
On Mes­sage
Mckesson's polit­i­cal plat­form, which he has begun rolling out on the DeR­ay For May­or web­site, seems mod­eled in part on those who have forced cor­po­rate edu­ca­tion reforms under big-city may­ors like Rahm Emanuel and Michael Bloomberg. Both of those may­ors have jus­ti­fied uni­lat­er­al takeovers of the pub­lic school dis­tricts in their respec­tive cities using teacher eval­u­a­tions based on stan­dard­ized test scores, which have con­sis­tent­ly been debunked as unre­li­able mea­sures of aca­d­e­m­ic performance.
The lan­guage in his sec­tion on edu­ca­tion is typ­i­cal of school pri­va­ti­za­tion advo­cates, accord­ing to Dr. Julian Vasquez Heilig, a pro­fes­sor of edu­ca­tion at Cal­i­for­nia State Uni­ver­si­ty at Sacre­men­to who has writ­ten exten­sive­ly about Teach For Amer­i­ca on his web­site, Cloak­ing Inequity.
"Most of it is pret­ty con­sis­tent with what TFA says on a dai­ly basis," he told me.
I could not get con­fir­ma­tion from Mckesson about whether his can­di­da­cy was sup­port­ed by Teach For America.
Sev­er­al sources told me they received emails from Mckesson's may­oral cam­paign after they signed up to receive updates from Cam­paign Zero, a crim­i­nal jus­tice reform orga­ni­za­tion focused on lim­it­ing abu­sive polic­ing and ban­ning quo­tas on tick­ets and arrests that he helped launch.
When I reached him by phone on Feb­ru­ary 14, Mckesson refused to dis­cuss sub­jects like cam­paign per­son­nel or out­side donors. Asked if he was har­vest­ing emails gath­ered by Cam­paign Zero to pro­mote his may­oral cam­paign, McKesson sim­ply said, ​"No com­ment." He would­n't dis­close any details about his campaign's vot­er data­base man­age­ment, and declined to offer details about a pri­vate pol­i­cy meet­ing in Jan­u­ary that was cov­ered by the Wash­ing­ton Post. Among about a dozen atten­dees of the meet­ing were mem­bers of Cam­paign Zero's plan­ning team and Don­nie O'Callaghan, a for­mer TFA corps mem­ber and project man­ag­er for a TFA off­shoot called the New Teacher Project. The New Teacher Project was found­ed by Michelle Rhee to sup­ple­ment TFA's efforts to sup­ply new teach­ers to school districts.
Also in the room with Mckesson was Pack­nett, the for­mer TFA admin­is­tra­tor, and Elzie, who joined the two of them at TFA's 25th anniver­sary. Togeth­er, they are three parts of Cam­paign Zero's four-per­son plan­ning team, rais­ing fur­ther ques­tions about the organization's ties to TFA and its role in Mckesson's cam­paign for mayor.
"

The Sec­ond Half of the Movement"

TFA's offi­cial func­tion is to recruit recent col­lege grad­u­ates for tem­po­rary teach­ing jobs in impov­er­ished school dis­tricts, and its meth­ods in that endeav­or have been a source of increas­ing ran­cor. But its oth­er, less­er-known and more pecu­liar mis­sion is to train its corps mem­bers to become polit­i­cal oper­a­tives in order to direct­ly influ­ence pub­lic edu­ca­tion policy.

A 2007 sto­ry in the New York Times Mag­a­zine described TFA's efforts, which its lead­er­ship calls ​"the sec­ond half of the move­ment," to move beyond the class­room by prepar­ing alum­ni for careers in pub­lic office. A shell com­pa­ny called Lead­er­ship for Edu­ca­tion­al Equi­ty (LEE) pro­vides train­ing and fund­ing to aspir­ing politi­cians and can­di­dates affil­i­at­ed with TFA. Mckesson refused to answer when I asked him whether LEE had con­tributed to his campaign.

Today, all lev­els of gov­ern­ment are hon­ey­combed with TFA alum­ni, from local to state to the fed­er­al lev­el. Two of the D.C. State Board of Education's nine mem­bers are for­mer corps mem­bers backed by LEE, and Wash­ing­ton Post colum­nist Valerie Strauss recent­ly quot­ed Pres­i­dent Oba­ma say­ing, ​"There are even TFA alum­ni work­ing for me in the White House."

Some have already demon­strat­ed sub­stan­tial pow­er over edu­ca­tion pol­i­cy. In 2011, when TFA alum­nus John White was super­in­ten­dent of the New Orleans Recov­ery School Dis­trict, he closed every sin­gle pub­lic school and turned the RSD into the first all-char­ter school sys­tem in the coun­try. White has since been pro­mot­ed to super­in­ten­dent of schools for the State of Louisiana by right-wing Repub­li­can Gov. Bob­by Jindal.

TFA's Machi­avel­lian agen­da belies its feel-good rhetoric and care­ful­ly cul­ti­vat­ed image as the front line of a ​"new civ­il rights move­ment" — a mes­sage Mckesson chan­nels through his tweets, as well as in inter­views. When I asked him if he'd ever had polit­i­cal aspi­ra­tions before decid­ing to run for may­or, Mckesson said, ​"Being famil­iar with two dif­fer­ent pub­lic school dis­tricts made it clear to me that so much of the work around jus­tice, equi­ty, and mak­ing com­mu­ni­ties thrive — or the con­di­tions that allow com­mu­ni­ties to thrive — is sys­temic and struc­tur­al. So I try to be in places where I can push sys­tems and struc­tures to be bet­ter, such as in protest."
Unfin­ished Business
Mckesson's can­di­da­cy in Bal­ti­more arrived at a for­tu­itous time for the edu­ca­tion reform move­ment. The city is already in the process of clos­ing a dozen pub­lic schools, and as Slate​'s Rachel M. Cohen not­ed, the future may­or gets to decide what to do with the build­ings. What's more, the city's exist­ing char­ter schools main­tain a union­ized teach­ing force and oper­ate under sub­stan­tial over­sight from the city's school dis­trict. That's unusu­al for char­ters, and implies unfin­ished busi­ness in Bal­ti­more for TFA's net­work of edu­ca­tion reformers.
In the plat­form pro­vid­ed on his cam­paign web­site, Mckesson pledged to ​"assess the fea­si­bil­i­ty of repur­pos­ing closed schools and recre­ation cen­ters to ensure oppor­tu­ni­ties are avail­able in all neighborhoods."
I asked Vasquez Heilig what the impli­ca­tions of Mckesson's pro­pos­al might be for Baltimore.
"Repur­pos­ing for what?" he said. ​"I sus­pect what he's after is what the Teach For Amer­i­ca net­work has been after in Chica­go, Detroit, and New Orleans. For exam­ple, in Chica­go they've sold emp­ty school build­ings to char­ter schools for a dol­lar. These are build­ings that the pub­lic has spent hun­dreds of thou­sands of dol­lars on, so this repur­pos­ing has been at the ben­e­fit of char­ter schools."
When I asked Mckesson if he would close any schools as may­or of Bal­ti­more, he scoffed, empha­siz­ing that the may­or doesn't con­trol the school sys­tem. But would he allow school clo­sures? Would he do any­thing to pre­vent them? ​"That's like ask­ing me if I'm gonna change the bus sched­ule," he declared. ​"The may­or doesn't man­age the bus schedule."
In my con­ver­sa­tion with Vasquez Heilig, he offered clues as to how the Bal­ti­more mayor's lack of con­trol over schools might fac­tor into a TFA-backed agen­da. ​"Teach For Amer­i­ca alums have pressed for may­oral con­trol in Chica­go and oth­er places," Vasquez Heilig told me. ​"Their modus operan­di has been to con­trol school sys­tems in a top-down fash­ion. They don't sup­port com­mu­ni­ty-based approach­es to edu­ca­tion reform."
This unfin­ished busi­ness is poten­tial­ly very lucra­tive, espe­cial­ly for tech com­pa­nies. Mckesson's plat­form includes pro­pos­als to cre­ate ​"an online hub of aca­d­e­m­ic enrich­ment" pro­grams and to ​"collaborat[e] with local tech­nol­o­gy entre­pre­neurs and inno­va­tors to launch com­put­er and cod­ing oppor­tu­ni­ties" in schools.
Vasquez Heilig called TFA a ​"hub of edu­ca­tion reform" that main­tains alliances with char­ter schools and busi­ness inter­ests in Sil­i­con Val­ley. He said the net­work helps fun­nel mil­lions of dol­lars in state and fed­er­al funds into con­tracts with pri­vate firms.
While there's noth­ing wrong with intro­duc­ing cut­ting edge tech­nol­o­gy in schools, accord­ing to Vasquez Heilig, the way it's imple­ment­ed is crit­i­cal. ​"I don't think any­one dis­agrees with inte­grat­ing tech­nol­o­gy," he says, ​"but replac­ing good instruc­tion and expert teach­ers with tech­nol­o­gy has no sup­port in the research literature."
The mar­ket incen­tives facil­i­tat­ed by con­tracts with Sil­i­con Val­ley are respon­si­ble for this trend, accord­ing to Vasquez Heilig. He cites test­ing based on the Com­mon Core stan­dard, which has pro­lif­er­at­ed with edu­ca­tion reform, as a prime example:
"You can't actu­al­ly run the Com­mon Core tests with­out the prop­er tech­nol­o­gy. Because of these tests, all these tech­nol­o­gy and soft­ware com­pa­nies are mak­ing a lot of mon­ey, because dis­tricts have to invest in the tech­nol­o­gy to run the test­ing and have enough of it so they can test every kid. So not only do the test­ing com­pa­nies make mon­ey hand-over-fist from the stan­dards, the tech­nol­o­gy com­pa­nies do, too."
Even if local tech entre­pre­neurs lead the devel­op­ment of high-tech cur­ric­u­la in Bal­ti­more, their exe­cu­tion will like­ly depend on expen­sive deals with Sil­i­con Val­ley firms. In that regard, Mckesson has still more in com­mon with his friends in TFA; Buz­zfeed reports he has ​"strong rela­tion­ships" with exec­u­tives at com­pa­nies like Medi­um and Twit­ter. Cul­ti­vat­ing rela­tion­ships with tech giants has become a ​"major tac­tic" of Cam­paign Zero, Buz­zfeed says, adding that its activists are work­ing with Twit­ter to host a pres­i­den­tial forum on racial justice.
The lack of trans­paren­cy in the DeR­ay For May­or cam­paign means the pub­lic will have to wait until March to iden­ti­fy all the con­trib­u­tors to its six-fig­ure finances. But if his­to­ry is any indi­ca­tor, we can expect it to include many of the same finan­cial inter­ests that have waged assaults on pub­lic school teach­ers and stu­dents across the coun­try. It remains to be seen if Teach For Amer­i­ca and one of its most famous cadres will final­ly be held to account for their pri­va­ti­za­tion agen­da, before it begins to take hold in Baltimore.
This arti­cle first appeared at Alter​Net​.org
Drew Franklin is cre­ative direc­tor for the pol­i­tics and cul­ture web­site Orches­trat­ed Pulse. He tweets at @dcentralized.