Despite a New Constitution, the Fight for Gender Equality in Tunisia Continues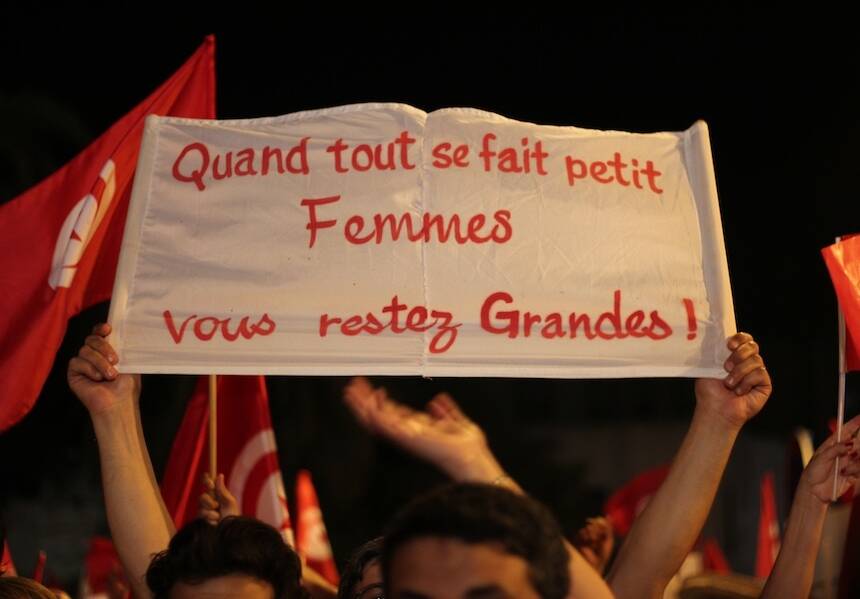 After more than two years of arguments and concessions between Islamic and secular parties, on January
26
, the Tunisian National Constituent Assembly ratified the country
&
rsquo;s new Constitution. When it was signed, assembly members spontaneously started to chant the national anthem and congratulated each other for the achievement. Indeed, there was cause for celebration. Tunisians signed one of the most progressive Constitutions in the Arab world, one that includes a commitment to gender equality. Yet, the celebratory media coverage failed to mention that other Arab countries, such as Algeria and Morocco, have also committed to gender equality in their Constitution. Article
45
of the Tunisian Constitution guarantees
&
ldquo;equality of opportunities between women and men to have access to all levels of responsibility and in all domains
&
rdquo; and Article
46
seeks parity
&
ldquo;between men and women in elected assemblies.
&
rdquo; In an interview for UN Women, Sana Ben Achour, women
&
rsquo;s rights activist, explained that the Tunisian Constitution is the first one in the Arab world to ensure equal access to the presidency. Additionally, Article
20
states:
&
ldquo;All male and female citizens have the same rights and duties. They are equal before the law without discrimination.
&
rdquo; This accomplishment would not have been possible without the work of feminist activists and women
&
rsquo;s organizations that have advocated for gender equality.
Following the January
2011
overthrow of Tunisia
&
rsquo;s authoritarian President Zine el-Abidine Ben Ali, a number of women activists feared their rights would be taken away from them. In August
2012
, the Islamist party Ennahda
&
mdash;which won the country
&
rsquo;s first democratic elections in October
2011
&
mdash;proposed a Constitution that would have granted women a
&
ldquo;complementary role inside the family.
&
rdquo; Shortly after the draft was made public, protests shook the capital. Women
&
rsquo;s rights supporters marched down Habib Bourguiba boulevard in Tunis chanting,
&
ldquo;We rebelled together, we will build Tunisia together.
&
rdquo; The Islamist party took a step back explaining that they had no intention of stripping women of their rights. It
&
rsquo;s not a coincidence that the protest took place on the street named after the man who was Tunisia
&
rsquo;s president from
1957
to
1987
. After all, he proposed the
&
ldquo;Personal Status Code
&
rdquo; that in
1956
granted women equal divorce rights and outlawed polygamy. Ben Ali, despite his many flaws, supported these policies and promoted the education of women. According to a
2010
report by the Ministry of Education, the number of girls enrolled in secondary school rose from
25
.
6
percent between
1965
and
1966
to
58
percent between
2008
and
2009
. Moreover, between
2012
and
2013
,
62
.
3
percent of higher education students were women. Nonetheless, despite these figures, women in
2012
made up only
25
percent of the Tunisian labor force. The new Constitution was, for the most part, enthusiastically welcomed by the international community. The New York Times
&
rsquo; headline read
&
ldquo;Tunisia
&
rsquo;s Remarkable Achievement.
&
rdquo; Constitutional experts described it as a
&
ldquo;triumph of consensus politics.
&
rdquo; And the Secretary General of the United Nations Ban Ki-moon released a statement calling the event
&
ldquo;another historic milestone
&
rdquo; for the democratic transition of Tunisia. Yet gender parity advocates in Tunisia, like Faiza Benhadid, the program coordinator at the Center of Arab Women for Training and Research (CAWTAR), remain skeptical.
&
ldquo;There is no big difference between what Tunisia was and what Tunisia is now,
&
rdquo; she says.
&
ldquo;You can
&
rsquo;t say there has been a change until the transition process is completed and there
&
rsquo;s stability.
&
rdquo; She adds that the outcome of the future presidential and legislative elections are crucial for the stabilization of the country and will determine whether the Constitution is more than a piece of paper. CAWTAR was created in
1993
in order to provide a platform for research and analysis of gender and women
&
rsquo;s status in the Arab world. The organization
&
rsquo;s mission is to
&
ldquo;eradicate discrimination against Arab women and reduce gender gaps by promoting research, education, training and advocacy in all areas of life that affect the status of women.
&
rdquo; Benhadid
&
mdash;who previously worked in the UN as a gender, human rights and culture adviser for the Arab region
&
mdash;explains that the main issue in Tunisia and the rest of the Arab world is inconsistencies in the law. According to Benhadid, one of the main challenges is attaining gender equality in the private sphere as well as in the public life.
&
ldquo;In Tunisia everybody knows there is equality between men and women in the law
&
mdash;but for the responsibility of the family, it
&
rsquo;s men [who decide], it
&
rsquo;s the father, the householder,
&
rdquo; she says.
&
ldquo;There
&
rsquo;s not equality.
&
rdquo; In addition, she says,
&
ldquo;all issues related to gender-based violence are still managed as a family [domestic] issue, it
&
rsquo;s still considered the private sphere.
&
rdquo; An example of such inconsistency is the article in the penal code that halts the prosecution of rapists if they choose to wed their victims. Morocco had a similar law in its penal code and repealed it in January after a teenage rape survivor, forced to marry her attacker, committed suicide.
&
ldquo;This is one of the main issues,
&
rdquo; says Benhadid,
&
ldquo;even if the Tunisian law now contains prohibitions against sexual harassment, it
&
rsquo;s not defined from a gender perspective and it
&
rsquo;s not specified in the workplace.
&
rdquo; According to Benhadid, many human rights and women
&
rsquo;s organizations are suspicious as to why the conservative party decided to support such a Constitution.
&
ldquo;[Gender equality advocates] are happy with the achievement but want to continue fighting because the Constitution is only a small step,
&
rdquo; she says.
&
ldquo;It does not clarify what will be the future.
&
rdquo; She says activists and organizations are working to ensure that the gender equality guaranteed by the Constitution is translated into national legislation. Benhadid explains that Tunisia has an egalitarian legal system that respects human rights but the laws are not enforced.
&
ldquo;There is a serious problem related to the rule of law and accountability, which are the main human rights principles to ensure that the right holders are enjoying their rights and the duty bearers are meeting their obligations.
&
rdquo; Speaking of the international accolades that have greeted the new Constitution, Benhadid says,
&
ldquo;I don
&
rsquo;t want to be overoptimistic when a process of change has not finished. I take note and evaluate the change in fair measure. In politics, it
&
rsquo;s so rotten. It
&
rsquo;s one step forward and two steps back, if not
10
steps back.
&
rdquo; Benhadid is not scared to look at the worst possible scenario. She can imagine the conservative movement gaining the total majority in Parliament after the elections that are scheduled for sometime later this year. The date hasn
&
rsquo;t been set.
&
ldquo;Do you think they
&
rsquo;ll continue with this Constitution?
&
rdquo; she asks.
&
ldquo;I really doubt it.
&
rdquo;
Socialism ... Seriously
"The most fun and accessible introduction to socialist ideas I've ever read."—Anand Gopal
For a limited time, when you donate $20 or more to support In These Times, we'll send you a copy of the new, expanded edition of Socialism ... Seriously by Danny Katch.