Despite School District's Legal Threats, Chicago Teachers Stage One-Day Political Strike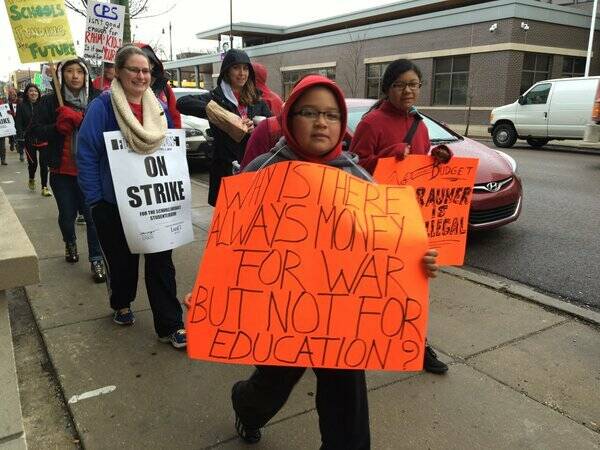 Even at 6:30 a.m., there was no lack of enthu­si­asm from teach­ers who were on strike at the Maria Sauce­do Ele­men­tary School in Lit­tle Vil­lage yes­ter­day morn­ing. ​"We are here because we love our stu­dents and because we are out here set­ting an exam­ple, we are rais­ing a whole new gen­er­a­tion of activists," spe­cial edu­ca­tion teacher Sarah Cham­bers yelled from a bullhorn.
The Chica­go Teach­ers Union (CTU) offi­cial­ly walked out for the day over what they say is an unfair labor prac­tice (ULP) amid con­tract nego­ti­a­tions with Chica­go Pub­lic Schools (CPS): the uni­lat­er­al deci­sion by the dis­trict to stop giv­ing steps and lanes pay increas­es (the for­mer based on length of time served in the dis­trict, the lat­ter the result of new cre­den­tials like master's degrees), in vio­la­tion of their pre­vi­ous con­tract, which expired in June 2015 but still cov­ers teachers.
It was thus a legal strike, the union argues — con­trary to the views of CPS lead­er­ship.
But what­ev­er the legal jus­ti­fi­ca­tion, the action was a rare move by a union in the Unit­ed States (though more com­mon in oth­er coun­tries) — a polit­i­cal strike aimed at the right-wing bil­lion­aire Repub­li­can Gov. Bruce Rauner over his refusal to raise need­ed rev­enue (or even reach agree­ment on a budget).
"This strike is tar­get­ed pri­mar­i­ly to Bruce Rauner," explained union pres­i­dent Karen Lewis, decked out in CTU red as she vis­it­ed South Side schools in the morn­ing. ​"He's the one hold­ing the bud­get hostage."
The schools and oth­er pub­lic ser­vices need long-term, sus­tain­able fund­ing, not a flim­sy ​"quick fix," Lewis said. That means new rev­enue, which the union wants to come pri­mar­i­ly from Chicago's and Illinois's wealth­i­est citizens.
Stand­ing in front of a school where she pre­vi­ous­ly taught, King Col­lege Prepara­to­ry School, Lewis greet­ed a for­mer col­league who had ear­li­er in her career demon­strat­ed the impor­tance of spe­cial edu­ca­tion. Now the school faced cuts in spe­cial ed. King School also has a fair­ly good library, but no librarian.
The one-day strike, which cul­mi­nat­ed in a mass march of sev­er­al thou­sand (esti­mates went as high as 15,000) teach­ers and sup­port­ers through a cold rain at rush hour in down­town Chica­go, was also an occa­sion to express sol­i­dar­i­ty between CTU and oth­er unions and com­mu­ni­ty groups, not only for more fund­ing for pub­lic needs, but a dif­fer­ent bal­ance of spend­ing: more on edu­ca­tion and aid for young peo­ple, less on polic­ing and incarceration.
At a forum at Chica­go State Uni­ver­si­ty, a large­ly black pub­lic school on Chicago's South Side, Black Youth Project 100 joined with CTU in lead­ing a dis­cus­sion about the impli­ca­tions of the threats to the school as a result of its receiv­ing no funds from the state as a result of the bud­get impasse. With lay­offs of half the staff immi­nent and the school fac­ing poten­tial clo­sure, BYP100 lead­ers, such as co-chair Damon Williams, said Rauner's poli­cies have been dev­as­tat­ing for the university.
Rauner argues that the tax cuts already imple­ment­ed and those he hopes to enact are need­ed to make busi­ness­es com­pet­i­tive in the state. But Williams, the mem­ber of BYP 100, argues that if the tax rev­enues were main­tained and expand­ed, the state could keep open and expand col­leges that could make busi­ness­es more com­pet­i­tive by pro­vid­ing an edu­cat­ed work force that also could reduce black youth unem­ploy­ment and imprisonment.
Anoth­er uni­ver­si­ty that pri­mar­i­ly serves work­ing-class stu­dents of col­or, North­east­ern Illi­nois Uni­ver­si­ty, was the site of a protest on the Norhwest Side of the city, with a New Orleans-style ​"jazz funer­al" march to mourn the ​"death" of high­er edu­ca­tion. One pro­tes­tor car­ried a large pole with a skele­ton in a cap and gown at the top, bear­ing a sign that read ​"stop killing pub­lic edu­ca­tion." Pro­test­ers say Gov. Rauner has near­ly elim­i­nat­ed MAP grants, which allow low-income stu­dents to attend college.
Speak­ers includ­ed social­ist Seat­tle City Coun­cil mem­ber Kshama Sawant, and AFT Pres­i­dent Ran­di Wein­garten, who exclaimed that they were all ​"fight­ing for the basic prin­ci­ple of the Amer­i­can Dream." that prin­ci­ple being evoked sev­er­al times by dif­fer­ent speak­ers. Richard Gross­man, a Pro­fes­sor in the Col­lege of Arts and Sci­ences at NEIU and a mem­ber of AFT Local 4100, echoed the point, say­ing that pub­lic edu­ca­tion and high­er pub­lic edu­ca­tion serve as ​"entry points for many African Amer­i­cans, Lati­nos, and minori­ties." Attack­ing it, he says, as Rauner has done, would only take away oppor­tu­ni­ties from those seek­ing to make a bet­ter live for them­selves and their families.
About 100 peo­ple also gath­ered out­side the Illi­nois Youth Cen­ter Chica­go on the city's West Side. They led a march — spon­sored by Racial jus­tice groups includ­ing Project NIA, Assata's Daugh­ters, Black Lives Mat­ter-Chica­go, the Chica­go Free­dom School and oth­ers — from the youth prison to Hen­ry Sud­er Ele­men­tary. One of the pro­test­ers present was Julian Thomp­son, a doc­tor­al stu­dent at the Uni­ver­si­ty of Chica­go whose research cen­ters on incarceration.
Thomp­son, who has a daugh­ter in CPS, described the school sys­tem as ​"not suit­able for chil­dren to grow and devel­op in ways that are mean­ing­ful." He lament­ed the puni­tive dis­ci­pli­nary prac­tices that all too often lead to prison and not­ed the mil­i­ta­riza­tion of his old CPS high school, which now has met­al detec­tors and police guards both of which con­tribute to an envi­ron­ment where stu­dents face dif­fi­cul­ties when they try to go to the bathroom.
Large, orga­nized groups of stu­dents joined the day's actions. After march­ing along­side pick­et­ing teach­ers in the morn­ing, more than 50 stu­dents gath­ered down­town at noon to hold their own action: a speak­out about the impact of bud­get cuts on their schools.
Stu­dents talked about los­ing art class­es, school coun­selors and favorite teach­ers before march­ing to City Hall, where they attempt­ed to deliv­er ​"pink slips" to May­or Rahm Emanuel. The may­or him­self nev­er showed up, but stu­dents lat­er began chant­i­ng, ​"Where's Rahm? Right here!" as they passed a giant inflat­able rat set up near CPS headquarters.
Faced with teach­ers' strikes, city offi­cials often echo a com­mon refrain: ​"I don't think kids should pay a price for a polit­i­cal mes­sage," May­or Emanuel said Fri­day morning.
Cameron Miller, a senior at Wen­dell Phillips High School, doesn't buy that the strike hurts stu­dents. ​"Any kid who shows up to today's protests is going to learn a lot," he insists.
To prove his point, Miller came up with a can­ny way to make par­tic­i­pa­tion in today's actions ​"count" for stu­dents: He talked his school admin­is­tra­tors into sign­ing off on ser­vice-learn­ing hours for those attend­ing the youth-led march­Fri­day after­noon. Since the Chica­go Stu­dents Union (CSU), a reg­is­tered non-prof­it, was involved in the action, it meets CPS' guide­lines. More impor­tant­ly, ​"there's def­i­nite­ly an edu­ca­tion­al basis for this," he says seri­ous­ly. ​"Civic education."
CSU was born out of the fight to halt Chicago's 2013 mass school clos­ings. Unlike the teacher's union, the group has no for­mal sta­tus under labor law, but that doesn't stop it from rep­re­sent­ing stu­dents' inter­ests through col­lec­tive action. In recent years, stu­dents fight­ing school clos­ings and high-stakes test­ing have also formed unions in cities like Philadel­phia, Newark and Providence.
Miller is rel­a­tive­ly new to CSU; he says his first time protest­ing was last fall, when the city released graph­ic video show­ing the fatal police shoot­ing of black teenag­er Laquan McDon­ald. From there, he con­nect­ed with oth­er stu­dents orga­niz­ing against police bru­tal­i­ty and the under­fund­ing of African-Amer­i­can and Lati­no schools. The effects of this are plain at his high school, locat­ed in the city's Bronzeville neighborhood.
"I have a dra­ma class with 48 kids in it," he says. ​"We lit­er­al­ly have peo­ple stand­ing against the wall because there's no place for them to sit."
At DePaul Uni­ver­si­ty, Col­in Macombs said he has a stake in the day's protest because he is a future teacher.
"They're try­ing to blame teach­ers for prob­lems in schools but real­ly it's a bud­get prob­lem. We're fight­ing to stop the cuts," Macombs said.
Mem­bers of the Fight For 15, many of whom work at McDonald's, promi­nent­ly par­tic­i­pat­ed in ral­lies at the schools. They cal­cu­late that 51 per­cent of fast food work­ers receive some form of pub­lic assis­tance, which costs $368 mil­lion a year. Raise pay at McD's and oth­er fast food work­ers and the state would have that $368 mil­lion for edu­ca­tion, the group says.
Also, rais­ing the pay of fast food work­ers would not only help young peo­ple pay for expens­es of col­lege or oth­er train­ing. It would help the many adults with chil­dren who work in low-wage indus­tries. With wages at $15 an hour or more, fam­i­ly income would increase, pro­vid­ing more sta­bil­i­ty to stu­dents, and more time for adults to spend with their chil­dren, argues Steven­son Moore, 46, a McDonald's work­er since he was 16 and now respon­si­ble for the care of sev­en children.
Lewis embraced the com­mu­ni­ty sup­port, but still sees labor union sol­i­dar­i­ty and engage­ment on pub­lic issues as cru­cial for improv­ing life in Chica­go. ​"We've had a dor­mant labor move­ment for many years," Lewis said, ​"and it will not get bet­ter until the labor move­ment gets mov­ing again."
The CTU and its sup­port­ers in Chicago's labor move­ment may be again put to the test in the near future: After insist­ing that the teach­ers' action was ille­gal in the run-up to the strike, CPS CEO For­rest Clay­pool announced last night that the dis­trict would sue the union for the cost of the strike and would pur­sue an injunc­tion to pre­vent the union from ever pur­su­ing such an action again.
"Law­break­ing can­not go unchecked, there has to be account­abil­i­ty for bla­tant­ly break­ing the law," Clay­pool said, accord­ing to DNAin­fo Chica­go.
CTU lead­er­ship made clear its posi­tion on Friday's legal­i­ty ahead of the strike.
"We are going to strike over things that judges might con­sid­er ille­gal, but we con­sid­er moral and right," CTU Vice Pres­i­dent Jesse Sharkey told a labor-friend­ly audi­ence a week ear­li­er. ​"There might be judges that dis­agree with us…" He shrugged. ​"But we dis­agree with them."
Eli Massey, Jen­nifer Ball, Ben Rosen­field, Car­o­line Beck and Mic­ah Uet­richt con­tributed report­ing to this article.
Rebec­ca Burns is an asso­ciate edi­tor at In These Times. David Moberg is a senior edi­tor at In These Times.