Despite Some Union Support, Trump's New Labor Pick Would Be Terrible for Workers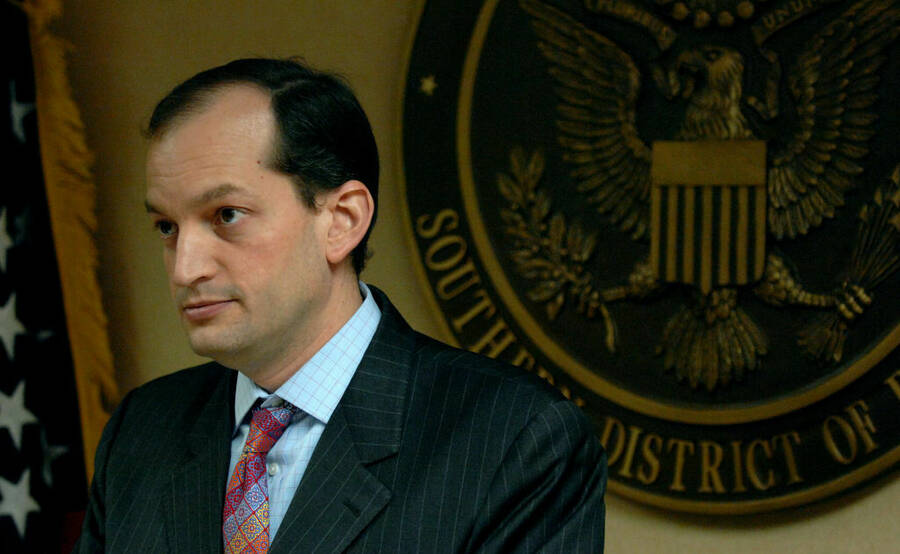 Pres­i­dent Don­ald Trump's new pick to head the Labor Depart­ment is get­ting an ear­ly boost from a ​"divide-and-con­quer" strat­e­gy against labor unions and their allies, even before his qual­i­fi­ca­tions and back­ground as a civ­il ser­vant are scru­ti­nized in a Sen­ate con­fir­ma­tion hearing.
The nom­i­na­tion of R. Alexan­der Acos­ta was announced by Trump less than 24 hours after the president's first choice for the job, ham­burg­er-chain exec­u­tive Andrew Puzder, dropped out of con­sid­er­a­tion. Puzder faced mount­ing Sen­ate oppo­si­tion, even from some con­ser­v­a­tive Repub­li­cans, because of dis­clo­sures that he had per­son­al­ly bro­ken labor law by hir­ing an undoc­u­ment­ed house­hold ser­vant, and also that he had been accused of spousal abuse many years ago.
Labor unions and Demo­c­ra­t­ic Par­ty lead­ers in Wash­ing­ton, D.C., had main­tained a uni­fied front against the Puzder nom­i­na­tion but that uni­ty dis­solved almost imme­di­ate­ly with the announce­ment of Acosta's nom­i­na­tion Feb­ru­ary 16. His first con­fir­ma­tion hear­ing, which was sched­uled for this week, has been moved to March 22.
The first endorse­ment came from the Inter­na­tion­al Union of Oper­at­ing Engi­neers, fol­lowed by one from the Inter­na­tion­al Asso­ci­a­tion of Fire Fight­ers and then the Labor­ers Inter­na­tion­al Union of North Amer­i­ca (LIU­NA) got on board. AFL-CIO Pres­i­dent Richard Trum­ka even offered luke­warm praise, telling MSNBC News: ​"Well, we're going to vet him, but he does have a his­to­ry of enforc­ing the laws that pro­tect work­ers, which is a real plus, where­as Puzder had a his­to­ry of vio­lat­ing the rules."
Acos­ta, 48, is cur­rent­ly dean at the Flori­da Inter­na­tion­al University's law school, a posi­tion he has held since 2009. A Har­vard-trained lawyer, he held sev­er­al appoint­ed posi­tions in the admin­is­tra­tion of George W. Bush. Before that, he was a labor lawyer at the giant law firm Kirk­land & Ellis LLP, known for rep­re­sent­ing large multi­na­tion­al corporations.
Pro-labor Democ­rats in the Sen­ate have been con­spic­u­ous­ly qui­et on Acosta's nom­i­na­tion — at least thus far. Sen. Eliz­a­beth War­ren, a Demo­c­rat from Mass­a­chu­setts, for exam­ple, was an out­spo­ken oppo­nent of Puzder but spokes­woman Alex­is Krieg tells In These Times that the sen­a­tor has no com­ment on Acosta.
Not so shy is Erik Loomis, assis­tant pro­fes­sor of his­to­ry at the Uni­ver­si­ty of Rhode Island and a labor com­men­ta­tor at the pro­gres­sive blog Lawyers, Guns & Mon­ey. He said:
"The selec­tion of Alexan­der Acos­ta should pro­vide no com­fort for those who worked to reject Andy Puzder. Acos­ta has a life­time of anti-union and anti-work­er posi­tions. Appoint­ed to the Nation­al Labor Rela­tions Board by George W. Bush, Acos­ta con­sis­tent­ly decid­ed with employ­ers dur­ing his term. His sup­port of Ohio's attempt to sup­press black vot­ing in 2004 is deeply dis­turb­ing. That the AFL-CIO seems to think Acos­ta is as good as they are going to get under Trump is depress­ing, but per­haps realistic."
William B. Gould IV, a law pro­fes­sor at Stan­ford Uni­ver­si­ty, agrees with Loomis' analy­sis of Acosta's tenure at the Nation­al Labor Rela­tions Board (NLRB). He says Acos­ta had ​"a short, and for the most part unin­spir­ing record" at the NLRB. Acos­ta served at the board for just eight months in 2003, a time when anti-union Repub­li­cans were in control.
Gould, a for­mer NLRB chair­man dur­ing the Pres­i­dent Bill Clin­ton admin­is­tra­tion, cites sev­er­al cas­es as exam­ples of Acosta's anti-work­er positions:
Alexan­dria Clin­ic, P.A.,

339

NLRB No.

162

(

2003

). Acos­ta vot­ed that hos­pi­tal strik­ers could be legal­ly fired because they delayed the begin­ning of an oth­er­wise legal job action by sev­er­al hours.
Cur­wood Inc., a divi­sion of Bemis Com­pa­ny Inc.,

339

NLRB No.

148

(

2003

). Acos­ta vot­ed to ignore oth­er­wise ille­gal threats made by the employ­er against work­ers try­ing to form a union. He also sanc­tioned oth­er­wise ille­gal promis­es of new ben­e­fits to work­ers who would vote against the union.
Bev­er­ly Health,

339

NLRB No.

161

(

2003

). Acos­ta vot­ed against a cor­po­rate rem­e­dy in spite of the fact that the com­pa­ny had been found guilty of exten­sive mis­con­duct on oth­er occa­sions. His vote was in the minority.
"Curi­ous­ly, one opin­ion of Acosta's, while laud­able and appro­pri­ate, will give him prob­lems with the anti-immi­grants," among con­ser­v­a­tive Repub­li­cans, Gould adds.
In the case of Dou­ble D Con­struc­tion, 339 NLRB No.48 (2003), Acos­ta stat­ed that a work­er who used a false social secu­ri­ty num­ber should not be con­sid­ered guilty of com­mit­ting a crime. Such mis­rep­re­sen­ta­tions are just part of the work­day real­i­ty for undoc­u­ment­ed work­ers, Acos­ta argued. This was the cor­rect deci­sion, accord­ing to Gould, but will like­ly be viewed dif­fer­ent­ly by Repub­li­cans favor­ing a hard line against immigrants.
Equal­ly prob­lem­at­ic for work­er rights advo­cates is Acosta's tenure at the Depart­ment of Jus­tice, where Acos­ta held appoint­ed posi­tions start­ing in 2003, says Saru Jayara­man, co-direc­tor of the pro-work­er Restau­rant Oppor­tu­ni­ties Cen­ter United.
There are at least two ​"trou­bling" episodes in Acosta's Depart­ment of Jus­tice career, Jayara­man says. First, Acos­ta is on record sup­port­ing efforts to restrict vot­ing rights for African Amer­i­cans in Ohio in 2004. In that case, Acos­ta was accused of exert­ing polit­i­cal pres­sure to help sup­press vot­er turnout. ​"Vot­ing rights are essen­tial to labor rights, so I see this as impor­tant," Jayara­man says.
So does the Lawyers' Com­mit­tee for Civ­il Rights Under Law, an advo­ca­cy group that has been fight­ing attempts to restrict vot­ing laws. Com­mit­tee Pres­i­dent Kris­ten Clarke stated:
Mr. Acos­ta led the Civ­il Rights Divi­sion at a time that was marked by stark politi­ciza­tion, and oth­er improp­er hir­ing and per­son­nel deci­sions that were ful­ly laid to bare in a 2008 report issued by the Office of Inspec­tor Gen­er­al (OIG). The OIG found that actions tak­en dur­ing Mr. Acosta's tenure vio­lat­ed Jus­tice Depart­ment pol­i­cy and fed­er­al law. Polit­i­cal and ide­o­log­i­cal affil­i­a­tions were used as a lit­mus test to eval­u­ate job can­di­dates and career attor­neys, wreak­ing hav­oc on the work of the Divi­sion. This egre­gious con­duct played out under Mr. Acosta's watch and under­mined the integri­ty of the Civ­il Rights Divi­sion. It is hard to believe that Mr. Acos­ta would now be nom­i­nat­ed to lead a fed­er­al agency tasked with pro­mot­ing law­ful hir­ing prac­tices and safe workplaces.
A sec­ond trou­bling inci­dent was a plea deal that Acos­ta nego­ti­at­ed while he was the U.S. Attor­ney for the South­ern Dis­trict of Flori­da in 2005, Jayara­man says. In that case, a man accused of hav­ing sex with under­age girls and solic­it­ing pros­ti­tu­tion received a light sen­tence, appar­ent­ly because the man was a wealthy busi­ness­man who could afford expen­sive lawyers, she claims.
"This was a sex­u­al preda­tor. This is very rel­e­vant to work­ers in the restau­rant sec­tor because sex­u­al harass­ment and sex­u­al abuse in the restau­rant indus­try is just ram­pant," Jayara­man tells In These Times. ​"Acos­ta does not take the issue seriously."
But in the final analy­sis, ​"it doesn't mat­ter whether it's Puzder or this guy (Acos­ta). The agen­da is the same … The sec­re­tary of labor doesn't set the pol­i­cy, the pres­i­dent does," says Jayaraman.
Loomis con­curs.
He says: ​"Trump's selec­tions, both Puzder and Acos­ta, are inher­ent­ly anti-work­er. But so is Don­ald Trump, despite the unusu­al lev­el of sup­port he received from union members."
Bruce Vail
is a Bal­ti­more-based free­lance writer with decades of expe­ri­ence cov­er­ing labor and busi­ness sto­ries for news­pa­pers, mag­a­zines and new media. He was a reporter for Bloomberg BNA's Dai­ly Labor Report, cov­er­ing col­lec­tive bar­gain­ing issues in a wide range of indus­tries, and a mar­itime indus­try reporter and edi­tor for the Jour­nal of Com­merce, serv­ing both in the newspaper's New York City head­quar­ters and in the Wash­ing­ton, D.C. bureau.