We Need Each Other: Why People with Disabilities Should Defend the Rights of Care Workers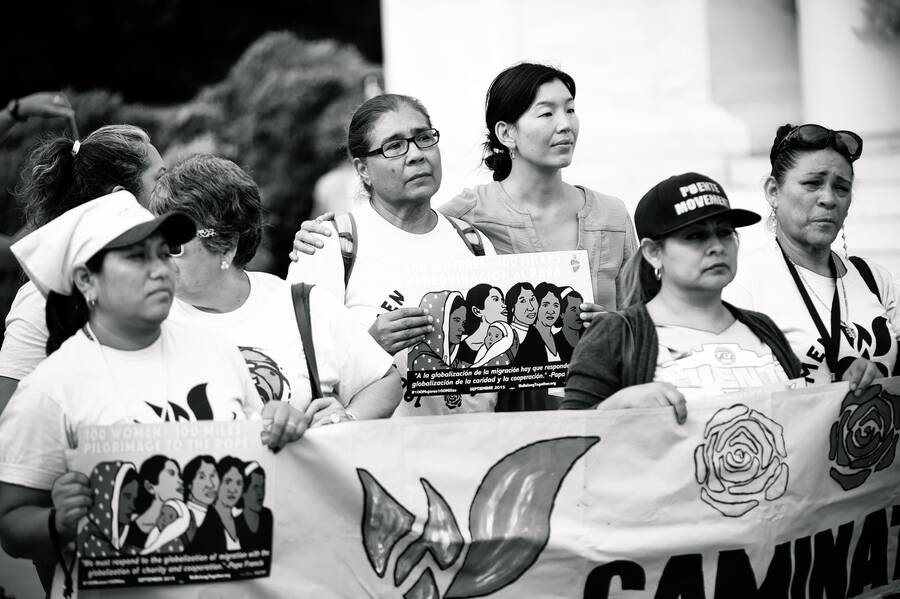 The word ​"com­pan­ion" doesn't sound oppres­sive at all: It appears quite the oppo­site. A com­pan­ion is sup­port­ive, nur­tur­ing, loyal.
But that word was used for decades to deny basic labor pro­tec­tions to work­ers who pro­vide in-home assis­tance to peo­ple with disabilities.
I use a motor­ized wheel­chair, and I employ a crew of work­ers to assist me in my home in Chica­go. I call them my pit crew. They help me with every­thing, from dress­ing and bathing to run­ning errands. I hire, fire, sched­ule and super­vise them, and their wage of $13 per hour is paid through a state pro­gram called Home Ser­vices that is pri­mar­i­ly fund­ed by Med­ic­aid. So, the help I receive costs me noth­ing. It's vital­ly impor­tant to me. With­out it I would be stuck in a mis­er­able nurs­ing home.
But the 1974 amend­ments to the Fair Labor Stan­dards Act defined this type of work as ​"com­pan­ion­ship" and exempt­ed com­pan­ions from being enti­tled to a min­i­mum wage or time and a half for overtime.
A few years ago, that exclu­sion changed. In 2013, the U.S. Depart­ment of Labor (DoL) issued a rule remov­ing the com­pan­ion­ship exemp­tion for many peo­ple who do this kind of work. Thus, work­ers like mine, when they are paid via a third par­ty such as the state gov­ern­ment or a home health agency, were enti­tled for the first time to be paid time-and-a-half when they worked more than 40 hours per week.
In the 2013 rule, the DoL said the notion of com­pan­ion­ship was anti­quat­ed because, ​"In the 1970s, many indi­vid­u­als with sig­nif­i­cant care needs were served in insti­tu­tion­al set­tings rather than in their homes and their com­mu­ni­ties. Since that time, there has been a grow­ing demand for long-term home care for per­sons of all ages, large­ly due to the ris­ing cost of tra­di­tion­al insti­tu­tion­al care and, in response to the dis­abil­i­ty civ­il rights move­ment, the avail­abil­i­ty of fed­er­al fund­ing assis­tance for home care, reflect­ing the nation's com­mit­ment to accom­mo­date the desire of indi­vid­u­als to remain in their homes and communities."
Accord­ing to the fed­er­al agency's cal­cu­la­tions, the num­ber of peo­ple work­ing such jobs increased 65 per­cent from 2001 to 2011.
The DoL's action came after years of pres­sure from groups like the Nation­al Domes­tic Work­ers Alliance. Almas Say­eed, gen­er­al coun­sel and super­vis­ing attor­ney for NDWA, said in an inter­view with In These Times that the rule ​"has marked a sem­i­nal change in rec­og­niz­ing the val­ue of care work and home care work­ers in today's econ­o­my. As the U.S. pop­u­la­tion ages, good, sus­tain­able jobs and pro­fes­sion­al recog­ni­tion of care work are increas­ing­ly vital to the health and future of our econ­o­my and society."
But the vic­to­ry may be short-lived. Accord­ing to Bloomberg BNA, Sen. Pat Roberts (R‑Kan.) plans to pur­sue leg­is­la­tion to restore the com­pan­ion­ship exemp­tion if the new DoL Sec­re­tary does not.
Say­eed says such a move would be harm­ful to care­givers, as the com­pan­ion­ship exemp­tion exact­ed a big toll on the wages of domes­tic work­ers who assist dis­abled peo­ple. ​"Care work­ers are dis­pro­por­tion­ate­ly immi­grant women and women of col­or, and [they] over­whelm­ing­ly make min­i­mum wage or below pover­ty wages," Say­eed under­scored. ​"Today, one in four home care work­ers live below the fed­er­al pover­ty line and over half rely on some form of pub­lic assis­tance, such as Medicaid."
As a per­son liv­ing with dis­abil­i­ties, it's impor­tant to me that my pit crew mem­bers are paid well. I want them to stick around. Good assis­tants are hard to find. I lit­er­al­ly can't get out of bed with­out their help. They have to be reli­able and trust­wor­thy. They have to be com­fort­able with the inti­ma­cy of per­son­al care. And they have to be will­ing to work for a mod­er­ate wage with no health insur­ance or paid time off or oth­er benefits.
While the rule was sup­posed to take effect on Jan­u­ary 1, 2015, the DoL delayed enforce­ment while a law­suit aimed at undo­ing the pro­tec­tion played out in fed­er­al court. The plain­tiffs in the case of Home Care Asso­ci­a­tion of Amer­i­ca v. Weil were The Home Care Asso­ci­a­tion of Amer­i­ca, the Inter­na­tion­al Fran­chise Asso­ci­a­tion and the Nation­al Asso­ci­a­tion for Home Care and Hos­pice. They con­tend­ed that the DoL did not have the author­i­ty to take away their right, as employ­ers of home care assis­tants, to avail them­selves of the com­pan­ion­ship exemption.
The plain­tiffs won in fed­er­al dis­trict court, but that deci­sion was over­turned by the U.S. Court of Appeals for the Dis­trict of Colum­bia Cir­cuit in August 2015. When the U.S. Supreme Court declined to hear the case in June 2016, the last legal bar­ri­er in the way of enforc­ing the 2013 rule was removed.
Dur­ing the legal bat­tle, two dis­abil­i­ty rights groups — ADAPT and the Nation­al Coun­cil on Inde­pen­dent Liv­ing — filed an ami­cus brief in sup­port of the plain­tiffs, argu­ing that remov­ing the com­pan­ion­ship exemp­tion would ulti­mate­ly be harm­ful for dis­abled peo­ple like me and for our assis­tants. The brief said, ​"The Rule impos­es unfund­ed costs on State Med­ic­aid pro­grams, incen­tiviz­ing States and providers to cap atten­dants' hours, cut wages, and reduce atten­dants' income. The Rule, there­fore, con­fers upon work­ers a the­o­ret­i­cal ben­e­fit (a right to receive over­time pay), and a prac­ti­cal harm (a cut in pay due to an hours-cap)."
The harsh restric­tions on over­time that ADAPT and NCIL warned of have, indeed, played out in many states. Here in Illi­nois, for exam­ple, home ser­vices work­ers will not be allowed to work ​"unjus­ti­fied over­time" more than 45 hours a week begin­ning August 1. If they exceed that cap in three instances or more, they can be sus­pend­ed and even­tu­al­ly terminated.
These sweep­ing restric­tions are a seri­ous prob­lem. But the solu­tion is not to beat a reac­tionary retreat to a point­less exemp­tion that degrades impor­tant work. Rather, we must oppose any mea­sures that unfair­ly penal­ize work­ers, whether those care­givers are being cut out of fed­er­al pro­tec­tions or tar­get­ed by state-lev­el restric­tions. The DoL action was a step toward ensur­ing that work­ers who assist peo­ple like me get the pay they deserve.
Those of us who receive assis­tance and those who pro­vide it have to be polit­i­cal­ly active togeth­er to make sure we are all pro­tect­ed. Dis­abil­i­ty rights orga­ni­za­tions do vital work, and I have spent 30 years of my life orga­niz­ing with ADAPT. How­ev­er, I believe that ADAPT and NCIL took the wrong posi­tion when they failed to ral­ly behind fed­er­al pro­tec­tions for care workers.
As Say­eed says, ​"We need to piv­ot from defense around pro­tect­ing the care we have to orga­niz­ing for the care we need and deserve."
Mike Ervin
is a writer and dis­abil­i­ty rights activist liv­ing in Chica­go. He blogs at Smart Ass Crip­ple, ​
"
express­ing pain through sar­casm since
2010
."