Fighting Against Racism—And For a Better Paycheck—On the Docks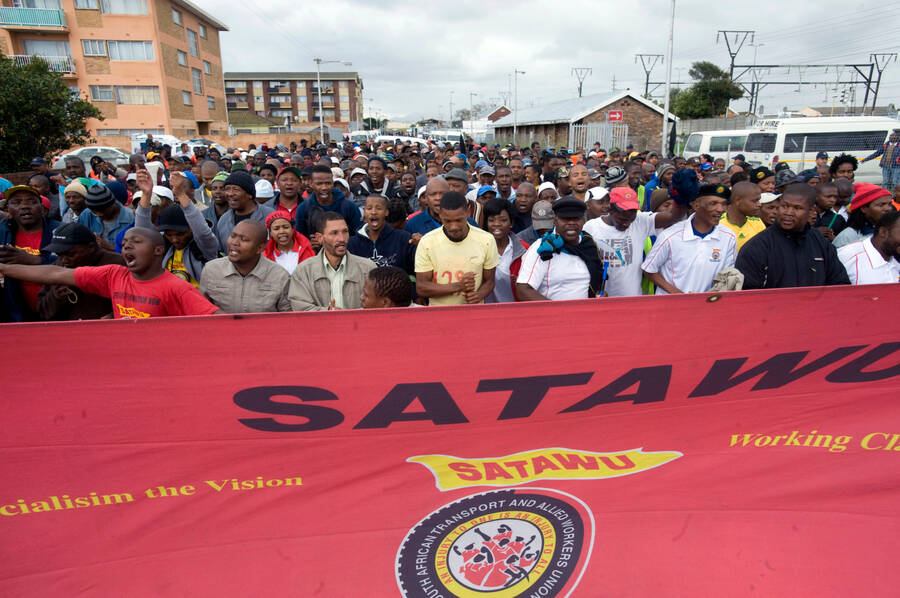 "Dock­work­ers have pow­er." With that sim­ple state­ment, West­ern Illi­nois Uni­ver­si­ty pro­fes­sor and In These Times con­trib­u­tor Peter Cole kicks off his com­pelling new his­to­ry, Dock­work­er Pow­er: Race and Activism in Dur­ban and the San Fran­cis­co Bay Area (Uni­ver­si­ty of Illi­nois Press).
The sto­ry of the west coast Inter­na­tion­al Long­shore and Ware­house Union (ILWU), its leg­endary founder Har­ry Bridges, and the 1934 San Fran­cis­co gen­er­al strike he led is broad­ly famil­iar to Amer­i­cans who enjoy roman­tic sto­ries of der­ring do from the labor movement's past. Less famil­iar may be the union's strug­gle for anti-racist hir­ing and lay­off poli­cies on the docks, and its cru­cial ally­ship in var­i­ous civ­il rights struggles.
Cole pairs their his­to­ry with that of black South African dock­er orga­niz­ing that pre­saged the strug­gle against apartheid by decades, and cre­at­ed an ear­ly and durable insti­tu­tion­al strong­hold of black pow­er in South Africa.
The sim­i­lar­i­ties between the two unions don't end with the strug­gle for their black mem­bers' civ­il rights. Half a world away, the unions also strug­gled to main­tain job con­trol in a sys­tem of casu­al employ­ment, grap­pled with job-killing con­tainer­iza­tion and flexed their pow­er at the choke points of the glob­al econ­o­my to extend sol­i­dar­i­ty to work­ers' free­dom strug­gles around the world.
Although rarely in direct com­mu­ni­ca­tion with each oth­er, espe­cial­ly dur­ing the Apartheid era, the unions had remark­ably sim­i­lar approach­es to the issues that vexed them. Cole's book is a valu­able con­tri­bu­tion to the rel­a­tive­ly thin field of glob­al union comparisons.
Work­ers of the world (trade)
By the nature of their work, dock­work­ers of all coun­tries have long been more cos­mopoli­tan than many com­rades in their respec­tive nation­al labor move­ments. They are exposed to new ideas and far-away strug­gles. Cole's book stress­es how these two region­al work­ers' move­ments meld­ed their orga­niz­ing for a bet­ter pay­check with the strug­gle against racism in their broad­er soci­eties and how — keen­ly aware of their lever­age in the fast-mov­ing glob­al econ­o­my — they went on to exer­cise transna­tion­al sol­i­dar­i­ty at these ports of trade.
One of the sub­stan­tial vic­to­ries of the 1934 Bay Area strike was the replace­ment of the shape-up system­ — the infor­mal hus­tle for day labor work — with a union-oper­at­ed hir­ing hall that worked to racial­ly inte­grate the work­force. African-Amer­i­cans from south­ern states joined the ranks en masse dur­ing World War II and were wel­comed into union membership.
But the end of the war brought a seri­ous reduc­tion in work on the docks. Union lead­er­ship rec­og­nized that if mem­ber­ship ranks with­in the hir­ing hall were reduced on a ​"last in, first out" basis, the new­er black long­shore­men would dis­pro­por­tion­ate­ly feel the effects of the lay­offs — an action that would leave scars with­in the port work­force for gen­er­a­tions. In an act of racial sol­i­dar­i­ty that stands out in the pre-civ­il-rights era, the Bay Area locals of the ILWU decid­ed instead to share the lack of work. All exist­ing mem­bers stayed in the union, and worked few­er shifts until busi­ness picked back up.
As a racial­ly inte­grat­ed union with a large black mem­ber­ship, the ILWU nat­u­ral­ly played a lead­ing role in con­nect­ing the labor and civ­il rights move­ments. The Bay Area locals were key orga­niz­ers of a local 1963 civ­il rights demon­stra­tion, in addi­tion to orga­niz­ing one of the far­thest-trav­el­ing con­tin­gents to that year's famous March on Wash­ing­ton. They formed the mem­ber­ship back­bone of the local chap­ters of the NAACP and Urban League. They pressed suc­cess­ful­ly for fair employ­ment and hous­ing laws in Oak­land, and the union used its pen­sion fund to build racial­ly-inte­grat­ed coop­er­a­tive hous­ing in the rapid­ly gen­tri­fy­ing Fill­more neigh­bor­hood in San Francisco.
As Cole notes, the excep­tion­al role of the ILWU in many left-wing strug­gles is often glanc­ing­ly men­tioned in his­tor­i­cal accounts of the post­war labor move­ment. This book is the first time all of these exam­ples and more have been brought togeth­er in a com­pre­hen­sive narrative.
Dur­ban dock­ers have enjoyed far less atten­tion from Amer­i­can schol­ars. Their his­to­ry of labor mil­i­tan­cy dates back to the 1950s, although the apartheid state did not extend for­mal union recog­ni­tion to indus­tries that employed black work­ers until the 1980s. The union they formed — today called the South African Trans­port and Allied Work­ers Union (SATAWU) — made sub­stan­tial gains in pen­sions, health and safe­ty — and won for work­ers a guar­an­teed min­i­mum wage regard­less of the avail­abil­i­ty of work. It also affil­i­at­ed with the Con­gress of South African Trade Unions (COSATU), a junior part­ner with the African Nation­al Con­gress (ANC) in both the suc­cess­ful final dri­ve to end white minor­i­ty rule and in the post-Apartheid gov­ern­ment since 1994.
Inter­est­ing­ly, the ILWU's com­mit­ment to civ­il rights extend­ed to inter­na­tion­al sol­i­dar­i­ty. As ear­ly as 1962, Bay Area long­shore­men occa­sion­al­ly refused to unload South African car­go in protest of Apartheid. In 1984, union mem­bers refused to unload South African car­go off of an old­er non-con­tainer­ized ship, the Nedl­loyd Kim­ber­ly, which sat docked at San Francisco's Pier 80 for 11 days. The protest attract­ed the atten­tion of com­mu­ni­ty activists who joined dai­ly ral­lies out­side the port and even­tu­al­ly brought the ongo­ing work anti-apartheid boy­cotts to Bay Area col­leges and com­mu­ni­ty groups.
In more recent years, Bay Area long­shore­men have refused to unload ships car­ry­ing Israeli car­go in 2010 and again in 2014, dur­ing peri­ods of active mil­i­tary attacks against Palestinians.
Dur­ban dock­ers, too, have notably refused to unload ships under con­tract with Israeli cor­po­ra­tions in protest of what they call — and they have some license to say this — ​"an apartheid régime." And their sol­i­dar­i­ty activism doesn't end there. In 2008, they pre­vent­ed a blood­bath by turn­ing away a Chi­nese ship­ment of arma­ments that the embat­tled pres­i­dent of neigh­bor­ing Zim­bab­we, Robert Mugabe, had ordered in a last-ditch effort to prop up his régime.
Main­tain­ing work­er pow­er in the face of eco­nom­ic change
Both dock work­forces began their nonunion eras essen­tial­ly as on-call temps. In addi­tion to racial­ly inte­grat­ing the docks, the ILWU-oper­at­ed hir­ing hall also freed work­ers from bribery and the black­list and allowed them to keep the best part of casu­al employ­ment — only show­ing up for work when they felt like it and need­ed the paycheck.
The non-employ­ee sta­tus of Dur­ban dock­ers, on the oth­er hand, was a source of union pow­er and legal pro­tec­tion, and made de-casu­al­iza­tion the employ­ers' strat­e­gy to reign in the pow­er of the unions. The Apartheid sys­tem of labor rela­tions basi­cal­ly exempt­ed indus­tries that employed black work­ers from statu­to­ry col­lec­tive bar­gain­ing, while mak­ing strikes ille­gal. But if work­ers fin­ish their shift with no promise or guar­an­tee of more work the next day and — col­lec­tive­ly and entire­ly coin­ci­den­tal­ly — don't both­er show­ing up in the morn­ing to see if there's more work avail­able until the wages get bet­ter, is that legal­ly-speak­ing an ​"ille­gal" strike?
By defy­ing white boss pow­er in work stop­pages, the Dur­ban dock­ers became pio­neers in the African free­dom strug­gle. A 1954 Dur­ban dock­er strike result­ed in wage con­ces­sions, but also the ter­mi­na­tion and black­list­ing of strike lead­ers. Oth­er strikes fol­lowed, but the work­ers were care­ful to not elect any for­mal lead­er­ship. Cole argues that the dock­ers sparked a strike wave in oth­er indus­tries in the port city in 1973. Those Dur­ban strikes are wide­ly acknowl­edged as a turn­ing point in the strug­gle against Apartheid.
White author­i­ties retal­i­at­ed by mak­ing the dock­ers reg­u­lar hourly employ­ees, which sta­bi­lized the work­ers' incomes but legal­ly restrict­ed their abil­i­ty to strike. (The Apartheid state did move to for­mal­ly rec­og­nize unions of black work­ers by the end of the decade, and the post-Apartheid con­sti­tu­tion pro­tects the right to strike.)
Anoth­er eco­nom­ic change that all the world's dock work­ers had to con­tend with was con­tainer­iza­tion. The stan­dard­ized con­tain­ers — 40 or 20 feet long — that tran­si­tion neat­ly from train to truck to boat (and back again) have rev­o­lu­tion­ized world trade. Filled with any­thing from dia­pers to tele­vi­sions to just about any cheap plas­tic thing slapped with a ​"Made in (fill in the blank)" label, they rock­et prod­ucts around the world in the glob­al logis­tics sup­ply chain.
Amazon's two-day ship­ping pro­gram would be large­ly impos­si­ble with­out them. Entire fleets of boats have been replaced to accom­mo­date the con­tain­ers. Har­bors have been dredged, ports relo­cat­ed and shore­lines reshaped.
Of course, they're job killers. Machines do much of the heavy lift­ing that used to require full crews of workers.
Con­tainer­iza­tion was imposed on Dur­ban dock­ers in 1977, years before they gained for­mal col­lec­tive bar­gain­ing rights. In the decade before con­tain­er ships first appeared at the Dur­ban docks, the work­force peaked at 3,500 work­ers. By the time automa­tion was ful­ly imple­ment­ed in the mid-1980s only 1,200 work­ers remained.
In the Bay Area, Har­ry Bridges had the unique com­bi­na­tion of street cred, shop-floor pow­er and bat­tle fatigue to make an accom­mo­da­tion with the ship­ping mag­nates. Rather than engage in dubi­ous bat­tle to pre­serve back-break­ing jobs that were rapid­ly becom­ing unnec­es­sary, Bridges struck deals in 1960 and 1966 that guar­an­teed all exist­ing long­shore­men wages even if there was no work. The slim­mer crews who would work with the machines to remote con­trol the giant steel box­es on and off the boats were promised a greater share of the profits.
When rank-and-fil­ers felt that those finan­cial gains did not make up for the loss of job con­trol they had pre­vi­ous­ly enjoyed, they went on strike over Bridges' objec­tions dur­ing the win­ter of 1971 to 1972. Stung, the old Com­mu­nist mil­i­tant lent no per­son­al sup­port to the strike.
Still, the orga­nized work­ers who remained employed in the Bay Area and at the world's ports enjoy a posi­tion of tremen­dous lever­age with­in glob­al­ized capitalism.
Stran­gling the choke­points of glob­al capital
There is an under­stand­able ten­den­cy among those of us who care deeply about restor­ing the pow­er of unions to grasp for break­through strate­gies and inspir­ing flare-ups of work­er mil­i­tan­cy like the recent teach­ers strikes and dig­i­tal news­room orga­niz­ing wins. In con­trast, trade union­ists who instead focus on port work­ers and truck dri­vers can seem hope­less­ly quaint and back­wards-look­ing. Mean­while, glob­al cap­i­tal­ism is still at its root about mak­ing and sell­ing prod­ucts in the glob­al mar­ket­place. Work­ers who have a hand in how quick­ly those prod­ucts move — if they move at all — retain the capac­i­ty for tremen­dous power.
Anoth­er book that takes stock of the poten­tial pow­er of work­ers at strate­gic loca­tions in the glob­al sup­ply chain is Choke Points (Plu­to), a new col­lec­tion of essays edit­ed by Jake Alima­homed-Wil­son and Immanuel Ness. Peter Cole is here as well doc­u­ment­ing the Dur­ban dock work­ers' sol­i­dar­i­ty actions on behalf of oth­er African strug­gles for free­dom from colonialism.
Else­where, Peter Olney, for­mer orga­niz­ing direc­tor of the ILWU, makes a char­ac­ter­is­ti­cal­ly mas­ter­ful con­tri­bu­tion on the evolv­ing nature of the glob­al econ­o­my and the west coast longshoremen's role in it. He writes, ​"the future for pow­er­ful dock­work­ers lies in con­cep­tu­al­iz­ing them­selves as logis­tics work­ers." By this he means extend­ing long­shore orga­niz­ing and sol­i­dar­i­ty fur­ther inland to the ware­hous­es and truck­ing com­pa­nies that com­bine to form the cen­tral ner­vous sys­tem of so-called free trade. The threat of wag­ing strikes that can roll from boat to truck to ware­house would be an obvi­ous point of leverage.
She­heryar Kaoosji con­tributes a vital and edu­ca­tion­al post-mortem assess­ment of one such effort, the com­pre­hen­sive cam­paign to orga­nize the ware­house work­ers and truck dri­vers a decade ago in the twin ports of Los Ange­les and Long Beach. Despite being ​"resourced with strate­gic researchers and expe­ri­enced orga­niz­ers, and sup­port­ed by moti­vat­ed com­mu­ni­ty part­ners," this sig­na­ture effort of Change-to-Win fal­tered with the chang­ing polit­i­cal winds in Wash­ing­ton and the rival labor fed­er­a­tions and the inabil­i­ty to get work­ers in dif­fer­ent parts of the logis­tics chain to see their own com­mon cause.
Although the strate­gic loca­tion and poten­tial pow­er of the peo­ple who work at these choke points is obvi­ous to out­side agi­ta­tors, the ten­den­cy of work­ers to focus on the boss who gets in their face and the name that signs their pay­check instead is a peren­ni­al obsta­cle to the untapped pow­er of sol­i­dar­i­ty. Look­ing at labor bat­tles in Turkey, con­trib­u­tors Çağatay Edgü­can Şahin and Pekin Bengisu Tepe describe the prob­lem as a ​"nine­teenth-cen­tu­ry work­ing class" going up against the ​"Age of Indus­try 4.0's capital."
Some of the oth­er essays in the vol­ume are thick with aca­d­e­m­ic jar­gon that make them less acces­si­ble to the lay­man. It's regret­table, because if you can parse the lan­guage Choke Points is a blue­print for revolution.
The best con­tri­bu­tion both of these books could make is to help focus the new gen­er­a­tion of young social­ists who are eager to help rebuild the labor move­ment as rank-and-file orga­niz­ers on where our pow­er real­ly lies. I mean no dis­re­spect to the cru­cial work of jour­nal­ists and teach­ers, but glob­al cap­i­tal­ism can grind to a halt when the ships don't sail on time.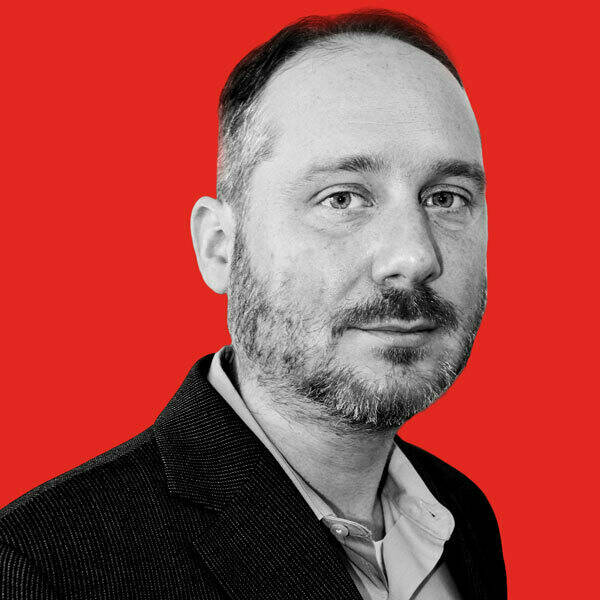 Shaun Rich­man
is an In These Times con­tribut­ing writer and the Pro­gram Direc­tor of the Har­ry Van Ars­dale Jr. School of Labor Stud­ies at SUNY Empire State Col­lege. His Twit­ter han­dle is @Ess_Dog.