Does the E.U. Hate You?
Despite popular myth, anti-Americanism in Europe isn't on the rise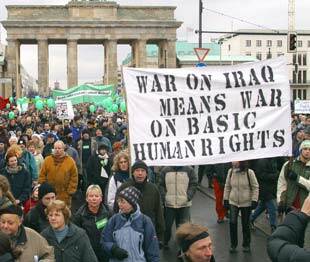 In Europe, as in near­ly every­where else in the world, the image of the Unit­ed States has tak­en a severe bat­ter­ing dur­ing the Bush years. Sur­vey after sur­vey shows that neg­a­tive feel­ings toward Amer­i­ca and U.S. poli­cies have soared. Only 36 per­cent of Euro­peans, for exam­ple, view U.S. lead­er­ship in world affairs as desir­able, accord­ing to a 2007 Ger­man Mar­shall Fund poll. Marked­ly low­er is their approval of the Bush admin­is­tra­tion: a dis­mal 17 per­cent. In Har­ris polls since 2003, the major­i­ty of Euro­peans have even cit­ed the Unit­ed States as the great­est threat to inter­na­tion­al secu­ri­ty – more so than Iran, North Korea or Russia.
But dis­tin­guish­ing between an all-encom­pass­ing ani­mus toward the coun­try and its peo­ple, and legit­i­mate crit­i­cism of U.S. gov­ern­ment poli­cies, has proven extreme­ly dif­fi­cult. Only the for­mer is anti-Amer­i­can­ism – an irra­tional, deeply embed­ded cul­tur­al aver­sion to a pre­sumed Amer­i­can ​"nation­al char­ac­ter." A stan­dard dis­tinc­tion between Amer­i­ca-bash­ing and ratio­nal cri­tique is between dis­ap­proval of what Amer­i­ca is and what Amer­i­ca does. Yet they inevitably blur into one anoth­er: After all, what one is informs what one does, and vice versa.
The Bush admin­is­tra­tion attrib­uted the oppo­si­tion of France and Ger­many to the Iraq War as a blunt expres­sion of anti-Amer­i­can­ism. Even some left-of-cen­ter intel­lec­tu­als, such as Uni­ver­si­ty of Michi­gan polit­i­cal sci­en­tist Andrei Markovits, claim that a vir­u­lent anti-Amer­i­can­ism is cur­rent­ly sweep­ing Europe – worse even than that dur­ing the Viet­nam War or dur­ing the 1980s, when the Unit­ed States deployed nuclear mis­siles in West­ern Europe.
How­ev­er, the range of Euro­pean issues with the Unit­ed States is not wan­ton Amer­i­ca-trash­ing but con­flict­ing visions of how to orga­nize soci­ety and con­duct rela­tions in the wider world. In the Euro­pean Union (E.U.), cit­i­zens are voic­ing a pref­er­ence for a greater Euro­pean role in glob­al affairs, with Ger­mans (87 per­cent) and Spaniards (81 per­cent) at the top. As Jere­my Rifkin put it in his 2004 book, The Euro­pean Dream, Europe's vision for the future has replaced that of the Amer­i­can dream.
In the Unit­ed States, many who backed the Iraq inva­sion would glad­ly echo Markovits' con­clu­sions in his 2007 book, Uncouth Nation: Why Europe Dis­likes Amer­i­ca. He writes that under­ly­ing Europe's hos­til­i­ty to ​"every­thing Amer­i­can" is a ​"mas­sive Europe-wide resent­ment of the Unit­ed States that reach­es well beyond Amer­i­can poli­cies, Amer­i­can pol­i­tics and Amer­i­can government."
Markovits con­tends that the Bush administration's con­tentious for­eign poli­cies have sim­ply shot into over­drive a hatred for Amer­i­ca that has long flour­ished in Europe, and is ulti­mate­ly linked to anti-Semi­tism. On the right, Euro­pean nation­al­ists despise Amer­i­ca as the epit­o­me of the mod­ern, a mate­ri­al­is­tic and hedo­nis­tic place run by Jews. The left's anti-Amer­i­can­ism focus­es on the Unit­ed States being an impe­ri­al­ist pow­er – and in league with Zion­ist Israel.
Markovits is not entire­ly wrong: Anti-Amer­i­can­ism is alive and well in Europe, and, among hard­core Amer­i­ca haters, there is often an anti-Semit­ic ele­ment. But Markovits and his like are incor­rect about how per­va­sive this sen­ti­ment is and the extent to which it dic­tates Euro­pean atti­tudes about the Unit­ed States. While some anti-Amer­i­can­ism is embed­ded in Euro­pean opin­ion, it is actu­al­ly quite thin: In France, Ger­many, Great Britain and Italy, it hov­ers around 10 per­cent (it is strongest in Greece), ris­ing at times of transat­lantic polit­i­cal fric­tion, like the present.
Yet more than a quar­ter of these pop­u­la­tions (40 per­cent in Italy) are con­sis­tent­ly sym­pa­thet­ic to the Unit­ed States. Even at the height of the Cold War's great­est crises, most West­ern Euro­peans favored main­tain­ing a strong alliance with the Unit­ed States. Dur­ing the mass dis­ar­ma­ment protests in the ear­ly ​'80s, only 20 per­cent of West Ger­mans favored the with­draw­al of U.S. troops from the Fed­er­al Republic.
As Amer­i­can polit­i­cal sci­en­tists Robert Keo­hane and Peter Katzen­stein demon­strate in their 2007 book, Anti-Amer­i­can­isms in World Pol­i­tics, neg­a­tive Euro­pean atti­tudes, even at their peaks, have zero impact on offi­cial poli­cies toward the Unit­ed States – or on transat­lantic tourism, trade or con­sumer behavior.
Like­wise, the over­whelm­ing reluc­tance of both the Ger­man polit­i­cal elite and pub­lic to attack Iraq was not found­ed on bias against Amer­i­ca. Ger­many, after all, par­tic­i­pat­ed in the 1999 NATO cam­paign against Slo­bo­dan Milosevic's Ser­bia, as well as far-reach­ing post‑9/​11 anti-ter­ror­ism mea­sures and the top­pling of the Tal­iban in Afghanistan, all of which enjoyed pop­u­lar backing.
That sup­port declined grad­u­al­ly, how­ev­er, as Euro­pean and Bush admin­is­tra­tion con­cep­tions of coun­tert­er­ror­ism meth­ods diverged. Most Ger­mans seemed to feel that the mil­i­tary approach was only one option in the cam­paign against ter­ror­ism. There were oth­ers, the Social Demo­c­ra­t­ic-Green gov­ern­ment argued, such as diplo­ma­cy, dia­logue with the Islam­ic world, aid pro­grams, and bro­ker­ing a peace deal between Israel and Palestine.
Ulti­mate­ly, using anti-Amer­i­can­ism to explain Europe's anti­war feel­ings toss­es both anti-Amer­i­can tropes and per­fect­ly rea­son­able eval­u­a­tion of the Bush administration's for­eign pol­i­cy blun­ders into the same pot, rob­bing the lat­ter of polit­i­cal con­tent. This effec­tive­ly dis­cred­its all cri­tique of America's glob­al poli­cies, be it cli­mate pol­i­cy, deal­ings with the Unit­ed Nations or human rights issues – and this explains why Bush loy­al­ists invoke it.
While research­ing the West Ger­man stu­dent upris­ing in the late ​'60s, I was con­sis­tent­ly impressed by how essen­tial Amer­i­can influ­ences were for the 1967 – 1969 cam­pus revolts. Even in protest­ing the Viet­nam War, the stu­dent activists were con­scious that they were using Amer­i­can protest meth­ods: sit-ins, teach-ins and oth­er forms of civ­il dis­obe­di­ence picked up from the U.S. civ­il rights move­ment. West Ger­man stu­dents told me their pol­i­tics would have been incon­ceiv­able with­out Bob Dylan's lyrics, the works of Jack Ker­ouac and Allen Gins­berg, and the exam­ples of the Rev. Mar­tin Luther King Jr. and the Berke­ley Free Speech Move­ment. These young peo­ple (some of whom even yelled ​"USA-SA-SS," com­par­ing the Unit­ed States to Nazis) were more Amer­i­can than their par­ents ever could have been.
Per­haps the best sym­bol of this para­dox was the Free Uni­ver­si­ty in West Berlin (FUB). Set up by the Amer­i­can mil­i­tary author­i­ties in West Berlin as an anti­dote to the ​"not free" uni­ver­si­ty in East Berlin, the FUB was the bas­tion of the West Ger­man stu­dent move­ment. The spir­it of the project was to instil a new, par­tic­i­pa­to­ry demo­c­ra­t­ic eth­ic in post­war Ger­mans. Its Amer­i­can founders cer­tain­ly had no idea that the Ger­man stu­dents would take the man­date so literally.
Europe's alter­na­tive
The transat­lantic estrange­ment, Ital­ian his­to­ri­an Fed­eri­co Romero argues, is the prod­uct of a sub­stan­tive cul­tur­al and social part­ing of ways that began with the end of the Cold War. Dur­ing the East-West con­flict, a con­sen­su­al view exist­ed of what ​"the West" and ​"West­ern" meant – in terms of shared val­ues, insti­tu­tions and pro­ce­dures. Con­trary to Markovits, Romero says that the num­ber of hard­core Amer­i­ca haters dropped as the decades pro­gressed and were increas­ing­ly marginalized.
"By the 1980s," Romero writes in What They Think of Us: Inter­na­tion­al Per­cep­tions of the Unit­ed States Since 9⁄11, ​"tra­di­tion­al anti-Amer­i­can­ism could be plau­si­bly dis­missed as a rel­ic of the past, and pub­lic cul­ture often cel­e­brat­ed the advent of a homog­e­nized transat­lantic society."
The end of the Cold War not only altered Europe's strate­gic depen­dence on Wash­ing­ton, but also decou­pled Europe from the Unit­ed States as an eco­nom­ic mod­el, a cul­tur­al Mec­ca and polit­i­cal bea­con. Europe grew more self-con­fi­dent, and a ver­i­ta­ble ​"roll­back" of America's cul­tur­al pres­ence ensued. Ongo­ing social changes in Europe and the Unit­ed States – in reli­gious atti­tudes, demog­ra­phy, wealth dis­tri­b­u­tion and migra­tion pat­terns – only accen­tu­at­ed those dif­fer­ences. What's more, the gen­er­a­tion that has come of age in a glob­al­ized world needs the Unit­ed States far less than their par­ents did.
This shift, argues Romero, is due large­ly to Europe's own self-per­cep­tion: Europe as an adher­ent to a ​"Euro­pean social mod­el" based on col­lec­tive sol­i­dar­i­ty, sec­u­lar­ism, wel­fare state prac­tices, post-nation­al­ism and envi­ron­men­tal respon­si­bil­i­ty. Euro­peans, even those who favor U.S. strate­gic lead­er­ship in the world, have become increas­ing­ly con­vinced that their mod­el is more just and more effec­tive. The Bush administration's anti-ter­ror­ism strate­gies and bel­liger­ent inter­na­tion­al behav­ior sim­ply entrenched this belief.
These con­trast­ing pref­er­ences in social mod­el, cul­tur­al bear­ing and inter­na­tion­al strat­e­gy go beyond what Amer­i­ca does and pen­e­trate the essence of what Amer­i­ca is. But they are dif­fer­ences based on ratio­nal com­par­a­tive analy­sis, not knee-jerk antipa­thy. And, luck­i­ly, there is no rea­son for Amer­i­cans to take per­son­al offense or can­cel their vaca­tion to the Alps: While Euro­peans' opin­ion of Amer­i­ca has suf­fered, their over­all per­cep­tion of Amer­i­cans remains quite positive.
Paul Hockenos
has writ­ten for
In These Times
from East­ern Europe since
1989
. He is the author, most recent­ly, of
Josch­ka Fis­ch­er and the Mak­ing of the Berlin Repub­lic: An Alter­na­tive His­to­ry of Post­war Ger­many
(Oxford Uni­ver­si­ty Press).