Domestic Workers in Ill. Win Bill of Rights: "Years of Organizing Have Finally Paid Off"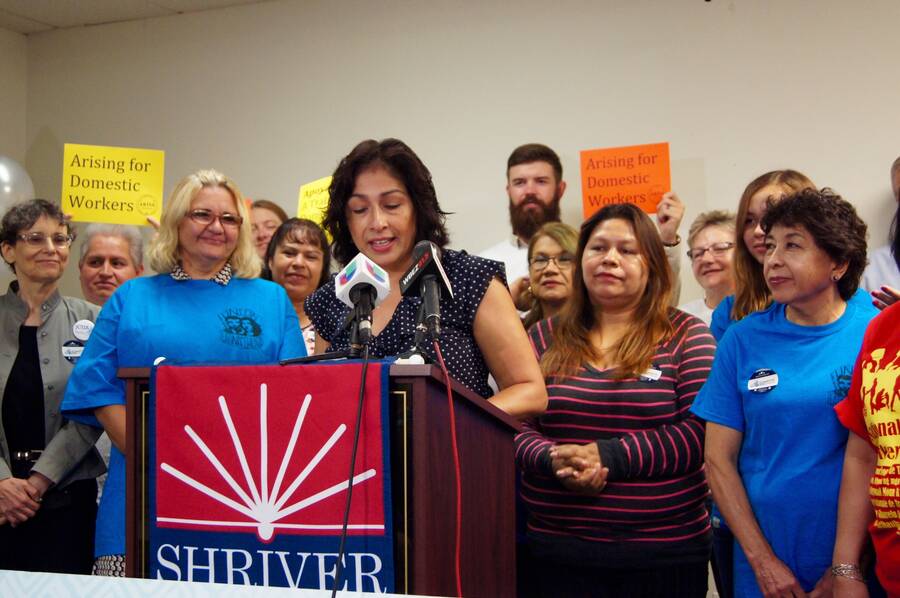 Domestic workers in Illinois are celebrating a new bill of rights.
Gov. Bruce Rauner signed the bill into law last week, capping a 5-year campaign and making Illinois the 7th state to adopt such a protection.
Sponsored by Sen. Ira Silverstein (D-8th District) in the Senate and Rep. Elizabeth Hernandez (D-24th District) in the House, the Illinois Domestic Workers Bill of Rights gives nannies, housecleaners, homecare workers and other domestic workers a minimum wage, protection from discrimination and sexual harassment and one day of rest every seven days for workers employed by one employer for at least 20 hours a week.
The law amends four other Illinois state laws — the Minimum Wage Law, the Illinois Human Rights Act, the One Day Rest in Seven Act and the Wages of Women and Minors Act — to include domestic workers.
Over the past five years, the Illinois Domestic Workers Coalition has campaigned to demand that domestic workers be provided with the same workplace protections that others have had for decades. Members gathered Tuesday at the Sargent Shriver National Center on Poverty Law in Chicago to celebrate.
"Finally, some of the hardest working people in the state of Illinois will receive the dignity and respect they deserve from their work environment," said Rep. Hernandez.
Magdalena Zylinska, a domestic worker and board member of Arise Chicago, spoke about how demanding domestic work is.
"I have struggled to get by from low wages, wage theft and disrespect on the job," Zylinska said. ​"But today I am here to celebrate that our years of organizing have finally paid off."
In 2010, New York became the first state to sign such a bill into law. Illinois is now the seventh, joining Massachusetts, California, Oregon, Hawaii and Connecticut. While domestic workers have achieved victory in those states, the fight continues for a national bill of rights for domestic workers.
Worldwide, 90 percent of domestic workers—the vast majority of whom are women — do not have access to any kind of social security coverage, according to the International Labour Organization. In the United States, an estimated 95 percent of domestic workers are female, foreign born and/​ or persons of color. They frequently lack protections and face near constant adversity.
"Women are an essential pillar of our society and our families, as you all have seen. The House listened to us. The Senate listened to us, and now the governor has listened to us," said Maria Esther Bolaños, a domestic worker and leader from the Latino Union of Chicago.
She recalled days where she worked 12 hours and got paid just $12.00.
Grace Padao of AFIRE Chicago echoed Bolaños' statements with struggles of her own, describing days of being isolated and alone in homes that were not her own, working seven days a week to provide for her family.
"From this day forward, domestic workers in Illinois will never have to face the conditions that I did," Padao said.
Be one of the first
Help kick off the new era of In These Times! Without a media that brings people together and creates a written record of the struggles of workers, their voices will be fragmented and forgotten.
The mission of In These Times is to be that written record, and to guide and grow those movements.
We have a lot of work ahead of us, and that work starts today. Early support is the most valuable support, and that's why we're asking you to pitch in now. If you are excited for this new era of In These Times, please make a donation today.
Parker Asmann
is a Summer
2016
Editorial Intern at In These Times. He is an Editorial Board Member for the Chicago-based publication El BeiSMan as well as a regular contributor to The Yucatan Times located in Merida, Mexico. He graduated from DePaul University in
2015
with degrees in journalism and Spanish, as well as a minor in Latin American Studies.