At UN Conference, Domestic Workers Push for International Labor Standards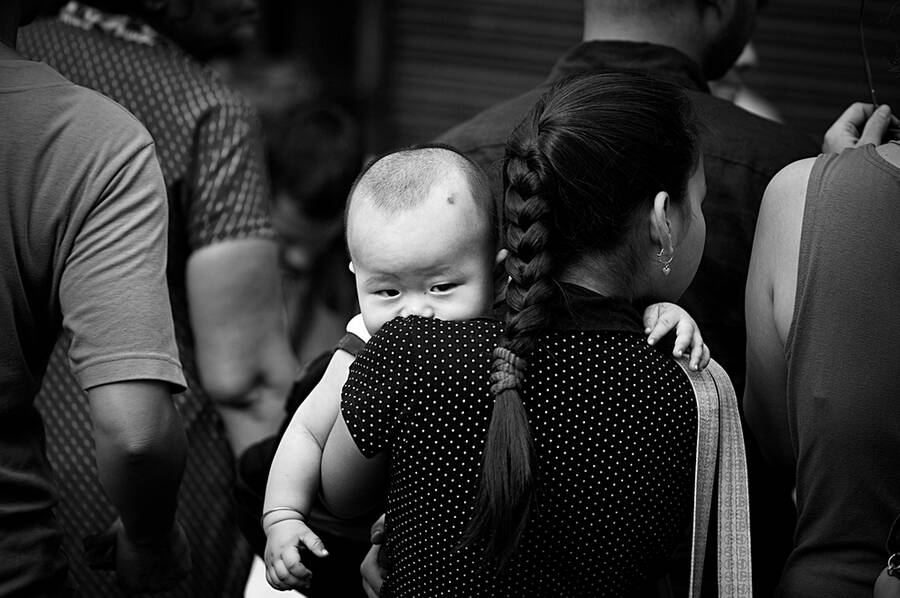 Between March 9 and March 20, mem­ber states and glob­al NGOs gath­ered at the Unit­ed Nations (UN) Head­quar­ters in New York City to com­mem­o­rate the 20th anniver­sary of the Bei­jing Dec­la­ra­tion and the Plat­form for Action, the key inter­na­tion­al pol­i­cy doc­u­ment aim­ing to achieve gen­der equal­i­ty. Coin­cid­ing with the con­fer­ence, the Clin­ton and Gates Foun­da­tions released No Ceil­ings: The Full Par­tic­i­pa­tion Report, which traces women's demon­stra­ble progress in glob­al health and edu­ca­tion since 1995, as well as their insuf­fi­cient gains in eco­nom­ic par­tic­i­pa­tion, lead­er­ship and secu­ri­ty. Dig­ni­taries, celebri­ties, and phil­an­thropists gave speech­es call­ing for ​"50−50 by 2030"—mean­ing full gen­der equal­i­ty in the next in 15 years.
Mobi­lized at the con­fer­ence was a group whose orga­nized pres­ence was sim­ply non-exis­tent two decades ago. Rep­re­sen­ta­tives from the fast-grow­ing glob­al domes­tic work­ers move­ment came to New York to pres­sure the inter­na­tion­al com­mu­ni­ty for the rat­i­fi­ca­tion and imple­men­ta­tion of labor stan­dards that would impact more than 52 mil­lion domes­tic work­ers all over the world, 83% of whom are women.
Domes­tic Work­ers' Momentum
The domes­tic work­ers move­ment is rel­a­tive­ly young; their first inter­na­tion­al gath­er­ing took place not even a decade ago, con­ven­ing in 2006 for a con­fer­ence host­ed by the largest trade union in the Nether­lands. Three years lat­er, at the Inter­na­tion­al Labour Con­fer­ence in Gene­va, they formed the Inter­na­tion­al Domes­tic Work­ers Net­work (IDWN), tasked with orga­niz­ing for an ILO Con­ven­tion that would pro­tect domes­tic work­ers' rights. Two years lat­er, in June 2011, ILO Con­ven­tion C189 was adopt­ed — mark­ing a water­shed moment for the movement.
ILO C189 out­lines clear domes­tic labor stan­dards, call­ing for, among oth­er things, a guar­an­teed min­i­mum wage, free­dom of asso­ci­a­tion, the right to col­lec­tive­ly bar­gain, abo­li­tion of child labor, pro­tec­tion from abuse and harass­ment, at least one day per week of rest, for­mal employ­ment con­tracts, social secu­ri­ty and mater­ni­ty leave. The con­ven­tion was adopt­ed with 396 votes in favor, 16 votes against, and 63 absten­tions; the con­ven­tion went into effect begin­ning in 2013, and today 17 coun­tries have rat­i­fied it.
"After 2011, we final­ly had a ral­ly­ing point for which we could gath­er inter­na­tion­al­ly and push this issue," says Daniel Nau­joks, a polit­i­cal sci­en­tist at Colum­bia Uni­ver­si­ty who attend­ed the recent UN con­fer­ence. ​"C189 made it non-refutable, not just a pipe dream. Now you had this strong inter­na­tion­al back­ing and nor­ma­tive framing."
After the adop­tion of C189, the IDWN decid­ed to evolve from a loose inter­na­tion­al net­work into a for­mal fed­er­a­tion, orga­niz­ing its mem­ber­ship base and draft­ing a con­sti­tu­tion. By Octo­ber 2013, the Inter­na­tion­al Domes­tic Work­ers Fed­er­a­tion (IDWF) offi­cial­ly launched.
"Once things start to get real­ly con­crete, like with the pas­sage of con­ven­tions, there becomes incen­tives for net­works to form asso­ci­a­tions," says Nau­joks. ​"It is a legal enti­ty that actu­al­ly rep­re­sents [domes­tic work­ers], where­as a net­work doesn't real­ly have rep­re­sen­ta­tive functions."
One of the IDWF's cen­tral goals for this UN con­fer­ence was to ensure that the imple­men­ta­tion of C189 remained high on lead­ers' agen­da for the next 20 years. ​"We are talk­ing about at least 52 mil­lion very poor work­ing women with­out rights," says Eliz­a­beth Tang, the IDWF's Gen­er­al Sec­re­tary who flew from Hong Kong to attend the con­fer­ence. ​"If the gov­ern­ment can at least imple­ment this con­ven­tion, that will be a very con­crete achieve­ment for gen­der equal­i­ty." Though there has been real progress made since C189's pas­sage in 2011, Tang says it is too slow, and too many gov­ern­ments still do not under­stand why they should take heed.
"We want things to look very dif­fer­ent when we con­vene again in 2030," says Bar­bara Young, a nation­al orga­niz­er with the Nation­al Domes­tic Work­ers Alliance, a group that rep­re­sents domes­tic work­ers in the Unit­ed States.
Inter­na­tion­al Gains and an Inter­na­tion­al Problem
Activists can point to some notable achieve­ments since the pas­sage of C189. For exam­ple, in 2013, Brazil adopt­ed a con­sti­tu­tion­al amend­ment grant­i­ng 6.5 mil­lion domes­tic work­ers over­time pay, unem­ploy­ment insur­ance, pen­sions, and a max­i­mum 8‑hour work day. In Africa over the past few years, Namib­ia, Zam­bia, Kenya and Tan­za­nia all passed min­i­mum wage laws for domes­tic work­ers. In 2012, Thai­land passed a new reg­u­la­tion enti­tling domes­tic work­ers to at least one day off per week, in addi­tion to pub­lic hol­i­days, paid sick leave and paid over­time for work on hol­i­days. The first Pak­istani Domes­tic Work­ers Trade Union formed this past Decem­ber.
"In Hong Kong, all domes­tic work­ers, includ­ing migrant work­ers, are cov­ered by the same labor law as oth­er local work­ers," says Tang. ​"We are now try­ing to show oth­er gov­ern­ments that it is pos­si­ble to pro­tect domes­tic work­ers like oth­er work­ers, because in some places it is already happening."
Though there is a coun­try-by-coun­try approach, giv­en the glob­al ram­i­fi­ca­tions wrought through the employ­ment of migrant labor, domes­tic work­ers' rights are an inter­na­tion­al issue. The UN con­fer­ence dis­cussed the prob­lem of ​"glob­al care chains"—where peo­ple feel com­pelled to move from one (typ­i­cal­ly poor) coun­try to anoth­er (typ­i­cal­ly rich­er) coun­try to care for some­one else's chil­dren and aging par­ents — often leav­ing their own chil­dren and par­ents behind.
Sex­u­al abuse reg­u­lar­ly occurs dur­ing the migra­tion process, and with the threat of being fired or deport­ed, women are strong­ly dis­cour­aged from report­ing abuse or seek­ing med­ical attention.
"We must end visa depen­den­cy on employ­ers and hus­bands that under­mine women's safe­ty and rights," said Young in a speech at the UN. ​"We must advo­cate for clear and acces­si­ble path­ways to cit­i­zen­ship that will allow all migrant women work­ers to come out of the shadows."
The orga­niz­ers hope to raise domes­tic labor stan­dards and for­mal­ize inter­ac­tions — ide­al­ly through writ­ten employ­ment con­tracts. Cur­rent­ly there are few reme­dies, prac­ti­cal­ly speak­ing, for domes­tic work­ers with grievances.
"Once [domes­tic work] is rec­og­nized as a ​'real job,' then it will count as job expe­ri­ence," says Nau­joks. ​"And by for­mal­iz­ing it, it gives peo­ple a greater oppor­tu­ni­ty to opt out if they want to go some­where else lat­er. As long as it's seen as infor­mal work, it becomes very dif­fi­cult to break into the tra­di­tion­al labor market."
The tide may be turn­ing for domes­tic work­ers, but seri­ous chal­lenges remain. Some are prac­ti­cal; there are ques­tions about how to best imple­ment and enforce the laws and con­ven­tions in a fea­si­ble way. How­ev­er, with cen­turies of racial and gen­der dis­crim­i­na­tion, most chal­lenges fac­ing domes­tic work­ers are ideological.
"Domes­tic work­ers are most­ly women, and peo­ple in gen­er­al look down on what women do," says Tang. ​"The oth­er prob­lem is race and eth­nic­i­ty, because a lot of domes­tic work­ers are from indige­nous and mar­gin­al­ized groups, so they are dis­crim­i­nat­ed against."
More­over, there exists a wide­spread per­cep­tion that many domes­tic work­ers are liv­ing in coun­tries ille­gal­ly and thus are seen as a less impor­tant polit­i­cal con­stituen­cy to help. And the long­stand­ing cul­tur­al oppo­si­tion to see­ing care work as for­mal labor remains.
"Some peo­ple always say, ​'Oh well this is a pri­vate affair,'" says Naujoks.
Progress in the Unit­ed States

Bar­bara Young, who migrat­ed from Bar­ba­dos, worked as a domes­tic work­er in New York City for 17 years. She began orga­niz­ing for bet­ter labor con­di­tions in 2001, while she was still a full-time domes­tic work­er. Young joined with oth­ers to push for the nation's first domes­tic work­ers bill of rights, which passed in New York in 2010. The his­toric law grants domes­tic work­ers — includ­ing undoc­u­ment­ed domes­tic work­ers — time off, over­time pay, pro­tec­tion from dis­crim­i­na­tion and inclu­sion in local labor laws. Since 2010, three more states have passed sim­i­lar bills, and Connecticut's ver­sion will soon be head­ed to a Sen­ate vote.
At the UN con­fer­ence, Young point­ed out that only 27% of U.S. employ­ment visas are issued to women, and the major­i­ty who migrate through legal chan­nels are legal­ly depen­dent on their employ­ers and hus­bands. This can, and does often, entrap them in abu­sive and exploita­tive sit­u­a­tions with lit­tle or no legal recourse. Young called for the UN to help grant women ​"the right to report abus­es and vio­la­tions and for vio­la­tors to be pros­e­cut­ed to the fullest extent of the law."
Unlike the major­i­ty of domes­tic work­ers around the world who are can form trade unions, most U.S. domes­tic work­ers are legal­ly barred from join­ing unions. This is due to a clause in the Nation­al Labor Rela­tions Act passed in 1935, designed by South­ern leg­is­la­tors to pre­vent African-Amer­i­can domes­tic and agri­cul­tur­al work­ers from orga­niz­ing. Young tells me she believes remov­ing this clause is their biggest orga­niz­ing challenge.
Though the U.S. vot­ed in favor of C189 in 2011, it has not rat­i­fied the inter­na­tion­al con­ven­tion. Ide­al­ly, Young says, all sec­tors of the labor move­ment would unite togeth­er to push for U.S. rat­i­fi­ca­tion, but she notes the labor movement's declin­ing strength. The Depart­ment of Labor did announce in 2013 that it would begin to extend over­time and min­i­mum wage pro­tec­tions to the major­i­ty of domes­tic work­ers, though oppo­nents are cur­rent­ly bat­tling that in fed­er­al court.
"Over­all, we are on a for­ward tra­jec­to­ry, and the momen­tum is grow­ing," says Young. ​"Real recog­ni­tion is there that we didn't have 15 – 20 years ago."