Workplace Deaths Are Rising. Trump-Era Budget Cuts Could Make It Worse.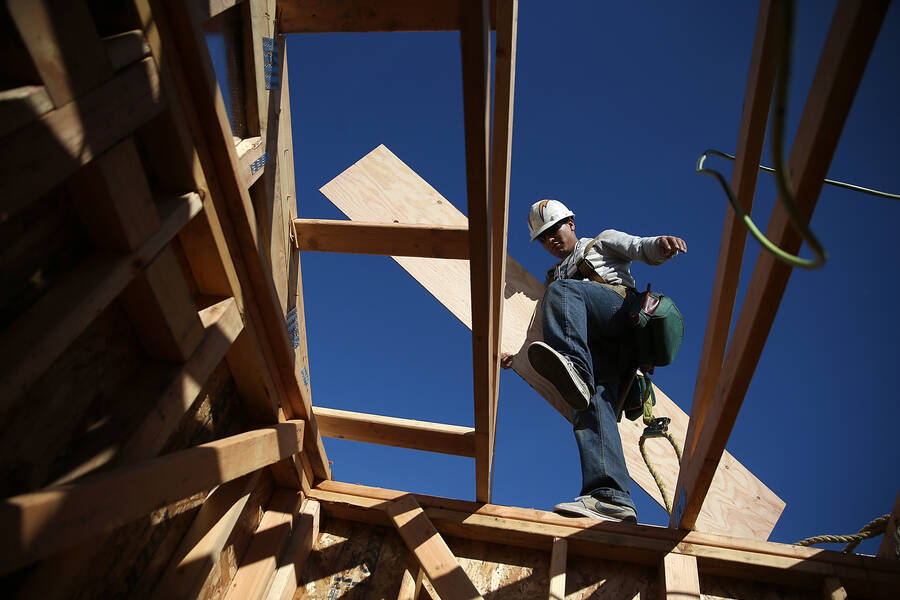 In an alarm­ing devel­op­ment in the world of work­place safe­ty, the lat­est sta­tis­tics reveal that the num­ber of acci­den­tal deaths on the job in Amer­i­ca is on the rise, revers­ing the longer-term trend toward few­er fatal incidents.
The num­ber of deaths hit a total of 5,190 in 2016, up from 4,836 in 2015, accord­ing to an April 2018 report by the AFL-CIO. That's about 14 deaths each day from pre­ventable work­er acci­dents. It's also the third year in a row that the num­ber has inched up, and the high­est death rate since 2010, the labor fed­er­a­tion reported.
Work­place safe­ty sys­tems are ​"def­i­nite­ly in the fail­ure mode," says Peter Doo­ley, a con­sul­tant with the Nation­al Coun­cil for Occu­pa­tion­al Safe­ty and Health who was worked close­ly with labor unions over the years. ​"In the last two years it is get­ting dra­mat­i­cal­ly worse. It's just outrageous."
The pre­cise rea­sons for the rise are not sim­ply stat­ed, adds Peg Sem­i­nario, AFL-CIO's long-time direc­tor of occu­pa­tion­al safe­ty and health. Over­all pat­terns such as very high rates of injury in the log­ging and con­struc­tion indus­tries are con­sis­tent over time, she says, and there is no sin­gle employ­ment trend that accounts for the recent rise. ​"The num­bers are actu­al­ly down in con­struc­tion, but they are up almost every­where else," she says.
Inad­e­quate enforce­ment of exist­ing safe­ty rules is the most com­mon­ly cit­ed expla­na­tion for the rise, Sem­i­nario tells In These Times. A Jan. 8 report from NBC News esti­mates that the Labor Department's Occu­pa­tion­al Safe­ty and Health Admin­is­tra­tion (OSHA) employs only about 1,000 inspec­tors to cov­er all work­places in Amer­i­ca — and that the num­ber of inspec­tors has declined four per­cent since Pres­i­dent Don­ald Trump took office. The num­ber of inspec­tors is far too low to be effec­tive, Sem­i­nario sug­gests, and OSHA has been ​"under resourced" for years, includ­ing dur­ing the Oba­ma admin­is­tra­tion years.
"Con­struc­tion is a good exam­ple. OSHA has a big focus on con­struc­tion and con­struc­tion deaths are down. The areas where OSHA has less inter­est are up," she says
The fig­ures cit­ed by Sem­i­nario and Doo­ley are tak­en from the Cen­sus of Fatal Occu­pa­tion­al Injuries pub­lished annu­al­ly by the Bureau of Labor Sta­tis­tics. The way the fig­ures are com­piled is a prob­lem in itself, Doo­ley says, because it zeal­ous­ly pro­tects the anonymi­ty of employ­ers. That diverts atten­tion from spe­cif­ic work­place behav­ior that needs close exam­i­na­tion and cor­rec­tive action to reduce acci­den­tal deaths over time, he says.
The Nation­al Council's answer to this prob­lem is to pub­lish its own ​"Dirty Dozen" list of employ­ers notable for health and safe­ty prob­lems among their work­forces. The Coun­cil uses a stan­dard of mea­sure­ment that includes non-fatal injuries and oth­er fac­tors, but the list stands out in that it names some very well-known com­pa­nies. For exam­ple, the online retail­er Ama­zon is on the list because it has seen sev­en of its ware­house work­ers killed since 2013. And the largest garbage dis­pos­al com­pa­ny in the Unit­ed States, Waste Man­age­ment, has had an exces­sive num­ber of OSHA cita­tions and fines. Oth­er com­pa­nies on the list are Tes­la Motors and Dine Brands Glob­al (own­er of IHOP and Applebee's restaurants).
"There is injus­tice in the Bureau of Labor Sta­tis­tics as a total­ly anony­mous data­base. There is no pub­lic record of who is dying and who the employ­ers are," Doo­ley says. The infor­ma­tion actu­al­ly does exist deep in the Labor Depart­ment files, he adds, but gov­ern­ment pol­i­cy is to keep this infor­ma­tion out of pub­lic hands, or for use by safe­ty experts. ​"This needs to be changed," he says.
Sem­i­nario and Doo­ley agree that the work­er safe­ty sig­nals com­ing from the Trump admin­is­tra­tion are trou­bling, even if the sta­tis­tics are not up-to-date enough to make a direct link to increased work­place deaths. Trump's bud­get pro­pos­al last year called for a 21 per­cent cut in Depart­ment of Labor spend­ing, and the ini­tial pro­pos­al for this year call for a 9 per­cent cut. Con­gress pared back last year's pro­posed cut, and is expect­ed to do so again this year, but it is clear that cur­rent Labor Depart­ment offi­cials have no plans to take the ini­tia­tive against the rise in work­place deaths, Doo­ley charges.
In issu­ing its report, the AFL-CIO not­ed: ​"The Trump admin­is­tra­tion has moved to weak­en recent­ly issued rules on beryl­li­um and mine exam­i­na­tions and has delayed or aban­doned the devel­op­ment of new pro­tec­tions, includ­ing reg­u­la­tions on work­place vio­lence, infec­tious dis­eases, sil­i­ca in min­ing and com­bustible dust."
"At the same time, Con­gress is push­ing for­ward with numer­ous ​'reg­u­la­to­ry reform' bills that would require review and culling of exist­ing rules, make costs the pri­ma­ry con­sid­er­a­tion in adopt­ing reg­u­la­tions, and mak­ing it vir­tu­al­ly impos­si­ble to issue new protections."
The ref­er­ence to work­place vio­lence rep­re­sents one of the most trou­bling sta­tis­tics buried in the gov­ern­ment reports. Accord­ing to a press release from the Bureau of Labor Sta­tis­tics, ​"Work­place homi­cides increased by 83 cas­es to 500 in 2016, and work­place sui­cides increased by 62 to 291. This is the high­est homi­cide fig­ure since 2010 and the most sui­cides since the Nation­al Cen­sus of Fatal Occu­pa­tion­al Injuries began report­ing data in 1992."
"It's a very com­pli­cat­ed prob­lem," observes Sem­i­nario. ​"You can devise safe­ty reg­u­la­tions to avoid com­mon and pre­dictable acci­dents. But how do you do that with a homicide?"
Bruce Vail
is a Bal­ti­more-based free­lance writer with decades of expe­ri­ence cov­er­ing labor and busi­ness sto­ries for news­pa­pers, mag­a­zines and new media. He was a reporter for Bloomberg BNA's Dai­ly Labor Report, cov­er­ing col­lec­tive bar­gain­ing issues in a wide range of indus­tries, and a mar­itime indus­try reporter and edi­tor for the Jour­nal of Com­merce, serv­ing both in the newspaper's New York City head­quar­ters and in the Wash­ing­ton, D.C. bureau.