Carrier Workers Are Livid After Facing Layoffs Despite Trump's Promises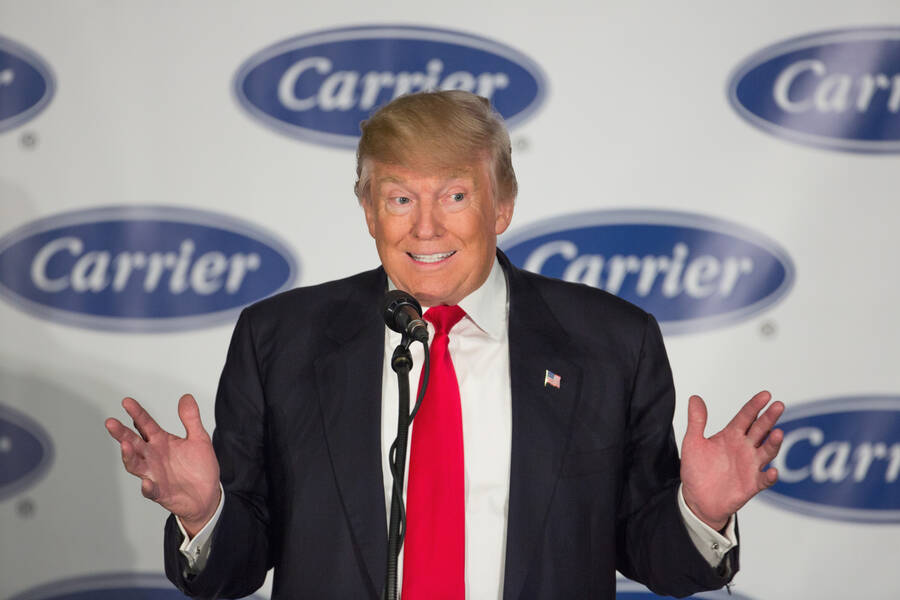 Even before he offi­cial­ly took office, Pres­i­dent-elect Don­ald Trump flew to Indi­anapo­lis in Decem­ber of 2016 to trum­pet a deal he had reached with air con­di­tion­ing and heat­ing fur­nace man­u­fac­tur­er Car­ri­er. In return for Trump's pledge to reduce the cor­po­rate tax rate and reduce reg­u­la­tions, as well as $7 mil­lion in eco­nom­ic incen­tives, the com­pa­ny agreed to keep some jobs in the state rather than move them to a plant in Mex­i­co as it had planned.
While Trump bragged that he had saved 1,100 jobs, the truth was just 730 jobs were pre­served at the Indi­anapo­lis plant. In real­i­ty, 550 from Indi­anapo­lis were still being moved to Mex­i­co, and all 700 work­ers at the company's Hunt­ing­ton plant would still lose their jobs.
The fine print of Trump's deal has now turned into real­i­ty for Carrier's Indi­anapo­lis employ­ees. Rough­ly 340 work­ers lost their jobs in July. The last round of lay­offs mean 250 work­ers will clock in in for their final shifts today despite Trump's pledges.
Duane Oreskovic is one of them. ​"Tomor­row will be the last time I clock in, at 5:00 p.m.," he told In These Times. ​"We'll get off at 3:30 in the morn­ing, and that's the last time we'll clock out."
It came as a deep shock when he and his cowork­ers were told they'd be laid off in Feb­ru­ary. ​"We were more than sur­prised," he said. ​"We were at awe, we were aston­ished … It was beyond shock, to tell you the truth."
When Trump came to the plant and gave his speech, Oreskovic said, every­one thought he was going to save all of their jobs, par­tic­u­lar­ly with Vice Pres­i­dent Mike Pence — the for­mer gov­er­nor of Indi­ana — by his side. But, Oreskovic fig­ures, Carrier's plans were already set in stone by the time the politi­cians got there. ​"It was avoid­able but unavoid­able," he said.
"I would have hoped some­thing would have been done, I mean, for exam­ple, some­one from Con­gress would maybe speak up, ​'Hey this is some­thing we should look at Mr. Trump,'" he said. ​"We were hop­ing some­one would inter­vene, but appar­ent­ly it nev­er hap­pened," he added, scoff­ing: ​"Pol­i­tics."
He has two job prospects lined up, but nei­ther is like­ly to pay as well as the job at Car­ri­er. ​"Finan­cial­ly I'm con­cerned," he said. ​"If I've got to set­tle for a job at three dol­lars less an hour, three dol­lars doesn't sound like a lot, but that is some­what of a lifestyle change when it's based on 40 hours or 50 hours a week."
But per­haps even more wrench­ing is the prospect of dis­band­ing his close-knit group of cowork­ers. ​"We work over 10 hours a day, five or six days a week. We know each oth­er bet­ter than our fam­i­ly mem­bers," he said. But after today, they'll be less like­ly to reg­u­lar­ly ask each oth­er about chil­dren or how their week­ends went. ​"I look at this like a divorce. We're get­ting ripped apart from one another."
When asked how he feels about com­plet­ing his last day, he respond­ed, ​"Empti­ness."
Frank Sta­ples also feels like a com­mu­ni­ty is being dis­in­te­grat­ed by the lay­offs. ​"We spend more time with each oth­er than we do with our own fam­i­lies," he told In These Times.
He start­ed at Car­ri­er in 2005 but knew his job was in dan­ger when the com­pa­ny announced in Feb­ru­ary of 2016 it was mov­ing the plant to Mon­ter­rey, Mex­i­co. The news was a sur­prise: He knew that the plant was mak­ing mon­ey from what he was told in quar­ter­ly meet­ings. ​"Here we are mak­ing a prof­it for them, and they're going to leave us and go some­where else?" he said. ​"That was just heart­break­ing and dev­as­tat­ing to a lot of people."
Even before the elec­tion, Sta­ples said, he and the Unit­ed Steel­work­ers union had tried reach­ing out to Pence sev­er­al times to have him inter­vene. ​"He would nev­er meet with us," he said. He doesn't think the Trump admin­is­tra­tion has done a whole lot to help.
"There's a lot of things that Trump could sign as an exec­u­tive order, because he has that pow­er, that would keep Amer­i­can work­ers work­ing. But Trump's sit­ting on his ass not doing any of it," he said. ​"I would say to Trump, ​'You made a deci­sion and ran on a cam­paign promise that you were going to help the Amer­i­can work­er. Stand up and do it.'"
The news of lay­offs in ear­ly 2016 fused with per­son­al tragedies to send Sta­ples into an episode of depres­sion. First he got divorced. Dur­ing the divorce, ​"I start­ed hav­ing issues with want­i­ng to be at work because I was so depressed," he said. ​"I already knew our jobs were gone, I was like, ​'To hell with this shit.'"
Then his broth­er was mur­dered, he said. He tried to go on med­ical leave but end­ed up get­ting fired. The union that rep­re­sents Car­ri­er work­ers, Unit­ed Steel­work­ers Local 1999, fought to have him rein­stat­ed, but he's still in lim­bo — not hav­ing been asked to come back in for work yet.
"It's been scary and nerve-wrack­ing," he said. ​"Everybody's on edge because we don't know what's going to happen."
"It's been hell," he added.
Bryce Covert
, a con­tribut­ing op-ed writer at the
New York Times
, has writ­ten for
The New Repub­lic, The Nation,
the
Wash­ing­ton Post
, the
New York Dai­ly News
,
New York Mag­a­zine
and
Slate
, and has appeared on ABC, CBS, MSNBC and NPR. She won a
2016
Excep­tion­al Mer­it in Media Award from the Nation­al Women's Polit­i­cal Caucus.